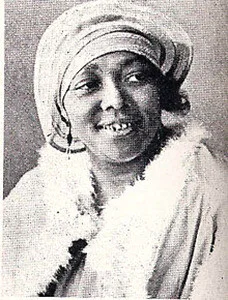 Hardcore might be the best way to describe the Blues singing of
Lucille Bogan
(April 1, 1897 – August 10, 1948). While many of the Classic Blues singers of the 1920s tackled risqué and controversial issues in their songs, Bogan almost exclusively focused on explicit sexual themes, like prostitution, adultery and lesbianism, and social ills such as alcoholism, drug addiction and abusive relationships.
She was born in Mississippi but grew up in Birmingham, Alabama. In 1923 she made her first recordings in Atlanta, Georgia. The records apparently didn't sell well because she didn't record again until 1927 for the Paramount and Brunswick labels after moving to Chicago.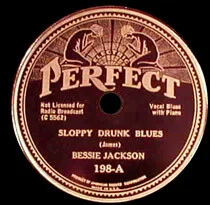 Between 1933 and 1935 she performed and recorded under the pseudonym Bessie Jackson and worked with pianist Walter Roland. Bogan's recording career came to an end in 1935 and she eventually returned to Birmingham where she reverted to her real name and performed in and managed the group Bogan's Birmingham Busters but did not appear on either of the group's records.
In the late 1930s or early l940s, Bogan moved to the West Coast. She died in Los Angeles in 1948 of coronary sclerosis.

Title

Recording Date

Recording Location

Company

Alley Boogie


(Lucille Bogan)

3-1930
Chicago, Illinois
Brunswick
7210
Perfect
198-B
Baking Powder Blues
7-18-1933
Chicago, Illinois
Banner
33059
Barbecue Bess
3-6-1935
Chicago, Illinois
Banner
33475
B.D. Woman's Blues
3-7-1935
Chicago, Illinois
ARC
5-12-58
Black Angel Blues
12-1930
Chicago, Illinois
Brunswick
7186
Bo-Easy Blues
8-4-1934
Chicago, Illinois
Banner
Boogan Ways Blues
7-31-1934
Chicago, Illinois
Banner
33245
Chirpin' The Blues
7-1923
Atlanta, Georgia
Okeh
8071-A
Coffee Grindin' Blues


(Lucille Bogan)

5-9-1927
Chicago, Illinois
Brunswick
7083
Cravin' Whiskey Blues
6-1927
Chicago, Illinois
Paramount
12577
Changed Ways Blues
8-2-1934
Chicago, Illinois
ARC
6-02-64
Crawlin' Lizard Blues
12-1930
Chicago, Illinois
Brunswick
7193
Doggone Wicked Blues
7-1927
Chicago, Illinois
Paramount
12514
Dirty Treatin' Blues
3-1930
Chicago, Illinois
Brunswick
7163
Don't Mean You No Good Blues


(Lucille Bogan / Henry Callens)

7-1923
Atlanta, Georgia
Okeh
8074-B
Down In Boogie Alley
8-1-1934
Chicago, Illinois
Banner
33149
Drinking Blues
7-31-1934
Chicago, Illinois
Banner
33245
Forty-Two Hundred Blues
7-18-1933
Chicago, Illinois
Banner
33119
Groceries On The Shelf
7-19-1933
Chicago, Illinois
Banner
32904
Jim Tampa Blues
Banjo Accompaniment Charlie Jackson


(Lucille Bogan)

6-1927
Chicago, Illinois
Paramount
12504-A
Jump Steady Daddy
3-7-1935
Chicago, Illinois
ARC
5-12-58
House Top Blues
7-18-1933
Chicago, Illinois
Banner
32845
Kind Stella Blues
Banjo Accompaniment Charlie Jackson
6-1927
Chicago, Illinois
Paramount
12504-B
I Hate That Train Called The M And O
7-31-1934
Chicago, Illinois
ARC
6-02-64
Levee Blues


(Williams / Alman / Roth)

3-1927
Chicago, Illinois
Paramount
12459
Lonesome Daddy Blues


(Lucille Bogan / Henry Callens)

7-1923
Atlanta, Georgia
Okeh
8074-A
Lonesome Midnight Blues
7-30-1934
Chicago, Illinois
ARC
6-04-63
Man Stealer Blues
3-7-1935
Chicago, Illinois
Melotone
350913 B
Mean Twister
7-20-1933
Chicago, Illinois
Banner
33059
My Baby Come Back
7-18-1933
Chicago, Illinois
Banner
32956
My Georgia Grind


(Spencer Williams)

3-1930
Chicago, Illinois
Brunswick
7145
My Man Is Boogan Me
7-31-1934
Chicago, Illinois
Perfect
0317
Banner
33375
New Muscle Shoals Blues
7-20-1933
Chicago, Illinois
Banner
33072
New Way Blues
10-8-1928
Chicago, Illinois
Brunswick
7051
Nice And Kind Blues
6-1927
Chicago, Illinois
Paramount
12577
Oklahoma Man Blues


(Lucille Bogan / Williams)

7-1927
Chicago, Illinois
Paramount
12514
The Pawn Shop Blues
7-1923
Atlanta, Georgia
Okeh
8079
Pay Roll Blues
10-8-1928
Chicago, Illinois
Brunswick
7051
Pig Iron Sally
7-31-1934
Chicago, Illinois
Perfect
0317
Banner
33375
Pot Hound Blues


(Lucille Bogan)

5-9-1927
Chicago, Illinois
Brunswick
7083
Reckless Woman
8-1-1934
Chicago, Illinois
Banner
33313
Red Cross Man
7-17-1933
Chicago, Illinois
Banner
Roll And Rattler
7-19-1933
Chicago, Illinois
Banner
32904
Seaboard Blues
7-19-1933
Chicago, Illinois
Banner
32833
Shave 'Em Dry
3-5-1935
Chicago, Illinois
Banner
Sloppy Drunk Blues


(James)

3-1930
Chicago, Illinois
Brunswick
7210
Perfect
198-A
Skin Game Blues
3-8-1935
Chicago, Illinois
Banner
33448
Struttin' My Stuff
12-1930
Chicago, Illinois
Brunswick
7193
Superstitious Blues
(Hooch House Blues
7-20-1933
Chicago, Illinois
Banner
32956
Stew Meat Blues
3-8-1935
Chicago, Illinois
Banner
33448
Sweet Patunia


(H. Charles)

3-1927
Chicago, Illinois
Paramount
12459
Sweet Man, Sweet Man
8-1-1934
Chicago, Illinois
Banner
33149
That's What My Baby Likes
3-5-1935
Chicago, Illinois
Melotone
350913 A
They Ain't Walking No More
3-1930
Chicago, Illinois
Brunswick
7163
Tired As I Can Be
8-1-1934
Chicago, Illinois
Banner
33313
T & N O Blues
7-17-1933
Chicago, Illinois
Banner
Tricks Ain't Walking No More
12-1930
Chicago, Illinois
Brunswick
7186
Triflin' Blues
(Daddy, Don't You Trifle On Me)


(Porter Grainger / Bob Ricketts)

7-1923
Atlanta, Georgia
Okeh
8071-B
Troubled Mind
7-20-1933
Chicago, Illinois
Banner
32833
Walkin' Blues
7-18-1933
Chicago, Illinois
Banner
33119
War Time Man Blues


(Lucille Bogan)

6-1927
Chicago, Illinois
Paramount
12560-B
Whiskey Selling Woman


(Lucille Bogan)

3-1930
Chicago, Illinois
Brunswick
7145
Woman Won't Need No Man


(Lucille Bogan)

6-1927
Chicago, Illinois
Paramount
12560-A
You Got To Die Some Day
7-30-1934
Chicago, Illinois
ARC
6-04-63

| | |
| --- | --- |
| Artist | Instrument |
| Bob Campbell | Guitar |
| Thomas Dorsey | Piano |
| Will Ezell | Piano |
| Eddie Heywood | Piano |
| Frank James or Eddie Miller | Piano |
| Walter Roland | Piano, Guitar, Vocals |
| Tampa Red | Guitar |