"This session is not simply a historical record. It's the culmination of 14 years of gigs, tours, festivals, recording sessions and lots of rehearsal: spontaneous, honest, and stunningly recorded, it's the best we could do and the best we've done." — Eli Newberger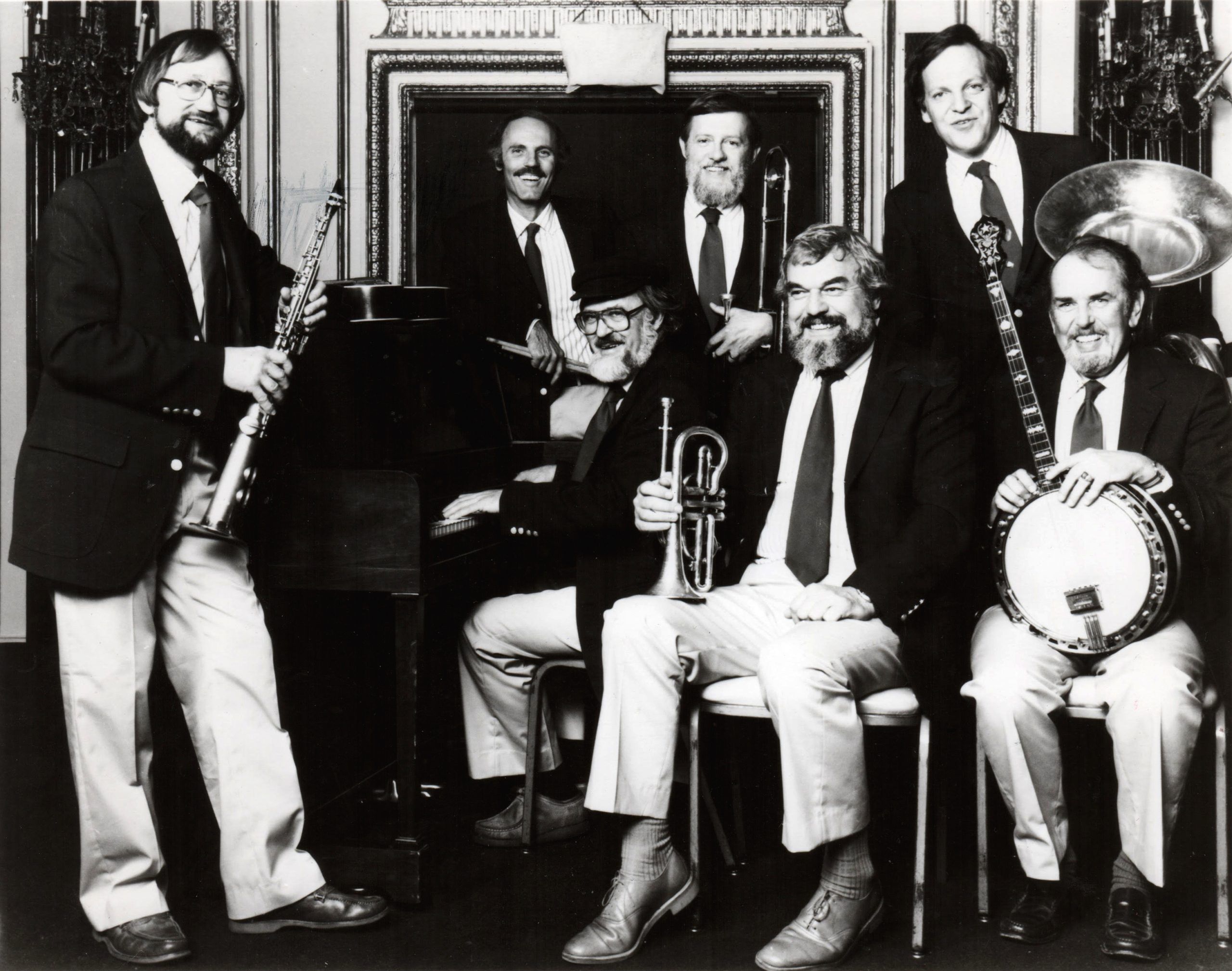 Dave Radlauer: From my Jazz vault emerges an exclusive performance by NBEJB from a two-night concert series hosted by the South Bay Traditional Jazz Society in Sunnyvale, CA (near San Jose). Nearly six hours of audio was recorded for broadcast. Very little of this music has ever been aired, broadcast or circulated. You'll find the music mentioned in this article at the JAZZ RHYTHM website: www.JAZZHOTBigstep.com.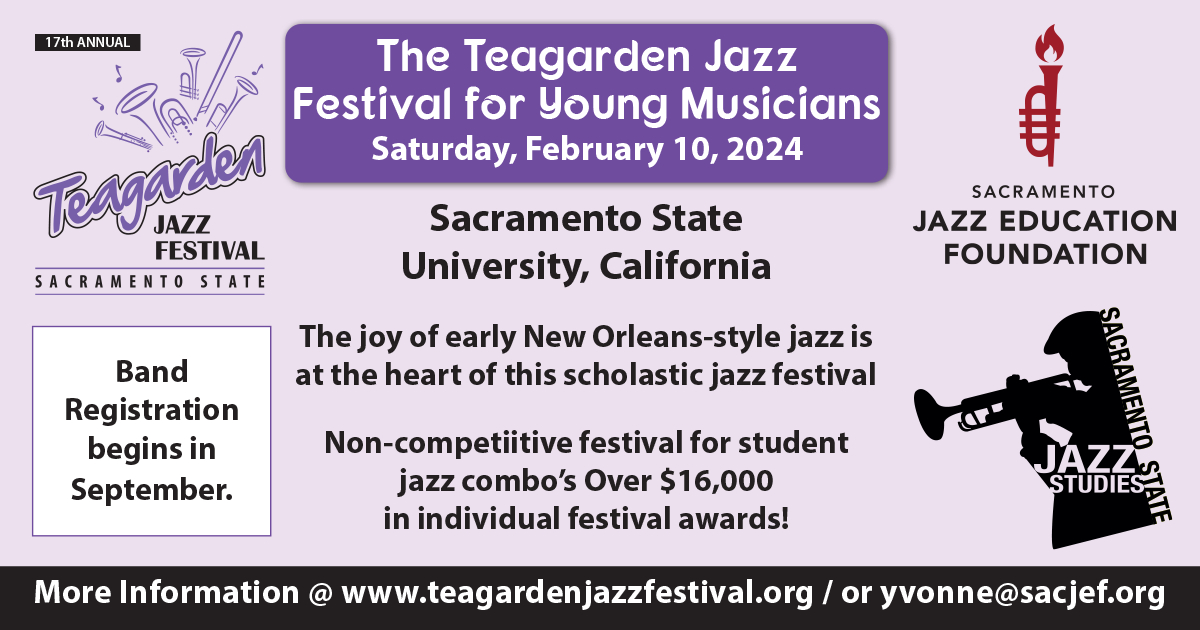 Few bands of the last half century have presented Traditional Jazz with greater virtuosity or ensemble spirit than the New Black Eagle Jazz Band (NBEJB).  Each musician was a master of his instrument responding with sensitivity to the others as the band built its momentum.  This mutual listening process was key to an extraordinary ensemble unity and ability to imprint their signature onto Classic Jazz tunes.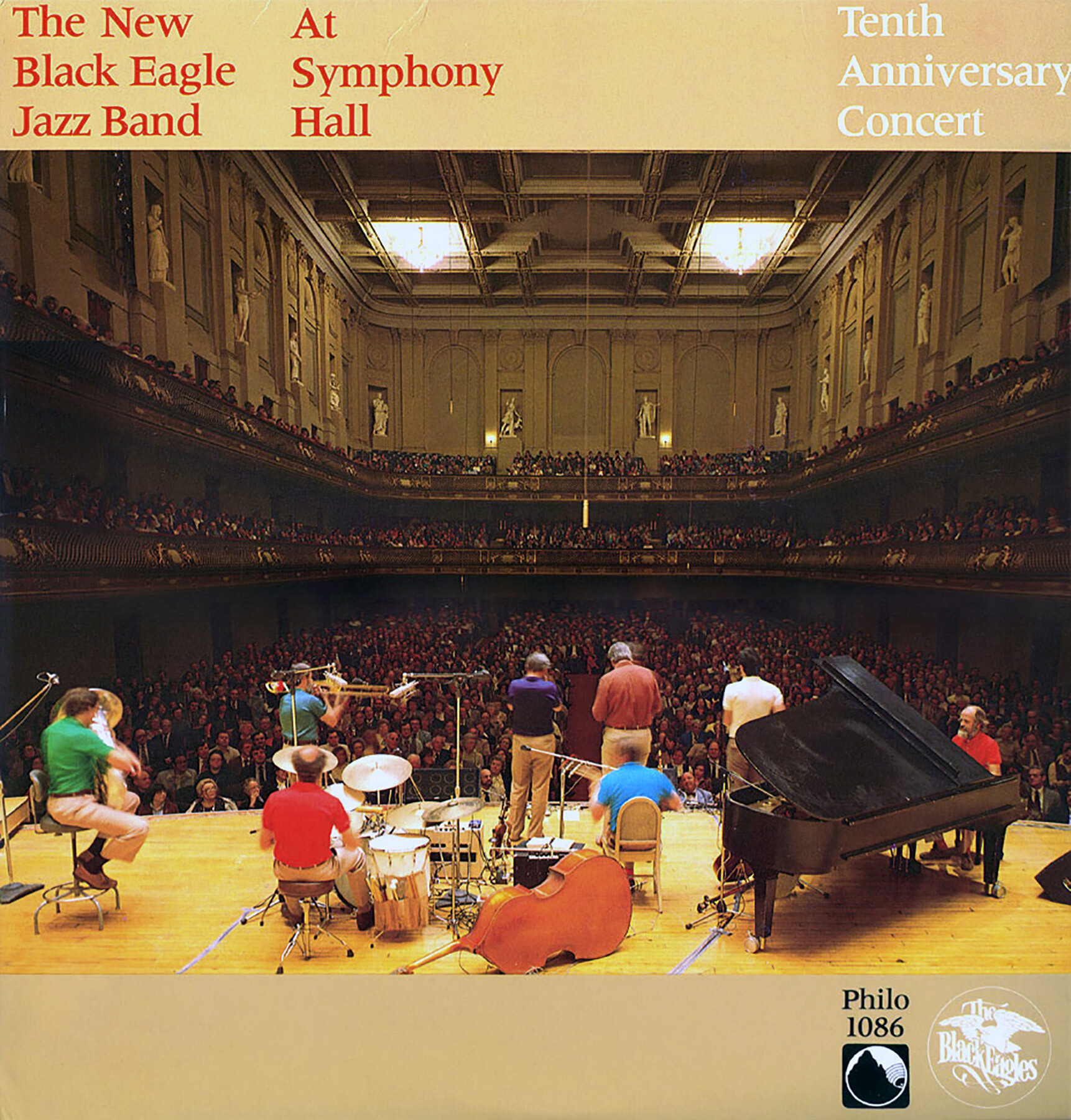 After the departure of original reedman Stan McDonald in 1981, Hugh Blackwell played clarinet and saxes, but professional circumstances forced him to move on.  Blackwell was followed by Billy Novick who remains affiliated with the present-day NBEJB.
Album reviews by Trad Jazz drummer Bert Thompson appear often in this and other publications. Remarkably, he has retained his detailed notes and sharp memory of the event.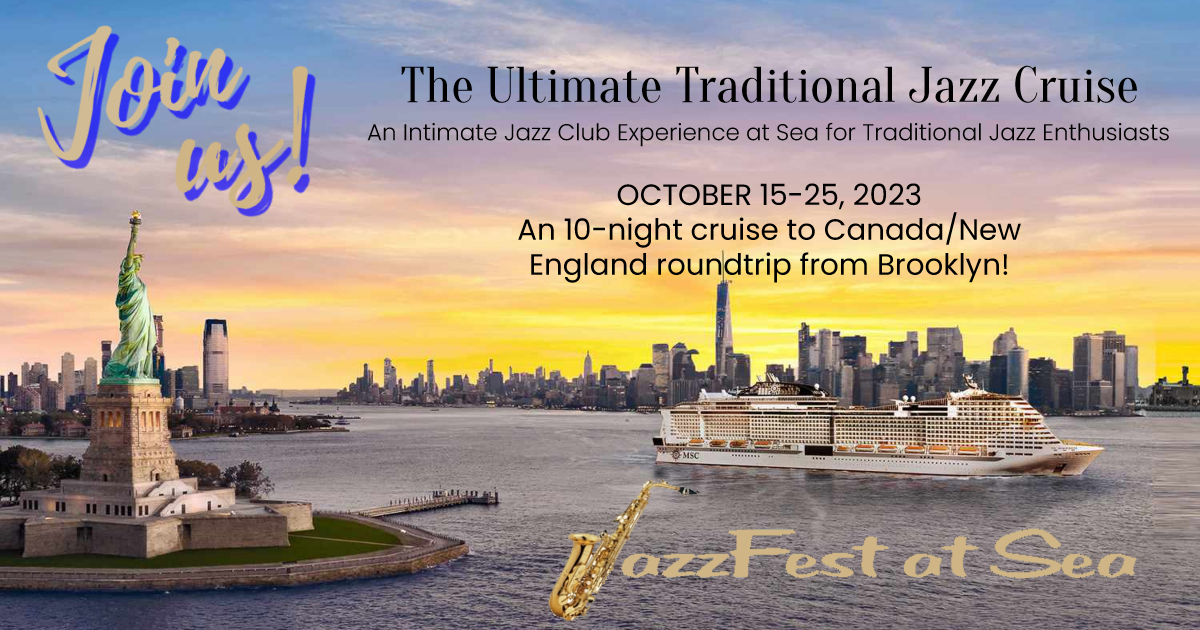 Bert Thompson: In 1984, the New Black Eagle Jazz Band was booked to play at the San Diego Jazz Festival, held each year on Thanksgiving weekend. The band seldom visited the West Coast at that time, and many people were enthused about having the chance to finally witness a live performance by this band, an experience until then largely limited to those who lived on the East Coast. In the San Francisco Bay Area there were at the time several jazz clubs and societies and the South Bay Traditional Jazz Society made the decision to try to book the band for an appearance while it was out here for the San Diego Festival.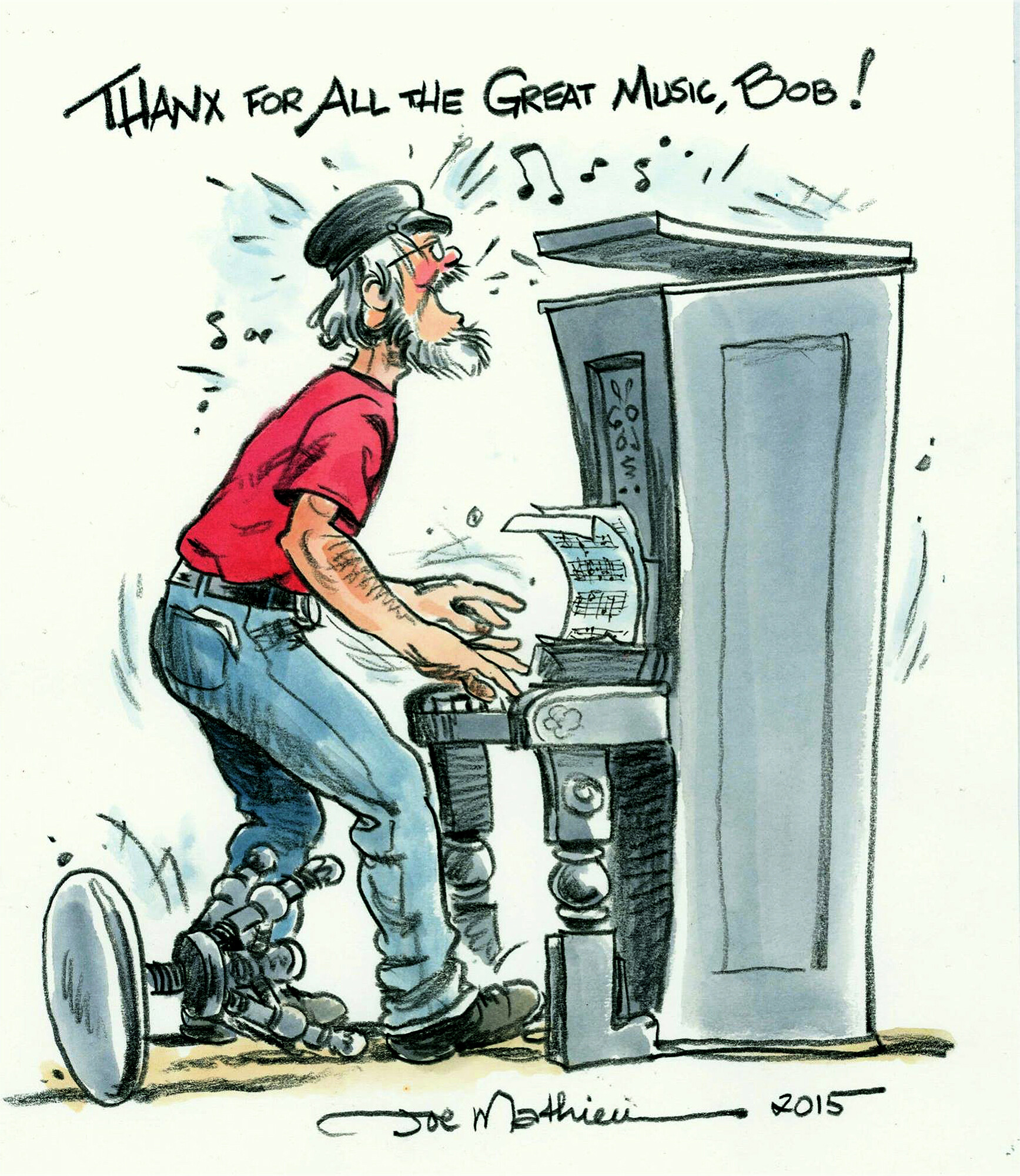 The secretary of the South Bay Society, Harriet Vogel, backed by the club officers, contacted the band and the result was booking two concerts on back-to-back days at the location where the society held its monthly meeting: The Bold Knight in Sunnyvale, California. There was some anxiety about whether an audience sufficient to cover the expense of this dual concert would materialize, but as it turned out it was hugely successful, Sunday's concert seeing a full house and Monday's nearly the same.
DR: This "sampler" set highlights the charismatic singing and dazzling pianism of Bob Pilsbury featured on "Cherry."  Note his Earl Hines-like free rhythms.  The rich cornet tones of Tony Pringle's powerful lead are on display. A warm and personable master-of-ceremonies, Tony's British Midlands brogue is charming. You'll find the remainder of this music, eight sets from these concerts, at the end of the article.
Sampler Reel
Cherry (vocal, Pilsbury)
Who's It
Ace of Rhythm
Lucky Rock Blues
Recalling Two Bold Nights
BT: At almost 7:00 pm on the dot on Monday, November 26, 1984 the New Black Eagle Jazz Band swung into "1919 March" at The Bold Knight. And they swung all night long, right through the twenty-three tunes that comprised their program.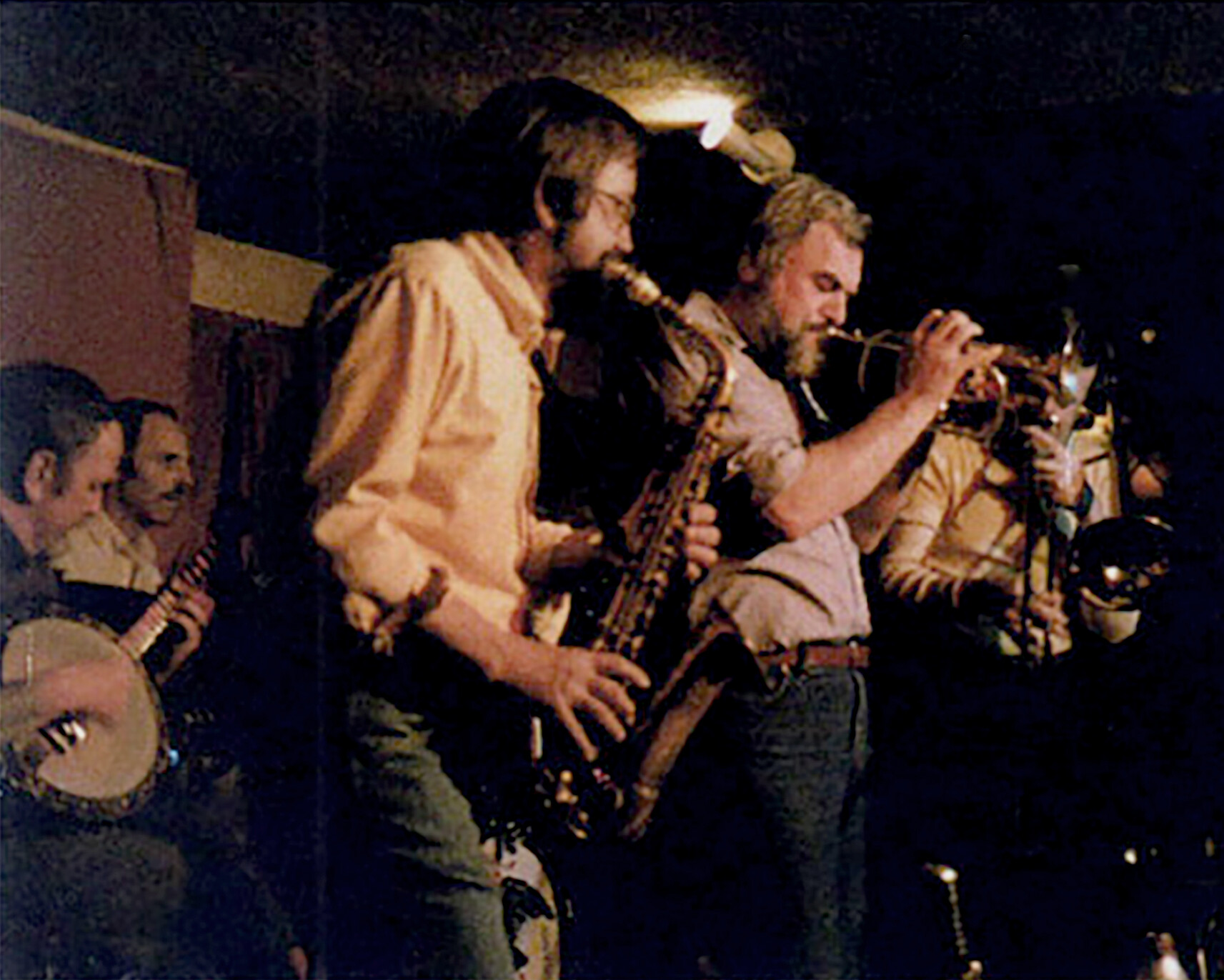 The room was just about filled – I saw very few empty chairs until the hour passed 10:00 – and I was told that the previous night the place was absolutely jammed. Such a turnout testifies to the band's reputation, and to a man they lived up to it.
We heard – and saw – them execute so many of the intricacies we associate with the Eagles, such as the complex introduction to "Steamboat Stomp," the exciting trading of measures back and forth between Newberger on tuba and Blackwell on clarinet in "Black Cat on the Fence," Pilsbury's "fracturing" the rhythm on his piano solo in "Cherry" and none of the rhythm section losing his place as all came in right on cue – one could go on and on.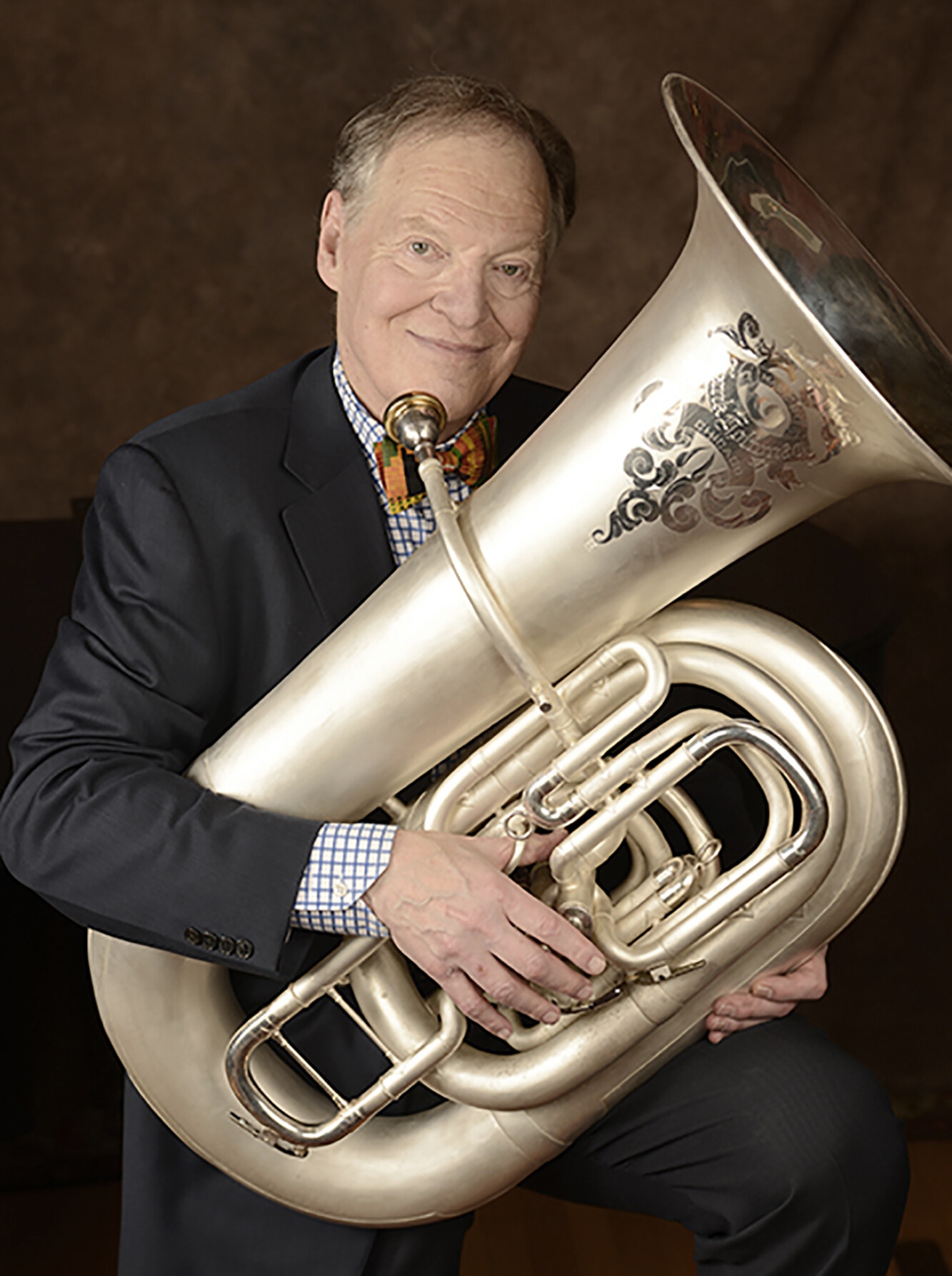 Outstanding Personnel
DR: In the classic band each musician was a master of their instrument, responding with rare sensitivity to the others as they built collective momentum. Listening was key to their extraordinary ensemble unity and ability to imprint their signature onto both well-known and very obscure Classic Jazz tunes
BT: In the Black Eagles each musician is a virtuoso, yet none tries to upstage or outblow another. Ensemble work is their hallmark, and they blend so well, due in large part no doubt to the fact that in the past dozen or so years there has been only one change in personnel, Hugh Blackwell taking over on reeds from Stan McDonald [and subsequently, Billy Novick].
The rhythm section drives the front line, yet never pushes the tempo. Peter Bullis's banjo does not behave like a runaway freight car on a decline. "Pam" Pameijer's drums "pulsate" – he engages in no theatrics, few "solos," and none of the "tags" that so many drummers feel are obligatory.
Eli Newberger plays tuba like a string bass, or at least makes it sound like one; I found myself wondering when the man breathes while playing measure after measure of light 4-beat tuba, especially in the driving ending choruses. [I was informed later that he achieves this through a technique called "circular breathing."]
Stan Vincent and Tony Pringle, standing closely together, play just as closely in harmony, Pringle's vibrato and mute work showing the Ken Colyer influence. The entire group's articulation – the crisp, clean notes – is spine-tingling, and the band's dynamics are a treat, illustrating so well that a group can drive and swing like mad and not have to play loud!
Such driving and swinging we heard on various tunes throughout the evening in "Lily of the Valley," "When I leave the World Behind" and particularly on "Wrought Iron Rag." When rhythm begins to throb, Pilsbury stands at the keyboard, and Pringle hunches over his cornet, then as Fats would have said, "The joint is jumpin'."
A word should be said about the band's book. It contains so many great tunes that we don't hear much in these parts but did hear that night – "Black Cat on the Fence," "Lily of the Valley," "I'm Travelin'," "Short Dress Gal," "Rent Party Blues," to mention just a few. What a feast! And in all of this one would not suspect that on that Monday the band (or at least Blackwell, as he informed me) was fighting the problem of an out-of-tune piano. He said it was perfectly in tune Sunday but out on Monday. Professionals that they are, they gave no inkling in their performance of the difficulty.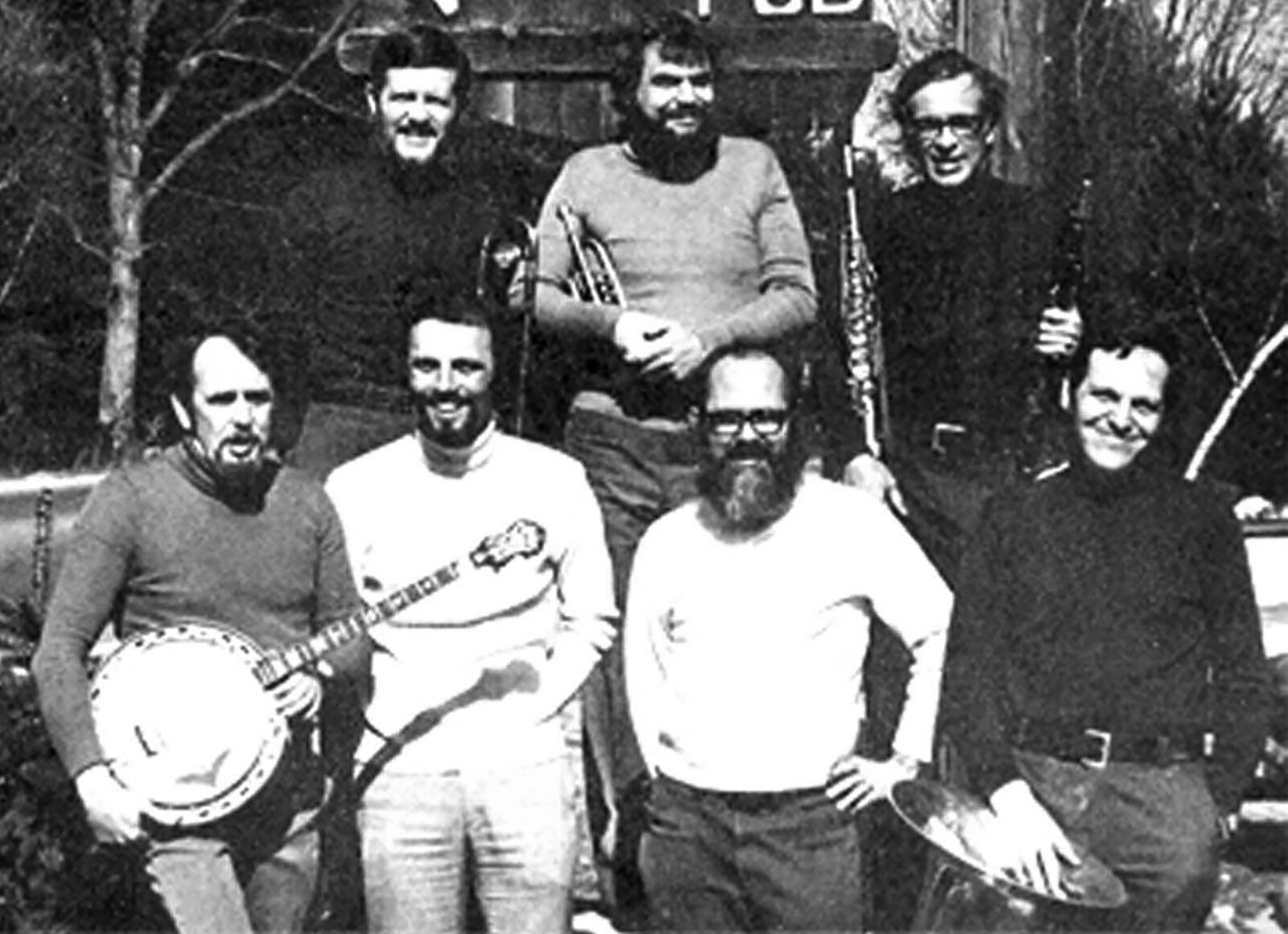 Black Eagle Origins
DR: NBEJB was formed in a merger of Boston-area Jazz Revival musicians around 1970. It was a fusion of players associated with reed player Stan McDonald  — pianist Bob Pilsbury and trombonist Stan Vincent — with followers of Tommy Sancton — cornetist Tony Pringle  and banjo player Peter Bullis
Clarinet player Tommy Sancton was an acolyte of George Lewis with genuine New Orleans family roots via Preservation Hall. He had been running a loosely organized Revival-style group in the Boston area known as the Black Eagles, hence the designation "New."
New Black Eagle Jazz Band played hundreds of festivals and concerts. They made several European tours and numerous guest-appearances with the Boston Pops and other philharmonic orchestras. The band developed a strong national, international and regional following, focused on their regular local gig not far from Boston at The Sticky Wicket Pub.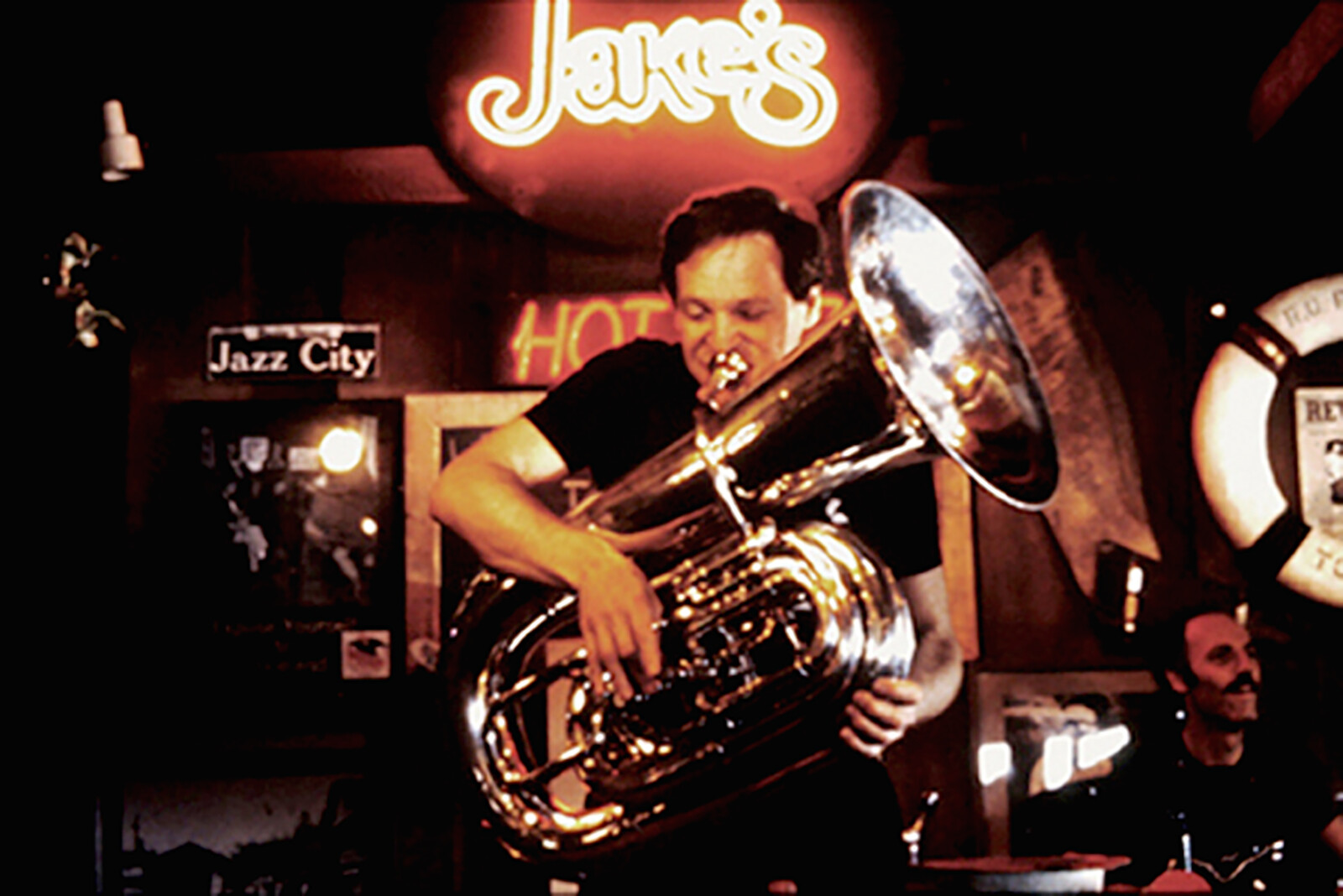 A Standing Ovation
BT: Almost before we knew it, there it was about 11:15, the band cooking on the last chorus of "Wrought Iron Rag," the audience's feet tapping furiously in time, the dancers gyrating madly on the floor, and the early leavers, blissfully unaware of it, missing perhaps the best set of the night! The Black Eagles then went into their theme, "Purple Rose of Cairo," Tony Pringle announced that it was the last tune (to cries of "NO" from almost every throat), and it was over, the audience giving the band a thoroughly well-deserved standing ovation.
It is fortunate that Dave Radlauer recorded these performances and has made them available here and on his website. Those of us who were there can again enjoy the thrill that being in the audience provided. Those who were not can still enjoy some fine music. This was the band at its peak, when it was arguably the best traditional jazz band on the scene.
Of the band members that weekend, only one is still with the band, Stan Vincent. Sadly, several are longer with us – Tony Pringle, Bob Pilsbury, and Peter Bullis. The others have either retired from playing or are with other bands today.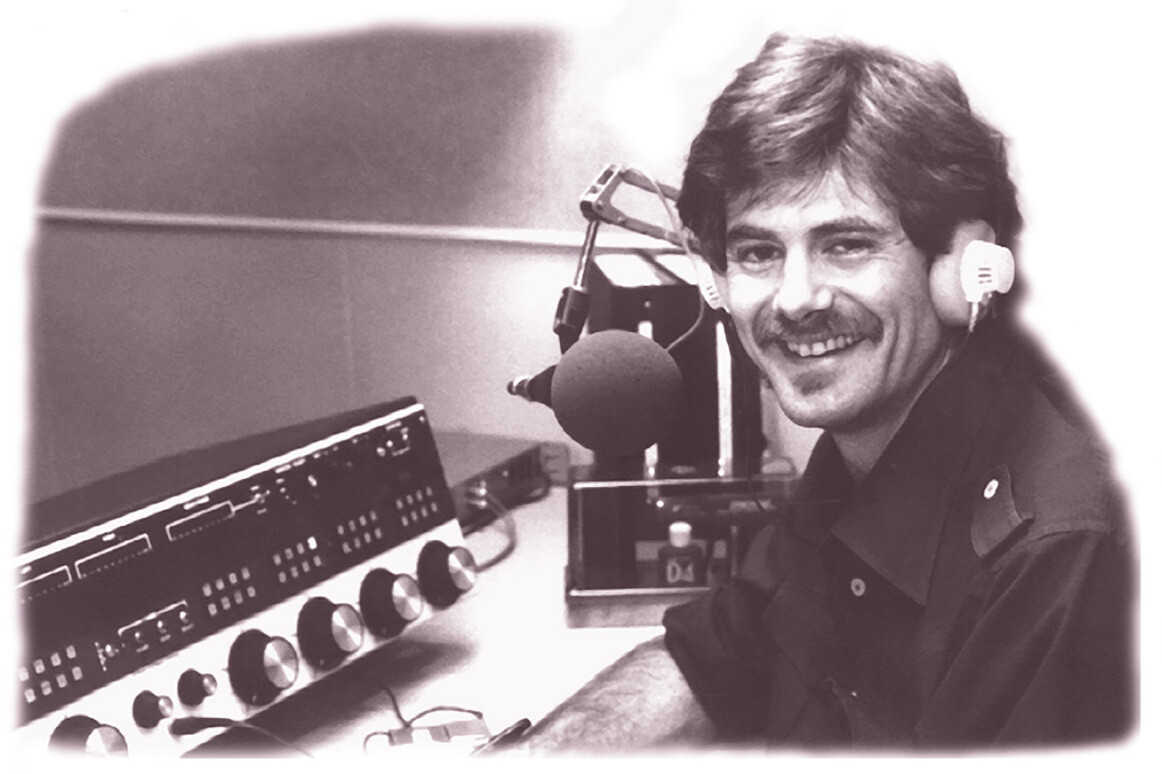 On a Retrospective Note
DR: I was a novice recording engineer in 1984, having just recently gained access to professional recording gear. I was grateful for an opportunity to record such a magnificent ensemble, the first of many encounters. I'm astounded today at how vividly this performance was captured.
The acoustics are nicely balanced between focused presence and spacious room sound, requiring no EQ, processing or noise removal of any kind. Only the announcements have been edited, some deficient tracks omitted, and minor flaws noted. Unfortunately, not all the tunes played in the concerts or referenced in this article were successfully recorded or preserved.
Listening to these sessions recently, former band tubist Eli Newberger is "just blown away by the music – the band at the height of its ensemble intensity, reciprocating the enthusiasm of the responsive audience – and the clarity of the individual voices."
---
New Black Eagle Jazz Band, November 1984:
Tony Pringle (cornet, vocals)
Hugh Blackwell (clarinet, soprano and alto saxophones)
Stan Vincent (trombone)
Bob Pilsbury (piano, vocals)
Peter Bullis (banjo)
Eli Newberger (tuba)
Pam Pamier (drums)
Oh! My Babe (glitch@2:55)
Pennies from Heaven
Shimmie She Wobble
Working Man Blues
Lead Me, Savior
Grandpa's Spells
Misty Mornin'
Polka Dots and Moonbeams
Haarlem Bound
Roaming
Weary Blues
Martha
What You Want Me to Do
Amazing Grace
The Old Rugged Cross
Jelly Bean Blues (incomplete)
Blue Blood Blues
Steamboat Stomp
Cottage for Sale
Dreaming the Hours Away
The Mooche
Joe Avery's Piece
Dusty Rag
Two Deuces
Lily of The Valley
Once in A While
Lou-Easy-an-i-a (vocal, Pringle)
Big House Blues
Martinique
When I Grow Too Old to Dream (quartet with Eli, piano)
Wild Man Blues
Black Cat on The Fence
Wrought Iron Rag
Purple Rose of Cairo
Thanks to Eli Newberger for photos and commentary.
Find all the music and related content at the Jazz Rhythm New Black Eagle page.