Nights at the Turntable August 2018
BUNK JOHNSON
The Bunk Johnson Story would make for a fascinating movie. Born around 1889 (he claimed it was 1879 so he could say that he had played with Buddy Bolden), Johnson grew up very poor but developed into one of New Orleans' top trumpeters of the 1910-30 period. A fight during a dance in 1931 resulted in his teeth being damaged and his career stopping. He worked at manual jobs for the rest of the decade.
Discovered by the writers of the book Jazzmen in 1939 after they interviewed other New Orleans pioneers who mentioned Johnson, they raised money to buy the unrecorded legend dentures and a new trumpet. By 1942 he was beginning to appear on records and was on his way to becoming a cult figure. Johnson's trumpet playing, although sometimes erratic due to his drinking, returned to its earlier form and he had a few years of glory before ill health caused his retirement in 1947. A braggart who made some outrageous claims and an alcoholic, Johnson was ridiculed by many followers of modern jazz while at the same time being held up as a representative of "the real jazz" by those who felt that jazz had taken a wrong turn during the swing era. He had many adventures in San Francisco, Boston (where he drank his way out of Sidney Bechet's band), and New York before his retirement.
The American Music label has done a superior job of making most of Bunk Johnson's recordings (other than those reissued by other companies) available. Rare & Unissued Masters Volume Two 1943-1946 releases just about all of the Johnson recordings not previously on CD; I only know of six performances from 1943-44 that are not in print. Filled with alternate takes, unissued performances and rarities, this set features ten selections from 1944-45 with his regular band (essentially clarinetist George Lewis' group with drummer Baby Dodds), three trios from 1946 with pianist Don Ewell and drummer Alphonse Steele (who unfortunately relies too heavily on his bass drum), three duets with the excellent but forgotten pianist Bertha Gonsoulin in 1943, one of only two Johnson piano solos ("Baby I'd Love To Steal You"), and his brief reminiscing about the early pianist Tony Jackson. Other than a few brief missteps, the music is quite rewarding, surprisingly so considering that these are mostly rejected takes. The Lewis selections include "Good Morning Blues," "Sister Kate," "and "My Old Kentucky Home," and the Gonsoulin duets are particularly rewarding. With Trevor Richards' lengthy liner notes as a bonus, this is a CD that Bunk Johnson collectors and those wondering what all of the fuss was about will want to pick up.
Rare & Unissued Masters 1943-46 (American Music AMCD-140, 18 selections, TT = 56:59) www.jazzology.com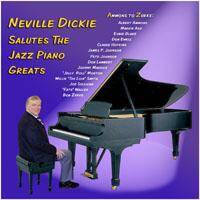 NEVILLE DICKIE
Neville Dickie, one of the top stride and boogie-woogie pianists of the past 50 years, has led at least 28 albums since 1966, having a hit in his native England with "Robin's Return" and selling over 100,000 copies of his 1975 album Back To Boogie. A brilliant player who long ago mastered several early jazz styles, he pays tribute to many of his idols on Salutes The Jazz Piano Greats.
With the exception of some overdubbing of a second piano part on two numbers dedicated to boogie-woogie giants Pete Johnson and Albert Ammons, this is a solo piano set. Dickie pays homage to James P. Johnson, Fats Waller, Joe Sullivan, Marvin Ash, Johnny Maddox (in his treatment of "Humoresque"), Willie "The Lion" Smith, Don Ewell, Eubie Blake, Donald Lambert, Claude Hopkins, Jelly Roll Morton, the team of Pete Johnson & Albert Ammons, and Bob Zurke (whose style he really captures). In addition to such exciting numbers as "Little Rock Getaway," "Hobson St. Blues," the Lion's "Finger Buster," "Charleston," and "South Side Strut," Dickie concludes the fun outing with his own "Back To Boogie."
This privately issued CD which was recorded in October 2015 features Neville Dickie in prime form.
Salutes The Jazz Piano Greats (self-released, 20 selections, TT = 69:37) www.nevilledickie.com
DENNIS LICHTMAN PAYS TRIBUTE TO THE JAZZ LEGACY OF QUEENS
While Queens is not thought of as one of the centers of jazz, quite a large number of jazz artists have lived in the New York borough since the mid-1920s. Among its former occupants were such greats as Clarence Williams (who moved there in 1925), Louis Armstrong, Bix Beiderbecke, Count Basie, Glenn Miller, Woody Herman, Fats Waller, James P. Johnson, Ella Fitzgerald, Billie Holiday, Roy Eldridge, Clark Terry, and apparently countless others.
Clarinetist Dennis Lichtman, who has lived in Queens for the past decade, has been a busy part of the current New York trad scene. On Just Cross The River, he pays tribute to Queens by debuting nine originals having to do with Queens and performing four standards ("Someday You'll Be Sorry," "Blue Turning Grey Over You," "Squeeze Me," and "Cake Walking Babies From Home") from such early Queens residents as Armstrong, Waller, and Williams. He also revives "Just Cross The River From Queens" which is apparently the only song written before 1940 that has Queens in its title.
For a special concert and his Just Cross The River CD, Lichtman put together the Queensboro Six, a fine sextet comprised (with the exception of drummer Rob Garcia) of musicians who either live in Queens or were originally from the area. Lichtman is joined by trumpeter Gordon Au, trombonist J. Walter Hawkes, pianist Dalton Ridenhour, bassist Nathan Peck, and drummer Garcia plus a few guests: singer-guitarist Jerron "Blind Boy" Paxton, violinist-singer Mazz Swift, vocalist Terry Wilson, and guitarist Nick Russo.
The music, which includes such colorful titles as "For Bix," "I'd Rather Remember Having Met You," and "23rd Between 23rd and 23rd," could mostly be considered small-group swing circa 1940 with a touch of Raymond Scott and the John Kirby Sextet. There are hot moments from the soloists, tight ensembles, some excellent vocals (Blind Boy on the very obscure "Just Cross The River From Queens" takes honors), plenty of hard-swinging moments, and some excellent new compositions that mostly utilize original chord changes. All in all, this set makes for an enjoyable listen.
Just Cross The River (Triple Treble Music TIM-007, 14 selections, TT = 53:45) www.dennislicthman.com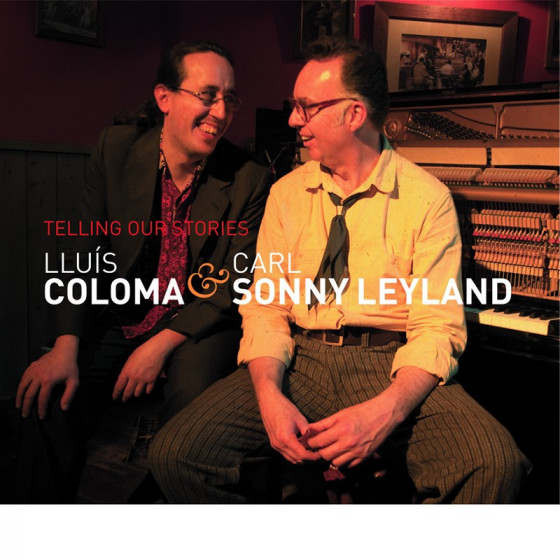 LEYLAND AND COLOMA
Carl Sonny Leyland is well known in the U.S. as a powerful blues, boogie-woogie, and stride pianist as well as being a fine blues singer. Lluis Coloma from Spain is an equally strong blues and boogie-woogie pianist. The two pianists are very much complete bands by themselves.
On Telling Our Stories, Leyland and Coloma team up as a duo to perform a set of rollicking music. Occasionally, as on the opening "Boogie Woogie Gallop," the ensembles get a bit overcrowded, but most of the time the pianists adapt their solo styles to this format, joyfully playing off of each other.
The repertoire has several originals including "Rolling Tumbleweeds" (which is in 5/4 time), "Detour Through Melancholia," and the well-titled "Destroying The Boogie." The standards include an unusual improvised version of Scott Joplin's "Swipesy Cakewalk," "Avalon," "Hindustan," "Swanee River Boogie," and the surprising "Your Cheatin' Heart," one of a few numbers on which Leyland takes a vocal chorus. Victor Puertas sits in on harmonica for "It's A Brand New Boogie" and drummer Marc Ruiz makes the group a trio on two numbers.
Sonny Leyland and Lluis Coloma obviously had a fun time making this CD, and listeners will share their enjoyment. The music is so infectious that it will leave everyone smiling.
Telling Our Stories (Swing Alley SA 034, 14 selections, TT = 63:44) www.freshsoundrecords.com
MARTY ELKINS
Marty Elkins is a delightful swing singer who deserves to be better-known. She worked with pianist Dave McKenna when she was attending college in Boston and has been part of the New York jazz scene since the early 1980s. The vocalist worked with trumpet Max Kaminsky and also with the Jimmy Ryan All-Stars but has mostly led local combos through the years. Inspired by Billie Holiday, she has a simple and basic delivery that understates lyrics and always swings lightly no matter what the tempo.
Fat Daddy is Ms. Elkins' fourth recording for the Nagel-Heyer label which includes Another Life (a set of duets with McKenna), Fuse Blues, and Walkin' By The River. A rule of thumb in collecting jazz recordings is that if trumpeter Jon-Erik Kellso is on the date, get it! He takes his share of lyrical solos throughout this set, performing in a group that includes guitarist James Chirillo (whose tasteful spots are a delight), organist-pianist Joel Diamond, bassist Lee Hudson, drummer Taro Okamoto, and occasionally pianist Steve Ash and Leopoldo Fleming on congas.
But Marty Elkins, even with her soft and soothing tone, is never overshadowed by her sidemen. She puts plenty of quiet feeling into the 14 vintage standards which include among the highlights "How Can You Face Me," "It's A Pity To Say Goodnight" (a song that deserves to be performed more often), "Sugar," "On Revival Day" and "It's Too Hot For Words."
While her previous CDs are excellent, Fat Daddy is Marty Elkins' definitive recording so far and is highly recommended to fans of first-class swing singers.
Fat Daddy (Nagel-Heyer 124, 14 selections, TT = 55:22) www.nagelheyer.com
JAZZ CLASSIC OF THE MONTH
Art Tatum was amazing. Arguably the greatest musician to ever perform jazz, Tatum could play piano with blinding speed and he was so harmonically advanced in the 1930s that it took 40 years for the jazz world to catch up to him. Hank Jones, himself a masterful pianist, once asked after hearing Tatum's recording of "Tiger Rag" who the three pianists were.
There are many rewarding Art Tatum recordings, including his Group Masterpieces from the 1950s (available as a box set) but Piano Starts Here is the place to begin. This single CD starts with the four selections that Tatum recorded at his initial solo recording session, from March 21, 1933. His versions of "Tea For Two," "St. Louis Blues," and "Sophisticated Lady" are fresh, advanced, and swinging with stop-time breaks that Earl Hines (one of Tatum's influences along with Fats Waller) probably envied. But they are dwarfed by "Tiger Rag," a remarkable performance from start-to-finish that is filled with more ideas (taken at a rapid tempo) than one can consume in just a few listens. Play this track for any pianist who is a bit conceited about their talents and see their reaction.
The remainder of the CD has the music from Tatum's performance at a "Just Jazz" concert presented by Gene Norman in 1949, probably the pianist's most memorable documented live set. Among the highlights are a masterful reworking of "Yesterdays" (which became one of his set pieces), impossibly fast versions of "I Know That You Know," and "Tatum Pole Boogie," and his variations on "Humoresque."
85 years after his first session, Art Tatum's playing still sounds futuristic and wondrous.
Piano Starts Here (Legacy/Columbia CK 64690, 13 selections, TT = 36:16) www.amazon.com
---
In every issue of The Syncopated Times, Nights At The Turntable features reviews of CDs by classic jazz, 1920s and '30s, New Orleans Jazz, Swing and Dixieland artists, covering both vintage greats and some of today's top musicians. Be sure to send a copy of your CDs to Scott Yanow, P.O. Box 1220, Lake Hughes, CA 93532 if you wish to have your recordings reviewed. If you are a musician and need liner notes, bios or press releases, feel free to drop me a line at [email protected]
---
Online Only
For Online Only Access without delivery of the print paper sign up below.
Subscription Options
---
Print Edition
 If you'd like the PRINT EDITION, (12 monthly issues) use the following PayPal link. After your payment is complete you will be allowed to create an online account. You will receive the next mailed copy, usually shipping around the 22nd of the month. See a PDF Sample Here.