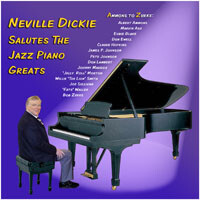 Neville Dickie, one of the top stride and boogie-woogie pianists of the past 50 years, has led at least 28 albums since 1966, having a hit in his native England with "Robin's Return" and selling over 100,000 copies of his 1975 album Back To Boogie. A brilliant player who long ago mastered several early jazz styles, he pays tribute to many of his idols on Salutes The Jazz Piano Greats.
With the exception of some overdubbing of a second piano part on two numbers dedicated to boogie-woogie giants Pete Johnson and Albert Ammons, this is a solo piano set. Dickie pays homage to James P. Johnson, Fats Waller, Joe Sullivan, Marvin Ash, Johnny Maddox (in his treatment of "Humoresque"), Willie "The Lion" Smith, Don Ewell, Eubie Blake, Donald Lambert, Claude Hopkins, Jelly Roll Morton, the team of Pete Johnson & Albert Ammons, and Bob Zurke (whose style he really captures). In addition to such exciting numbers as "Little Rock Getaway," "Hobson St. Blues," the Lion's "Finger Buster," "Charleston," and "South Side Strut," Dickie concludes the fun outing with his own "Back To Boogie."
This privately issued CD which was recorded in October 2015 features Neville Dickie in prime form.
Salutes The Jazz Piano Greats (self-released, 20 selections, TT = 69:37) www.nevilledickie.com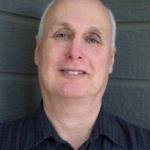 Since 1975 Scott Yanow has been a regular reviewer of albums in many jazz styles. He has written for many jazz and arts magazines, including JazzTimes, Jazziz, Down Beat, Cadence, CODA, and the Los Angeles Jazz Scene, and was the jazz editor for Record Review. He has written an in-depth biography on Dizzy Gillespie for AllMusic.com. He has authored 11 books on jazz, over 900 liner notes for CDs and over 20,000 reviews of jazz recordings.
Yanow was a contributor to and co-editor of the third edition of the All Music Guide to Jazz. He continues to write for Downbeat, Jazziz, the Los Angeles Jazz Scene, the Jazz Rag, the New York City Jazz Record and other publications.