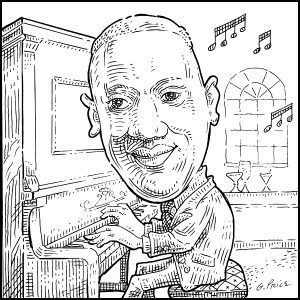 This month we salute composer, teacher, arranger, and master of stride piano James Price Johnson, born February 1, 1894 in New Brunswick, New Jersey. Johnson was the last great pianist to emerge from the Classic Ragtime era. A prodigiously gifted youngster and admirer of Scott Joplin, he pioneered the stride style of jazz piano with Willie "The Lion" Smith and Luckey Roberts about 1919. Stride injected the element of improvisation into ragtime, with a hard swinging, orchestral effect.
James P. Johnson's effect on the development of jazz piano can't be underestimated. He was mentor, teacher, and inspiration to Thomas "Fats" Waller, Duke Ellington, Count Basie, and Art Tatum. He composed the Official Anthem of the 1920s, "The Charleston," "If I Could Be With You (One Hour Tonight)," and many other hit tunes. During the lean years of the 1930s he managed to eke out a living on his royalties and compose extended concert works.
A comeback, borne of a resurgence of interest in his brilliant piano technique, was marred by health issues. He recovered from a 1940 stroke and resumed a heavy performance schedule. He worked steadily until a second, more severe stroke in 1951 made it impossible for him to continue playing. Johnson died November 17, 1955.
Today, James P. Johnson is rightly considered an indispensable figure in the history of jazz. His music and its influence are joyously pervasive. Late last year, Mosaic issued a CD box set featuring his recordings from 1921 through 1943, all beautifully restored. And young musicians, most notably Stephanie Trick, keep Johnson's piano compositions gloriously alive in public performance.