Nights at the Turntable December 2017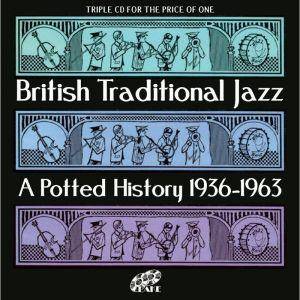 BRITISH TRAD JAZZ
The trad jazz movement in the United Kingdom was a bit of a phenomenon. From the mid-1950s until the rise of the Beatles in 1964, it was not unusual for Dixieland-oriented recordings to be on the British pop charts. Kenny Ball, Chris Barber, and Acker Bilk were household names and there were dozens of other regularly working trad bands that often played for young people who enjoyed dancing to the spirited music. Some of the bands emphasized novelties and comedy but most played the freewheeling music simply because they loved it.
British Traditional Jazz – A Potted History 1936-1963 (Lake) is a three-CD set compiled by Paul Adams that gives today's listeners an idea as to the range, quality and quantity of the trad jazz movement in the UK. Divided into CDs titled Pre History & Revival 1936-1953, Consolidation And Debuts 1954-1958, and Boom And Bust 1959-1963, this box set has 73 selections. While the bigger names are represented, the hits are absent in favor of rarer performances (including 24 previously unreleased recordings) with the focus being on how the groups really sounded when they were inspired.
The 40-page booklet by Paul Adams does an excellent job of summing up the history of trad jazz and the many bands heard on this set. He should write a full-length book!
Starting with three numbers from the swing era (by Danny Polo, Sid Phillips, and Nat Gonella) and several from the second half of the 1940s (including from George Webb's Dixielanders who many consider to be the first of the British trad bands), A Potted History is filled with stirring performances. Among those who are heard from are Humphrey Lyttelton, the Crane River Jazz Band, Ken Colyer, Steve Lane, Sandy Brown, Freddy Randall, the Christie Brothers Stompers, Alex Welsh, Terry Lightfoot, Beryl Bryden, Monty Sunshine, Mike Cotton, Harry Gold, Ottilie Patterson, and the three B's (Ball, Barber, and Bilk) plus many lesser-known names.
Whether acquired so as to study the individual groups or utilized as hot music for parties, A Potted History is highly recommended and great fun.
A Potted History 1936-1963 (Lake LACD300, 73 selections, TT = 3:54:29) www.fellside.com
THE HOTSY TOTSY GANG
Irving Mills was always a very enterprising individual. Although best remembered today as Duke Ellington's manager in the early days and one who put his name as co-composer on many of Duke's compositions of the 1920s and '30s, Mills did much more. He was an enthusiastic singer who popped up on many jazz and dance band records of the era. He was a decent lyricist, a producer of stage shows, radio shows and short films, and worked closely with publishing companies. Mills also worked with many artists beyond Ellington (including Fletcher Henderson, Jimmie Lunceford, Cab Calloway, and the Mills Blue Rhythm Band) and later in the 1930s he founded and ran the Master and Variety labels.
In 1928, Mills began leading a lengthy series of recordings under such names as the Whoopee Makers, Mills' Merry Makers, Goody's Good Timers, Mills' Musical Clowns, the Lumberjacks, the Kentucky Grasshoppers, the Ten Black Berries, Jimmy Bracken's Toe Ticklers, the Dixie Daisies, and Irving Mills' Modernists. The best-known of the groups was the Hotsy Totsy Gang, and its first 22 performances (including six alternate takes) are on Hotsy Totsy Gang 1928-1929, a new reissue from the Retrieval label.
The first three sessions (resulting in 12 selections) actually feature the Ben Pollack Orchestra of 1928-29, an ensemble with such soloists as trumpeter Jimmy McPartland, Dudley Fosdick on mellophone, C-melody saxophonist Jack Pettis, guitarist Eddie Lang, and (on two sessions) clarinetist Benny Goodman and trombonist Jack Teagarden. Such numbers as "Doin' The New Low-Down," "Digga Digga Doo" and "Futuristic Rhythm" are highlights with Irving Mills taking two vocals and other singing being by Elizabeth Welch and Smith Ballew. The remaining four sessions include such notables as trumpeters Phil Napoleon, Mannie Klein, and/or Bill Moore, Tommy Dorsey or Miff Mole on trombone and sometimes Jimmy Dorsey on alto and clarinet. Two numbers ("Ain't Misbehavin'' and "Doin' The New Low-Down") have Bill Bojangles Robinson singing and tap-dancing while the final three songs feature Hoagy Carmichael playing piano (including on "March Of The Hoodlums" and an early version of "Stardust") and singing "Harvey."
One looks forward to future volumes in this series, and perhaps reissues of the other groups that Irving Mills headed. These underrated recordings feature plenty of brief but hot solos.
Hotsy Totsy Gang 1928-1929 – The First 24 Sides (Retrieval RTR 79082, 24 selections, TT = 71:57) www.challengerecords.com
JOE SMITH & THE SPICY PICKLES
(This review is available to share as a single post)
Trumpeter Joe Smith formed the Spicy Pickles in Denver, Colorado in 2013 as a sextet that played swing and New Orleans jazz for dancers. The group has evolved a bit since then. On their latest recording Gin & Moonlight, they are a four-horn, four-rhythm octet consisting of Smith, trombonist Decker Babcock, Andrew Vogt, and James Isaac both doubling on tenor and baritone (with Vogt also playing clarinet), guitarist Greg Ruby, bassist Gary Sloan, drummer Braxton Kahn, and special guest Jeff Barnhart on piano. In addition, there are several vocals from the excellent Jessy Carolina (who normally sings with her own group in New York and sometimes recalls Helen Humes) and one apiece by Cara Griffith and the leader.
Throughout Gin & Moonlight, the Spicy Pickles are very much a swing band, one that often sounds a lot larger than its eight pieces. There are inventive revivals of "St. Louis Blues," "Moonglow" (including the rarely heard verse), "They Raided The Joint," a heated "I Would Do Anything For You," "Blue And Sentimental" (which looks towards the Count Basie version), "Lullaby Of The Leaves," and "I'll Be Seeing You." In addition, there are five originals with Joe Smith's "Pourin' My Heart Out" being particularly memorable and "A Moonless Night" purposely hinting at Artie Shaw's "Nightmare." All of the new material is very much in the swing tradition including "Mirage" by Dan Barrett who also arranged three numbers and co-produced the CD with Smith.
The solos are concise and colorful, the ensembles are tight, and the rhythm is steady and danceable. Gin &Moonlight is a delightful album recommended to listeners and dancers alike.
Gin & Moonlight (Cuttin' Records CR001 12 selections, TT = 45:49) www.joesmithandthespicypickles.com
NEW RAGTIME
(View and share as an individual post.)
The ragtime era is generally thought of as being roughly 1899-1915, and certainly ending with the death of Scott Joplin in 1917. Other than "Maple Leaf Rag," relatively few classic rags were recorded or even performed during the next 50 years and the music was thought of as largely extinct or, at best, a period piece. That permanently changed when a few Joplin pieces (most notably "The Entertainer") were used prominently in the 1973 hit film The Sting. Never mind that The Sting was set in the 1930s, not 1910. It sparked the revival of ragtime which has continued up to the present day.
In addition to performances and recordings of rags from the early days, one of the brightest aspects to the revival has been that there have been new rags composed by talents of the past 40 years. Reginald R. Robinson emerged as a ragtime pianist and composer in the early 1990s, has led five albums of his own, has written music for the stage, television and films, and is a music historian and educator.
Music Of Reginald R. Robinson is a delightful collection of 17 Robinson originals that were orchestrated by William Hayes and performed at a concert by the River Raisin Ragtime Revue. Under the direction of William Pemberton (who plays helicon bass), the group consists of a string quartet, banjo (an instrument rarely used in ragtime ensembles), flute/piccolo, clarinet, two cornets or trumpets, trombone, helicon bass (which has the role of a tuba), piano, and drums. While Doug Scott plays piano on the first 15 selections, Robinson is in the spotlight as a pianist on impressive versions of his "Sweet Envy" and "Mr. Murphy's Blues."
Some of the selections could be mistaken for formerly unheard rags by Scott Joplin, but Robinson's music (all composed between 1994-2015) reaches beyond the rag style of the era to include waltzes, tangos, a polka, and strong hints of early jazz, classical music and African-American folk music. His many beautiful melodies ("Naomi" is particularly memorable) sound as if they could have been performed during 1910-15 but none of his music is predictable or derivative.
This well-conceived set, which is impeccably performed, does Reginald R. Robinson's music full justice.
Music Of Reginald R. Robinson (R4 Recordings 00261 45928 17 selections, TT = 70:02) www.ragtimeband.org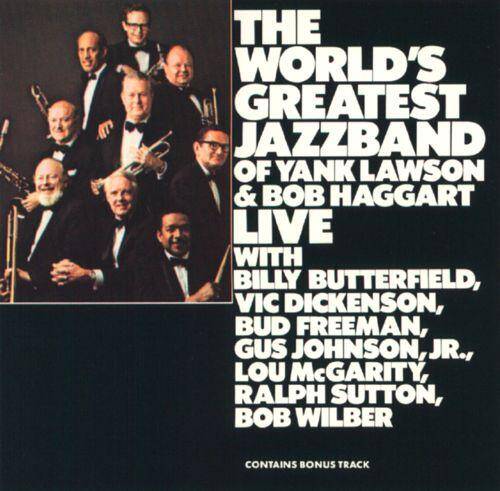 JAZZ CLASSIC OF THE MONTH
The World's Greatest Jazz Band (an obviously outlandish name for a group but one that got immediate attention) was an all-star Dixieland ensemble that was active during 1968-78. With Yank Lawson and Billy Butterfield on trumpets, trombonists Vic Dickenson and Lou McGarity, Bob Wilber on clarinet and soprano, tenor-saxophonist Bud Freeman, pianist Ralph Sutton, bassist Bob Haggart and drummer Gus Johnson, perhaps their name was not that far-fetched!
The WGJB's finest recording was Live, a consistently exciting set from 1970. The band's versions of "That's A Plenty" and "My Honey's Lovin' Arms" are quite explosive, Lawson is at his best on "Five Point Blues," both trumpeters are heated on "Come Back Sweet Papa," Dickenson is showcased on "Constantly," and the CD's "bonus" cut, a previously unreleased "Just One Of Those Things," features Freeman and Wilbur. Add to all of that six other selections including "Royal Garden Blues" and "The Jazz Me Blues" and one has a true gem.
Dixieland, hot jazz and swing may have been thought by many as being passé at the time, but few albums from 1970 in any style of jazz reached the level of excitement that can be heard on the WGJB's Live, a set that belongs in everyone's collection.
Live (Atlantic 90982, 12 selections, TT = 50:21)
---
In every issue of The Syncopated Times, this monthly column features reviews of CDs by classic jazz, 1920s and '30s, New Orleans Jazz, Swing and Dixieland artists, covering both vintage greats and some of today's top musicians. Be sure to send a copy of your CDs to Scott Yanow, P.O. Box 1220, Lake Hughes, CA 93532 if you wish to have your recordings reviewed. If you are a musician and need liner notes, bios or press releases, feel free to drop me a line at [email protected] 
---
This is what our print edition feels like. If you want good news to read with your morning coffee, order a print subscription. You'll get full online access to our archives, web extras, and our next issue will arrive at your door. Online only access to all of our original material is also available! Support Hot Jazz Journalism- Subscribe
---
Online Only
For Online Only Access without delivery of the print paper sign up below.
Subscription Options
---
Print Edition
 If you'd like the PRINT EDITION, (12 monthly issues) use the following PayPal link. After your payment is complete you will be allowed to create an online account. You will receive the next mailed copy, usually shipping around the 22nd of the month. See a PDF Sample Here.