BUNNY BERIGAN AT HIS BEST
Bunny Berigan (1908-42) was one of the greatest trumpeters of all time. Whether hitting high notes or exploring the lower register of his horn, he had a beautiful tone. His exciting solos, which occasionally found him taking hair-raising chances, uplifted every session. Unfortunately Berigan's alcoholism cut short his career and his life at the age of 33 but he left behind many exciting recordings.
After a stint with Hal Kemp during 1929-30, Berigan settled in New York as a studio musician who could always be relied to create hot solos. He recorded quite a bit during 1931-37 and contributed important solos that helped Benny Goodman in 1935 and Tommy Dorsey in 1937 have major hits. Berigan led his own big band during 1937-39 and 1941-42 but, other than his recording of "I Can't Get Started," his orchestra never caught on big despite his personal popularity due to his increasing unreliability.
Bunny Berigan – Selected Sides 1931-1937 is a well-conceived four-CD set from the British JSP label. Similar in format to the previously released limited-edition seven-CD Mosaic box The Complete Brunswick, Parlophone, and Vocalion Sessions, the JSP box has most of the cream from this important seven-year period in Berigan's career.
The trumpeter is heard soloing with a variety of Depression era dance bands including Frank Auburn, Fred Rich, Chester Leighton, the Imperial Dance Orchestra, Bob Causer's Cornellians, Bennie Krueger, the All Star Collegians, and Paul Hamilton, often alongside Benny Goodman and the Dorsey Brothers. He is also one of the main stars on hot jazz sessions with the Boswell Sisters, Connee Boswell, the Dorsey Brothers, Chick Bullock's Levee Loungers, Lee Wiley, Bing Crosby, Mildred Bailey, Adrian Rollini, Red Norvo's Swing Octet, Glenn Miller, the Mound City Blue Blowers, Benny Goodman, Bud Freeman, Frank Froeba, and Dick McDonough in addition to his own sessions that he led prior to forming his big band. Among the 100 recordings are memorable versions of "Pardon Me Pretty Baby,' "Why Did It Have To Be Me," "Everybody Loves My Baby," "Stay On The Right Side Of The Road," "Honeysuckle Rose," "In A Little Spanish Town," "The Buzzard," ""Chicken And Waffles," "It's Been So Long," and Benny Goodman's hits ("King Porter Stomp" and "Song Of India") but surprisingly not Tommy Dorsey's. There are also two versions of "I Can't Get Started" including the famous rendition which closes this excellent box set.
While not containing every single major Bunny Berigan solo, the five hours of classic music on Selected Sides does the great trumpeter justice.
Selected Sides (JSP 976, 100 selections, TT = 4:57:29) www.jsprecords.com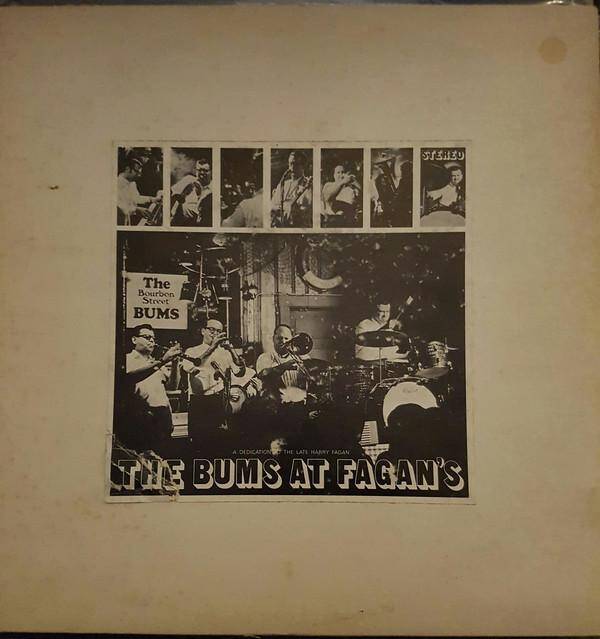 RALPH GRUGEL'S MUSICAL LEGACY
Trombonist Ralph Grugel was a major force in keeping Dixieland alive and well in the Cleveland area for many years. He led a band that played at Fagan's night club for nine years (1962-71), a group that the club owner named "The Bourbon Street Bums." After leaving the band, Grugel founded and led the Eagle Jazz Band for 34 years, up to the time of his 2005 death. Grugelfest, a three-day annual Dixieland festival, was founded in 2012 and named after the trombonist.
The Bums At Fagan's reissues the music from the LP of the same name and will be officially released at Grugelfest 2017 in September. The 1968 version of The Bourbon Street Bums is featured during the original 11-song program and joined by an additional nine numbers cut live in 1993 by the Eagle Jazz Band that were never previously released.
The earlier date features Grugel, either trumpeter Mike Galloway or cornetist Jim Baby, Joe Richard on clarinet and soprano, pianist Mike Sands, banjoist Bart Willis, drummer Bill Sindelar, and either Andy Hornzy on tuba or bass saxophonist Al Youngquist (who is in particularly excellent form). The recording quality is excellent with a strong presence by the tuba or bass sax. Grugel and his band clearly loved to swing hard and fast for these renditions of such songs as "That's A Plenty," "Royal Garden Blues," "At The Jazz Band Ball," and "Blues My Naughty Sweetie Gives To Me" are taken successfully at racehorse tempos. Even when the pace is a little slower (as on "New Orleans"), the band's intensity and passion never decrease. Among the surprises are the unusual spot where "Basin Street Blues" goes into double-time, and a tongue-in-cheek rendition of the Beatles' "When I'm 64."
While not quite as well recorded, the live session from 1993 is on the same level musically with colorful solos and ensembles that are full of fire. Grugel leads a completely different sextet comprised of cornetist Al Kinney, Ted Witt on clarinet and soprano, pianist Jean Huling, banjoist Dave Marshall, Paul Huling on tuba and washboard, and drummer Rich Fawcett. Grugel sings a few of the numbers (including "Red Riding Hood" and "Peoria"), pianist Huling plays some ragtime on an unidentified song, and the highlights include another version of "At The Jazz Band Ball" and "Storyville Blues."
Dixieland fans are well advised to get The Bums At Fagan's. It contains plenty of spirited performances.
The Bums At Fagan's (Privately released, 20 selections, TT = 75:00) www.grugelfest.com
ANOTHER "COMPLETE" SCOTT JOPLIN RECORDING
What do Knocky Parker, Richard Zimmerman, Dick Hyman, John Arpin, Richard Dowling and William Appling have in common? Somewhere in their careers, all six pianists recorded the "complete" Scott Joplin. However in this case, the "complete" is in the ear of the behearer. Does one include Joplin's early sentimental songs, the pieces that he arranged for other ragtime composers, or any of the themes from his opera Treemonisha? Knocky Parker managed to fit 50 pieces in a two-LP set by not repeating any of the themes (turning the usual A-A-B-B-A-C-C-D-D framework into A-B-A-C-D). Richard Zimmerman documented the most Joplin works (66), John Arpin stuck to 52, and Dick Hyman and (most recently) Richard Dowling agreed on 54 apiece although their lists were not identical and Hyman also recorded improvisations on 12 of the numbers on an extra disc.
The late William Appling (1932-2008) was a classical conductor, pianist, arranger and conductor. He was based in the Cleveland area where he was a notable choral director. He founded the William Appling Singers & Orchestra in 1979 with whom he made several highly-rated recordings.
The first African-American to record the "complete" Scott Joplin, Appling documented 46 Joplin pieces (not counting the brief "Prelude to The Sycamore") during 2006-07, performances which are being released for the first time on the four-CD set The Complete Rags, Waltzes & Marches. Appling did not include the early Joplin songs, the works on which Joplin wrote only one or two sections, or anything from Treemonisha but everything essential is here. His interpretations of the classic rags, waltzes and marches are generally taken at the slow tempos that he believed the composer would have preferred. His treatments are relaxed, thoughtful and somewhat soothing, bringing out the beauty of each theme rather than putting the focus on his pianistic abilities. Only five of the pieces are under four minutes in length with nine of the renditions exceeding six minutes.
William Appling's recording, which was released at the time of the 100th anniversary of Scott Joplin's death, makes for a very nice complement to the Joplin sets of Richard Dowling and the other brilliant pianists.
The Complete Rags, Waltzes & Marches (WASO 2008, 47 selections, TT = 3:51:11) www.williamappling.org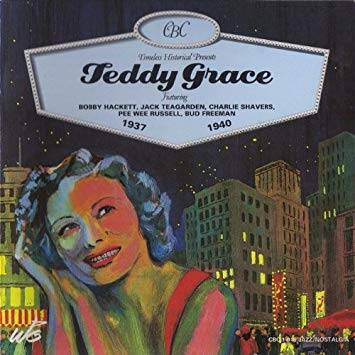 JAZZ CLASSIC OF THE MONTH
Few today probably know about Teddy Grace's excellent recordings of the 1930s even though she was one of the finest jazz and blues singers of the era. Born in 1905 in Arcadia, Louisiana, she played piano and guitar while growing up. Married at 18, Grace did not sing in public until she was 26 in 1931 when a friend dared her to sit in with a group. She was immediately discovered and within two weeks began singing regularly in the South. She worked with several groups including Blue Steele's orchestra, Al Stanley's Arcadians and Al Katz's Kittens. Moving to New York, she sang and made her first recordings with Mal Hallett's orchestra. In 1937 Grace made her recording debut as a leader on the first of seven sessions cut for the Decca label.
During those Decca sessions of 1937-40, Grace recorded 30 songs, often with such jazz all-stars as cornetist Bobby Hackett, trumpeters Charlie Shavers and Max Kaminsky, trombonist Jack Teagarden, clarinetists Buster Bailey and Pee Wee Russell, tenor-saxophonist Bud Freeman, and pianists Frank Froeba and Billy Kyle. While she was white, she often showed that she could sing the blues as well as anyone and always swung while displaying a very attractive voice. She also recorded 11 numbers with the Bob Crosby big band during 1939 and two songs with Lou Holden's Disciples of Rhythm. But late in 1940, Grace dropped out of the music business because she was tired of having to battle Decca to record the jazz and blues that she wanted.
Teddy Grace's obscurity today is due to her brief career. In 1943 she joined the WACs, organized revues, and sang so much at bond rallies and shows for the military that the following year she lost her voice completely. For six months she could not make a sound and, while her speaking voice eventually came back, she was never able to sing again. She spent the rest of her life working as a typist and secretary, passing away in 1992 at the age of 86.
The self-titled Teddy Grace CD put out by the Timeless label has 22 of her 30 recordings as a leader. Bobby Hackett and Jack Teagarden are on four songs apiece, on one date she is joined by Bud Freeman's Summa Cum Laude Orchestra, and ten songs with Charlie Shavers display her expertise with the blues. A complementary set put out by Hep (also called Teddy Grace) has four of her other songs as a leader plus most of her work with Mal Hallett, Bob Crosby and Lou Holden.
Teddy Grace deserves to be remembered.
Teddy Grace (Timeless 1-016, 22 selections, TT = 62:23) www.timelessjazz.com
---
In every issue of the Syncopated Times, this monthly column features reviews of CDs by classic jazz, 1920s and '30s, New Orleans Jazz, Swing and Dixieland artists, covering both vintage greats and some of today's top musicians. Be sure to send a copy of your CDs to Scott Yanow, P.O. Box 1220, Lake Hughes, CA 93532 if you wish to have your recordings reviewed. If you are a musician and need liner notes, bios or press releases, feel free to drop me a line at scottyanowjazz@yahoo.com. In addition CHOPS, a series of 50 Jazz Trivia Quizzes totaling 1,000 multiple-choice and true/false questions covering all eras of jazz, is available from me as a PDF for $25 via Pay Pal at the same E-mail address.
Summary
Reviewer
Review Date
Reviewed Item
Author Rating
Subscription Options
---
Or get the Print Edition with Online Access. To get the print edition of The Syncopated Times use this Paypal link. After you pay you will be issued a coupon for free online access.