Nights at the Turntable October 2018
DUKE ELLINGTON'S TREASURY SHOWS
Duke Ellington and his orchestra were featured on a series of weekly radio programs during 1945-46 that became known as The Treasury Shows. While the commercial purpose was to sell war (and later victory) treasury bonds, the 55-minute programs gave Ellington an opportunity to perform suites, his hits, standards, and some unlikely material, mostly without any interruption. The shows, which have very good sound quality, survived and were made available in the 1980s by Jerry Valburn on his Meritt label. Valburn released 48 LPs in all, with the last couple featuring other rare broadcasts from 1953.
The Storyville label for their D.E.T.S. subsidiary has reissued all of the programs on 25 two-CD sets. In addition to containing two radio shows, each twofer also includes briefer (and sometimes previously unreleased) broadcasts that are mostly from the 1943-44 period and often taken from Ellington's extended engagements at the Hurricane Club in New York.
Vol. 25 has recently been released, completing this very valuable series. Included on this set are a nine-song broadcast from June 1953 (only previously available on a Meritt "bonus" album) plus four shorter radio programs from the Hurricane Club during 1943-44 that are mostly being released for the first time.
Although some think of Ellington as being in an off period during 1952-54 when Johnny Hodges was temporarily out of the band (leading his own combo), Duke had no less than ten significant soloists in his orchestra at the time, not counting the pianist; most big bands have three or four. Among the highlights of this broadcast are "Boodah" (featuring cornetist Ray Nance, clarinetist Jimmy Hamilton, and the high-note trumpet of Cat Anderson), baritonist Harry Carney's showcase on "Frustration," "Duet" (which puts the spotlight on Hamilton and bassist Wendell Marshall), the uptempo "Ballin' The Blues" (which has spots for trumpeter Clark Terry, Jimmy Hamilton on tenor, and the singing of Jimmy Grissom) and a rambunctious version of "Basin Street Blues" featuring a Dixieland frontline (Terry, clarinetist Russell Procope, trombonist Quentin Jackson, and Ray Nance on vocals and a Louis Armstrong-inspired cornet solo) taken from Ellington's big band. This was an off period?
The 1943-44 band (which "only" had nine main soloists) explores many moods during its four broadcasts. Featured along the way are Nance (on violin in addition to cornet), cornetist Rex Stewart, trumpeter Taft Jordan, Jimmy Hamilton, altoist Johnny Hodges, trombonists Tricky Sam Nanton and Lawrence Brown, and the great tenor Ben Webster, plus vocals from Al Hibbler and Betty Roche.
True Duke Ellington fans, collectors and fanatics will have to get all 25 volumes of this memorable series. Congratulations are due Storyville for seeing this very extensive program to its completion.
The Treasury Shows, Vol. 25 (D.E.T.S. 903 9025, 35 selections, TT = 1:51:24) www.storyville-records.com
(View and Share as a Separate Post)
MICHAEL GAMBLE'S RHYTHM SERENADERS
Swing lives! While the big band era ended in 1946, Swing (the noun rather than the verb) never went away. Whether it was the mainstream recordings of the mid-1950s (such as the Buck Clayton Jam Sessions), the comeback of small-group swing in the mid-1970s (fueled by the emergence of Scott Hamilton and Warren Vache), the faddish but exciting Retro Swing movement of the 1990s (which inspired younger people to return to dancing to swing groups) or the current hot jazz scene in New York, swing has continued to evolve.
On Oct. 28, 1940, Benny Goodman led a rehearsal session that found the clarinetist and guitarist Charlie Christian performing in an octet that included the Count Basie rhythm section, trumpeter Buck Clayton and tenor-saxophonist Lester Young. The four numbers that resulted were not released until late in the LP era, but what if that group had existed for a longer period of time? Would it have sounded a bit like bassist Michael Gamble's Rhythm Serenaders?
The debut self-titled recording by Michael Gamble and the Rhythm Serenaders is very much in the tradition of a Count Basie small group (circa 1939) and the Benny Goodman Sextet. The personnel and instrumentation is the same as that of the Goodman Octet other than the addition of a trombone on some of the selections: Kenan McKenzie and Paul Cosentino on clarinets, tenor and alto (it is not obvious who is playing what), Gordon Au or Noah Hocker on trumpet, solo guitarist Jonathan Stout, rhythm guitarist Brooks Prumo, Craig Gildner, or James Posedel on piano, Russ Wilson or Josh Colazzo on drums, and Lucia Cobb or David Wilken on trombone. Wilson takes a couple of personable vocals while Laura Windley imitates Billie Holiday on four numbers, particularly in her phrasing.
The music mixes together some standards such as "Back In Your Own Backyard" (which has Windley's best vocal), a Dixielandish "Who's Sorry Now" and "There'll Be Some Changes Made" with riff tunes from the era ("Seven Come Eleven," "Sweets," and "Pick-A-Rib") and "Crazy About Lester" which pieces together phrases that Lester Young often played. The most impressive soloists are Stout (who really has Charlie Christian's style down without feeling compelled to merely copy his ideas), the tenor soloist (who is actually closer to Herschel Evans than to Lester Young), and the altoist, but each of the musicians plays well within the vintage style. It is particularly enjoyable when the band temporarily drops the worked-out riffs and simply jams in an Eddie Condon-type ensemble. On the evidence of this highly enjoyable CD, the Rhythm Serenaders would be great fun to see live.
Michael Gamble and the Rhythm Serenaders (Organic OR 16552, 18 selections, TT = 62:42) www.organic-records.com
(View and Share as a Separate Post)
TWO FROM THE GALVANIZED JAZZ BAND
From Connecticut, the Galvanized Jazz Band has performed regularly since its formation back in 1971, and the group is still active today. Recently the ensemble put out two CDs of mostly previously unreleased performances dating from the early part of this century.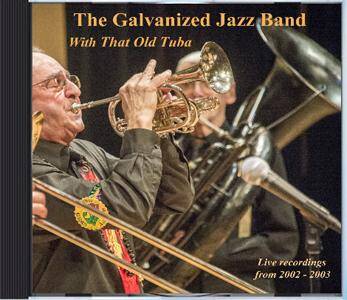 With That Old Tuba received its name because it features Art Hovey (who normally doubles on string bass) exclusively playing tuba and usually taking a solo. Dating from 2001-03 and recorded at the group's regular Sunday gig at the USS Chowderpot III in Branford, Connecticut, the performances feature cornetist Fred Vigorito (the group's leader and founder), Russ Whitman on clarinet, tenor and bass sax, pianist Bill Sinclair, banjoist Joel Schiavone, Hovey on tuba and drummer Bob Bequillard plus seven different trombonists (including Jim Fryer who also plays trumpet on two numbers) and a few guests. The good-time music is rollicking New Orleans jazz. While five of the first 11 numbers have so-so vocals (which are generally not on the same level as the solos and ensembles), the final six numbers are instrumentals. Despite that slight reservation, the music is quite enjoyable and spirited, highlighted by "Smiles," "After You've Gone," "Put On Your Old Grey Bonnet," "Muskrat Ramble," and "Stumblin'."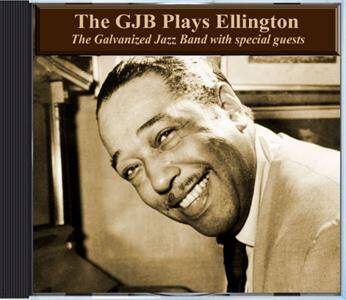 The GJB Plays Ellington, which also has performances from 2001-03 plus two from 2007-08 and a version of "C Jam Blues" from 1984, has the same personnel on most selections. Art Baron (an alumnus of Ellington) is a strong asset on seven of the dozen numbers. The frameworks are excellent with the Ellington-associated songs adapting very well to this format. Such numbers as "It Don't Mean A Thing," "Stevedore Stomp," "Saturday Night Function," and "C Jam Blues" are among the more exciting numbers.
Not too many groups have been together for 47 years, and few have had the stable personnel of the Galvanized Jazz Band. Vigorito and the rhythm section on the two CDs had been in the band for 30 years at the time of those performances and the current version of the group still includes the trumpeter, Whitman, Sinclair, Hovey and Bequillard. No trad jazz collection is complete without a couple of this group's recordings and these two CDs serve as perfect introductions to their infectious music.
With That Old Tuba (Galvanized Jazz GB 02-03, 17 selections, TT = 71:33) www.galvanizedjazz.com
The GJB Plays Ellington (Galvanized Jazz 6/018, 12 selections, TT = 65:34) www.galvanizedjazz.com
(View and Share as a Separate Post)
JAZZ CLASSIC OF THE MONTH
In 1982, guitarist Howard Alden and trombonist Dan Barrett, who had been playing together on and off on the West Coast since the mid-1970s, moved to New York City. They had long wanted to team up in their own swing combo, utilizing new arrangements rather than merely jamming standards or recreating vintage recordings. It took a few years of freelancing (Alden worked with Joe Bushkin while Barrett was with the Widespread Depression Orchestra and Benny Goodman) before they made their first joint recording in late 1986, Swing Street. The album, the first time that either of these talents had an opportunity to lead their own session, can be looked upon as the launch of their solo careers. 36 years later, they remain very important parts of the jazz scene.
The co-leaders were joined in their group by the underrated Chuck Wilson on alto and clarinet, bassist Frank Tate, and drummer Jackie Williams. Alden and Barrett already had their styles and sounds together and Wilson (particularly on his Johnny Hodges-influenced alto) proved to be quite impressive. The Howard Alden-Dan Barrett Quintet somehow managed to capture the sound of the John Kirby Sextet (which was comprised of trumpet, clarinet, alto, piano, bass and drums) on a few of their performances despite having the very different instrumentation of trombone, alto/clarinet, guitar, bass and drums. In addition to utilizing arrangements by the co-leaders and Charlie Shavers' atmospheric "Dawn On the Desert," the great Buck Clayton (who would arrange all of their second album) contributed three charts.
While the Kirby and Shavers numbers ("Lullaby In Rhythm," "I May Be Wrong," "Front And Center," and "Dawn On The Desert") are delightful, the quintet also explores three Clayton originals, a pair of songs inspired by the Benny Goodman Sextet with Charlie Christian ("Flying Home" and "Stompin' At The Savoy"), Thelonious Monk's ballad "Pannonica," "I Didn't Know About You," and a hard-swinging "Cotton Tail."
All five musicians are still with us today including 85-year old Jackie Williams and Chuck Wilson who turned 80. While a reunion of the Alden-Barrett Quintet is improbable, one can still dream. In the meantime, Swing Street is well worth a search.
Swing Street (Concord CJ-349, 12 selections, TT = 44:34)
---
In every issue of The Syncopated Times, Nights At The Turntable features reviews of CDs by classic jazz, 1920s and '30s, New Orleans Jazz, Swing and Dixieland artists, covering both vintage greats and some of today's top musicians. Be sure to send a copy of your CDs to Scott Yanow, P.O. Box 1220, Lake Hughes, CA 93532 if you wish to have your recordings reviewed. If you are a musician and need liner notes, bios, or press releases, feel free to drop me a line at [email protected]
---
Online Only
For Online Only Access without delivery of the print paper sign up below.
Subscription Options
---
Print Edition
 If you'd like the PRINT EDITION, (12 monthly issues) use the following PayPal link. After your payment is complete you will be allowed to create an online account. You will receive the next mailed copy, usually shipping around the 22nd of the month. See a PDF Sample Here.