Since all of the April festivals have been cancelled, it is a good time to delve into the many available books about New Orleans. The 1850 House on St. Ann at Jackson Square has a wonderful collection of books available on line (www.1850housestore.com) and they are offering a 20% discount with free shipping!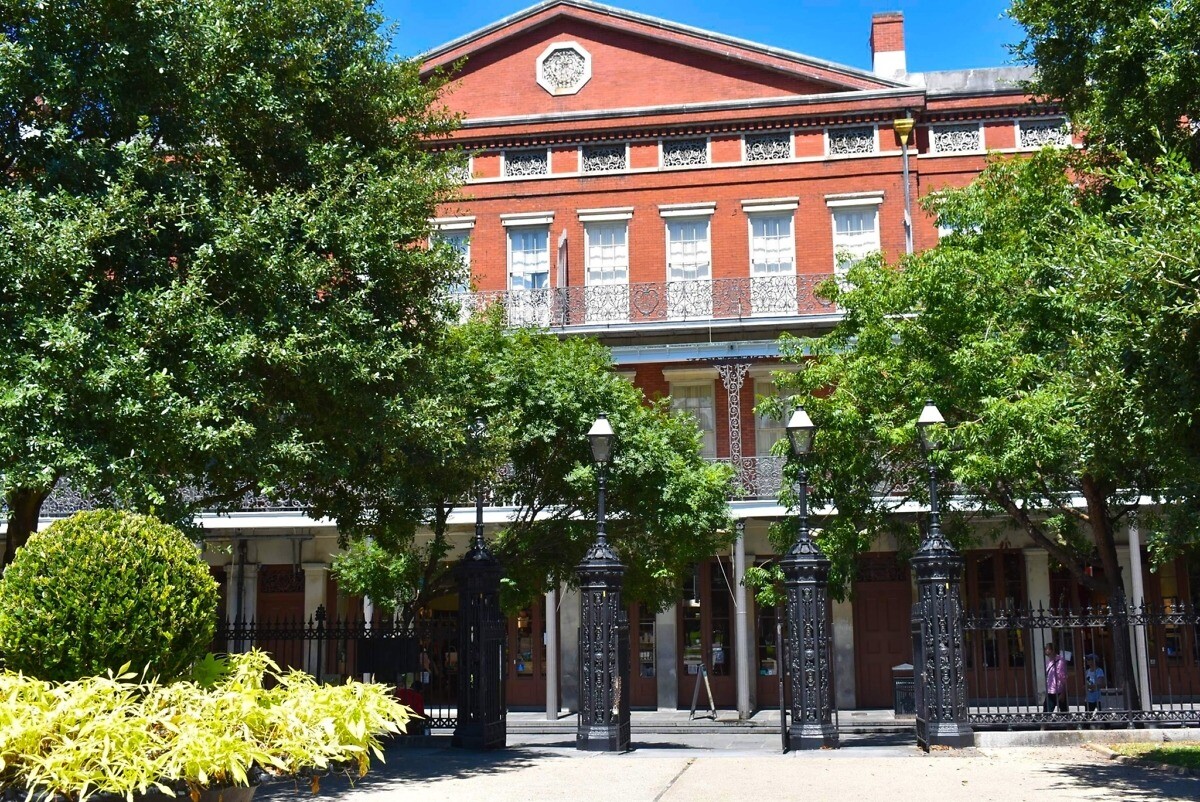 A book I recently ordered was lovingly "gift-wrapped" with fleur-de-lis paper and an appreciative "thank you" written on the envelope. Help the Friends of the Cabildo (see note at the end of this column) by going on line and selecting an edition at these great prices. All of the following previews and photos are from their website which also offers jewelry, art and other mementos. Here are just a few of the classic and contemporary selections, definite "must reads" during these times of self-isolation: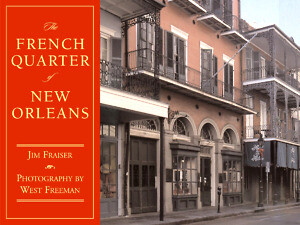 There is no place in America like New Orleans' famed French Quarter.
With photographs and history, The French Quarter of New Orleans explores the unique evolution of this district. The author and photographer team to reveal how war, fire, floods, politics, cultural conflict, and architectural innovation shaped the Quarter.
In West Freeman's 160 color photographs the present-day romance of the Vieux Carré is here to savor. But The French Quarter of New Orleans moves beyond the Old World façades and into the heart and history of the many peoples-Spanish, French, Creole, Native American, African American, and Italians-who have lived here.
From humble, wooden French cottages to stately, brick Spanish Colonial mansions, from Madame John's Legacy to the St. Louis Cathedral, the Quarter's architecture enthralls, and Jim Fraiser's text creates an anecdotal walking tour of memorable and storied sites. Studying buildings, Fraiser points out the struggle between native Creoles and newcomers in the replacement of Creole townhouses and cottages with "shotgun houses" and American Greek Revival homes. Freeman's photographs and Fraiser's text detail the historical significance and architectural styles of over one hundred structures.
The history of the Quarter teems with vagabonds and saints, warriors and playwrights, musicians, and politicians. Fraiser animates the fascinating story with such evocative figures as the pirate Jean Lafitte, the conquering general Andrew Jackson, and the voodoo queen Marie Laveau. Riverboat gamblers, ladies of the night, duelists, opera aficionados, plague victims, jazz musicians, charlatans, and Mardi Gras revelers populate the streets and edifices Fraiser describes.
For those who have visited the Quarter, this book will be a treasured memento of the district's unparalleled romance and flavor.
Jim Fraiser is the author of Mississippi River Country Tales (2001) and, with West Freeman, The Majesty of the Mississippi Delta (2002). He lives in Jackson, Mississippi. West Freeman is a native of New Orleans. His photographic work has been featured in Architectural Digest and is in the permanent collection of the New Orleans Museum of Art.
Eating and cooking well are not just industries but ways of life for all New Orleans. Writer and photographer Elsa Hahne has visited the kitchens of thirty-three of New Orleans's home cooks and raconteurs and has served up an expansive smorgasbord inspired by this vibrant city's love affair with food.
Almost every cultural group that has made its mark on New Orleans is represented in these pages: Creole, African American, Native American, Isleno, German, Cajun, Italian, Irish, Greek, Hungarian, Croatian, Cuban, Honduran, Mexican, Indian, Filipino, Chinese, Vietnamese, and more.
With thirty-three first-person accounts and over one hundred black-and-white and full-color photographs, You Are Where You Eat proves that the local population remains as passionate about cooking after the hurricanes of 2005 as at any time before. Among the eighty-five recipes are such classic New Orleans dishes as red beans and rice, catfish court bouillon, crawfish bisque, filé gumbo, grillades, and daube glacé, but also more recent arrivals to local tables: yakamein, pork tamales, crawfish samosas, and Vietnamese spring rolls.
Elsa Hahne is the creator of the touring exhibit You Are WHERE You Eat–Stories and Recipes from the Crescent City, which was supported by the Louisiana Division of the Arts and the Louisiana Endowment for the Humanities. Her work has appeared in numerous international magazines and newspapers.
Note: this delightful book has two of our friends on the front cover, Lou and Kay. Lou passed away a few years ago but Kay is always seen at any Fest, Parade, or Dance. She is a native New Orleanian and a great dancer, now usually in the company of one of her tow-headed grandchildren, showing them how to second line!
The history of New Orleans is a street-level story, with names like Iberville, Terpsichore, Gravier, Tchoupitoulas, and, of course, Bourbon, presenting the city's past with every step. The late John Churchill Chase eloquently chronicles the origins and development of the most fascinating of American cities in this humorous masterpiece.
Frenchmen, Desire, Good Children details the interesting stories of the developers and families as well as the infamous and famous people, places, and events from which the city's names and character are drawn. First published by now-defunct New Orleans publisher Robert L. Crager in 1949, the book remains funny and informative, generally accepted as a standard reference about the Crescent City.
In 2015, the beautiful jazz funeral in New Orleans for composer Allen Toussaint coincided with a debate over removing four Confederate monuments. Mayor Mitch Landrieu led the ceremony, attended by living legends of jazz, music aficionados, politicians, and everyday people. The scene captured the history and culture of the city in microcosm—a city legendary for its noisy, complicated, tradition-rich splendor. In City of a Million Dreams, Jason Berry delivers a character-driven history of New Orleans at its tricentennial. Chronicling cycles of invention, struggle, death, and rebirth, Berry reveals the city's survival as a triumph of diversity, its map-of-the-world neighborhoods marked by resilience despite hurricanes, epidemics, fires, and floods.
Berry orchestrates a parade of vibrant personalities, from the founder Bienville, a warrior emblazoned with snake tattoos; to Governor William C. C. Claiborne, General Andrew Jackson, and Pere Antoine, an influential priest and secret agent of the Inquisition; Sister Gertrude Morgan, a street evangelist and visionary artist of the 1960s; and Michael White, the famous clarinetist who remade his life after losing everything in Hurricane Katrina. The textured profiles of this extraordinary cast furnish a dramatic narrative of the beloved city, famous the world over for mysterious rituals as people dance when they bury their dead.
—
Who are the Friends of the Cabildo? Here is a description from their website: The Friends of the Cabildo operates the 1850 House Museum Store, the official gift shop for the Louisiana State Museum properties in New Orleans. The Friends of The Cabildo is able to provide financial support to the Louisiana State Museum through the sales of our daily French Quarter Walking Tours and merchandise at the 1850 House Museum Store. At our store you can find handmade art, jewelry, pottery and crafts by local artists, books on everything from history to food to voodoo, exhibit-related merchandise from our museum properties and much more.
Personally, I look forward to visiting the Museums again in the hopefully very near future.