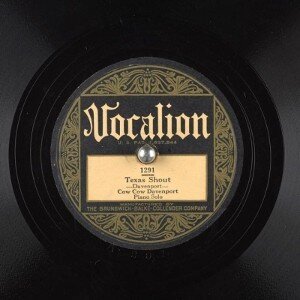 Set forth below is the forty-ninth "Texas Shout" column. It first appeared in the April 1994 issue of The West Coast Rag, now known as The Syncopated Times. I have tacitly deleted the contact information for the now-defunct Syracuse Cinefest and replaced the contact information for the Society Of Cinephiles with the latest information available to me.
Not long ago I learned of the recent discovery of a clip of sound film that shows a few seconds of Bix Beiderbecke soloing on cornet. I haven't seen it yet, but the news reminds me of some experiences with vintage films that might be of interest to WCR's readers.
As many of you know, Nancy and I are deeply into movies. We watch over 300 features a year, almost all of them via cable or VCR.
(We gave up going to the theater. Not only is it expensive, but the audiences are often loud and otherwise rude. Further, the films are sometimes projected at the wrong aspect ratio. If we want to see films at the wrong aspect ratio, we can do it more cheaply and comfortably at home.)
Years ago I was historian and host for the last vintage film society to function here in Wilmington. A fair amount of the courtship between Nancy and myself occurred at drive-in double features (no off-color remarks, please). The first summer of our marriage, we drove an hour to Germantown several times a week to a movie house that was showing a summer of classic-period features.
Shortly after we were married in 1971, we began attending special film fans' weekends. These are much like Dixieland festivals, except that instead of digging various combos from dawn until the wee hours, attendees watch rare old (usually pre-1940) movies and sometimes meet stars or other persons active in the production thereof.
In recent years, we've been attending a fabulous function in Syracuse every March, the Syracuse Cinefest. Most of the time, we watch the films projected in 16 millimeter in a hotel ballroom, but once during the weekend we visit a nearby cinema for special 35mm screenings.
In 1993, the special showings were at a restored downtown movie palace. A highlight was to be "Her Sister From Paris," a 1925 silent from the Library Of Congress collection that turned out to be a delightful Constance Talmadge-Ronald Colman romantic comedy. We were promised some early Vitaphone sound shorts, but were not told what they would be.
Imagine my amazement when one of them turned out to feature Red Nichols! I couldn't readily identify the entire sextet, but banjo/guitarist Eddie Condon (who sings two vocals) and reedman Pee Wee Russell are unmistakable. Five numbers are played, the second a ballad in which Nichols is joined by two trumpeters. The show ends with "China Boy," a romping ride that's hotter'n a pistol.
I couldn't believe it. Here, captured on sound film at the very beginning of their careers, when no one had any reason to think they would become legendary figures of jazz, were Condon and Russell, not to mention Nichols, a personal favorite of mine, still young but already well known.