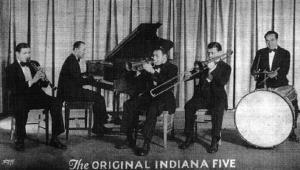 The Original Indiana Five were not from Indiana. Their name was an apparent attempt to sound like other bands of the day that had names like the Original Memphis Five and the Original New Orleans Jazz Band.
The band played mainly in New York City and were broadcast on the radio. They were active from sometime in the late teens or early 1920s to 1929. They also recorded under the name of John Sylvester and his Orchestra. The group got back together in 1948 and played in New York until sometime in the early 1950s.
Thanks to Scott and Mark of Vintage Music Company and James Gallup, for their help with the recordings on this page. 
Title

Recording Date

Recording Location

Company

All Over Nothing At All


(James Rule)

1923
Long Island City, New York
La Belle 1511
(Benny Davis and the Indiana Syncopators)
Back O'Town Blues


(Bowen / Berbedeaux)

1-2-1924
New York, New York
Pathe Actuelle
Bebe


(Silver)

5-1-1923
Long Island City, New York
Olympic
1444-B
Beside A Babbling Brook


(Walter Donaldson)

5-1-1923
Long Island City, New York
Olympic
1444-A
Brown Pepper


(Harry Barris)

11-1-1926
New York, New York
National Music Lovers
1186
Brown Sugar


(Harry Barris)

11-1-1926
New York, New York
Emerson
Can You Picture That?


(E. Dolan)

10-1-1926
New York, New York
Emerson 3069
Clementine
(From New Orleans)


(Harry Warren / Harry Creamer)

9-28-1927
New York, New York
Harmony
510-H
Coffee Pot Blues


(Original Indiana Five)

1-2-1927
New York, New York
Regal
8248
Banner
1931-B
Cow Bell Blues
10-1-1926
New York, New York
National Music Lovers 1191
Croonin' A Tune


(Weill / Fain / McHugh)

7-14-1925
New York, New York
Gennett
3106-A
Cuckoo


(Reitz)

6-19-1925
New York, New York
Gennett
3083-B
Deep Henderson


(Fred Rose)

5-18-1926
New York, New York
Harmony
Delilah


(Rose / Fisher)

12-24-1926
New York, New York
Harmony
Everybody Stomp


(Elmer Schoebel / Billy Meyers)

10-13-1925
New York, New York
Harmony
47-H
Everybody Stomp


(Elmer Schoebel / Billy Meyers)

11-6-1925
New York, New York
Gennett
3181-B
Everybody's Doin' The Charleston Now


(White / Cecil Mack / James P. Johnson)

10-27-1925
New York, New York
Harmony
Everybody's Doin' The Charleston Now


(White / Cecil Mack / James P. Johnson)

11-6-1925
New York, New York
Gennett
3182-A
Everything Is Hotsy-Totsy Now


(Jimmy McHugh / Dorothy Fields / Irving Mills)

5-1-1925
New York, New York
Gennett
3060
Fallen Arches


(Ponce / Van Loan)

12-5-1925
New York, New York
Gennett
3230-B
Florida Low Down


(Coots / Trent / Fats Waller)

4-9-1926
New York, New York
Harmony
267-H
Gettin' The Blues


(E. Dolan)

10-1-1926
New York, New York
Bell 445-B
Hangin' Around


(Gardener / Hamm / Harris)

4-9-1926
New York, New York
Harmony
267-H
Hard-To-Get Gertie


(Jack Yellen / Milton Ager)

3-1-1926
New York, New York
Pathe Actuelle
36428 B
Perfect
14609 B
Hard-To-Get Gertie


(Jack Yellen / Milton Ager)

3-30-1926
New York, New York
Cameo 924
Hard-To-Get Gertie


(Jack Yellen / Milton Ager)

4-7-1926
New York, New York
OKeh 40599
Heebie Jeebies


(Boyd Atkins / Jones)

10-1-1926
New York, New York
Bell 456-B
I'd Leave Ten Men Like Yours To Love One Man Like Mine


(Bloom / Farrar)

5-18-1926
New York, New York
Harmony
I'd Rather Be Alone
(Just Thinking Of You)


(Jack Yellen / Milton Ager)

1-13-1926
New York, New York
Harmony
I'd Rather Be Alone
(Just Thinking Of You)


(Jack Yellen / Milton Ager)

1-14-1926
New York, New York
Pathe Actuelle
36377
Perfect 14558
I'm Coming, Virginia


(Marion Cook / Donald Heywood)

9-28-1927
New York, New York
Harmony
I'm Goin' Out If Lizzie Comes In


(Buddy De Sylva / Lew Brown / Ray Henderson)

9-21-1925
New York, New York
Gennett
3148-B
Silvertone
4002-B
I'm Gonna Hang Around My Sugar


(Jack Palmer / Spencer Williams)

10-8-1925
New York, New York
Gennett
3166
I'm Gonna Hang Around My Sugar


(Jack Palmer / Spencer Williams)

10-13-1925
New York, New York
Harmony
47-H
Indiana Shuffle


(Original Indiana Five)

1-2-1927
New York, New York
Oriole
819
Banner
1931-A
Indiana Stomp


(Original Indiana Five)

7-14-1925
New York, New York
Champion
15008-B
Indiana Stomp


(Original Indiana Five)

9-2-1925
New York, New York
Okeh 40456
Jackass Blues


(Art Kassel / Mel Stitzel)

10-1-1926
New York, New York
Bell 445-A
Jubilee Blues


(Abrahams)

1-2-1924
New York, New York
Pathe Actuelle
Lo-Nah


(Stept / Green)

1-14-1926
New York, New York
Pathe Actuelle
Perfect 14560
Lady Lou


(Berwick)

4-1926
New York, New York
Grey Gull
Louisville Lou


(Milton Ager / Jack Yellen)

4-1-1923
Long Island City, New York
Olympic
(Original Indiana Syncopators)
Low-Down Sawed-Off Blues


(Henderson / Mace)

3-1-1927
New York, New York
Bell 547-B
Mean, Mean Mama


(Young / Squires)

9-7-1923
New York, New York
Pathe Actuelle
021070 A
Melancholy Lou


(Ray Hibbler)

10-8-1925
New York, New York
Gennett
3166
Memphis Blues


(W.C. Handy)

1-15-1927
New York, New York
Emerson
Memphis Blues


(W.C. Handy)

4-1-1927
New York, New York
Cameo
Moten Stomp


(Bennie Moten)

2-17-1928
New York, New York
Banner
7084
Regal
8592-B
My Baby Knows How


(Davis / Akst / Richman)

10-1-1926
New York, New York
Bell 456-A
My Melancholy Baby


(Norman / Burnett)

7-19-1927
New York, New York
Banner
My Own Blues


(Berwick)

4-30-1926
New York, New York
Grey Gull 1332
(Original Dixie Rag Pickers)
No Man's Mama


(Yellen-Pollack)

11-6-1925
New York, New York
Gennett
3183
Nobody's Sweetheart


(Gus Kahn / Ernie Erdman / Billy Meyers)

2-28-1928
New York, New York
Cameo
Oh! Boy, What A Girl
8-13-1925
New York, New York
Gennett
Oh! Boy, What A Girl


(Wright / Bessinger)

9-2-1925
New York, New York
Okeh 40456
One Sweet Letter From You


(Warren / Brown / Clare)

5-26-1927
New York, New York
Harmony
Pensacola


(Rose)

12-5-1925
New York, New York
Gennett
Pensacola


(Rose)

1-13-1926
New York, New York
Cameo 924
Pensacola


(Rose)

1-13-1926
New York, New York
Harmony
Pensacola


(Rose)

4-7-1926
New York, New York
OKeh 40599
Play It, Red


(Harry Barris)

New York, New York
Harmony
Pretty Puppy


(Conrad / Bernie)

8-19-1925
New York, New York
Gennett
3153-A
Rarin' To Go


(Indiana Five)

7-19-1927
New York, New York
Banner
Red-Hot Henry Brown


(Fred Rose)

7-14-1925
New York, New York
Gennett
3112
Champion
15008-A
Running After You


(Bibo / Johnson)

1-13-1926
New York, New York
Harmony
Say, Arabella


(Kahn / Fiorito)

6-19-1925
New York, New York
Gennett
3083-A
Seminola


(Harry Warren / Robert King)

5-1-1925
New York, New York
Gennett
3060
Siberia


(Ponce / Van Loan)

9-21-1925
New York, New York
Gennett
3150-A
Sittin' Around


(Kahn / Sanders)

3-1-1926
New York, New York
Pathe Actuelle
Perfect 14601
Slow Poke


(Fagin / Gold)

4-1-1923
Long Island City, New York
Olympic
(Original Indiana Syncopators)
So Is Your Old Lady


(Burke / Dubin)

4-9-1926
New York, New York
Harmony 179-H
Some Of These Days


(Shelton Brooks)

4-1-1927
New York, New York
Cameo
Some Of These Days


(Shelton Brooks)

5-1-1927
New York, New York
Banner
Somebody's Making A Fuss Over Somebody


(Howard)

2-17-1928
New York, New York
Banner
Someday, Sweetheart


(Bejamin Spikes / John Spikes / Jellyroll Morton)

9-28-1927
New York, New York
Harmony
Someone Waits For Me


(Chelsey)

4-1926
New York, New York
Grey Gull
Spanish Mama


(Elmer Schoebel / Billy Meyers)

5-18-1926
New York, New York
Harmony
St. Louis Blues


(W.C. Handy)

1-15-1927
New York, New York
Emerson 3119
St. Louis Gal


(J. Russel Robinson)

11-6-1923
New York, New York
Pathe Actuelle
Perfect
14200-B
Stavin' Change
(The Meanest Man In New Orleans)


(Al Bernard)

9-7-1923
New York, New York
Pathe Actuelle
021070 B
Stockholm Stomp


(Al Goering / Jack Pettis)

12-24-1926
New York, New York
Harmony
Struttin' Jerry


(H. Ford)

5-1-1927
New York, New York
Banner
Struttin' Jerry


(Harry Ford – Indiana Five)

5-26-1927
New York, New York
Banner
6023-B
Sugar


(Mitchell / Alexander / Pinkard)

5-1-1927
New York, New York
Banner
Sweet Georgia Brown


(Maceo Pinkard / Kenneth Casey / Ben Bernie)

5-1-1925
New York, New York
Gennett
3059-B
(Take 'Em To The Door)
That's All There Is
(There Ain't No More)


(Rose / Davis / Henderson)

9-21-1925
New York, New York
Gennett
3150-B
The Chant


(Mel Stitzel)

12-24-1926
New York, New York
Harmony
The Crawl


(Original Indiana Five)

1-2-1927
New York, New York
Jewel 5002
The Junk Man's Dream


(Ford)

1-13-1928
New York, New York
Harmony 632-H
The Lighthouse Blues


(Schuster / Schuster / Yellman)

7-19-1927
New York, New York
Banner 6028
There Ain't No Maybe In My Baby's Eyes


(Kahn / Egan / Donaldson)

11-1-1926
New York, New York
Bell 463-B
Thrown Down Blues


(Frank Signorelli)

1-15-1927
New York, New York
Emerson 3119
Tin Roof Blues
(New Orleans Rhythm Kings)
11-6-1923
New York, New York
Pathe Actuelle
Perfect
14200-A
Too Bad


(Elmer Schoebel / Billy Meyers)

3-1-1926
New York, New York
Pathe Actuelle
Perfect 14601
Two Tired Eyes


(Davis / Richman / Meyer)

6-19-1925
New York, New York
Gennett
3093-B
Two-Time Dan


(Turk / Robinson)

5-1-1923
Long Island City, New York
Olympic
1443-B
What Can A Poor Fellow Do?


(Elmer Schoebel / Billy Meyers)

1-13-1928
New York, New York
Harmony 632-H
When You Walked Out
(Someone Else Walked Right In)


(Irving Berlin)

5-1-1923
Long Island City, New York
Olympic
Where Will I Be?


(Coots / Tortomas / Ford)

2-17-1928
New York, New York
Banner
7057-B
Where Will I Be?


(Coots / Tortomas / Ford)

2-28-1928
New York, New York
Cameo
| | |
| --- | --- |
| Artist | Instrument |
| James Christie | Trumpet |
| Tony Colucci | Banjo |
| Johnny Costello | Clarinet |
| Peter Dale | Vocal |
| Newman Fier | Piano, Director |
| Harry Ford | Piano, Director |
| Vincent Grande | Trombone |
| Tom Morton | Drums, Kazoo, Vocal, Director |
| Tony Pace | Vocal |
| Charles Panelli | Trombone |
| Pete Pelizzi | Trombone |
| Johnny Sylvester | Trumpet |
| Tony Tortomas | Trumpet |
| Nick Vitalo | Clarinet, Alto Saxophone |