Yellow sweaters, my friends, yellow sweaters galore!
I read a quote recently comparing history to items that float by on the surface of a river and civilization as the stuff that takes place on the river's banks. My recent experience finding a thriving ecosystem of trad jazz in my own (metaphorical) backyard leads me to conclude that "culture" is the small but interesting rocks and shells embedded in the mud of that riverbank. As any rockhound knows, finding the really good stuff requires a keen eye and a bit of digging, but the rewards for that little bit of effort can be quite astounding. Such has been the case in my search for jazz happenings here in "Downeast" Maine.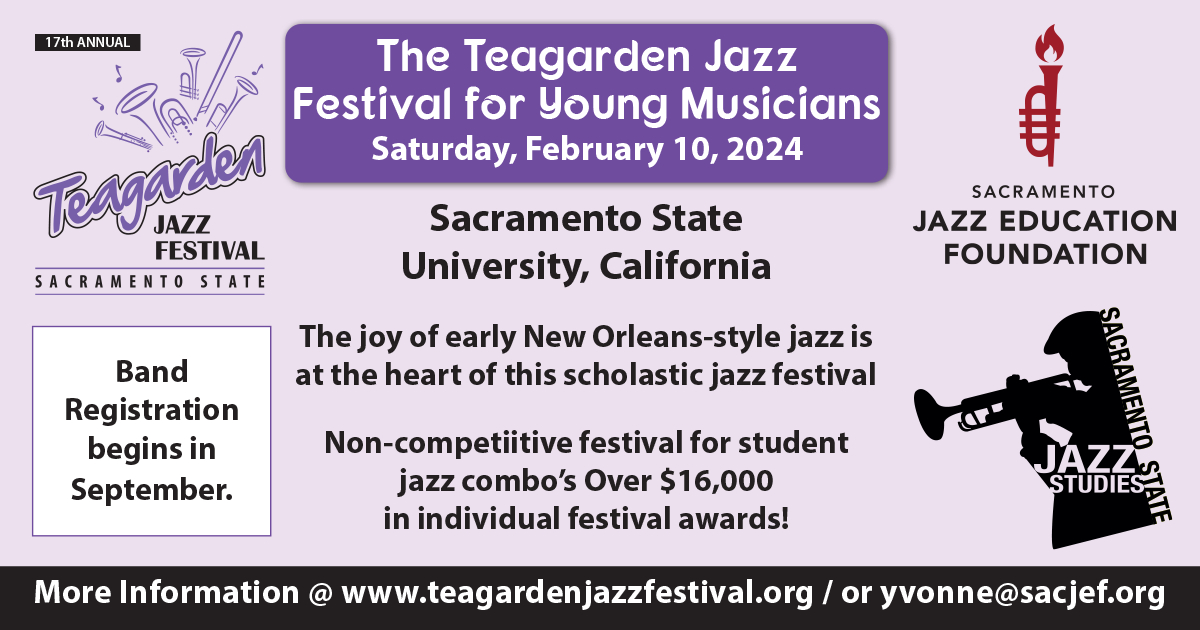 Belfast (ME) Summer Nights, a free, weekly concert series by the waterfront, which had previously introduced me to the hot brass band sounds of Undertow Jazz Band, was to feature the Mondaynite Jazz Orchestra—a new-to-me, 18-piece big band out of Camden, ME which plays trad jazz, Latin, swing, and blues—on July 24th, but alas, the band's appearance was nixed by the seemingly never-ending rain we've been having. A subsequent appearance a week later in Rockport at a free concert at the Arts on the Hill at Beech Hill Preserve in Rockport, ME was also scrapped due to rain. The band doesn't have a website (just a Facebook page), but the few YouTube videos I've been able to find of their playing has been swinging.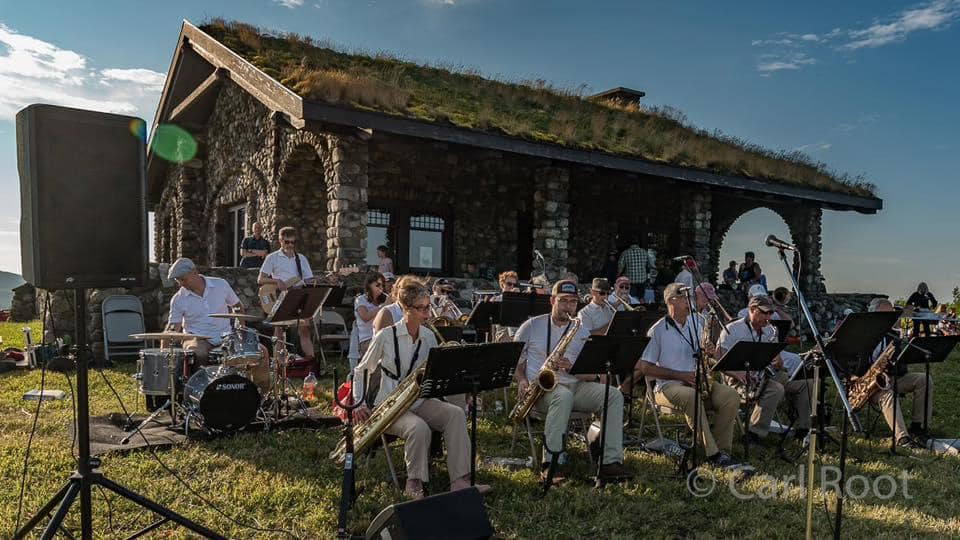 While I was trundling around "jazz in Maine" Google rabbit holes, I discovered The Dance Hall in Kittery Maine (thedancehallkittery.org), "the Seacoast's premier venue for an intimate, diverse music and dance experience." Founded in 2010, The Dance Hall is a nonprofit organization seeking to inspire and engage people of all ages to experience the joy of music, movement, and dance. They offer a full slate of live music events, including their summer "Jazz Casual series" that features a number of hot and trad jazz acts including Annie and the Fur Trappers (a Boston-based trad jazz and blues band dedicated to playing and preserving the music of the 1920s and 1930s) and Sharon Jones a Portsmouth NH blues artist. The Dance Hall will also host the Django by the Sea festival (djangobythesea.com), three days of manouche jazz including a tribute to Oscar Peterson and Stephane Grappelli, September 29th through October1st. The Dance Hall even offers swing dance classes to help trad jazz and swing aficionados take their jazz appreciation to a whole new level!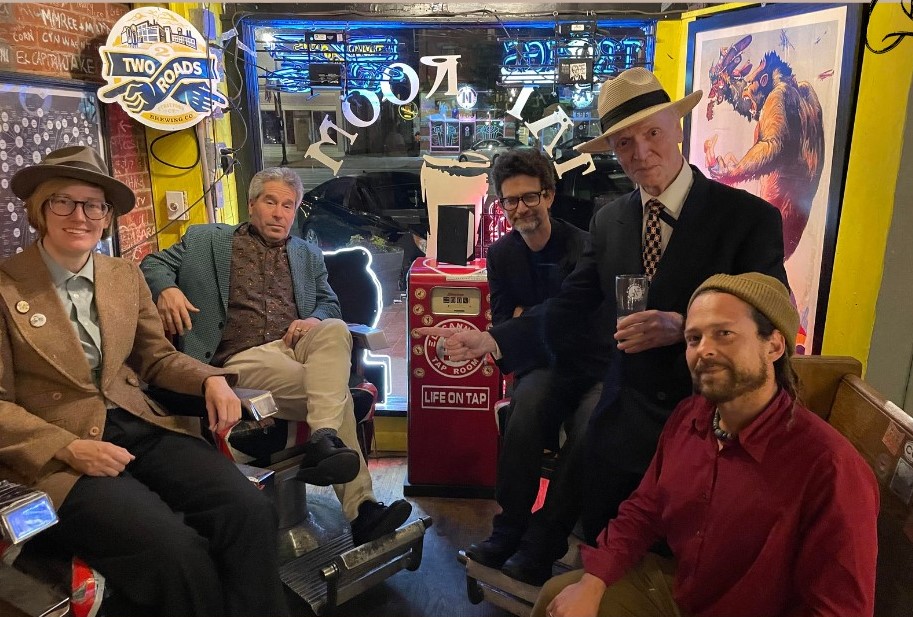 I had no sooner finished my exploration of all that The Dance Hall had to offer trad jazz lovers than Songkick—a smart-phone app that lets users track upcoming concert dates by their favorite musical acts—alerted me to an upcoming event at place called Jimmy's Jazz and Blues Club in Portsmouth, NH (jimmysoncongress.com). Jimmy's, it turns out, is a local eatery / bar / live music venue, which features top-notch national jazz and blues acts.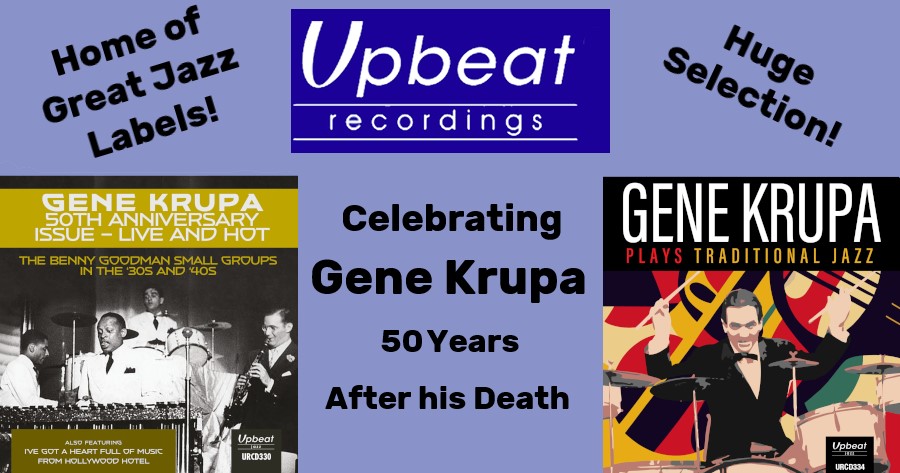 They aim for a casual, though upscale, vibe and the photo gallery on their website had my husband salivating to visit. I think it's safe to say there's not another venue like it in Maine or New Hampshire. I was thrilled to have found such an amazing venue, well worth the three-hour each way drive to catch a show there. Upcoming artists (at the time of this writing) include Catherine Russell (daughter of orchestra leader, arranger, composer, and pianist Luis Russell), legendary blues harmonica player Charlie Musselwhite, JP Soars' Gypsy Blues Revue, and New Orleans brass band Soul Rebels. Some of the shows have a livestream option for a reduced ticket price, so even if you are not local, you can still catch the show.
The true highlight of the summer, however, was seeing the Soggy Po' Boys (soggypoboys.com) live in Portsmouth, NH at The Press Room, on August 1st after having the privilege of an hour-long chat with them shortly before the show about trad jazz, their band, and the state of jazz in the NH seacoast area. I've been a fan of the band ever since Joe Bebco turned me onto them via his 2019 TST review of one of their albums (thank you, Joe!), so seeing them play live was a treat.
The Soggy Po' Boys have mastered New Orleans-style jazz with a sound that is uniquely their own. They describe their jazz as "dirty," but I'd describe it more as… well… okay, words escape me. It's a sound all their own that is yes, hot jazz, yes, New Orleans jazz, yes, a smattering of Caribbean undertones/rhythms, and yes, perhaps, a smidge of brass funk, but none of those descriptions would truly give one a sense of their playing. As for vocalist/guitarist Stu Dias's voice, that also defies description. Joe Bebco described is a "rock star" voice, and yes, Dias has a gritty, gravelly voice that seems suited for rock (including the upper range for a great rock scream). I might describe Dias's tone as the love child of Randy Newman (in Dias's softer tones and upper register) and Joe Cocker (in his lower register when his voice really gets gritty), but any comparisons are just broad landmarks for navigation and, perhaps, unfair; Dias's voice, tone, and style are original and unique.
The Press Room is a two-story bar / restaurant; the bar is on the first floor (where the band played) and has only six or seven tables (but does have food service). We arrived early (the show started at 9 pm and we arrived at 8:30 pm) and all of the tables and seats near the stage were already taken. We were lucky to grab a table in the back as, by the time the band started playing, it was standing room only. The band started with "Maybe Baby," a blistering hot piece that is on both their 2017 album "Smoke" and their 2022 album "It's Good to Laugh Again" (and maybe an arrangement of Jada?). From there, they proceeded to play a 90-minute set that was back-to-back songs, no intermission, and very little talk between songs.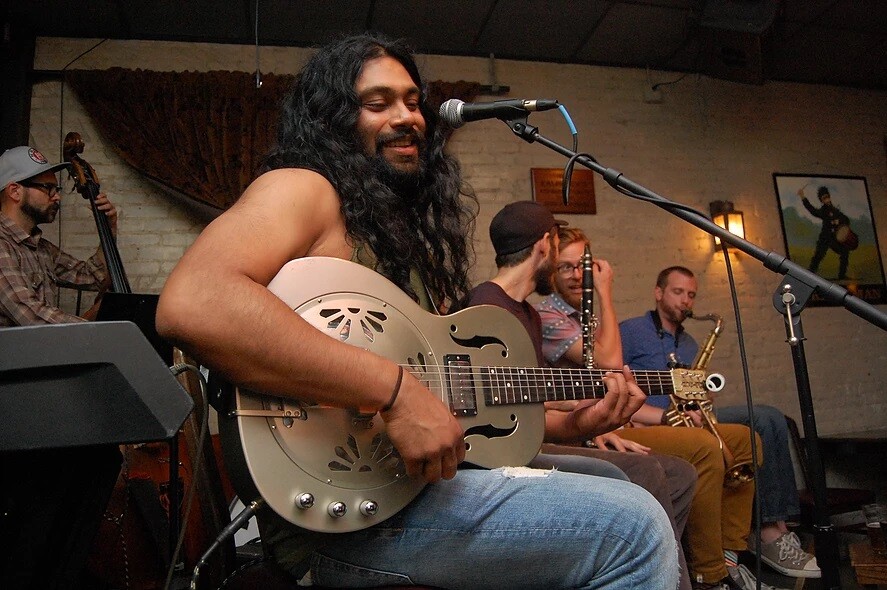 One of my favorites from their 2022 album is "Kiss of Fire," a slow, sultry, searing song that will peel the flesh from your bones and leave you wanting more, and not only did they play it, they dedicated it to "their friend, Terri" (me!). I don't care if it's unattractive for a fifty-year-old woman to squeal in delight—I fully and unashamedly admit I emitted a noise that risked shattering our water glasses at them mentioning me. Both the call out and the song made my night!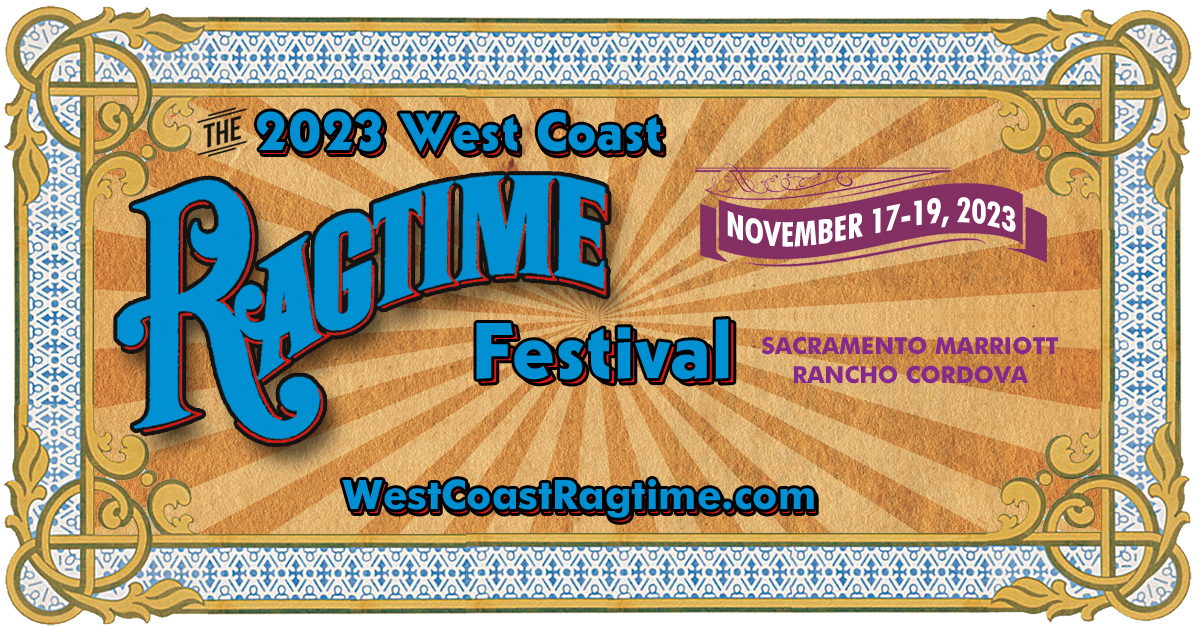 From where we sat, I couldn't really see the band beyond occasional glimpses of drummer Brian Waterhouse and singer/guitarist Stu Dias. Most of the YouTube videos of the band's performances have Dias standing, but for this show, he sat. From the little I could see of him, he was in the moment the whole time, rocking and swaying as he played (his movement reminded me a bit of watching the great Portland, ME-based blues and roots guitarist Samuel James (therealsamueljames.com) play live; James's playing is a whole-body experience, as if he's channeling the music up from the floor through his feet to his hands and Dias gave a similar impression).
The crowd was appreciative of the band's playing, applauding solos (though there aren't many—the band mostly plays as an ensemble), and for the most part, everyone was there to enjoy the music (too often, in a bar setting like this, the band is treated as background music by drinkers and diners who are there to socialize, but this particular Tuesday night, the music seemed to be the primary draw for the audience). Unfortunately, we were sitting next to the one table that was there to socialize and their conversation was a bit distracting.
However, Stu Dias's voice and the band's playing is strong and piercing enough to cut through all the background chatter, and I was still able to thoroughly enjoy the music. I bopped in my seat for the entire 90-minutes and the time flew by as the band moved seamlessly through twenty songs including putting their particular spin on "St. Louis Blues", "Porto Rico", "King of the Zulus", "When I Grow Too Old To Dream", and "Brother Can You Spare a Dime". The playing is loud enough to be heard in the seating area on the street outside the club's front door, and between The Press Room's ambiance, the band's playing, and the sounds of hot jazz wafting out onto the warm night air to passersby, the mister and I forgot for a moment we weren't actually in New Orleans. The Soggy Po' Boys play The Press Room every Tuesday evening, starting at 9 pm ET, so if you have the opportunity to see them, do it!
Next month I profile blues and roots vocalist and multi-instrumentalist Blind Boy Paxton from Los Angeles who gave a lecture and demo on ragtime piano at Bagaduce Music/Bagaduce Music Lending Library in Blue Hill, ME. (I also plan a story on the venue—a sheet music lending library—which is a fascinating place.) Additionally, the Django by the Sea Festival, mentioned above, will still be going on when this issue is published. My jazz oasis is turning out to be an archipelago!