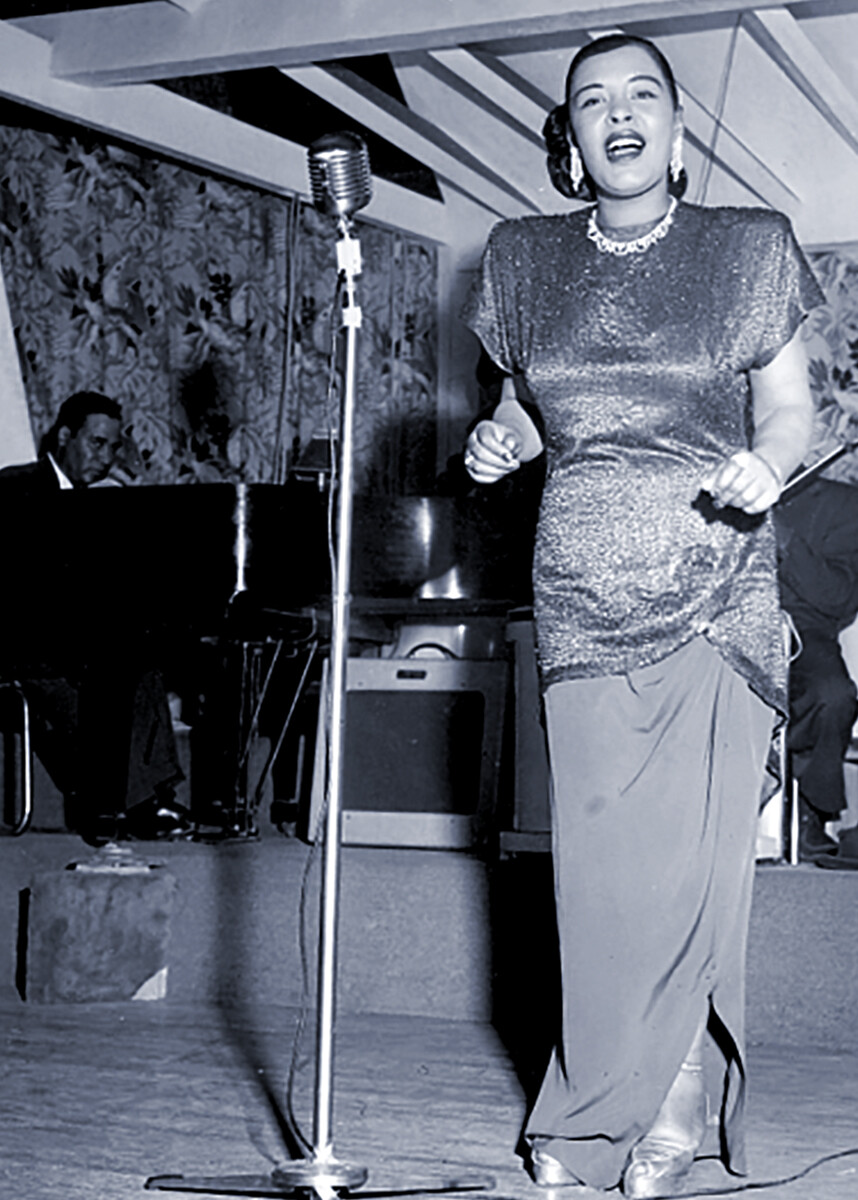 Billie Holiday (Eleanora Fagan, 1915-59) continued a busy schedule of recordings, concerts, radio broadcasts, television appearances and international tours in the 1950s. Publication of her sensational memoir kept her in the public eye.
This profile of Billie Holiday recaps the basic outline of her story in three chapters covering the 1930s, 1940s and 1950s. Holiday is quoted from interviews and her famed autobiography, Lady Sings the Blues. This is also a photo essay presenting her constantly shifting visage.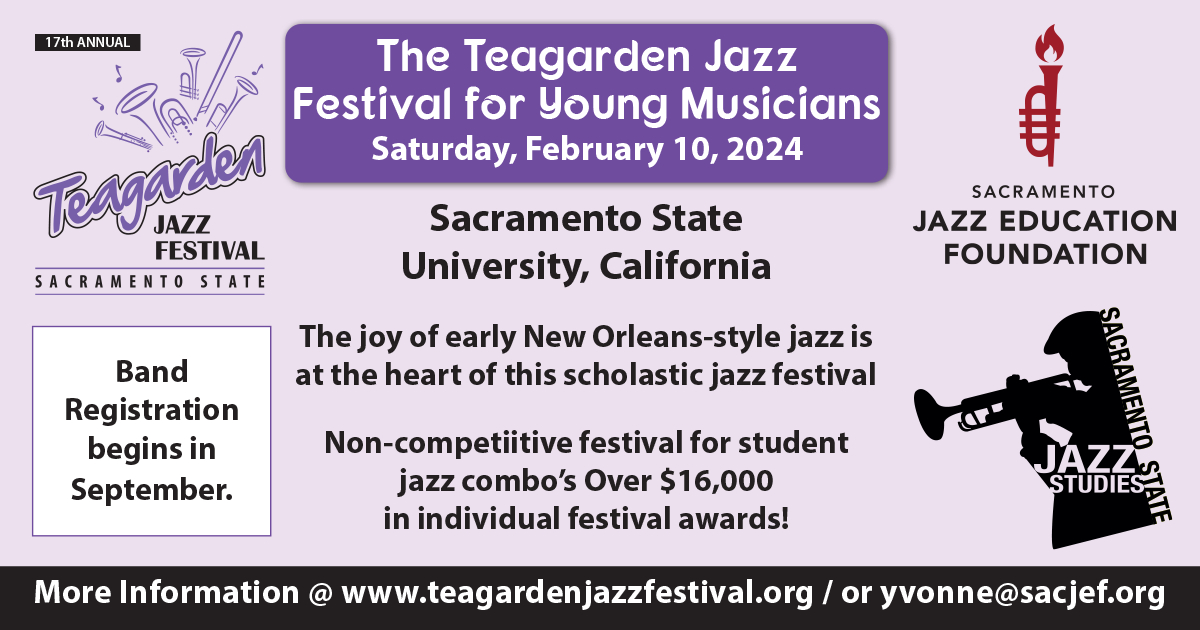 In the Fifties, Billie returned to singing popular ballads and lighter material — even some Rhythm and Blues — continuing to show her extraordinary gifts as a singer. Despite arrests, drug addiction and a disordered personal life she was still the best damn singer around.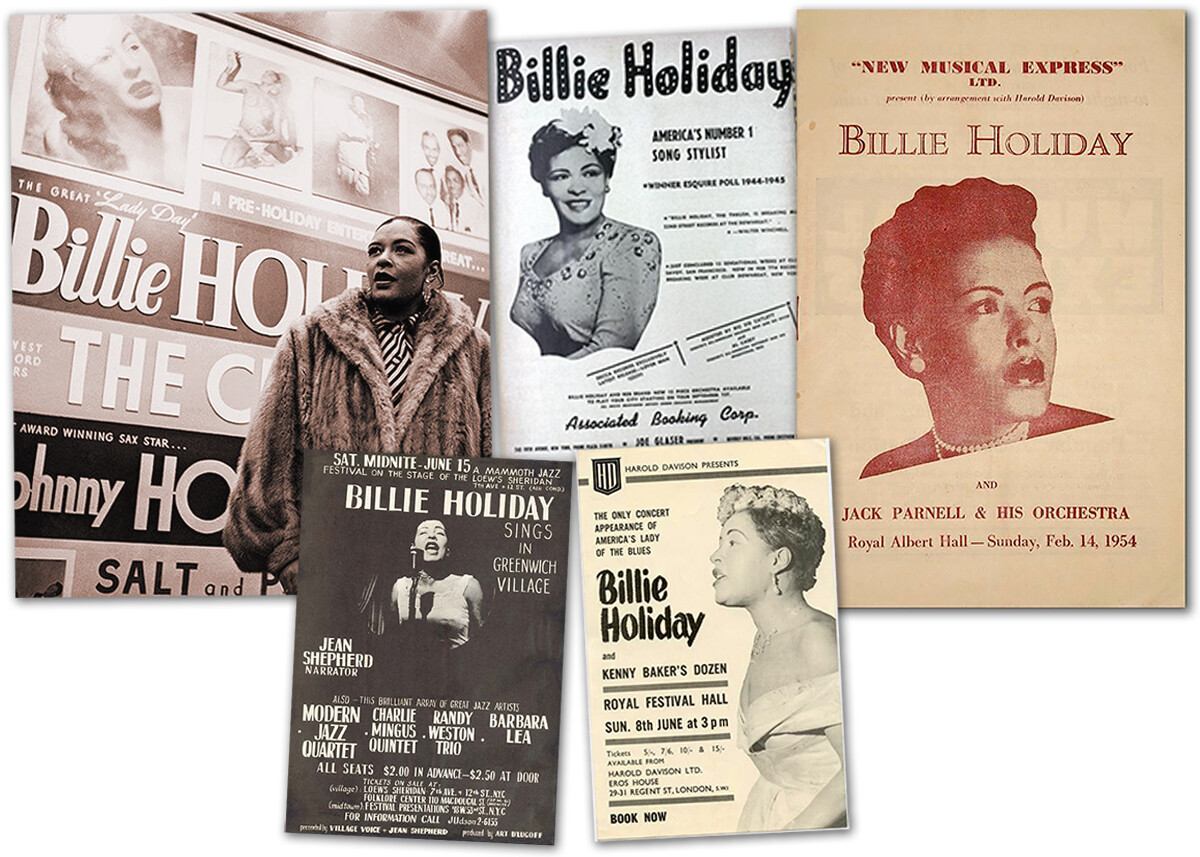 Enter Norman Granz
Concert producer, record label owner and jazz promoter, Norman Granz (1918-2001) may have been the most successful impresario of jazz. During the 1950s he was a major patron and benefactor for Holiday.
She was presented via Jazz at the Philharmonic, his concert series, and well recorded on his Clef and Verve record labels with excellent talent like Sweets Edison (trumpet), Benny Carter (alto sax), Ben Webster (tenor sax) and Jimmy Rowles, one of her favorite piano players.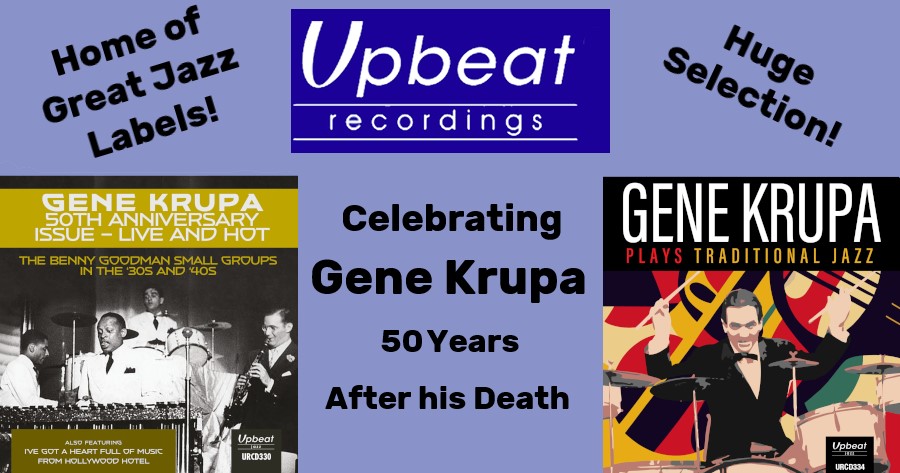 Granz helped sponsor her first overseas tours of Britain, Germany and England where she was in excellent form, dazzling Londoners and charming her hosts. At prestigious Albert Hall she sang 15 songs for an audience of 6,000.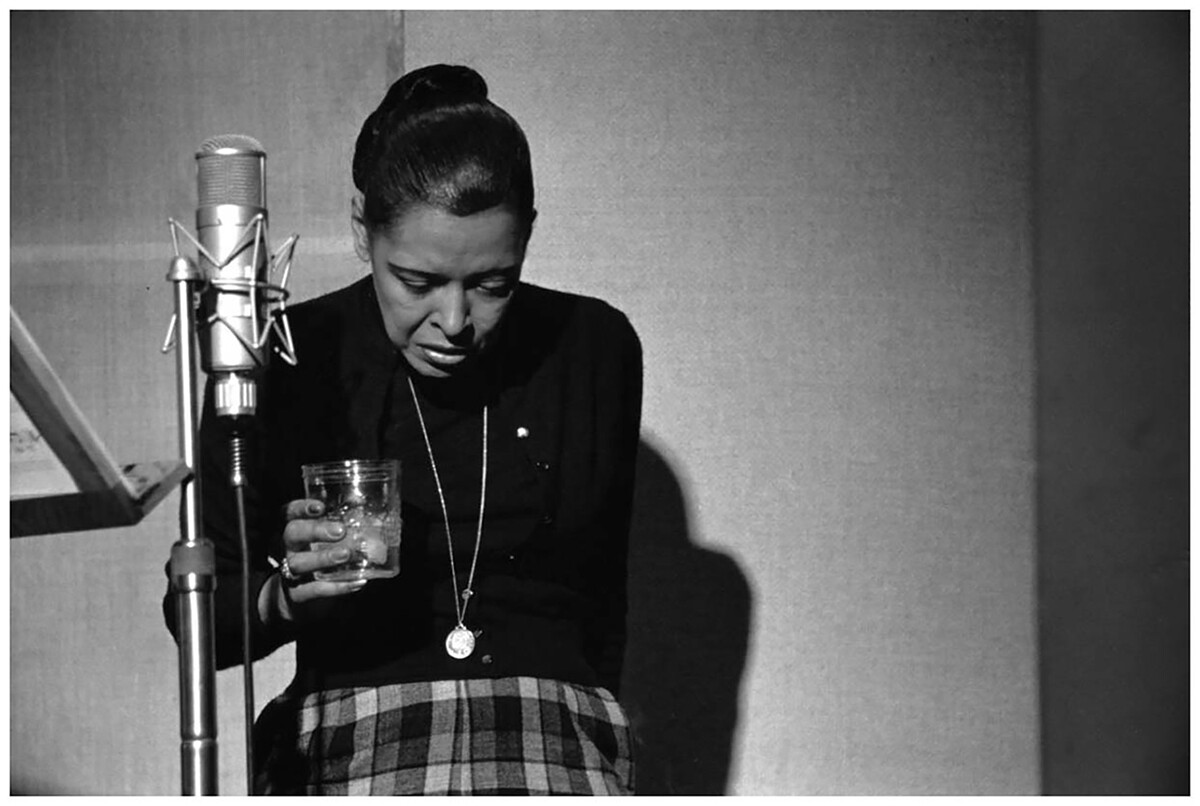 High Profile Drug Addiction
The lurid details of Holiday's high-profile arrests and overdoses were widely publicized, drawing morbid fascination. A felony drug conviction and prison time in the late 1940s resulted in revocation of her 'cabaret card,' a legal permit necessary to perform in New York City nightclubs. It was a setback serious enough for mention in her memoir:
"I'm still working in clubs and concerts — although if you live in New York you'd never know it.  Because as I write I still have no New York police card (Cabaret Permit), and this keeps me from singing in clubs in New York."
Billie was among several notorious celebrity heroin addicts of the era like jazz musician Charlie Parker, English artist Francis Bacon, comedian Lenny Bruce and writer William S. Burroughs whose scandalous novel Naked Lunch celebrated the junkie life. In 1956 came yet another arrest and more scandal. She insisted that the cops framed her.
Yet heroin, cocaine, opium and alcohol had damaged Holiday.  Her voice lost much of its flexibility and range, often thin and stressed, like her body.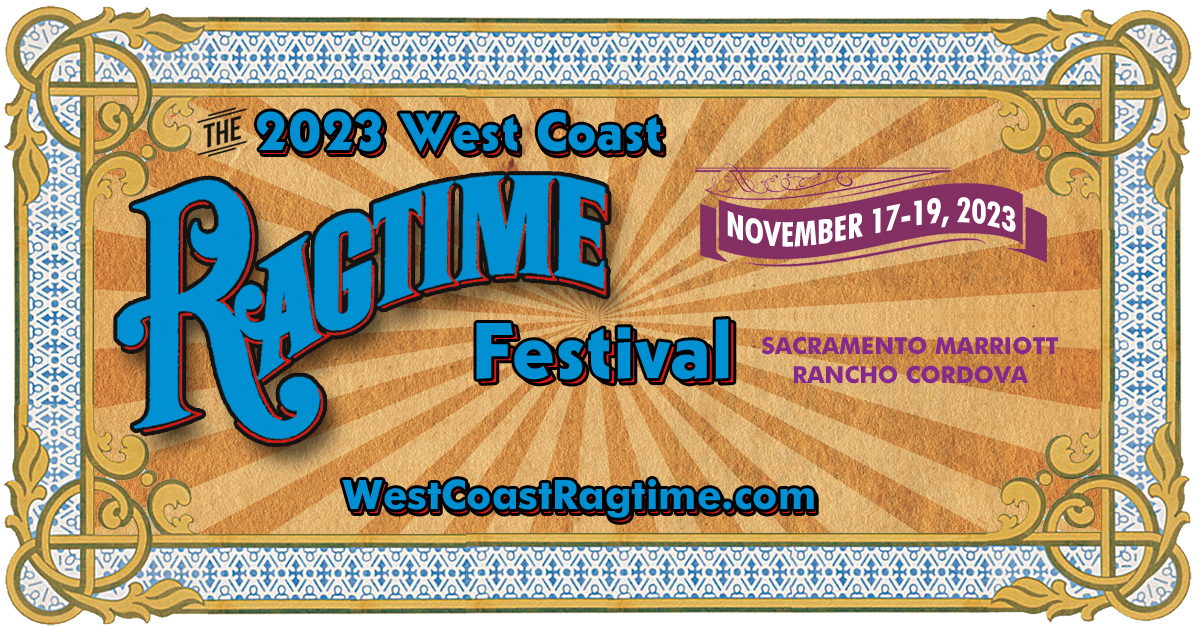 In jam sessions and concerts on television or radio Holiday reunited occasionally with former comrades like trumpet player Buck Clayton and saxophonists Coleman Hawkins or Lester Young.
But her instrument and gone threadbare, its range limited. The fragility of Lady Day was undeniable, her mood somber. Trumpet player Buck Clayton recalled in his memoir:
"Gradually she became very thin, gone was the plump girlish Billie that I first met.   During the latter part of the 1950s . . . I noticed that Billie was more and more in a bad way.  She was very thin, her skin was sallow, and her voice cracked — which was something I never thought I'd hear."
Lady Sings the Blues: Book, Movie & Soundtrack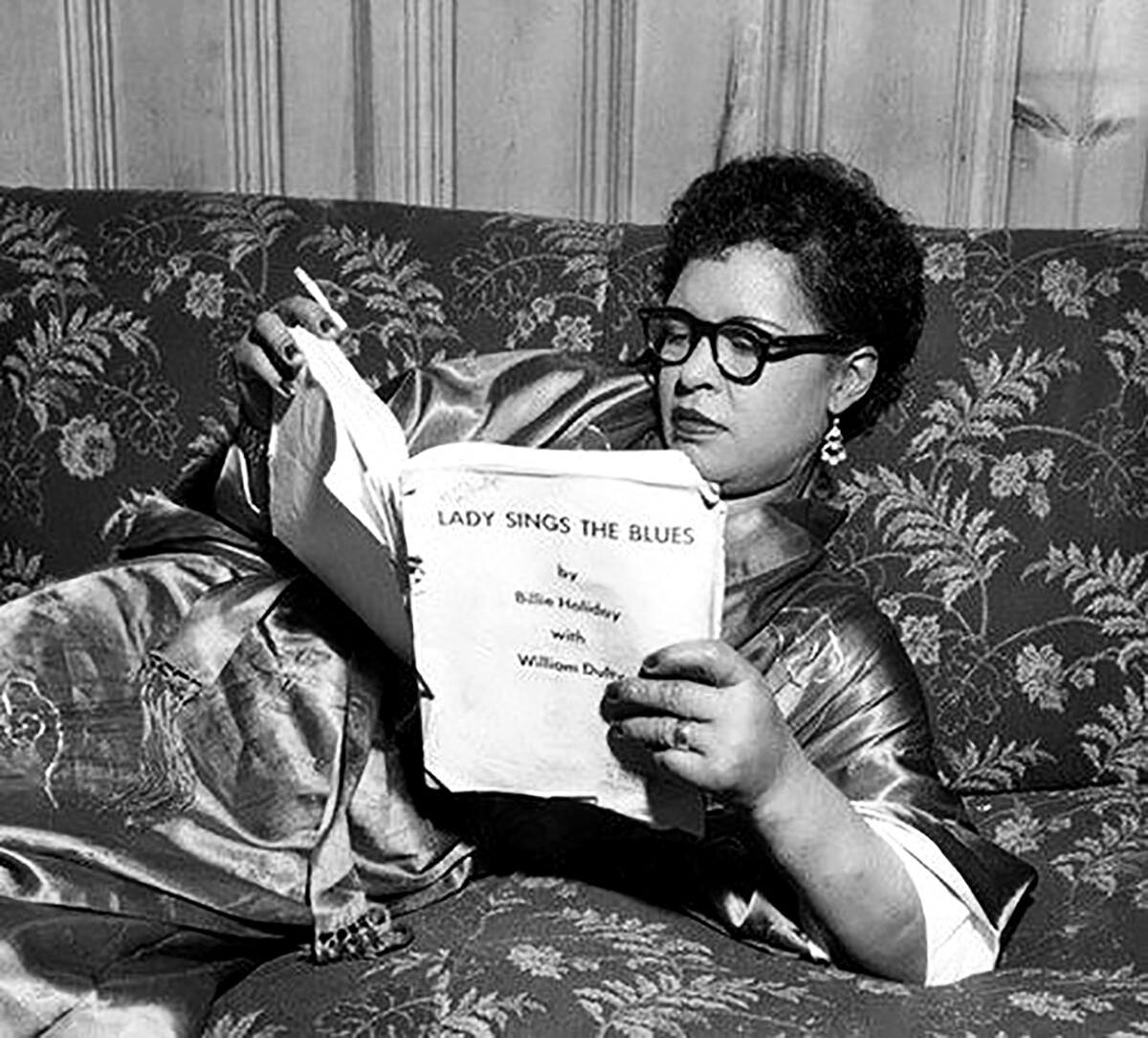 Holiday wrote Lady Sings the Blues with a ghostwriter and publisher keen to emphasize the lurid and sensational aspects of her story.  Her memoir revealed early sexual abuse and exploitation. Yet it offers insight on her toughness and vulnerability:
"A singer is not like a saxophone.  If you don't sound right you can't go out and get some new reeds.  A singer is only a voice, and a voice is completely dependent on the body God gave you.  When you walk out there and open your mouth, you never know what's going to happen.
I'm not supposed to get a toothache, I'm not supposed to get nervous; I can't get sick to my stomach; I'm not supposed to get the flu or have a sore throat.  I'm supposed to go out there and look pretty and sing good and smile . . . and I'd just better.
Why?  Because I'm Billie Holiday and I've been in trouble."
She wrote at length about her arrests — eager to set the record straight about at least one bust that she insisted had been a frame-up.  She complained bitterly about racism in general, and resentfully about the way the music industry ripped off musicians:
"I made over 200 sides between 1933 and 1944, but I don't get a cent of royalties on any of them.  They paid me $25, $50, or a top of $75 bucks a side, and I was glad to get it.  But the only royalties I get are on my records made after 1945."
Scandalous as the memoir was, omitted for legal reasons were her relationships in the 1930s with actors Orson Welles and Charles Laughton, and a lesbian affair with Tallulah Bankhead in the 1940s.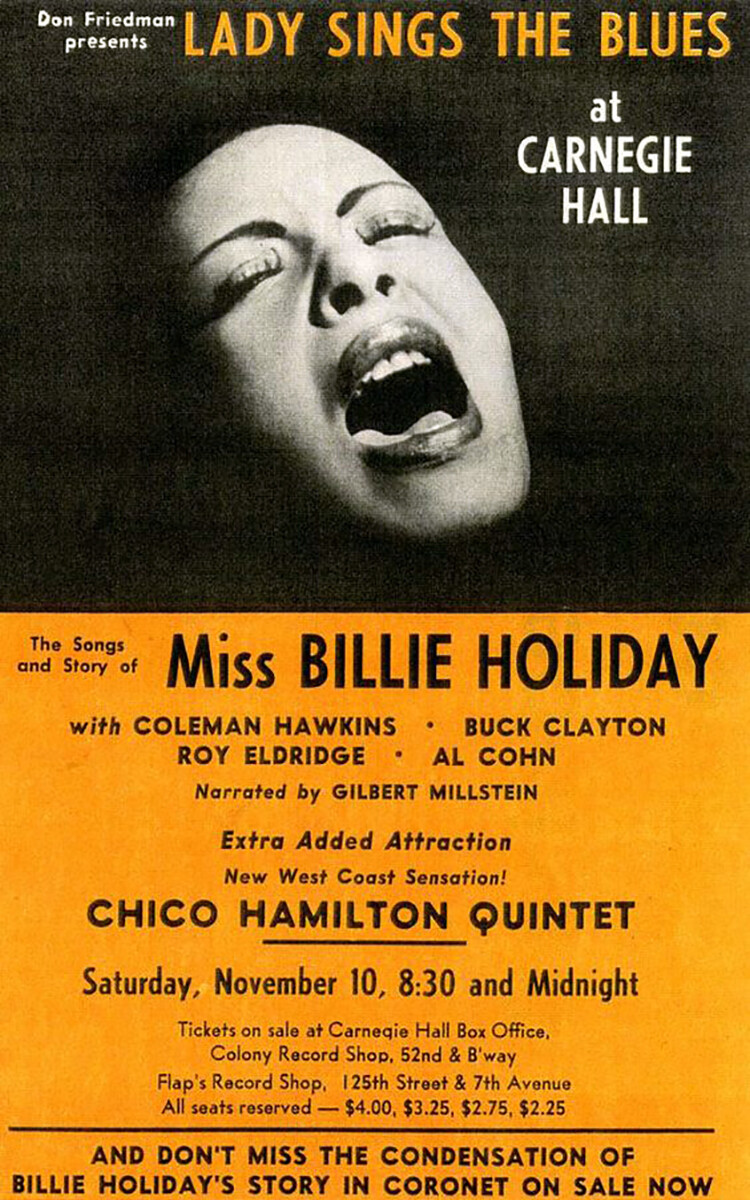 Billie's 1956 Carnegie Hall appearance was a mixed showing and included a narrator reading from her newly published autobiography. She was in bad shape, stoned and pretty out of it but she rose to the occasion.
That performance and her self-portrayal in print crystallized the popular image of Holiday as a victim of sexual abuse and poverty and person who felt persecuted for her race, celebrity and drug addiction. And, a woman surrounded by exploitive men in her personal and business relationships.
The 1972 movie, "Lady Sings the Blues" starring singer Diana Ross, was based loosely on the book and nominated for five Academy Awards. The soundtrack double-album featuring Ross singing Holiday songs went to #1 on the Billboard album charts.
Final Chorus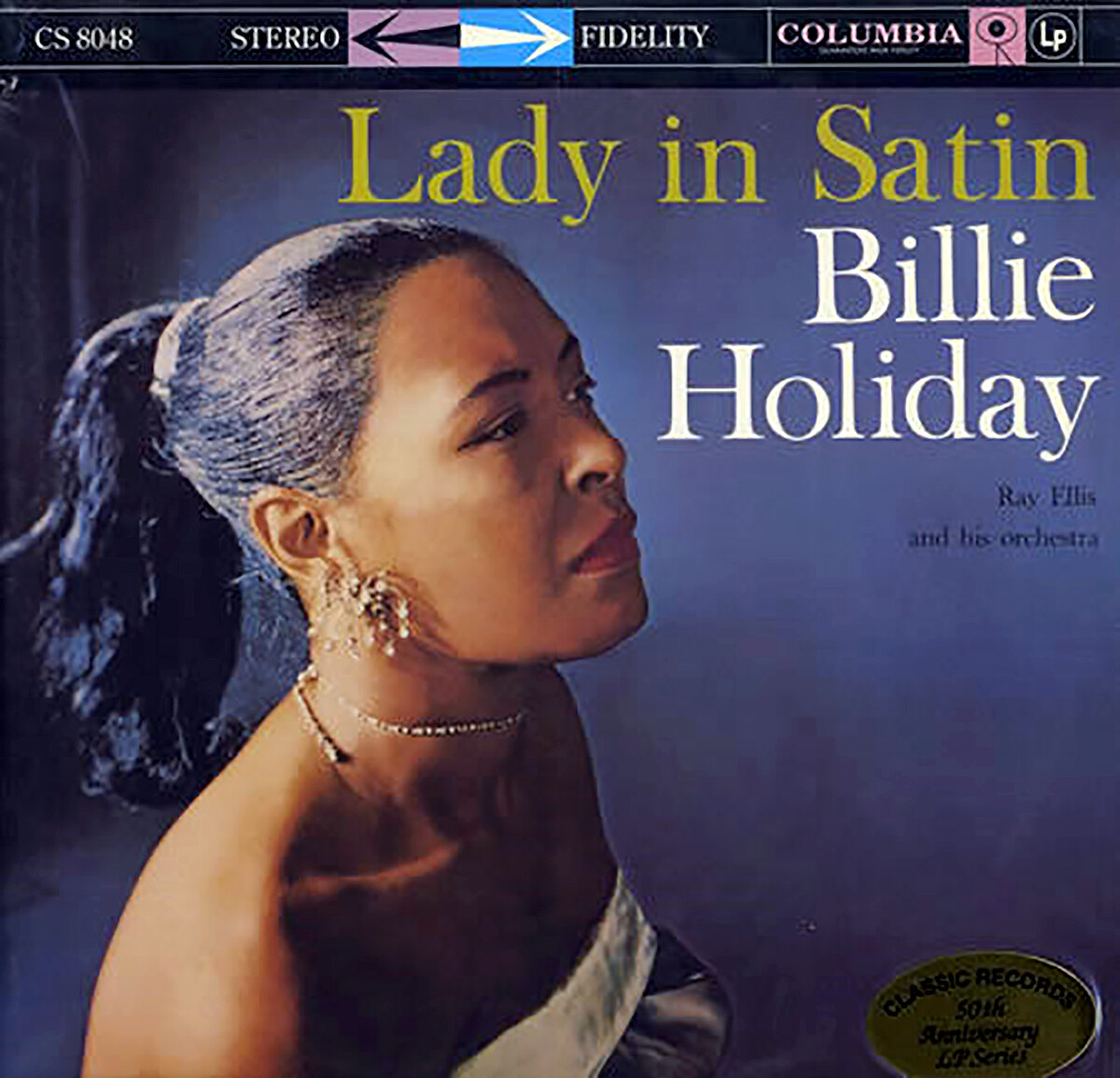 Holiday's last recording date was in early 1959. Released as Lady in Satin, it was unusual for its lush string and horn sections.
Not long before that session, she pawned her beloved mink stoles to buy groceries, dog food and gin. Though she continued performing, Holiday was in bad shape, frail and emaciated weighing only 95 pounds.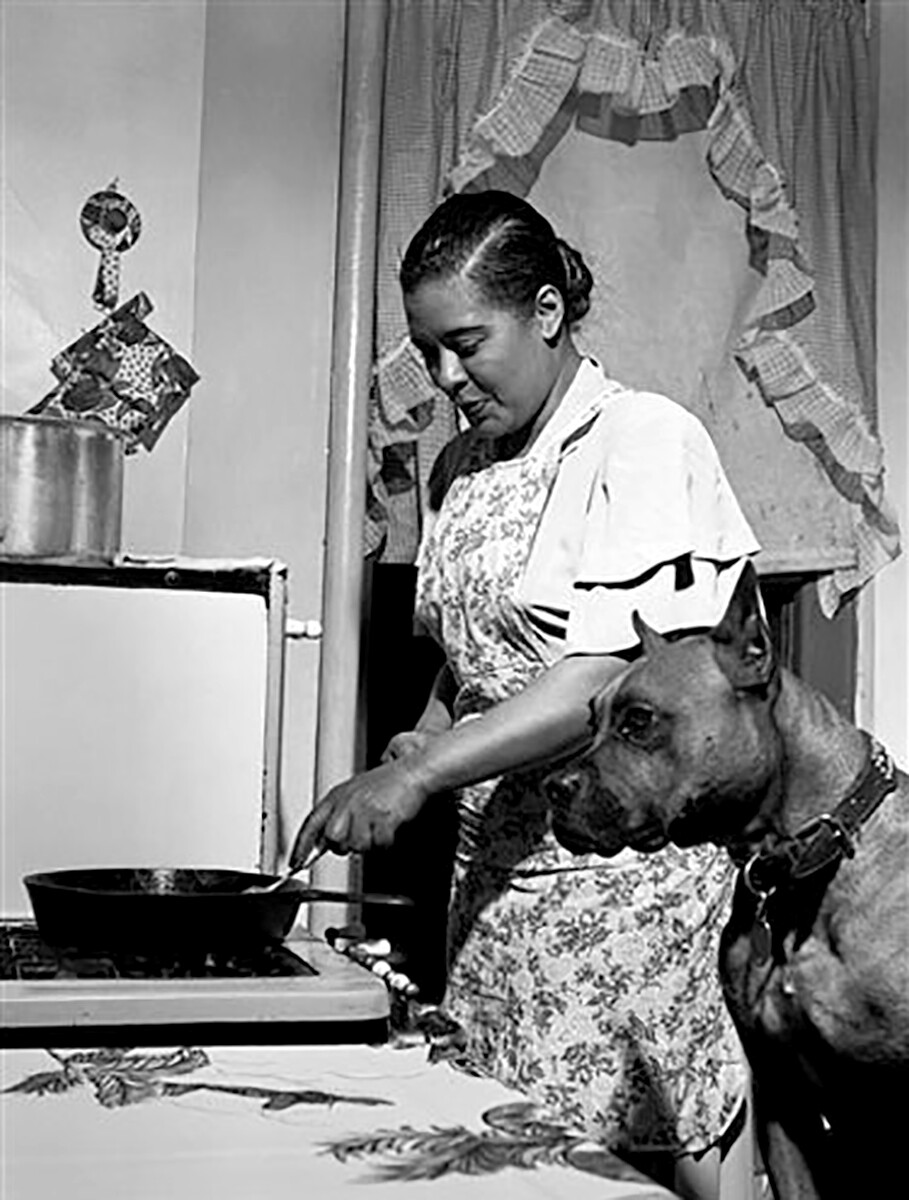 Billie collapsed and was hospitalized in late May 1959. When heroin was discovered in her hospital room, she was arrested and fingerprinted, her magazines and records confiscated. She was sequestered and threatened with jail regardless of her precarious condition.
Complex legal and financial machinations by lawyers, prosecutors, police and promoters swirled around her for over a month. Her liver and heart gave out on July 10, 1959. Lady Day was forty-four years old and nearly penniless.
The Legacy
Billie Holiday influenced directly or indirectly most jazz and popular singers of the mid-Twentieth century and all who followed.  Contemporaries acknowledging her direct influence include Carmen McRae, Dinah Washington, Anita O'Day, Sarah Vaughn, Etta Jones, Pearl Bailey, Tony Bennett, Peggy Lee and Frank Sinatra.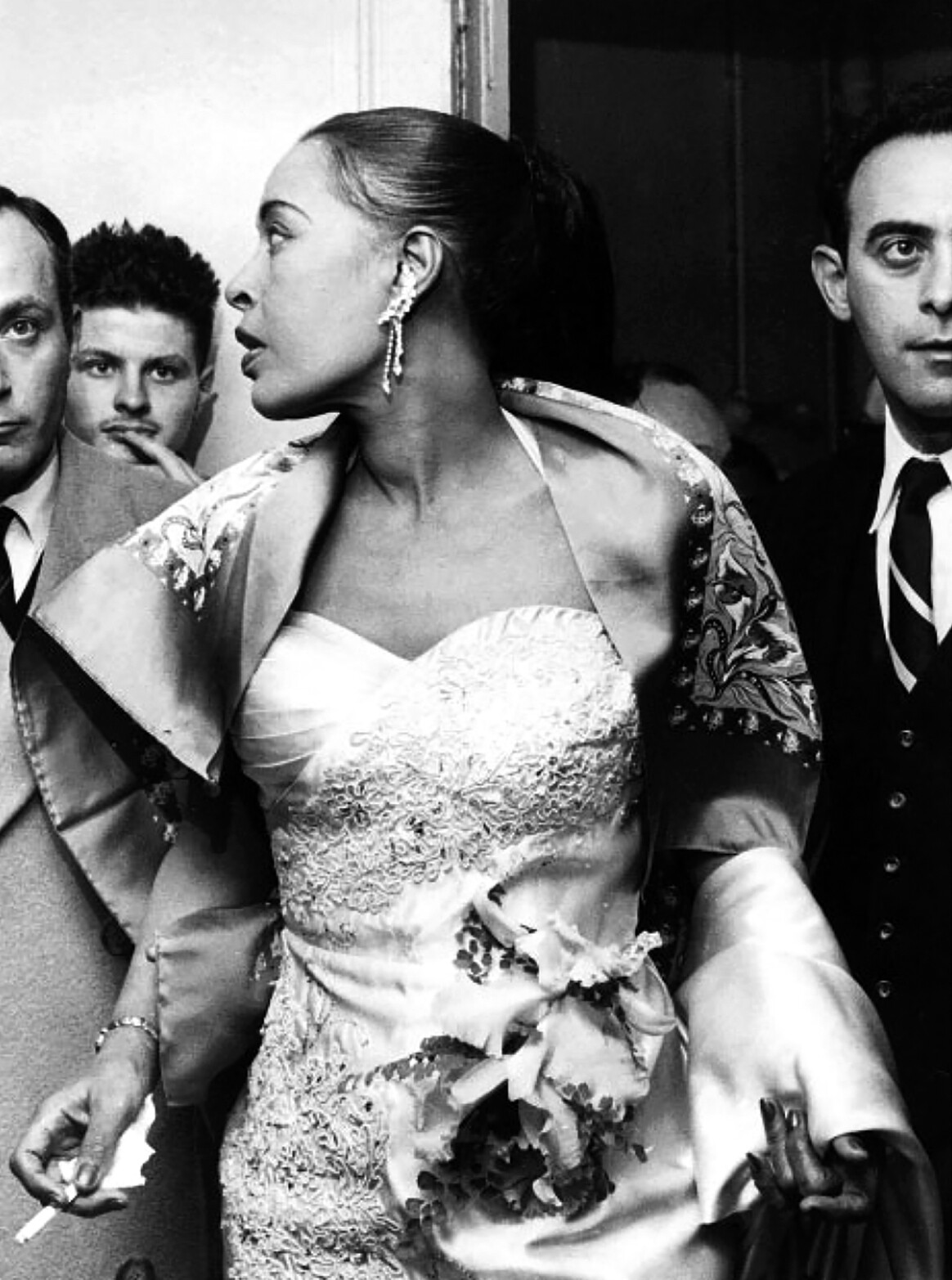 Using her voice as an expressive musical instrument she bent notes like a horn player, improvising brilliantly, blowing along with the cats. Revising songs with her distinctive personal interpretations, she built one of the most distinctive personal styles in American Popular music.
Billie Holiday was the greatest Jazz singer of the first half of the 20th Century.  Her vocal art stands at the apex of jazz performance, a distinctive and lasting achievement in music.
Billie Holiday in the 1950s audio clips:
Billie in the 1950s- Podcast clip A
Stormy Blues, I've Got my Love to Keep Me Warm, Rocky Mountain Blues
Billie Pt 3 – 1950s – Podcast clip B
Yesterdays, Come Rain or Come Shine, What a Little Moonlight Can Do
Billie Pt 3 – 1950s – Podcast clip C
All the Way, Ain't Nobody's Business, Billie's Blues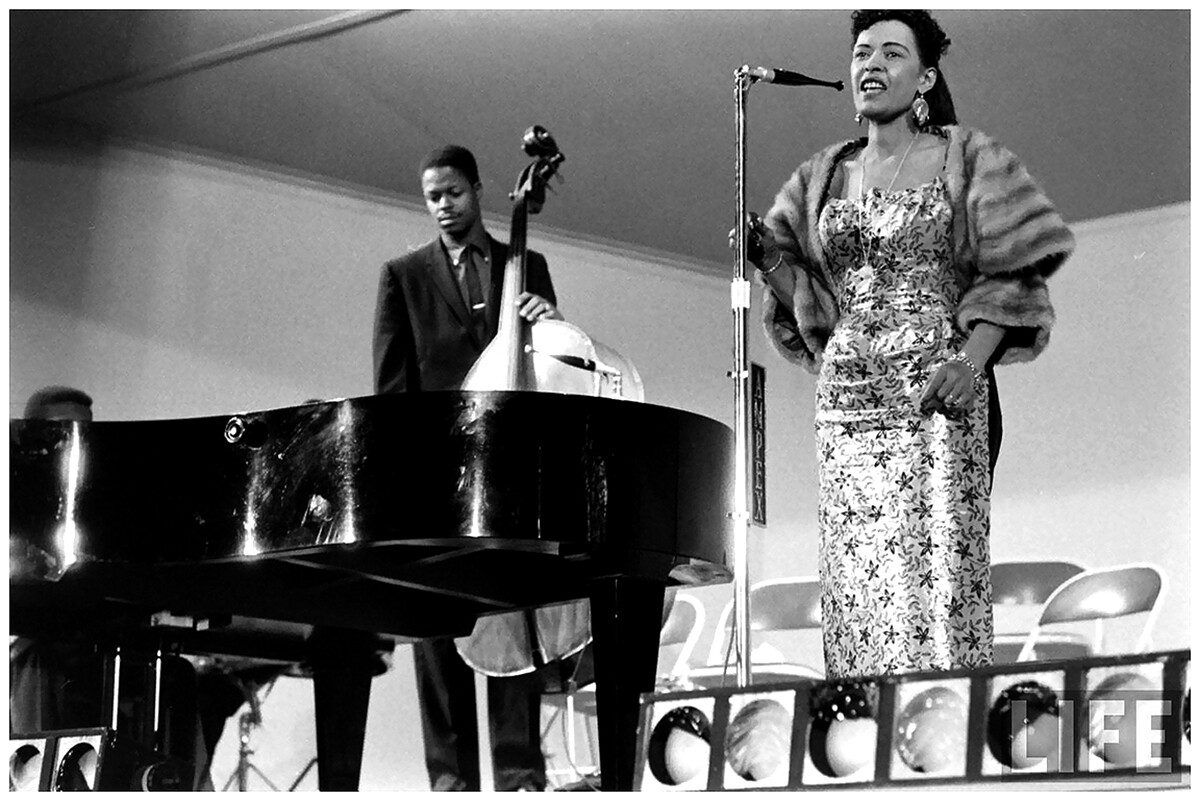 Sources and more:
Billie was quoted from her autobiographical memoir, Lady Sings the Blues, (Billie Holiday with William Dufty, Doubleday, 1956), Buck Clayton from Buck Clayton's Jazz World (Oxford University Press, 1986).
At the Jazz Rhythm website, you'll find more photos, text and the complete radio programs: Billie Holiday page 
Billie Holiday Profile in Jazz by Scott Yanow