Looked at one way, Shirt Tail Stompers are a "London-based jazz and swing band" (so says their website). Looked at another way, they're better described as a bright idea — a constantly-rotating galaxy of stellar musicians hailing from London, yes, but also from France, Japan and everywhere in between. The brilliant black hole anchoring this all-star cast is trumpeter and bandleader Steve Coombe, whose musical mastery and pleasant personality are winning his associates full-time work playing trad and swing at jazz and dance festivals from New Orleans to Seoul.
There are rarely rehearsals or set-lists — even the band's records, released at a rate of roughly one a year, feature flexible line-ups. (Two drummers, two bassists and three vocalists all appeared on 2019's Broadway Holdover.) The musicians Steve invites to sit in with him are all in great demand and mostly just too good to be tied to any one outfit for long. "It would be nice to have the same musicians all the time, but we're all just so busy that it ends up being a bit mix-and-match," he said. "The band travels all over Europe, so we just sort of pick musicians up along the way. We find incredible people in places you might not think of — the horn players in Budapest are just amazing."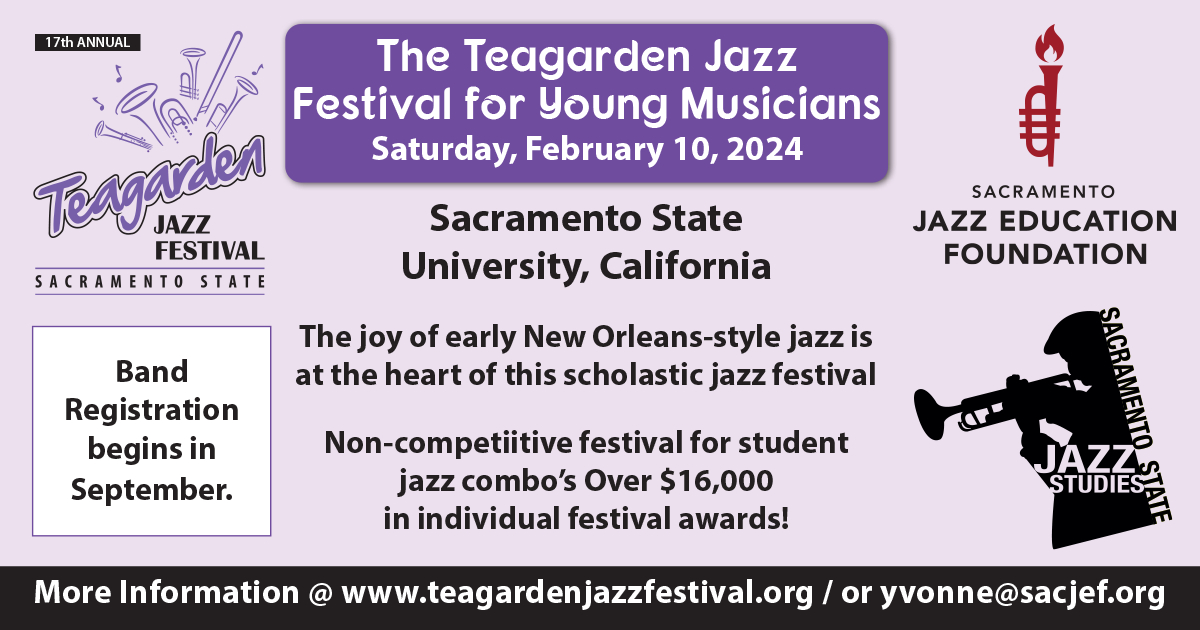 He added: "We found Alex, our current bass player, in Paris. I'd played a few gigs with him so I knew he was right for the band. It's becoming a bit of a supergroup, but not by design!" In fact, Steve likes keeping things loose, in the style of the old jazzmen his work pays tribute to. Things are more interesting that way, he says — and keeping it interesting is key to the Stompers' longevity.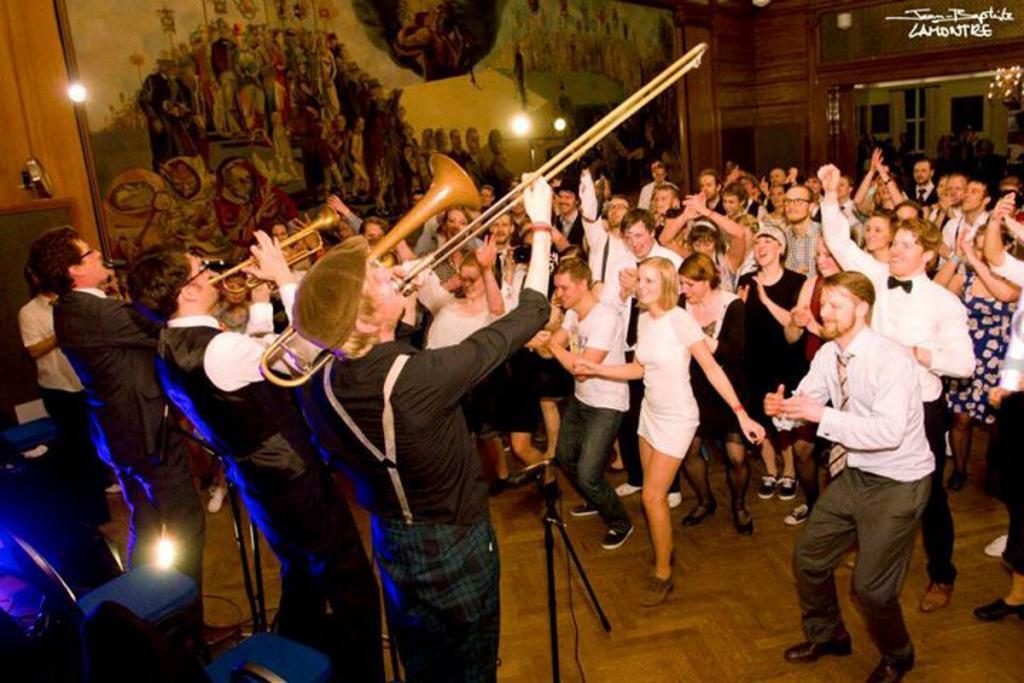 Steve isn't simply this supergroup's figurehead, but a bandleader in a very real sense. His hand-picked crew doesn't rely on written arrangements, instead repeating sections or taking solos by following his gesticulations (often while he plays trumpet too). At a recent Yorkshire gig, Steve put down his instrument during one number to dance on stage with his wife (and manager) Mako.
The band — some of whom were sitting in for the first time — gamely tried to keep going by consensus, but their strained faces showed the bandleader's import. (It takes a skilled and brave musician indeed to do things the Stompers way.) "It would be great to rehearse more," said Steve, "but everyone is just too busy with other projects to get together. So we'll run it once though in sound check and then we're on. But they're all top jazz musicians, so we're always okay."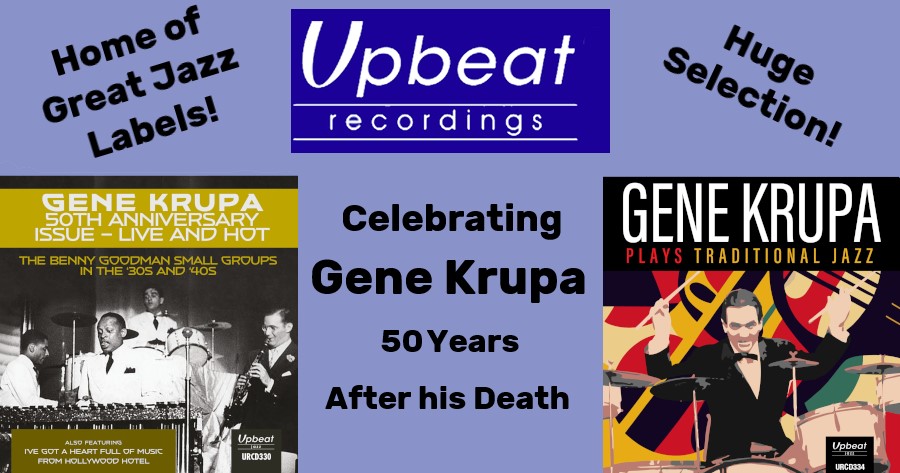 Having studied jazz at music school — inspired largely by Roy Eldridge, Wingy Manone and Louis Armstrong — Steve was wowed by the New Orleans scene when he toured there in 2014. (His US bandmates included sax player Aurora Nealand, trombonist Colin Myers and bassist Cassidy Holden.) The Stompers' style very much replicates that city's easy-going approach to jazz — if only by necessity. "If you go to New Orleans and tell people you're a trumpeter, they'll say 'come and sit in with us'. It's so welcoming and creates some wonderful musical moments," said Steve.
He added: "I'd like to think that we're recreating that effect with the Stompers, but I'm really interested in the effect the music has on the audience. I remember playing an early gig in Australia and these little children, aged about 3, just started dancing. I thought 'wow, there really is something special about this music'." The Stompers have won fans around the world by playing swing dance festivals — their 2019/20 tour sees them stop in Spain for Zaraswing, Hungary for Lindy Shock, Dragon Swing in Poland, Leapin' Lindy in Switzerland and Liesel Hop in Germany. Shunning set lists and formal arrangements allows Steve to tweak each set (and individual tunes) to suit the room's mood.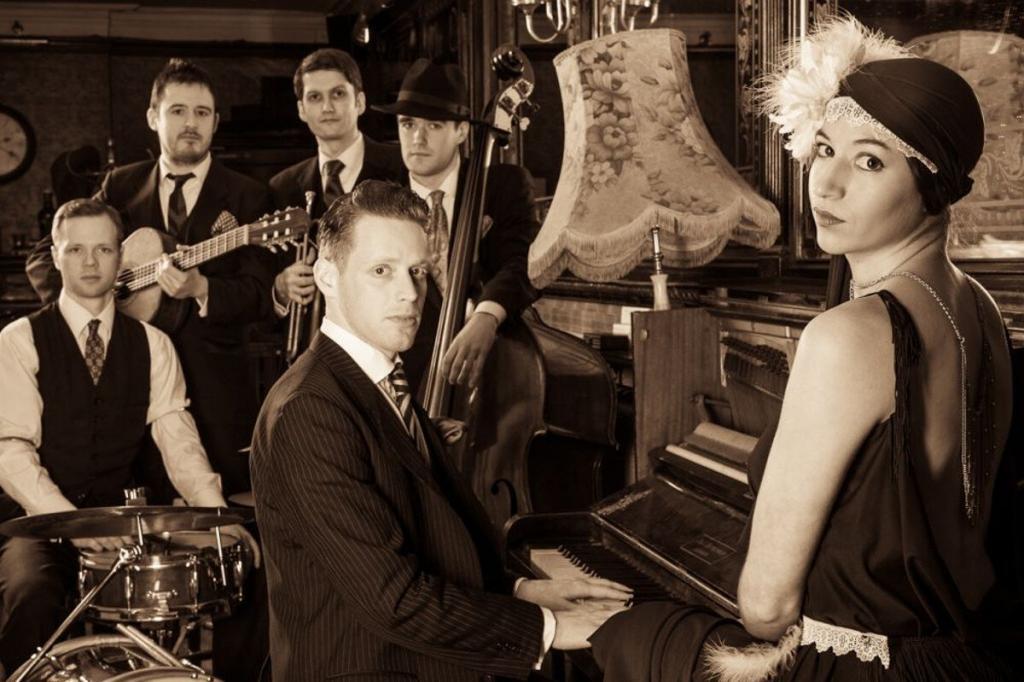 "I'm cueing the band all the time," he said. "It allows us to put in breaks and solos on the hop, keeping things spontaneous and interesting for the musicians and dancers. It's the same way they do things in New Orleans — everyone's just calling stuff. The only difference is that, where the bands there might take five minutes between songs to agree the next one, we have to just keep going. I call the title and key signature and off we go."
Savvy Steve stays on top of evolving trends in the dance scene, to maximise the band's appeal. "When I started dancing ten years ago, the modern trad bands were really in vogue," he said. "Now, dancers like the big bands — the sax-heavy line-ups are really popular at the moment."
Despite their success at dance halls worldwide, Steve is shifting the Stompers' focus towards sit-down gigs. Their winter dates included two very different London venues — Guy's Hospital and the very grand Intercontinental Hotel. The former was a free party for patients and staff, including a wander around the wards. "It's an amazing project," he said. "We've done it for about five years now — we're all professional musicians not working in the day, so it's only right that we use the time to give something back!"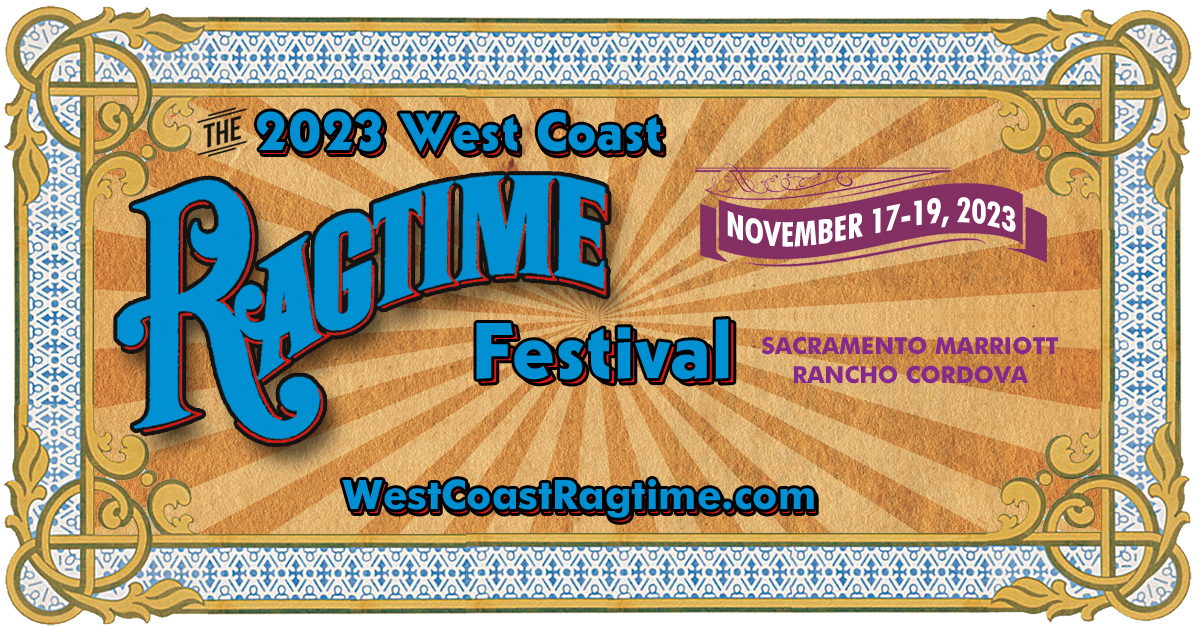 The latter was a corporate arrangement, performed on Christmas Day for guests at the Mayfair hotel. "That one was a cash gig," Steve laughed. "I had a great Japanese rhythm section — they said they didn't really do Christmas, so they were happy to play then!" He added: "Functions like that pay very well, but I don't like doing too many of them. We're very lucky to be getting enough work playing at festivals for people who really appreciate the music. Last year we didn't play a single wedding — they're just so much hassle. We do the odd one now and then, usually for swing dancers, which we enjoy."
At present, Steve's primary interest is in playing for theatres — he sees these seated gigs, at smaller venues around the UK, as the best way to bring jazz to a wider audience. "The shows I really like are the ones in which I'm able to talk to the crowd," said Steve. "I can tell a few jokes and we can play faster songs." He added: "It's exciting to bring these great musicians outside of London and introduce them to the rest of the country. It's also a chance to teach audiences a little bit about jazz history and pay homage to the musicians who came before us."
The Stompers celebrate their tenth anniversary this year, with a three-day party taking place in Vilnius, Lithuania in August. "We played there in about 2015 and just had the greatest time," said Steve. "We decided to have the party there as we can fly the musicians out, put them up, feed and water them for less than the cost of hiring a venue in London." Dozens of musicians will join Steve in Vilnius, including several Stompers line-ups — potentially even the original outfit from 2010. Guest stars will include stride piano superstars Luca Fiastro and Jean-Baptiste Franc, both close friends of the Stompers.
Steve added: "It will be a three-day event and we'll have the venue for 24 hours, every day. We're thinking the dance parties will start at about 8pm and go on until 6am the next day. We can't wait." Alongside this incredible weekend of music and dancing, the band is celebrating with new album Billet-doux.
This audio love letter to fans, released last month, is being distributed as a pay-as-you-feel download. "We really wanted to say thank you to everyone who has supported us over ten years," said Steve. "Some of the tracks are ones we have been playing for years but never recorded. There's one on there which we'll probably never play again."
Turning to the future, Steve has mass media ambitions for the Stompers. "I think it's fair to say we've become one of the top bands out there, when it comes to playing swing dance festivals," he said, "so I've started setting my sights on other things. I've been experimenting with a big band line-up, and would like to do more of that."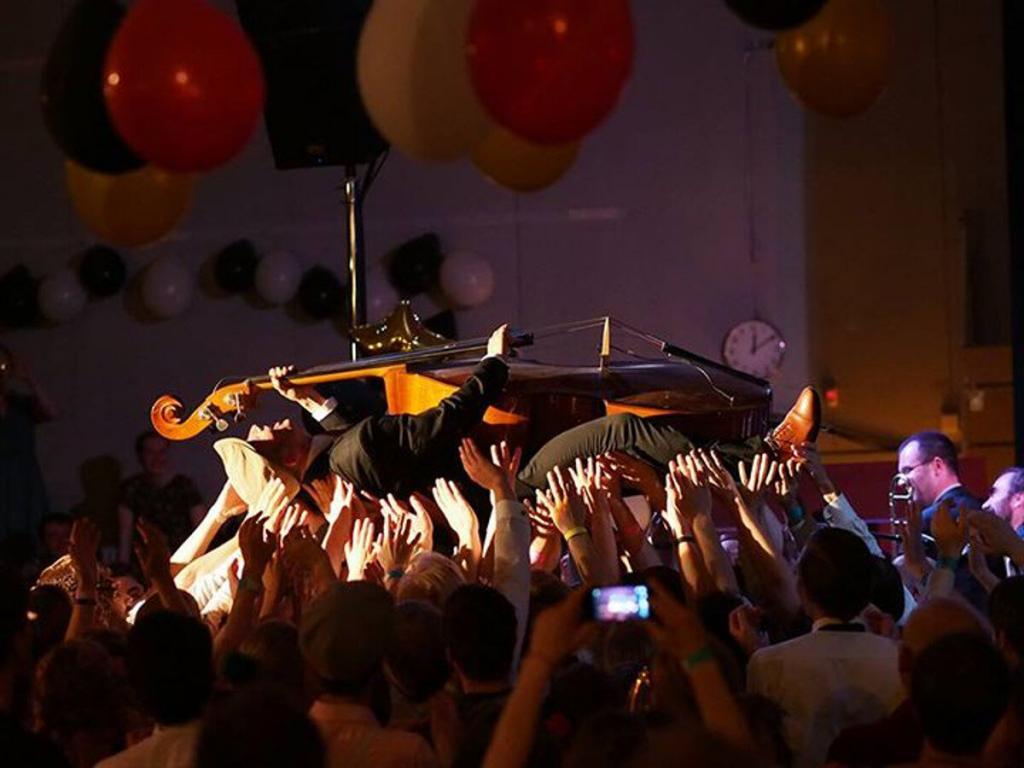 He added: "We did some BBC radio recently, which was exciting. I admire the likes of Gunhild Carling, who started filming videos of her family playing music and ended up touring with Scott Bradlee's Postmodern Jukebox. I'm not interested in playing swing versions of modern songs — something the agents for functions always want us to do — but it's undeniable that they're really pushing jazz out to the masses."
He added: "I do love the way PMJ just have one camera on the band, filming them as they do their thing. I'd like to do some more media like that and see where it takes us — maybe television awaits, who knows."
See www.shirttailstompers.com for more information about the band, including links to their online record store and details of the tenth anniversary celebration in Vilnius.