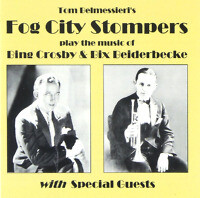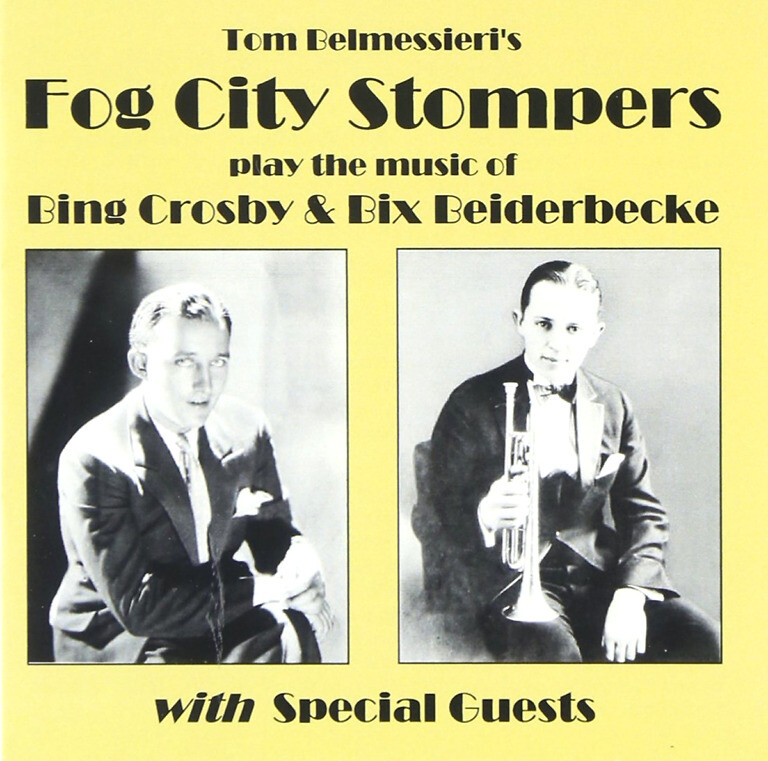 Here is a group and a leader who I know nothing about and are not listed in jazz discographies. In 2012, Ted Shafer, who ran the Merry Makers label in addition to heading the Jelly Roll Jazz Band, wanted to record a tribute to Bix Beiderbecke and Bing Crosby. He enlisted a band called the Fog City Stompers for the project, featuring Tom Belmessieri on both cornet and vocals.
The group is comprised of Northern California musicians: either Rich Newcomb or Jeff Walton on trombone, Hudi Brenman on clarinet and saxophones, Morgan Olk or Roz Temple on piano, Pat Dutrow doubling on banjo and guitar, Mike Hart on helicon, and drummer Adam Roderick. A few songs changed the rhythm section slightly with violinist Ray Landsberg being an asset on "I Kiss Your Hand, Madame" and "Blue Hawaii."
The project has the Fog City Stompers alternating between songs associated with Bix Beiderbecke and those that Bing Crosby recorded, with Belmessieri starring throughout. Strangely enough, it has none of the numbers on which Bix and Bing both participated. All the Crosby cuts date from the 1930s.
The ten instrumentals are excellent with Belmessieri emulating Bix and sometimes bringing back his solos but also improvising in spots; the other musicians were freer to be themselves.
They are particularly winning on such numbers as "Lazy Daddy," "My Pretty Girl," "Clarinet Marmalade," "Somebody Stole My Gal," and "Thou Swell." Belmessieri sometimes comes close to sounding like Bing Crosby on the ten vocal numbers although one would never mix up the two. The Crosby tunes are ballads with "I Found A Million Baby," "Please," and "Just A Gigolo" being among the more memorable performances.
According to the Fog City Stompers Website they have made two other recordings. This is a good one.
Play The Music Of Bing Crosby & Bix Beiderbecke
(Merry Makers MMRC CD-49, 20 selections, TT = 64:24)
www.cityhallrecords.com