For the third year, the Preservation Hall Foundation has held an award ceremony inducting important New Orleans musicians into their Legacy Program and announcing their Sousafund beneficiaries. The Legacy Award offers a monthly honorarium to elder musicians. Started in 2015 it has already provided $150,000 in financial support. There are now over 50 inductees.
The Sousafund provides basses and Sousaphones to students in school music programs. It was started last year by Ben Jaffee, after he had his Sousaphone stolen and it was recovered with the help of the community.
The ceremony was held the afternoon of Tuesday, September 17th at Hotel Peter and Paul on Burgundy St. The Preservation Hall All-Star Band played a set to end the program.
This year's inductees were Tom Sancton, Clive Wilson, Laurence Cotten, and Rickie Monie.
Tom Sancton
Tommy is a former student of the late, great George Lewis – an apprenticeship he lovingly chronicles in his memoir Song for My Fathers. Yet Tom says his passion for the world of musicians was about more than his love for New Orleans jazz music: "It was Sweet Emma, not just her music but the whole package you got with her – you know, the beanie and the bells. I mean, they were larger-than-life characters. There was an element of almost theater about it, too. You know, it was like a stage with these characters acting, playing music, but also talking and wandering around, and being something other than the type of people that I encountered in my other life."
Tommy credits his apprenticeship in and out of Preservation Hall – Which includes playing in parades with the Olympia Brass Band and eating red beans at Buster's – as a considerable factor in his acceptance to both Harvard University and Oxford University as a Rhodes Scholar. In the years since he first sat in as a teenager at Preservation Hall, Tommy has toured in Europe and the United States, been featured on more than a dozen CDs, and has played at major international jazz festivals, including numerous appearances at the New Orleans Jazz and Heritage Festival. In his "day job," he worked for twenty-two years as a writer, editor, and correspondent for Time magazine, including ten years as Paris bureau chief. Since his return to New Orleans, where he teaches creative writing at Tulane University, Sancton has played regularly at such legendary jazz venues as Palm Court, Snug Harbor, and of course, Preservation Hall.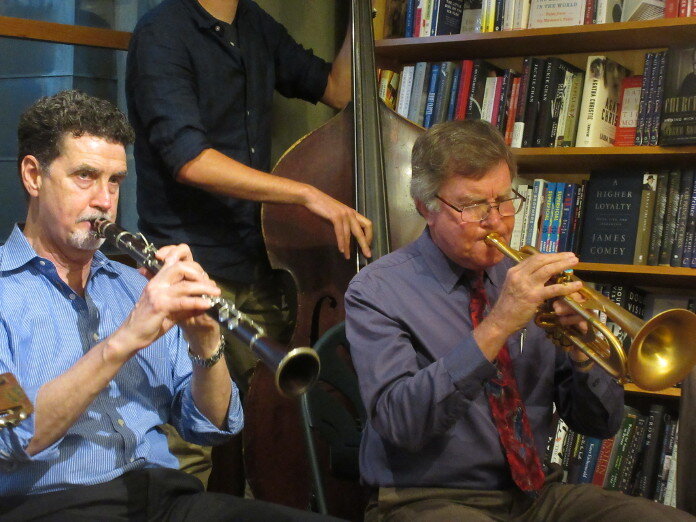 Clive Wilson
Clive Wilson took up the trumpet after hearing the George Lewis New Orleans Jazz Band on tour in his native London. Clive studied physics at Newcastle University, but jazz was his passion, and after moving to New Orleans in 1964, he decided to make music, rather than physics, his career. When Clive first moved to New Orleans, he went to Preservation Hall every night. At the end of the first week the band told him to get his horn and sit in. A year later, Clive lived around the corner from the Hall with Lars Edegran. "Preservation Hall was our front room," says Clive. "We'd go down there at 8:30 or 9 and spend most of the night there, every night. This is before cell phones. It was before answer machines and things like that. You just went there and saw everyone you wanted to meet it was like being in heaven for someone who wanted to be around this music and these musiciains."
Clive was soon playing in parades and jazz funerals with the Young Tuxedo, Olympia, and Eureka brass bands. During the 1960s he played second trumpet on tour with Billie and De De Pierce, and he later toured with clarinetist Herb Hall. Clive played with Freddie Kohlman's band, Papa French's Original Tuxedo Jazz Band, and along with pianist Butch Thompson, whom Clive met in Preservation Hall over forty years ago, he has produced programs for The New Orleans Serenaders, which revisits the classic repertoire of legendary New Orleans musicians such as Louis Armstrong and Kid Ory.
Lawrence Cotton
Lawrence Cotton was born in uptown New Orleans, near the Mississippi River, where he has lived all his life. Inspired by his father, an amateur pianist, he was self-taught until he began taking lessons after a stint in the Air Force. His first professional job was at a local club with bassist Lloyd Lambert's rhythm and blues band.
The group soon took to the road and backed up a number of R&B stars, including Joe Turner, T-Bone Walker, and Guitar Slim. Constant travel could be grueling, and though he says everyone was like a family, Cotton left in 1958, after four years. Legendary Guitar Slim had warned him about the dangers of leading a fast life on the road: "Cotton, you're going to outlive me 'cause I'm living two or three days to your one." Slim died in 1959 at age thirty-two.
Back in New Orleans, Cotton played the next few years with local R&B groups, including the band of legendary performer-producer Dave Bartholomew. During the 1970s he began playing traditional jazz in Bourbon Street nightclubs. His longest employer, trumpeter Wallace Davenport, was the first to take Cotton on a European tour. Though fans went wild when he played featured solos, his desire for extended road trips had long been over. In 1980 a stroke rendered his wife an invalid, and for the next seventeen years – until her death, in 1997 – Cotton attended to her every need with the loving devotion of a saint.
The last days of August 2005 brought hard times to Lawrence Cotton. Despite the threat of a major hurricane, he played his regular Saturday night gig, but during the wee hours of Sunday, August 28, he was rushed to Touro Infirmary with severe heart palpitations. When power went out, he sat out the fury of Katrina in a hot dark hospital hallway until he was evacuated to a church auditorium in Baton Rouge, where a painful kidney stone attack led to emergency surgery.
Fortunately, having had only minor wind damage to his home, Cotton was able to return to New Orleans and resume playing at the Maison Bourbon Jazz Club. He continues to perform regularly within the city.
Rickie Monie
Born and raised in New Orleans' Ninth Ward to jazz loving church musicians, Rickie was inundated at an early age with the recordings of such great jazz and gospel pianists as Art Tatum, Oscar Peterson, and Teddy Wilson. After majoring in woodwind instruments at Dillard University, Rickie turned back to the piano and picked up work in every style of music. In 1982, Monie got his first call from Preservation Hall, to substitute for the legendary resident pianist Sweet Emma Barret after she suffered a stroke. To the delight of audiences around the world, he's stayed onboard ever since.
---
The biographical portion of this story is slightly adapted from a press release.