While Lu Watters was the leader of the pioneering and highly influential Yerba Buena Jazz Band starting in 1941, he retired prematurely in 1950 to pursue other interests. His trombonist during 1941-47, Turk Murphy, would have a much longer career, leading bands during much of 1947-87.
Murphy, who coined the term "traditional jazz" to describe what he played, adapted and altered the Watters sound for his own groups. Rather than utilize two trumpets as did Watters, Murphy used one trumpet and had a looser and more flexible rhythm section, often not even using a drummer. Like Watters, he played his own interpretations of the songs of Jelly Roll Morton, King Oliver and early Louis Armstrong rather than copying the original records, he wrote some newer pieces in the tradition, and he found a way to play ragtime without sticking too closely to the written music.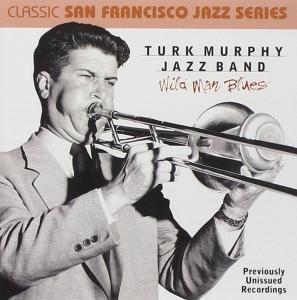 Two releases, Wild Man Blues and Euphonic Sounds, both include many rags along with some vintage jazz pieces. Wild Man Blues has music from four different projects. There are two numbers in which Murphy's band accompanies the abstract and sometimes bizarre monologues of Lord Buckley in 1958. Two pieces from 1971 are purposely childlike numbers that were recorded for an episode of Sesame Street.
Much more interesting is the bulk of this CD which is comprised of sessions from 1953-54 with clarinetist Bob Helm, Bob Short on cornet and tuba, cornetist Everett Farey (on the 1954 date), and pianist Wally Rose as the key players. The 19 performances include such highlights as "Bill Bailey" (with the rarely performed bridge), "Mandy," "Maple Leaf Rag" (Murphy's playing is quite strong on this number), several other rags, and the atmospheric "Skit-Da-De-Dat."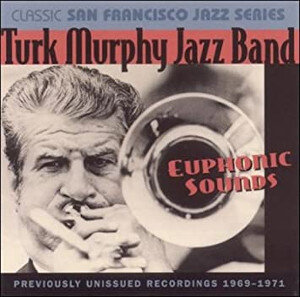 Euphonic Sounds mostly dates from 1971 when the sextet/septet included cornetist Leon Oakley, clarinetist Phil Howe and pianist Pete Clute. While the four numbers recorded for the soundtrack of Alabama's Ghost (an odd horror film) are a departure, most of the other pieces (other than "King Porter Stomp," "Working Man's Blues," and a spirited "Sunset Café Stomp") are rags.
While paying respect to the main themes, Murphy and his men are consistently successful at turning such material as "Euphonic Sounds," "The Cascades," "Swipesy Cakewalk," and the leader's own "Little John's Rag" into jazz, no easy task. Somehow Turk Murphy makes it all sound natural and effortless despite the large amount of work that went into mastering the themes.
It is hard to believe that these sessions were not released until decades after they were recorded. While the San Francisco Traditional Jazz Foundation has made much of their vast collection available digitally, hopefully they will release additional CDs in the future.
Wild Man Blues (San Francisco Traditional Jazz Foundation SFTJF 107, 23 selections, TT = 77:32) www.cityhallrecords.com
Euphonic Sounds (San Francisco Traditional Jazz Foundation SFTJF 104, 22 selections, TT = 76:21) www.cityhallrecords.com