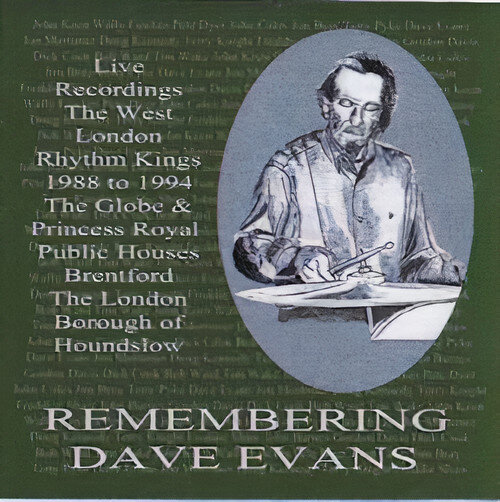 Following the release about a year ago of the CD New Orleans Jazz: Remembering Doug Kennedy, a tribute to their late banjo/guitarist, the West London Rhythm Kings have now paid the same compliment to their late drummer, Dave Evans, with this CD New Orleans Jazz: Remembering Dave Evans.
As in the previous CD, this one again evidences the band's leaning toward the New Orleans style of largely polyphonic ensemble playing, and even where soloists do step forward, they are invariably accompanied by more than just the rhythm section. In particular, clarinet and trombone, regardless of who the players are, seem to trade solo leads, one taking the lead, the other in turn playing counterpoint, making for a very satisfying listening experience.
Keen's trumpet playing is sure—no fluffs, notes hit dead enter. His vibrato is not a hugely pronounced, wide one but just enough, usually at the end of a phrase. He favors the mid range above the others. The clarinet chores are mainly divided between Pyke and Cook, but a welcome variation is Wally Fawkes of Flook fame taking two of the tunes on clarinet, and "The Gipsy" finds the reed being John Barnes on alto sax. (On the previous CD, the versatile Barnes played trombone on this same tune.)
The other players hold their own with no difficulty, and although this album is dedicated to Evans, a glance at his part shows that he does not dominate any of the tracks. We might expect the honoree to figure more prominently in many tracks, but drums are not the best of solo instruments (as even probably many drummers would agree). Evans takes only one solo, that being on the final track, "Royal Garden Blues."
He displays good technique and taste, but he largely eschews the pressed rolls (there and elsewhere) that are so integral to the New Orleans style of drumming, which seems a little at odds with the band's leaning toward the New Orleans style. However, he does not try to overpower anyone, but keeps good time and with the occasional rim shot and judicious use of what sounds like the pang cymbal punctuates what the others are doing.
Perhaps due to the varying personnel, there seems to be some hesitation, some raggedness here and there, such as the bridge on "Memories of You" and the endings on "I'm Confessing That I Love You" and "Wabash Blues," but these are not pronounced and go with the territory of live recording. This is not the case with the majority of tracks, of course, one of which, "The Gipsy," ends with a very well-executed cadenza, which Barnes provides on alto sax.
Respecting the playlist, it has much variety to keep the listener involved. There are several ballads, a harmonica blues ("Bula, Bula"), a rendition of Sidney Bechet's "Marchand des Poisons" ("Fish Seller") sans soprano sax, several traditional jazz standards, and a very nice version of the rag "Kinklets," which for me is perhaps the highlight of the disc.
This is another very good CD which neatly complements the band's previous tribute issue. (Only three tunes are to be found on both discs, and they invite comparisons.) One can contact John Keen at [email protected] to obtain ordering information.
New Orleans Jazz: Remembering Dave Evans
Own Label – No Number Total playing time: 78m. 24s.
Just a Closer Walk with Thee (d); Memories of You (b); High Society (b); Fish Seller (b); Willie the Weeper (b); Bula Bula (a); Snake Rag (c); South (c); I'm Confessing That I Love You (a); Original Dixieland One-Step (f); Kinklets (e); Wabash Blues (a); The Gipsy* (f); Royal Garden Blues (g)
John Keen – Trumpet, vocal* (all tracks)
Tony Pyke (a, d, e, g), Dick Cook (b), Wally Fawkes (c) – Clarinet
Pete Dyer (b, c, d, f, g), Bob Ward (e) – Trombone
Jon Mortimer (a) – Trombone, harmonica
John Barnes (f) – Alto sax
Doug Kennedy (a, b, d, g), John Coles (c0, Tim Wake (e) – Banjo, guitar
Terry Knight (a, b, d, e, g), Jim Bray (c), Gordon Davis (f) – Double bass
Dave Evans – Drums (all tracks)
Freddie Shaw – Cornet (g)
Recorded at the Princess Royal, Brentford, June 1991 (a); The Globe, Brentford, Mar. 5, 1993 (b); Venue [sic] Nov. 15, 1988 (c); the Princess Royal, Brentford, Mar./Apr. 1991 (d); The Globe, Brentford, May 30, 1994 (e); The Globe, Brentford, June 1992; The Globe, Brentford, Feb. 10, 1992.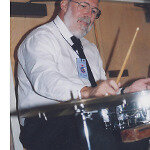 Born in Dundee, Scotland, Bert Thompson came to the U.S. in 1956. After a two-year stint playing drums with the 101 st Airborne Division Band and making a number of parachute drops, he returned to civilian life in San Francisco, matriculating at San Francisco State University where he earned a B.A. and an M.A. He went on to matriculate at University of Oregon, where he earned a D.A. and a Ph.D., all of his degrees in English. Now retired, he is a professor emeritus of English at City College of San Francisco. He is also a retired traditional jazz drummer, having played with a number of San Francisco Bay Area bands, including And That's Jazz, Professor Plum's Jazz, the Jelly Roll Jazz Band, Mission Gold Jazz Band, and the Zenith New Orleans Parade band; he also played with some further afield, including Gremoli (Long Beach, CA) and the Phoenix Jazzers (Vancouver, B.C.) Today he reviews traditional jazz CDs and writes occasional articles for several publications.