The renowned French quartet Paris Washboard made a brief trip across the pond in February to play four concerts in my neck of the woods. I took this opportunity to talk with its members: leader Daniel Barda, trombone; clarinetist Alain Marquet; Phillippe Carment, piano; and Charles Prevost, washboard.
BH: How did the band get started, and has it always been the same four instruments?
DB: The band started in 1988, with Alain and myself. Our regular pianist has been Louis Mazetier, but he is a doctor and sometimes is too busy with his profession to travel with us. Our substitute, Phillippe, is very good. He used to play together with Louis. Charles replaced our former washboard player (Gerard Bagot) three years ago, who died. We had Stephane Seva for a while, but he lives in Bordeaux.
BH: Are any of you full-time musicians, or do you (or did you) have day jobs? If so, what were they?
PC: I'm a doctor, a general practitioner.
DB: We only use doctors as pianists!
AM: I worked for an American company that made instruments for the medical field. In 2002 I started my own company doing the same work. I'm now a full-time musician.
CP: I have been a full-time musician for 25 years. Prior to that I worked in the private sector.
DB: I have always been a full-time musician.
BH: How do you select your repertoire?
PC: It's music we like and like to play.
DB: The main music comes from the great American composers Fats Waller, James P. Johnson, Duke Ellington, Willie "the Lion" Smith, Jelly Roll Morton. Piano players are our greatest inspiration. They wrote great tunes that many bands don't play. We also play the New Orleans traditional repertoire.
BH: How often do you rehearse, and how many concerts do you normally play in a year?
DB: That's an excellent question! We've never had any rehearsals except when we recorded. We do everything by ear, and sometimes in concerts Louis starts with a tune we don't know and we have to listen carefully and follow his melodies and chords. This spontaneity helps us enlarge our repertoire.
BH: Does he ever change keys in the middle of a tune, where you have to follow?
PC: We don't care about that, but usually he plays the original keys.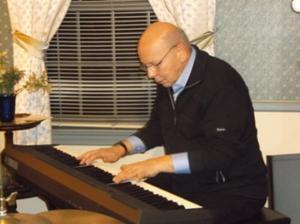 BH: How many concerts do you usually play in a year?
DB: Between 60 and 90. Each of us also plays with other bands. Alain does about 100 concerts a year. Charles does about 40 to 50.
BH: Are all the concerts around Paris?
DB: No. We play in Switzerland, Germany, USA, and other countries.
BH: Does American traditional jazz have a large following in France? I guess it does if you're as busy as you are!
DB: Maybe more than in the US. We are closer to the very traditional jazz music.
BH: Do many young people attend your concerts?
DB: It's growing in France. We're seeing them in Paris. Phillippe, who lives in Rouen, sees them there. The number of young traditional jazz players is also growing.
BH: A little background on each of you—where are you originally from, your musical training, how long have you been with PW, do you play in any other bands and/or different types of music?
PC: I live in Rouen. I play in several bands. I have a 16-piece band that plays Ellington and Basie.
AM: I was born in Eaubonne, a small town near Paris. I learned piano when I was young, then I taught myself clarinet. I started playing jazz in 1959 with a friend. I play with other bands in northern France, but mostly with Paris Washboard. I also play with an American singer, Nicole Rochelle, who's popular in France.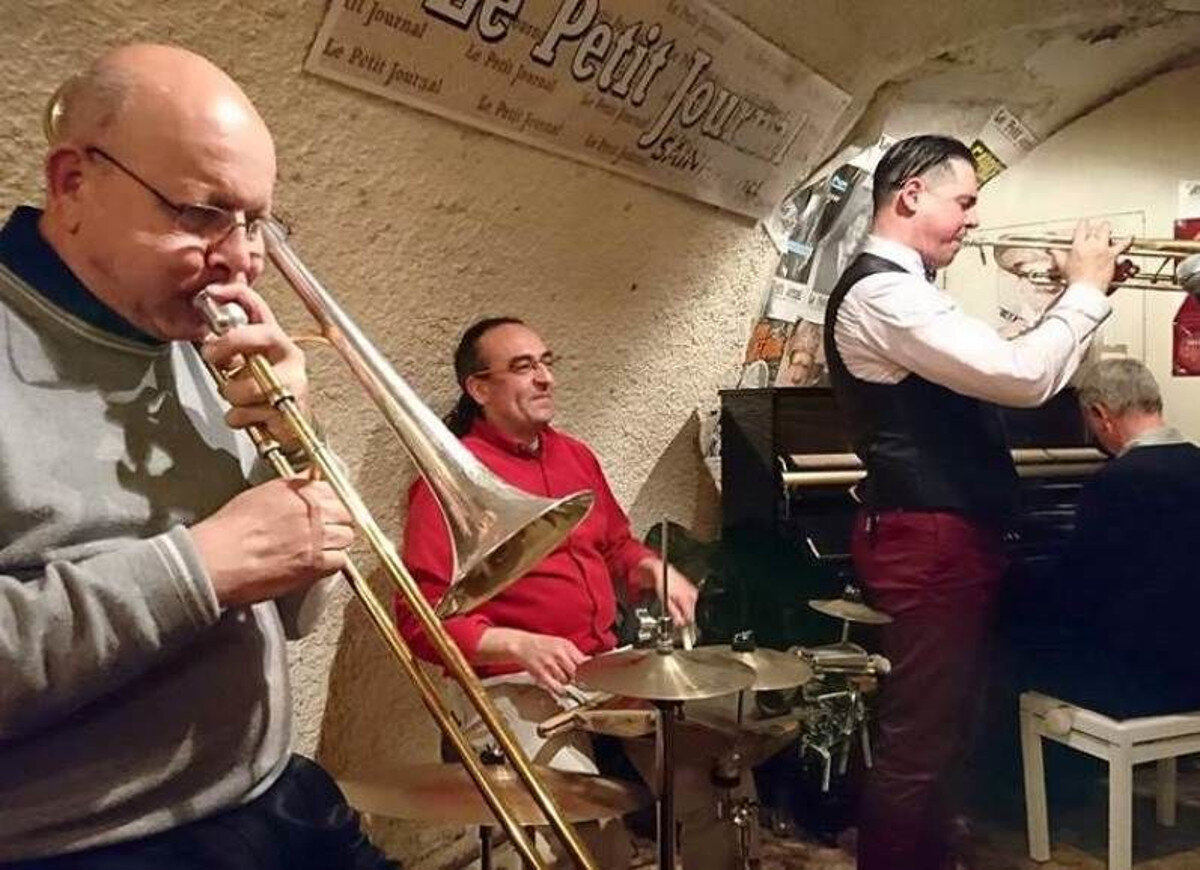 CP: I live in Amiens. I've been playing washboard for 40 years, but my first instrument was piano.
DB: I was born in Cannes during World War II. I was living in Paris for 46 years, now in Auvers-sur-Oise, about 30 kilometers north of Paris, where Van Gogh spent his last two months in 1890. I'm a classical musician; I play jazz by accident! I started trombone in 1963, then classical flute two years later. Piano was my first instrument, but only classical. I have also studied classical conducting, got a chamber orchestra for 6 years, but my career has strangely been made with traditional jazz.
BH: Is there anything else you'd like to say?
DB: It's a big honor to play traditional American music in America. We are trying to organize another tour next year, maybe March or April. We will come with our new trumpet player, Michel Bonnet, recently added to the band (BH: With five pieces the band is called Paris Washboard Superswing.).
BH: Thank you all very much!