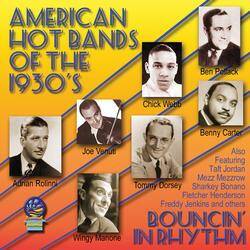 The British Halcyon label has compiled an intriguing set of music from 1932-38 called American Hot Bands Of the 1930's – Bouncin' In Rhythm. While its 20 mostly obscure selections are in chronological order and there is full discographical information (although no liner notes), the programming seems a bit random.
20 different jazz groups are featured with the emphasis on medium and fast tempos. Most of the performances are by small groups although there are a few big band cuts. The jukebox aspect is accentuated by the fact that most of the time there is only one second between performances (although in one case a song begins 14 seconds late!). The music is continuous so if one wants an hour of mostly obscure but high-quality vintage swing, this CD will fit the bill.
Featured along the way are Baron Lee's Blue Rhythm Band, Joe Venuti, Benny Carter, Mezz Mezzrow, Chick Webb, Wingy Manone, Taft Jordan, singer Bill Barry, Adrian Rollini, Freddy Jenkins, Riley & Farley, The Six Blue Chips, Ted Wallace's Swing Kings, King Garcia, Fletcher Henderson, Ben Pollack, Sharkey Bonano, A Jam Session At Victor ("Honeysuckle Rose" with Fats Waller, Tommy Dorsey and Bunny Berigan), Tommy Dorsey's Clambake Seven and Dick Robertson. It is program that is perfect for any swing party.
Bouncin' In Rhythm (Halcyon DHDL 154, 20 selections, TT = 57:11) www.cityhallrecords.com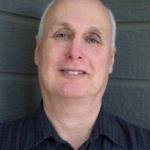 Since 1975 Scott Yanow has been a regular reviewer of albums in many jazz styles. He has written for many jazz and arts magazines, including JazzTimes, Jazziz, Down Beat, Cadence, CODA, and the Los Angeles Jazz Scene, and was the jazz editor for Record Review. He has written an in-depth biography on Dizzy Gillespie for AllMusic.com. He has authored 11 books on jazz, over 900 liner notes for CDs and over 20,000 reviews of jazz recordings.
Yanow was a contributor to and co-editor of the third edition of the All Music Guide to Jazz. He continues to write for Downbeat, Jazziz, the Los Angeles Jazz Scene, the Jazz Rag, the New York City Jazz Record and other publications.