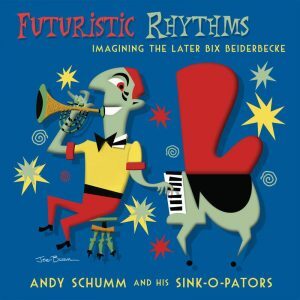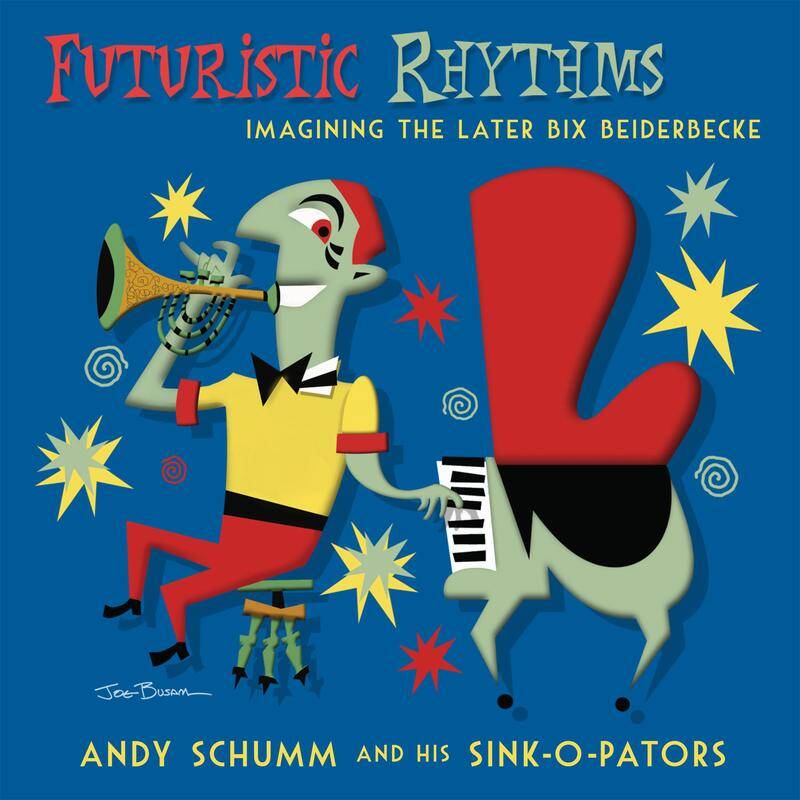 Bix Beiderbecke's death in 1931 at the age of 28 left a hole in jazz along with many "what if" questions. If the cornetist had beat his addiction to alcohol in 1929 and continued his career and life to a normal age, what might have he accomplished in future years?
On three projects featuring cornetist Andy Schumm (who can sound very close to Beiderbecke), producer Julio Schwarz Andrade has sought to answer some of the questions. Two earlier albums were made for the Lake label: Bix Off The Record (which has Schumm interpreting superior songs from the late 1920s that Bix never had a chance to record) and When Louis Met Bix, gives strong hints as to what a jam session with Louis Armstrong would have sounded like.
The recent Futuristic Rhythms, which has been released on the Rivermont label, imagines Bix Beiderbecke around 1935 on a swing sextet session. Ewan Bleach on tenor and clarinet recalls Bud Freeman a bit and the rhythm section (pianist Andrew Oliver, acoustic guitarist Martin Wheatley, bassist Tom Wheatley, and drummer Nicholas D. Ball) would be very much at home playing in a small club on 52nd Street.
Schumm, as Bix, fits into the type of role that was filled by Bunny Berigan or Louis Prima (as an instrumentalist) except with the Beiderbecke sound. With the exception of "San," none of the songs were recorded by Bix. It is a pleasure to hear such numbers as "You're Lucky To Me," "Memphis In June," "The Things That Were Made For Love," a Dixieland-ish "Weary Blues," and even "Moten Swing" played by "Bix" in the mid-1930s. The occasional choruses in which Schumm is accompanied just by the skilled guitarist Martin Wheatley are particular pleasures but everyone plays well throughout with pianist Oliver sometimes recalling Jess Stacy and Teddy Wilson.
In the future, I hope that Julio Andrade and Andy Schumm will continue this fascinating exploration of what might have been. How would Bix have sounded leading his own Benny Goodman style big band in 1937? And how might have he handled bebop in 1945, when he still would have only been 42?
Futuristic Rhythms – Imagining The Later Bix Beiderbecke (Rivermont BSW-2244, 12 selections, TT = 54:29) www.rivermontrecords.com