Arthur Briggs was an African-American bandleader who worked primarily in Europe. He first came to Europe in 1919 with Will Marion Cook's Southern Syncopated Orchestra in 1919. In 1922 he returned to Europe and formed the Savoy Syncopators Orchestra in Brussels.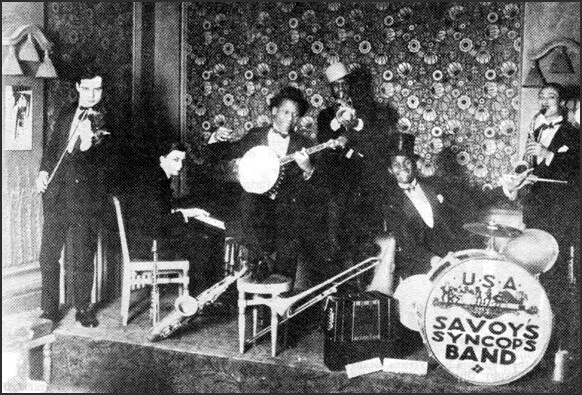 The band played residencies in Vienna, Berlin and Paris throughout the 1920s. In 1928 the band broke up. Briggs recorded again in 1929 in Paris under the name of the Orchestre Arthur Briggs and his Boys. Briggs then joined the Noble Sissle Orchestra, which played a long residency in London. He eventually returned to America with Sissle.
In 1931 he returned to Europe and led bands in Paris, recording with Maceo Jefferson, Coleman Hawkins, Django Reinhardt and Stéphane Grappelli. During the Nazi occupation of France during World War Two, Briggs stayed in Paris, and was captured and imprisoned in a Nazi concentration camp, but survived the ordeal and after his liberation continued to play Jazz in Europe until the mid-1960s.
Thanks to Al Simmons for his help with the recordings on this page.

Title

Recording Date

Recording Location

Company

Ain't She Sweet?


(Jack Yellen / Milton Ager)

11-1927
Berlin, Deutschland
Deutsche
Grammophon
21095
Polydor 21095
Ain't She Sweet?


(Jack Yellen / Milton Ager)

12-1927
Berlin, Deutschland
Deutsche
Grammophon
21124
Polydor 21124
Ain't That A Grand And Glorious Feeling?
1-1928
Berlin, Deutschland
Deutsche
Grammophon
21135
Polydor 21135
Allahabad, Pearl Of The East
12-1927
Berlin, Deutschland
Deutsche
Grammophon
21094
Polydor 21094
Are You Happy?
1-1928
Berlin, Deutschland
Deutsche
Grammophon
21130
Polydor 21130
Baby Your Mother


(Andrew Donnelly / Dolly Morse / Joe Burke)

91-1927
Berlin, Deutschland
Deutsche
Grammophon
21132
Polydor 21132
Black Bottom


(Buddy De Sylva / Lew Brown / Ray Henderson)

1-1927
Berlin, Deutschland
Clausophon 364
Bravo! Bis!
1-1927
Berlin, Deutschland
Clausophon 362
Bugle Call Rag
(Jack Pettis / Irving Mills / Elmer Schoebel)
8-1927
Berlin, Deutschland
Vox
8470-B
Ca c'est Paris (6/8 One-Step)
1-1927
Berlin, Deutschland
Clausophon 362
Cheritza
10-1927
Berlin, Deutschland
Deutsche
Grammophon
21037
Polydor 21037
Darum trinken wir noch eine
2-1927
Berlin, Deutschland
Clausophon 949
Do The Black Bottom With Me


(G.W. Meyers)

11-1927
Berlin, Deutschland
Deutsche
Grammophon
21096
Polydor 21096
Do The Black Bottom With Me


(G.W. Meyers)

12-1927
Berlin, Deutschland
Deutsche
Grammophon
21122
Polydor 21122
Dreamy Amazon
1-1928
Berlin, Deutschland
Deutsche
Grammophon
21130
Polydor 21130
Dulcenia
2-1927
Berlin, Deutschland
Clausophon 947
Du, nur Du
4-1927
Berlin, Deutschland
Clausophon 373
Forget
2-1927
Berlin, Deutschland
Clausophon 948
Hallelujah


(Youmans)

4-1927
Berlin, Deutschland
Clausophon 373
Hallelujah!


(Youmans)

7-1927
Berlin, Deutschland
Deutsche
Grammophon
21034
Polydor 21034
Ich liebe dich
1-1927
Berlin, Deutschland
Clausophon 363
I'm Coming Virginia


(Marion Cook / Donald Heywood)

12-1927
Berlin, Deutschland
Deutsche
Grammophon
21125
Polydor 21125
I'm Looking For A Girl Named Mary
10-1927
Berlin, Deutschland
Deutsche
Grammophon
21035
Polydor 21035
I'm Walking On Air
1-1928
Berlin, Deutschland
Deutsche
Grammophon
21131
Polydor 21131
It All Depends On You
12-1927
Berlin, Deutschland
Deutsche
Grammophon
21124
Polydor 21124
It Made You Happy When You Made Me Cry


(Walter Donaldson)

5-1927
Berlin, Deutschland
Vox
8470-A
Justine-Agathe-Marie
8-1927
Berlin, Deutschland
Deutsche
Grammophon
21094
Polydor 21094
Komm mit (mir?) nach Kopenhagen
2-1927
Berlin, Deutschland
Clausophon 948
Maybe I Will
1-1928
Berlin, Deutschland
Deutsche
Grammophon
21132
Polydor 21132
Me And My Shadow
1-1928
Berlin, Deutschland
Deutsche
Grammophon
21124
Polydor 21124
Mean Dog Blues
12-1927
Berlin, Deutschland
Deutsche
Grammophon
21126
Polydor 21126
Memphis
(Perry Bradford)
10-1927
Berlin, Deutschland
Deutsche
Grammophon
21036
Polydor 21036
Meyer am Himalaya
1-1927
Berlin, Deutschland
Clausophon 374
Miss Annabelle Lee


(Clarke / Richmond / Pollack)

10-1927
Berlin, Deutschland
Deutsche
Grammophon
21036
Polydor 21036
My Regular Gal
1-1928
Berlin, Deutschland
Deutsche
Grammophon
21132
Polydor 21132
Muddy Water
10-1927
Berlin, Deutschland
Deutsche
Grammophon
21035
Polydor 21035
One O'Clock Baby
11-1927
Berlin, Deutschland
Deutsche
Grammophon
21096
Polydor 21096
Oole-De-Ooo
12-1927
Berlin, Deutschland
Deutsche
Grammophon
2126
Polydor 2126
Roses For Remembrance


(Kahn / Curtis)

12-1927
Berlin, Deutschland
Deutsche
Grammophon
21123
Polydor 21123
Rosy Cheeks


(Milton Ager / Jack Yellen)

12-1927
Berlin, Deutschland
Deutsche
Grammophon
21127
Polydor 21127
Rio Rita
10-1927
Berlin, Deutschland
Deutsche
Grammophon
21037
Polydor 21037
Rubinesque
12-1927
Berlin, Deutschland
Deutsche
Grammophon
21123
Polydor 21123
Russian Lullaby


(Irving Berlin)

11-1927
Berlin, Deutschland
Deutsche
Grammophon
21097
Polydor 21097
Sehnsucht
2-1927
Berlin, Deutschland
Clausophon 946
Sei nicht traurig, klienes Mädel
2-1927
Berlin, Deutschland
Clausophon 949
Since I Found You


(Walter Donaldson / Gus Kahn)

12-1927
Berlin, Deutschland
Deutsche
Grammophon
21125
Polydor 21125
Snag It


(King Oliver)

1-1928
Berlin, Deutschland
Deutsche
Grammophon
21133
Polydor 21133
Song Of The Wanderer (Where Shall I Go?)


(Neil Moret)

10-1927
Berlin, Deutschland
Deutsche
Grammophon
21034
Polydor 21034
Sometimes I'm Happy


(V. Youmans / Irving Caesar)

1-1928
Berlin, Deutschland
Deutsche
Grammophon
21127
Polydor 21127
Souvenirs
12-1927
Berlin, Deutschland
Deutsche
Grammophon
21122
Polydor 21122
Sweet Marie
1-1928
Berlin, Deutschland
Deutsche
Grammophon
21134
Polydor 21134
Syrena Blues
1-1927
Berlin, Deutschland
Clausophon 364
Take Your Finger Out Of Your Mouth


(Duke Johmann)

1-1928
Berlin, Deutschland
Deutsche
Grammophon
21134
Polydor 21134
The Faraway Bells


(W. Carlton)

1-1928
Berlin, Deutschland
Deutsche
Grammophon
21097
Polydor
21097
The Little White House


(Dowling / Hanley)

1-1928
Berlin, Deutschland
Deutsche
Grammophon
21135
Polydor 21135
There's A Little White House
11-1927
Berlin, Deutschland
Deutsche
Grammophon
2197
Polydor 2197
Turandot
2-1927
Berlin, Deutschland
Clausophon 946
Up And At 'Em
1-1927
Berlin, Deutschland
Clausophon 365
Vo-Do-Do-De-O


(Jack Yellen)

1-1928
Berlin, Deutschland
Deutsche
Grammophon
21133
Polydor 21133
Who-oo? You-oo, That's Who!


(Milton Ager / Jack Yellen)

12-1927
Berlin, Deutschland
Deutsche
Grammophon
21128
Polydor 21128
Why Don't You?
12-1927
Berlin, Deutschland
Deutsche
Grammophon
21123
Polydor 21123
Yale Blues


(Knox / Ellis)

11-1927
Berlin, Deutschland
Deutsche
Grammophon
21095
Polydor 21095
You Should See My Tootsie


(Milton Ager)

1-1928
Berlin, Deutschland
Deutsche
Grammophon
21129
Polydor 21129
Zula (Funny Girls)
1-1927
Berlin, Deutschland
Clausophon 365
| | |
| --- | --- |
| Artist | Instrument |
| Bob Astor | Vocals |
| Al Bowlly | Guitar, Vocals |
| Arthur Briggs | Trumpet, Leader |
| Gide van Giles | Piano |
| Rene Dumont | Alto Saxophone, Tenor Saxophone |
| Hans Holdt | Bass Brass, String Bass |
| George Jaquemont | Alto Saxophone |
| Harold M. Kirchstein | Banjo |
| Jean Naudin | Trombone |
| Chappy Eugene Obendorfer | Drums |
| Mario Scanavino | Alto Saxophone, Tenor Saxophone |