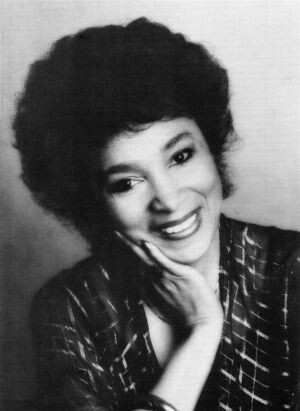 "It was always hard to believe, for most of us who worked with Barbara, that any jazz singer could be that sweet and that uncomplicated.She didn't have a cynical or a snide molecule in her."
— Richard Hadlock, Annals of Jazz, KCSM-FM, 1992
Singer Barbara Lashley (1935-1992) was a bright light in San Francisco Bay Area jazz during the 1980s. This article is an introduction via her best but long out-of-print 1983 record album and three newly recovered live performances. Those live sessions are not polished enough for commercial publication yet recall her love affair with song and celebrate the music of a beloved and gifted singer who departed too soon.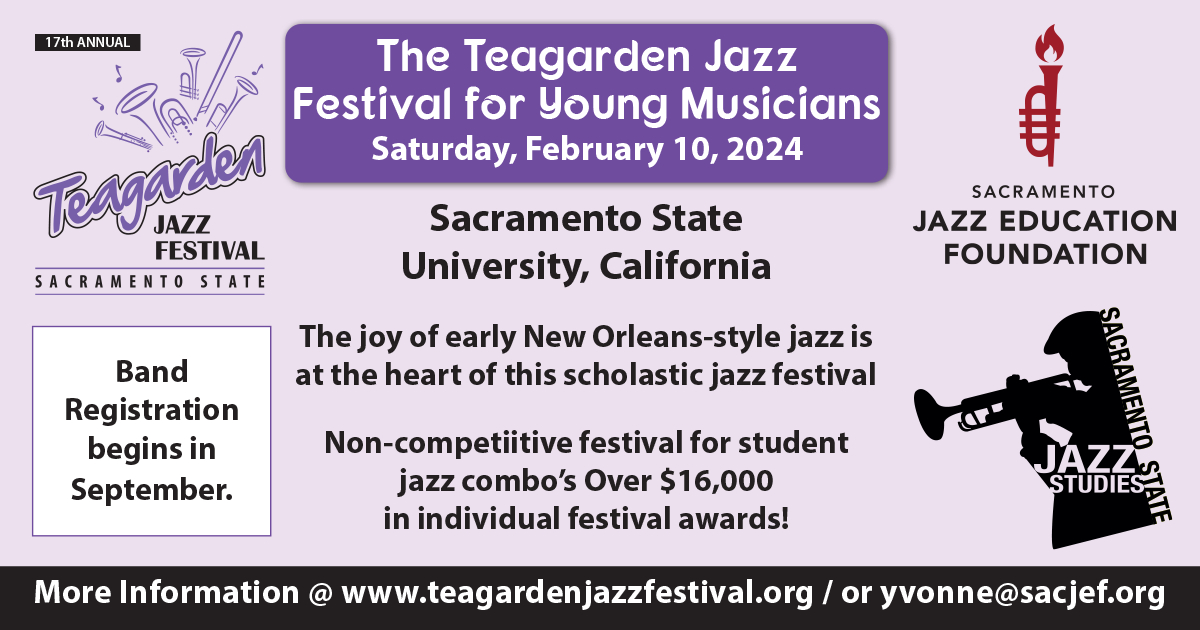 For a few years Lashley sang primarily with piano player Ray Skjelbred (b. Chicago 1940), a skilled accompanist who was most influenced by Joe Sullivan and Earl Hines. The love they shared for popular song of the 1930s and '40s was the foundation of a tight musical partnership. Skjelbred was well ensconced in Bay Area jazz, bringing Barbara into the orbit of Bob Mielke (trombone), Richard Hadlock (reeds), Leon Oakley (cornet) and Bob Helm (reeds). Heard below, they all became her good friends and musical colleagues.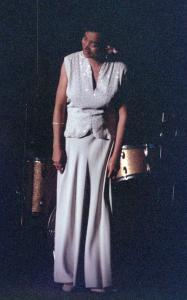 A Late-Blooming Jazz Flower
Lashley had already had a career in media at Voice of America and film editing at ABC-TV, raised a family in Washington D.C. and divorced. Moving west in 1974 she worked as a freelance film editor while studying for a degree in African American Studies, exploring blues and jazz history at University of California, Berkeley. Barbara always loved music and grew up in a musical family. But she didn't start singing in earnest until her forties.
Around 1980 it was a short step from the Berkeley Community Chorus to guesting with local jazz musicians. She found a mentor in bass player Billy Cayou who gave her some pointers. Her natural talent blossomed, and she became a regional star. In interviews Barbara often expressed regret that she hadn't become a professional singer earlier in life.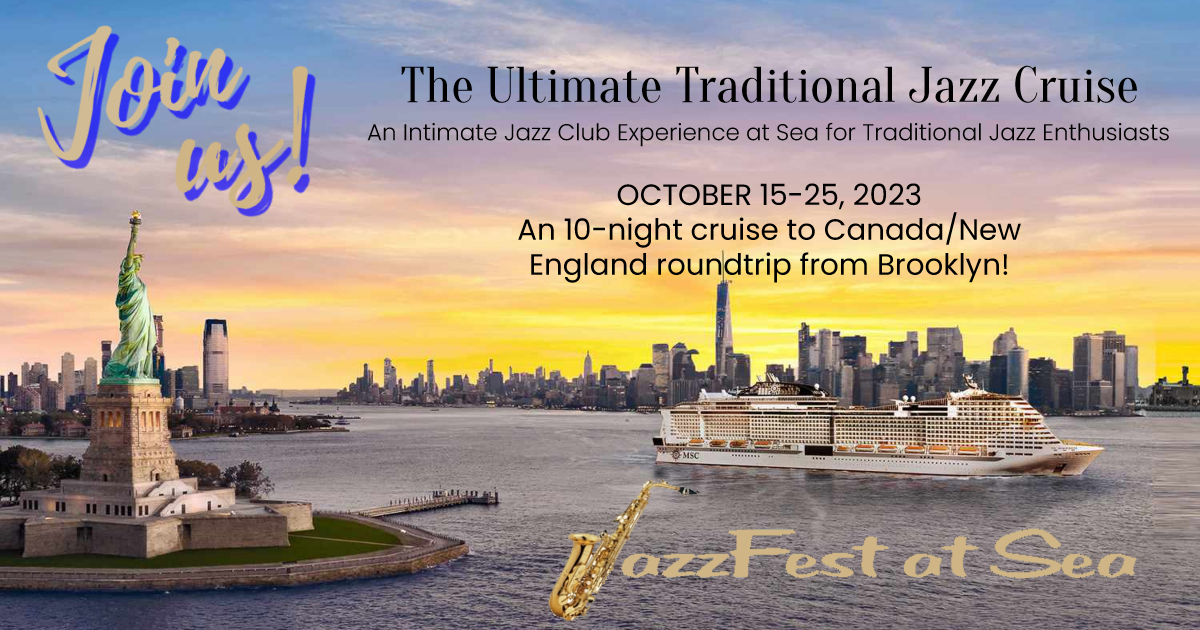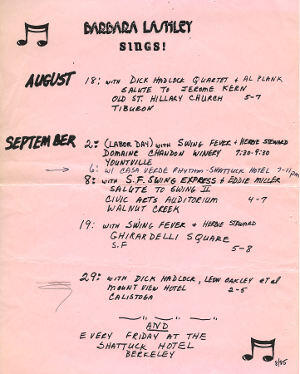 As Barbara's reputation and affiliations grew, she was hired by bandleaders Rex Allen, Jimmy Diamond and Gene Gilbeaux. In December 1981 She organized a New Year Eve party for the Shattuck Hotel in Berkeley presenting Earl Hines' very last big band, with which she sang. Hines called her "a natural singer" and told her, "Don't try to change."
She was soon organizing the regular Friday night tea dances at the Shattuck. Richard Hadlock says it, "offered a lot of opportunity for Barbara to stage her 'taxi dances.' She . . . appeared in vintage costume and dress, and just had a good time with people dancing, and sometimes with classes learning to do Ballroom dancing."
Lashley got a taste of the international jazz touring circuit, singing in Breda, Holland with pianist Dick Hyman and in Japan with Royal Street Jazz Band. She performed as part of a Bay Area group of African-American artists including a gospel choir at a folk arts festival in Rimini, Italy.
The Shoestring Record
How Long Has This Been Going On?, 1983
Barbara's warmth, charisma, and superb musicality drew a Bay Area jazz family around her, coalescing to create her first and best album issued by Bozy White's tiny Oakland-based Shoestring Records label — both long departed.

Surrounded by favorite musicians and close friends, Lashley was an exemplar of tasteful singing. Her personal style was in full flower, rooted in the melodic manner of singers from a half-century earlier — Ivie Anderson, Maxine Sullivan and Ethel Waters.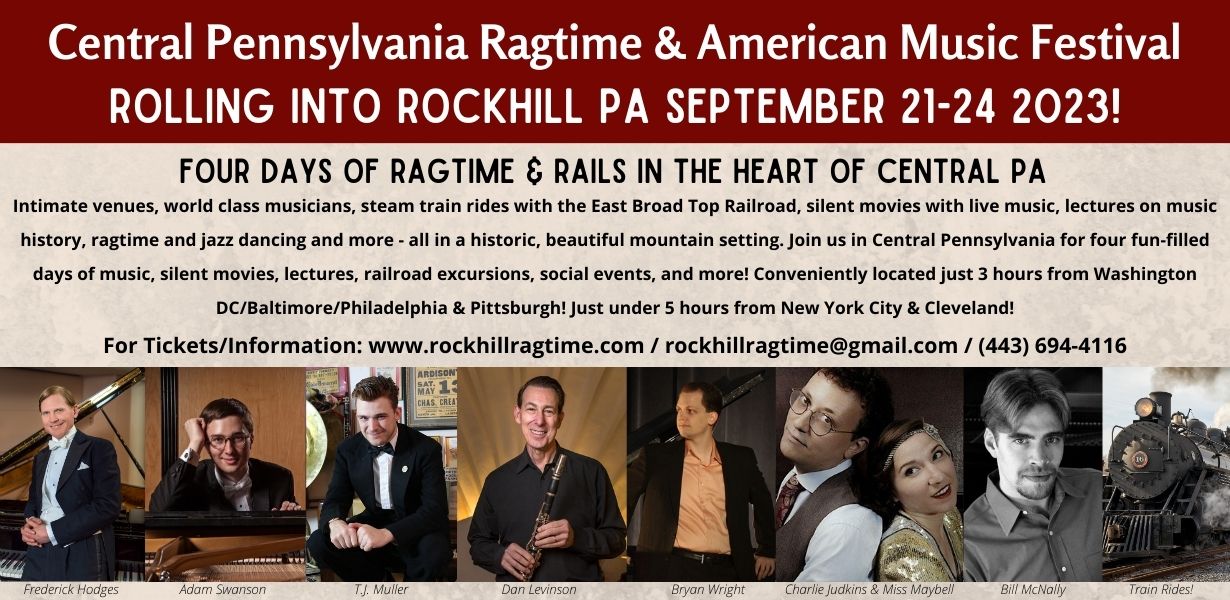 The album liner notes written by jazz journalist and broadcaster Phil Elwood pointed out that Barbara and Ray's close partnership grew from a mutual love for the lyric gems of 1930s popular music typified by George and Ira Gershwin's "How Long Has This Been Going On?" Elwood noted that "He's Funny That Way" reflects the influence of Billie Holiday and Lee Wiley:
"This is a tough lyric nut to crack but Lashley handles it cleanly – Skelbred's in his Joe Sullivan mood here. . . [She] not only uses her magnificent, rich contralto vocal instrument in interpreting a song's music, she has a remarkably fine sense of lyric interpretation."
Barbara's sparkling vocal duet with bassist Steven Strauss on "My Blue Heaven" reprises the 1935 Jimmie Lunceford recording. She finds passionate depth in "Lawd, You Made the Night Too Long," arranged by Skjelbred with smoldering solos by Leon Oakley (cornet) and Richard Hadlock (soprano sax). In easy rapport with her piano accompanist, the straightforward "How Deep is the Ocean" brings us to the heart of the Lashley-Skjelbred pas de deux.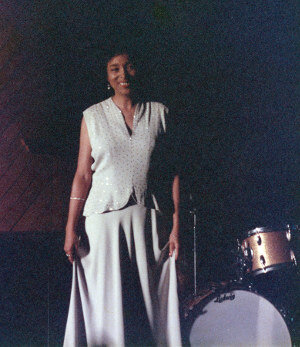 The Lashley record album has been long out-of-print, never made it to CD and reissue is unlikely. The instrumentalists heard in various combinations with Barbara are Ray Skjelbred (piano), Leon Oakley (cornet), Richard Hadlock (clarinet, soprano & alto saxophones), Steven Strauss (bass, vocal) and Tom Stamper (drums).
My Blue Heaven (vocal duet with Strauss) 
How Deep is the Ocean? (duet with Skjelbred) 
Lawd, You Made the Night Too Long (arranged by Skjelbred)
How Long Has This Been Going On (arranged by Skjelbred)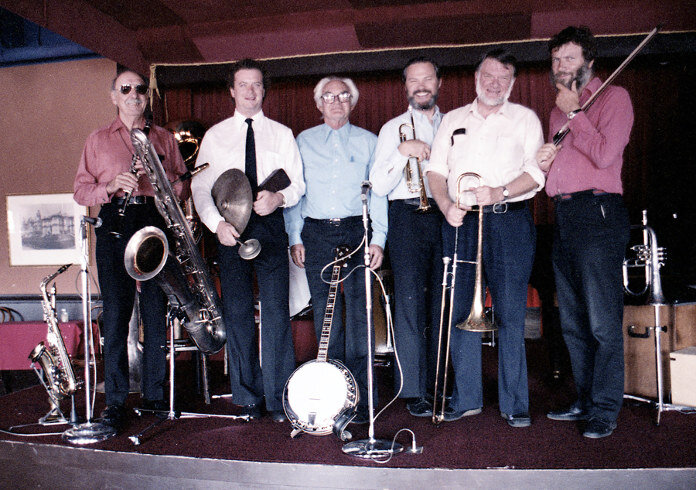 Bob Neighbor's Jazz Band
Earthquake McGoons Club, San Francisco CA, July 1982
This session is notable for Bob Helm playing four different reed instruments including bass clarinet accompanying Barbara. Hearing him play the rare instrument is a treat — and no mere novelty. Bob crafted a delicate, sensitive counterpoint, leveraging the instrument's velvet-throated basso. Helm was a force majeur of Frisco Traditional Jazz, vital to Lu Watters Yerba Buena Jazz Band and a mainstay of Turk Murphy's San Francisco Jazz Band.
The musical intelligence of Lashley, Helm, and Skjelbred brings fresh charms to songs that might have slipped into hackneyed banality. This excellent recording was probably made by local jazz broadcaster Jim Watt, though the performance is a little disorganized in places.
Bob Neighbor (trumpet, vocals), Bob Helm (clarinet, bass clarinet, alto sax), Bob Mielke (trombone), Ray Skjelbred (piano), Dick Oxtot (tuba), Bob Ulsh (drums) and Barbara Lashley (vocals).
After You've Gone (Helm: clarinet, bass clarinet)
Baby Won't You Please Come Home (Helm: clarinet, bass clarinet)
Four or Five Times (Helm: alto, clarinet)
Them There Eyes (Helm: alto)
Memories of You (Helm: bass clarinet)
I'm Gonna Sit Right Down and Write Myself a Letter (Helm: alto)
Barbara Lashley with Bob Neighbor Band McGoons 7.26.82 complete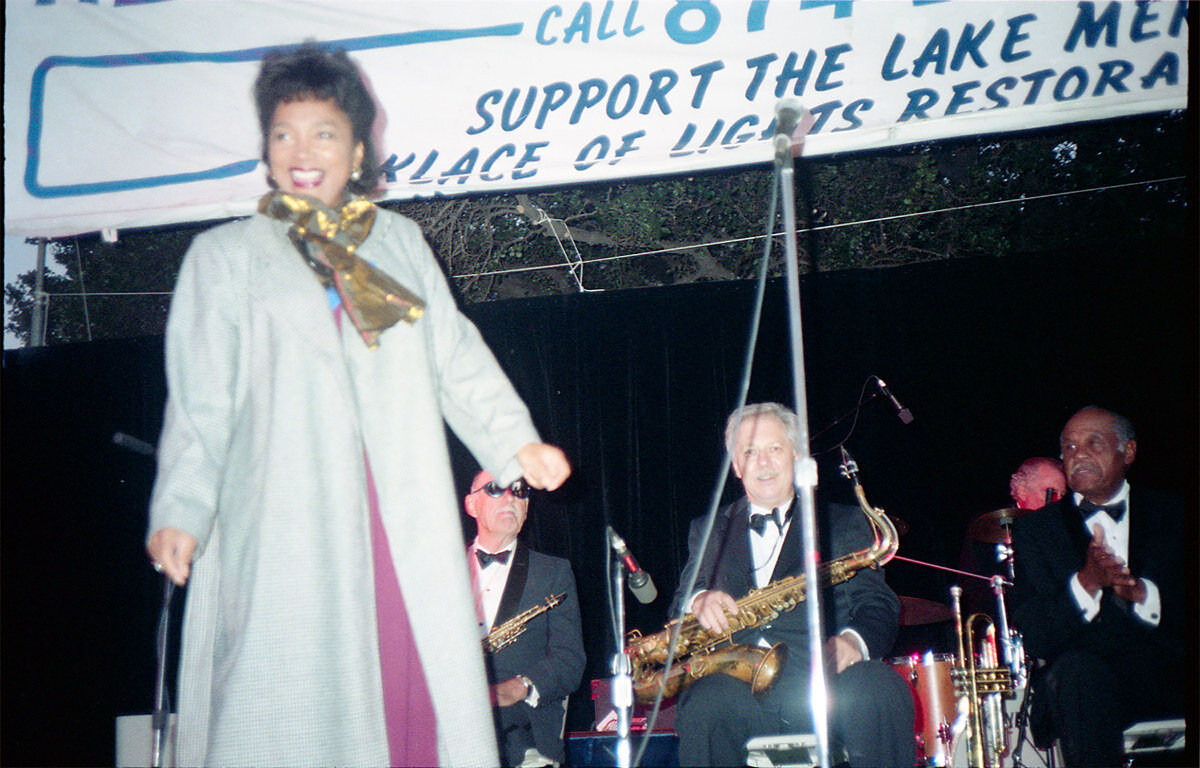 Bob Mielke's Necklace of Lights All Star Jazz Band
Lake Merritt Lighting Celebration, Oakland CA, July 1987
There was just ONE performance by the swinging Necklace of Lights All Star Jazz Band. This stellar 10-piece orchestra was assembled for an event re-commissioning the string of lights surrounding Lake Merritt, Oakland's central civic attraction. The band romped through charts by music director Bob Mielke as fireworks celebrated the rekindling of Oakland's bejeweled nighttime garland.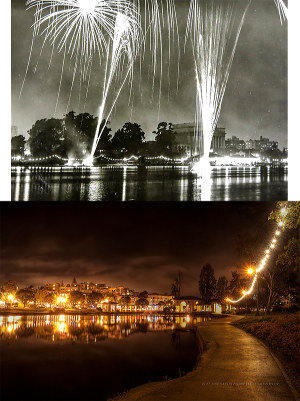 In addition to singing, Lashley acted as master of ceremonies. I suspect her noted organizing skills might have been requested, volunteered or hired for the event. Clearly, these barely salvageable audio clips transmit only a pale echo of that rollicking evening beside the lake.
Leon Oakley and George Fleming (horns), Bob Helm and Phil Howe (reeds), Bob Mielke (trombone, music director), Bill Bardin (trombone), Jeff Hamilton (piano), Dick Oxtot (banjo), Pete Allen (string bass), Jack Mangan (drums), Barbara Lashley (vocals).
Someday Sweetheart – Lashley
I Can't Believe That You're In Love with Me – Lashley
Mobile – Lashley
Hot Time in the Old Town Tonight – band only
Crazy Rhythm – band only and fireworks
Personnel announced by Barbara 
Them There Eyes – Lashley and band
Necklace of Lights All Star Jazz Band – Lashley set complete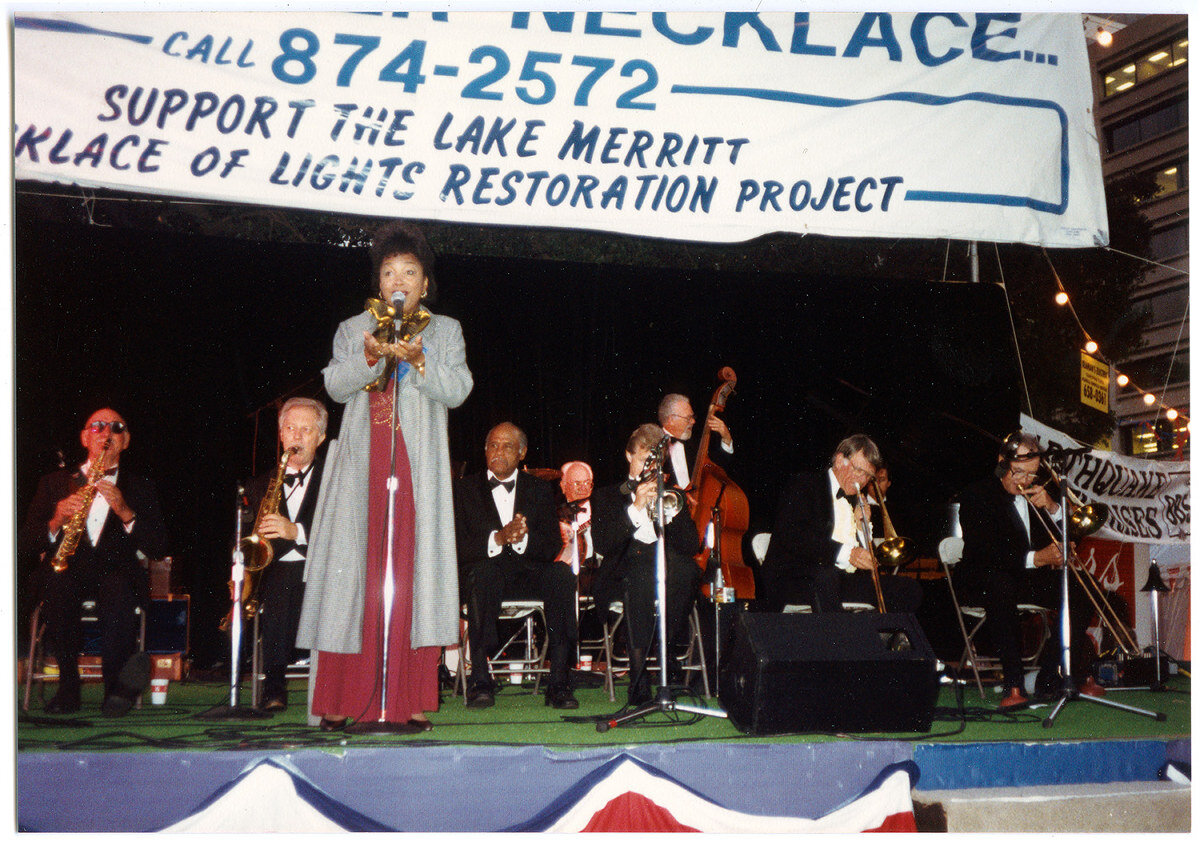 Barbara and Richard Hadlock
Richard Hadlock (b. 1927) chose Barbara as vocalist for his "20th Century Masters" performance series c. 1985-90. Both informative and tuneful, the concerts celebrated great American songwriters – presenting music by Jerome Kern, Cole Porter, Fats Waller, George Gershwin or Duke Ellington – at Fisherman's Cottage in North Beach San Francisco and historic Old St. Hilary Church in Tiburon to the north.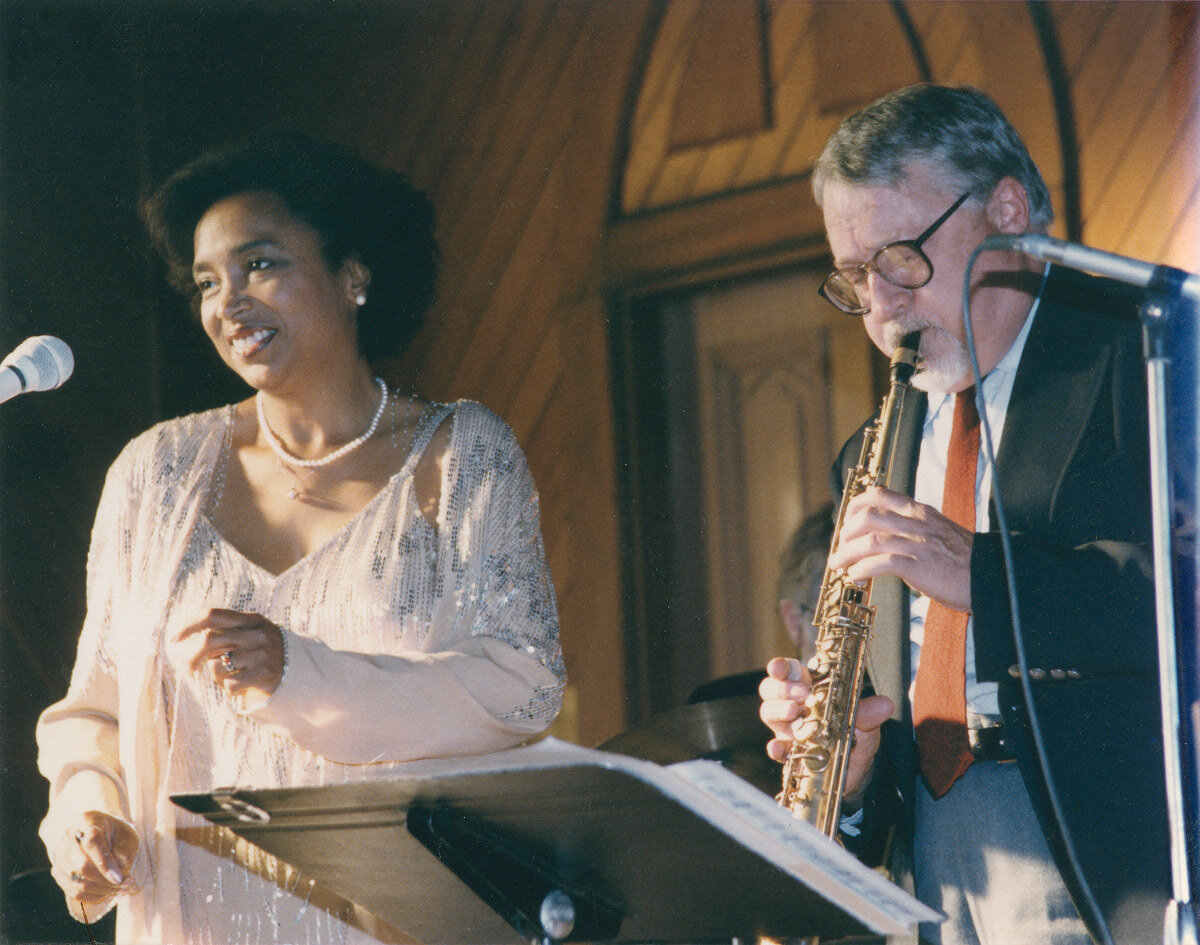 Hadlock was among Lashley's exceptional colleagues and a close friend. He is a superb clarinet, soprano, tenor and baritone saxophone player active in Bay Area Jazz from the early 1960s until recently. Richard studied with reed masters Sidney Bechet, Garvin Bushell, and Lee Konitz. He wrote Jazz Masters of the Twenties (1965, Da Capo 1988) and has written for a wide range of jazz publications, newspapers and liner notes. His Annals of Jazz radio series has aired on Bay Area radio since 1959.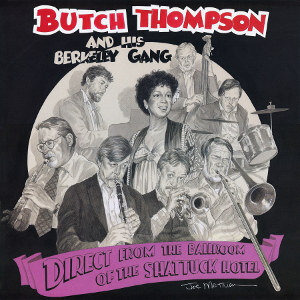 Butch Thompson and his Berkeley Gang
Shattuck Hotel, Berkeley CA, May 1985
This session was a sincere effort to fuse pianist Butch Thompson with jazz musicians from the Bay Area and Berkeley, including Lashley for a live album. It coincided with the taping of a San Francisco broadcast of A Prairie Home Companion on which Richard Hadlock was a guest, pianist Thompson a regular feature and drummer Hal Smith a frequent substitute. Despite high production values the album was ultimately unsuccessful, coming off like an average jam session albeit with superlative players. Only two of Barbara's vocals made it to the finished LP.
Presented here are recovered outtakes from the Butch Thompson and his Berkeley Gang album on Stomp Off Records. A couple of unissued Lashley songs and a couple of Hadlock's featured instrumentals. (Unfortunately, the cassette source suffers from compromised speed stability.)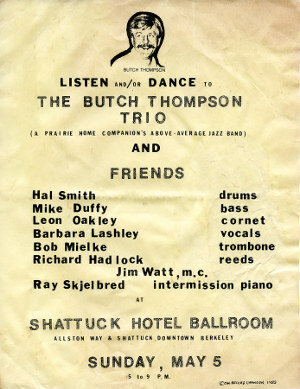 Leon Oakley (cornet), Richard Hadlock (alto, soprano sax), Bob Mielke (trombone), Butch Thompson (piano in band tunes), Ray Skjelbred (piano in duet songs) Mike Duffy (string bass) and Hal Smith (drums).
Truckin' (fragment)
You're Lucky to Me – unissued instrumental (announced by Hadlock)
Love Is Just Around the Corner – unissued instrumental (personnel announced by Jim Watt)
LASHLEY – Berkeley Gang Shattuck unissued complete 1985.mp3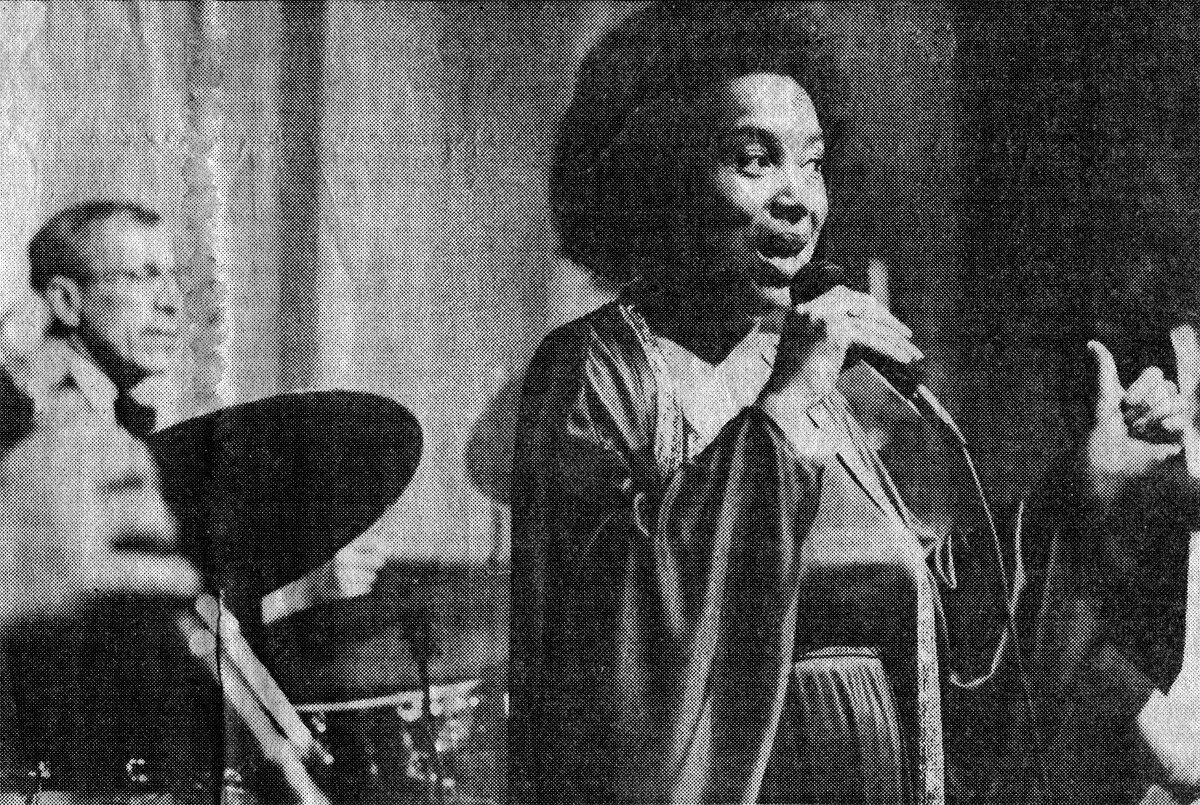 Hasty Finale
For a decade, Barbara Lashley electrified San Francisco Area Jazz. But in 1992 her song was cut short. Sadly, she died rather suddenly in her late fifties of complications from a rare lung disease, sarcoidosis. Her beauty, charisma and will-to-sing are sorely missed. Yet her pure spirit still inhabits these simple songs.
Richard Hadlock offered this touching note of farewell on his Annals of Jazz radio program in November 1992: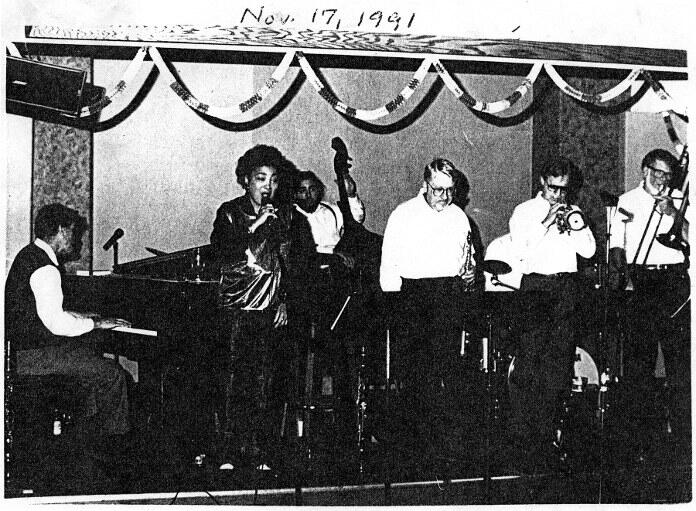 "We all loved her so much that when I went to a memorial for her yesterday everyone I spoke to thought that they had the most special relationship to Barbara. That she was so special to them no one else could possibly understand the closeness. We all felt that way, and that's the effect she had on people. This is one of the sweetest human beings I've ever known. And she sang that way – gently and lovely."
Great thanks to Richard Hadlock for providing his photos, clippings and recollections. Thanks to Abe Galvan, Hal Smith and Steven Strauss for their memories and assistance. Music and images are from the personal collections of Richard Hadlock and Bob Mielke.
Barbara Lashely's tale and the story of early jazz continue at the JAZZ RHYTHM website www.JAZZHOTBigstep.com.
Barbara Lashely at Jazz Rhythm