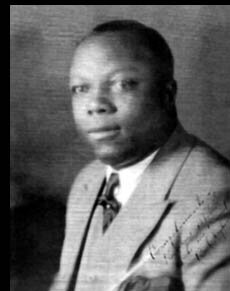 Pianist and bandleader,
Bennie Moten
(November 13, 1894 – April 2, 1935) helped to establish what is called the Kansas City Jazz style. In 1922 he formed the B. B. & D. Trio (Beenie, Bailey and Dude, although they were popularly referred to as Big, Black and Dirty) and made his recording debut in 1923, when his band accompanied Blues singer Ada Brown on the song "
Evil Mama Blues
". In 1926,
Bennie Moten's Kansas City Orchestra
 began recording for Victor.
Moten had several bands touring under his name in the 1920s. Moten started "raiding" another Kansas City band, The Blue Devils for musicians. Count Basie left the Blue Devils in 1929 and was followed by Jimmy Rushing, Hot Lips Page, Eddie Durham and Ben Webster, thus forming the nucleus of the future Count Basie Orchestra. When Moten died in 1935 from a botched tonsillectomy, Basie took over the band. Under his leadership the band emerged as one of the greatest of all Jazz bands.

Goin' To Kansas City, by Nathan W. Pearson, Jr, University of Illinois Press, 1994
Jazz Style in Kansas City and the Southwest, by Ross Russell, University of California Press, 1971