"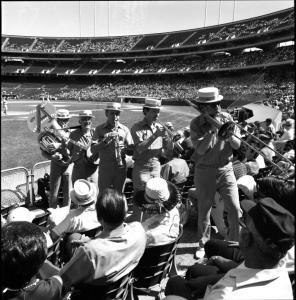 We've had a really warm response. It's fun to be able to play to the people directly. Face to face, not through a microphone or anything. It's just a really rewarding experience." — Bob Mielke on radio KNBR, Fall 1969
Here's a rollicking slice of Americana from what seems like a distant time. For nearly a quarter century, from 1969 to 1992, Bob Mielke's merry jazz band brought vintage music to baseball audiences, Traditional Jazz events and private parties. Newly available photos and ballpark audio vividly depict Mielke's five-piece strolling baseball band – and Bob corroborates the story told below.
Officially designated the Oakland A's Swingers Baseball Band, the quintet was a solid musical ensemble with a limited role performing for the team's home games. They played six- or seven-minute sets of short "chorus-and-a-half" tunes (:30 to :90 seconds) during each half-inning break standing atop the team dugout.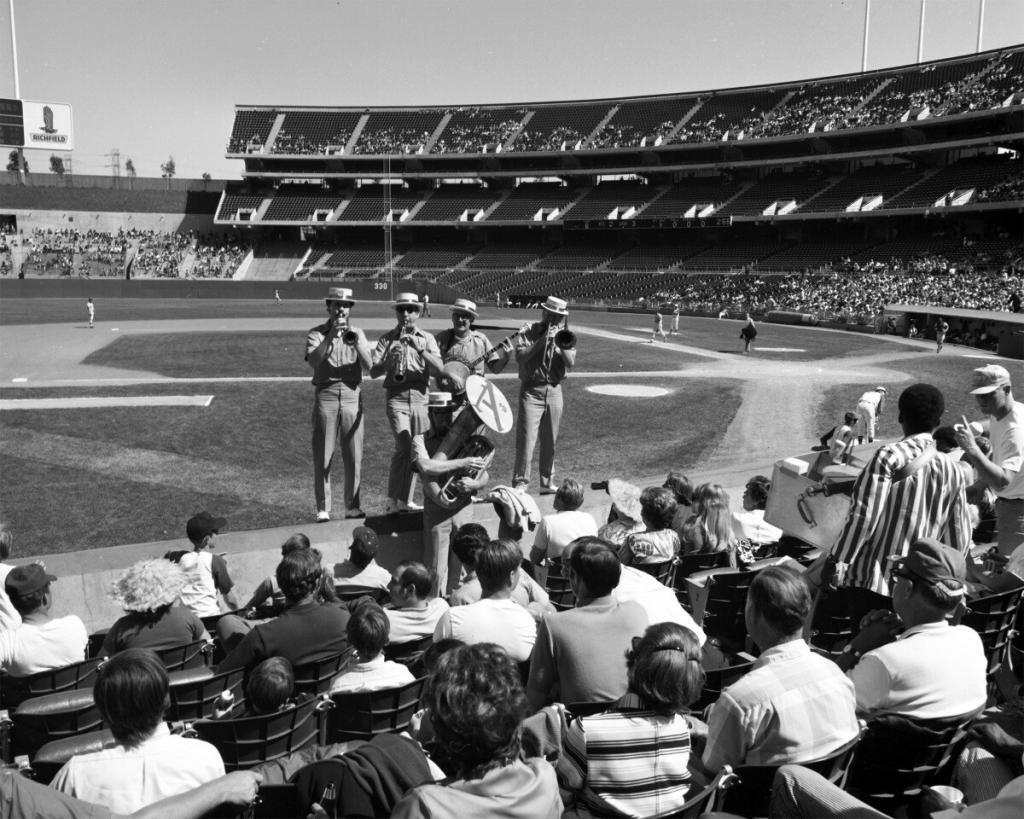 In Bob's words, "Between innings it's just real snappy, just one chorus or so. We stand out there and entertain. People join in. They crowd around, clap hands and so on. It's a gas." They also concertized while strolling through the bleachers, hallways or tailgate lots presenting classic jazz, polkas, novelties and fanfares.
Notable on this ballpark tape from Mother's Day 1970 is the touching "Wild Irish Rose" (listen).
Today, Mielke recalls that his "somewhat Irish" mother attended this game, but the occasion was spoiled by her intense embarrassment at the attention from Bob's dedication.
Listen: BALLPARK SET ONE: Mother's Day, Oakland Coliseum, May 1970 Set list: That Certain Party, Four Leaf Clover, Shake That Thing, Turkey In The Straw, Slippery Hank, Wild Irish Rose, Bugle Boy March (Hallway) 8:51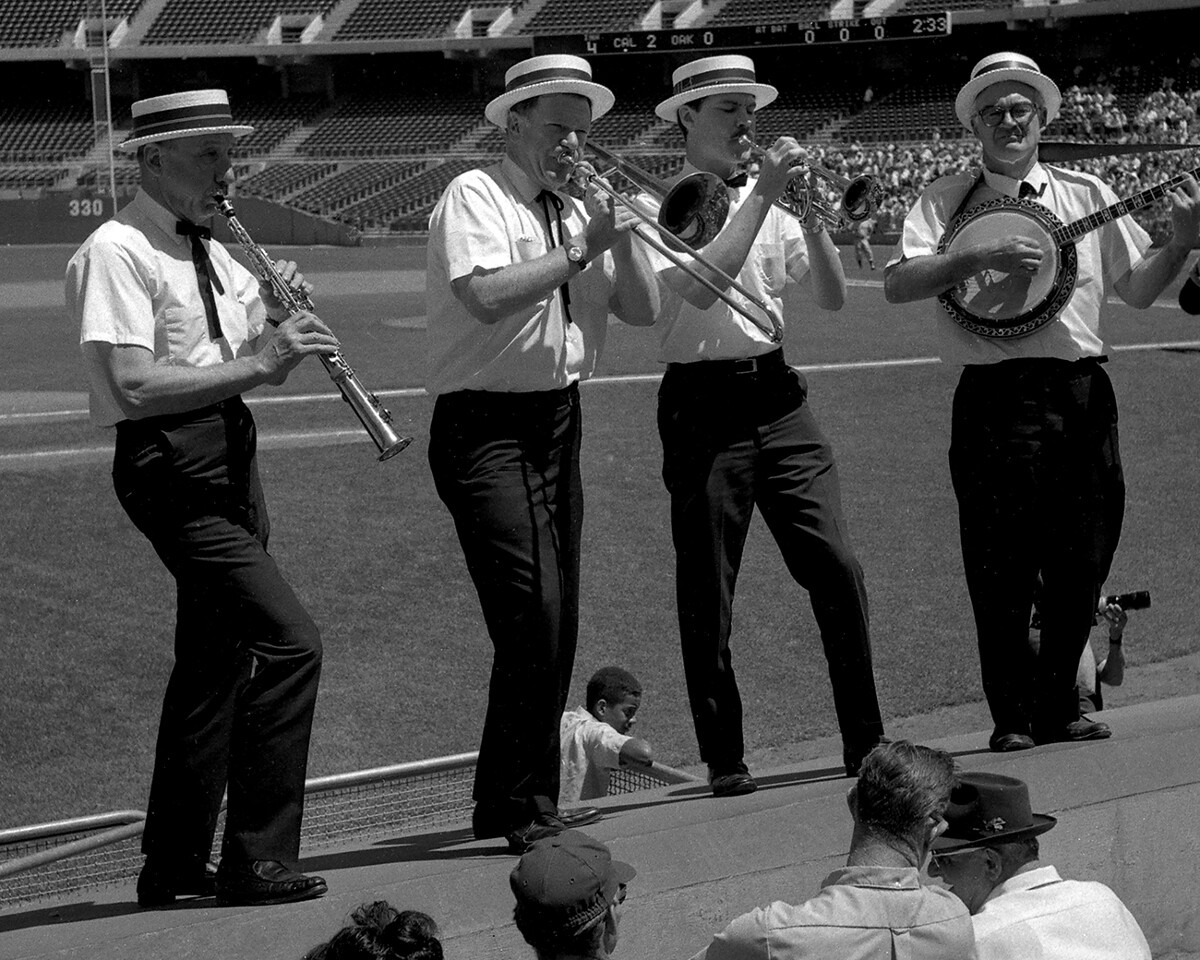 Bob Mielke KNBR Radio Interview, Fall 1969
Mielke was the band's personable spokesman, fluent in the language of public relations. All of his quotes are taken from a November 1969 interview on radio KNBR-AM, which broadcast the Oakland Athletics ballgames that season.
Mielke stated that his musicians were all experienced and didn't need to rehearse the jazz numbers. But less familiar material did require some rehearsal, such as "Slippery Hank," a novelty from before the First World War. Featuring trombone, it was suggested by Helm. Said Bob, "It's fun but it's tricky. We had to rehearse it."
Bob Mielke (b. 1926) had a distinctive instrumental voice that fused elements of jazz trombone style from New Orleans (Kid Ory), Harlem (Tricky Sam Nanton, J.C. Higginbotham) and Chicago (George Brunis with Muggsy Spanier in 1939). Earlier, from 1955 through 1968, Bob Mielke and The Bearcats had forged a popular alternative to the prevalent Dixieland and Traditional Jazz styles of the day.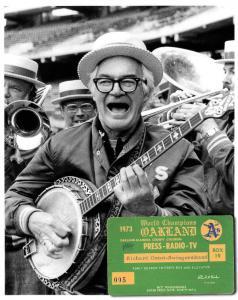 The Strolling Dixieland Band
During their first season in 1969 the band had only four instruments: Bob Mielke (trombone. leader) Bob Neighbor (cornet), Bob Helm (soprano) and Dick Oxtot  (banjo).  The second year a tuba was added after they complained to management about lacking a bass. John Moore secured the tuba position for most of the life of the band. Banjo player Dick Oxtot – also a lifelong friend — was generally the vocalist, though Bob also sang.
When trumpeter Bob Neighbor was unavailable, horn players Jim Goodwin, Ev Farey, Jack Minger or others were employed, especially after Neighbor moved out of the area in 1987. In 1972 Helm returned to working full-time for Turk Murphy and was replaced by clarinetist Bill Napier – or in later years soprano saxophonist Richard Hadlock. 
After 1973, outstanding clarinet player Bill Napier  (1926-2003) became the focal point for the ensemble. He was surely among the finest clarinetists produced by the Frisco Revival. Napier constructed fanciful clarinet lines and fluid melodic variations, taking unexpected leaps and turns. Quiet and self-contained, Bill was Mielke's longest and dearest friend.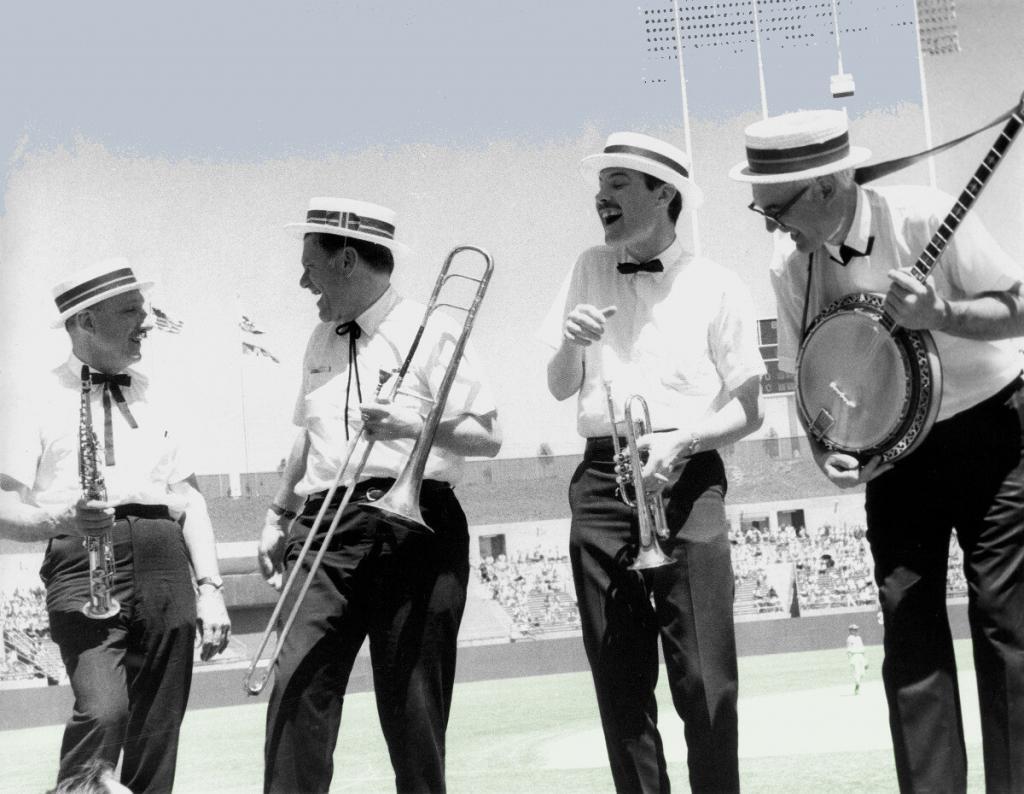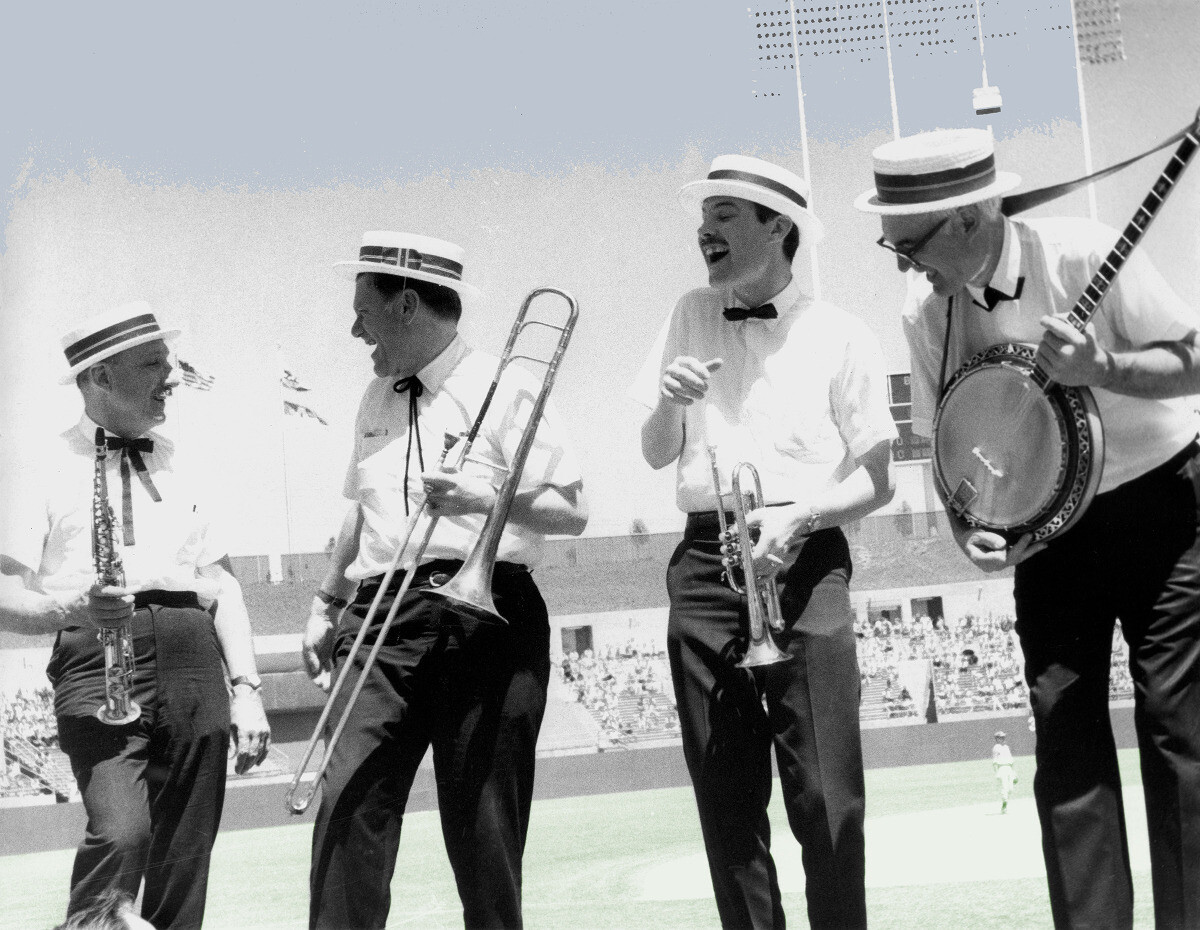 Free Range Bob Helm
At the ballpark, Bob Helm (1914-2003) expressed his puckish personality al fresco — his powerful reed line was potent and witty, wild and free. Briefly unshackled from the tightly arranged Turk Murphy's San Francisco Jazz Band, his effervescent performances at the ballgames add to our portrait of a beloved jazz entertainer connecting with a broad general audience. A professional musician for seven decades, Bob studied early jazz, embodied its traditions and was known for playing clarinet, soprano and alto saxophones after about 1940.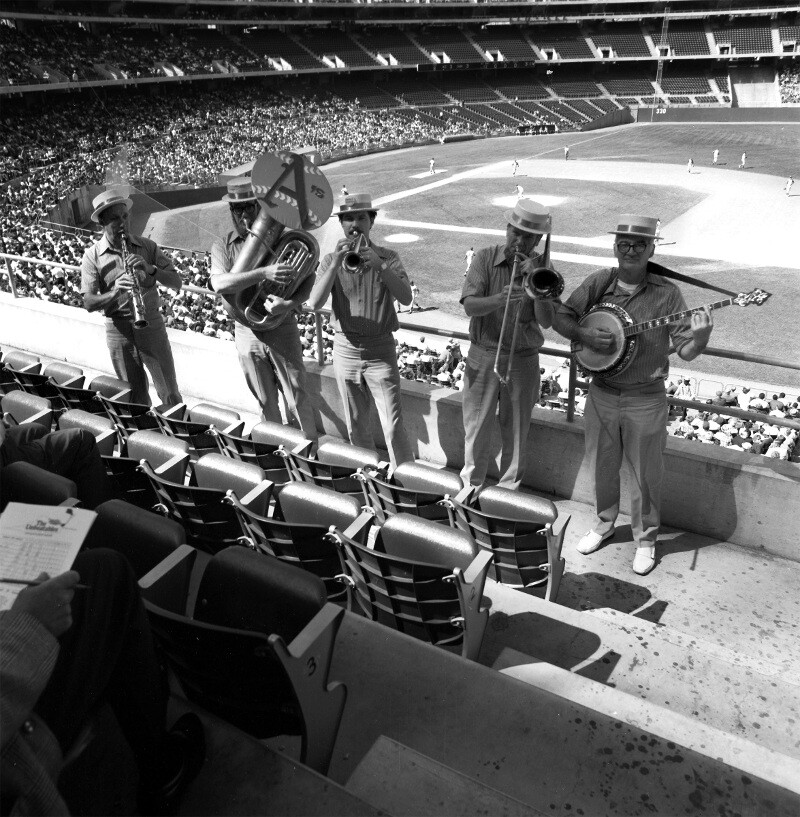 Helm — along with Lu Watters and Turk Murphy — was crucial in shaping the Frisco Jazz Revival, which began around 1940.  At the height of the Swing era, the young musicians of the Yerba Buena Jazz Band returned to the stomping jazz of Jelly Roll Morton, King Oliver and Louis Armstrong.  Helm is now widely acknowledged as one of the most creative spirits of the Traditional Jazz movement and an extraordinary genius.
In the open-air stadium, soprano sax projected a sharper tone and greater volume than clarinet. Helm turns up the heat in "Wolverine Blues," "Shake That Thing," "My Honey's Lovin' Arms" and "Down Home Rag," showing his humorous side during the breaks on "Turkey in the Straw."
Listen: BALLPARK SET TWO: Oakland Coliseum, July 1970  Setlist: Wolverine Blues, Floatin' Down to Cotton Town, 'Chaser,' Red Wing, I Want to Be Happy, Step to the Rear, Turkey in the Straw, Down Home Rag – 8:03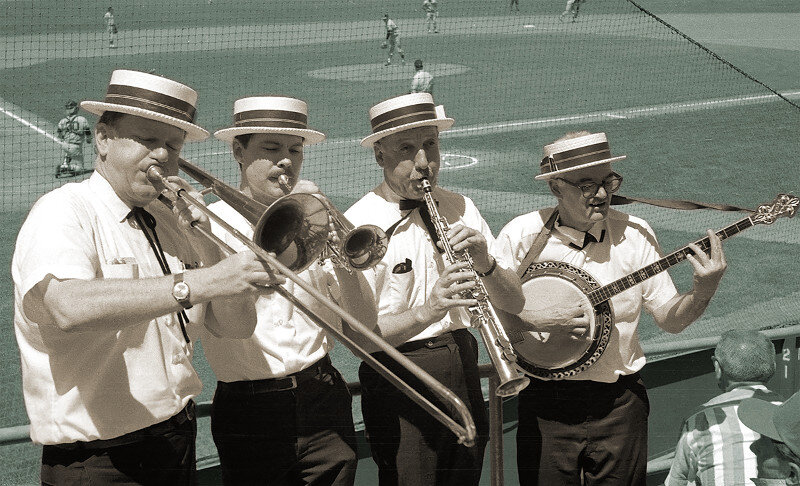 The Talented Mr. Neighbor
Oakland native Bob Neighbor (b. 1937) was a very good trumpet and cornet player who gigged often with Mielke or Oxtot. Mielke praised Neighbor in his KNBR radio interview, noting that the highlight of his professional music career had been with Turk Murphy: "He plays a very, very solid right-straight-down-the-middle lead which is a real asset to us."
Neighbor was also a fine graphic artist and wrote one of the foremost Traditional Jazz 'fake books' providing lead sheets for more than 300 Classic Jazz tunes utilized by musicians the world over. He had worked in the Bay Area jazz bands of Jack Buck (Frisco JB), Ev Farey (Bay City JB), Ted Shafer (Jelly Roll JB), Dick Oxtot (Golden Age JB), Vince Hickey (Jazz Cardinals), Phil Howe (Phrisco Phunction) and ran his own Bob Neighbor's Jazz Band, which often included Oxtot, Mielke or Helm.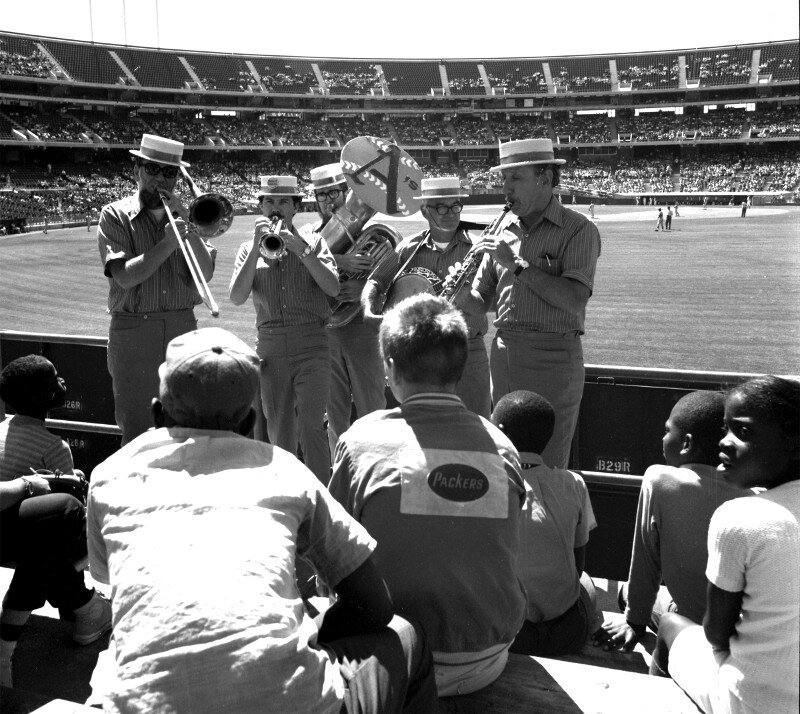 Game Day
All of the music in BALLPARK SETS ONE though THREE was recorded in the Oakland Coliseum on a portable open reel tape recorder. The reels from Mielke's collection marked "McNamara's Band 1970" vividly capture the excitement and high spirits of game day. Besides containing lively music, they transmit the color and ambience of stadium public address announcements, animated crowd reactions and vendors' cries of "hot dogs!" and "beer!"
In the first decade or so, during the game, the band played brief sets of six or seven minutes between innings standing on top of the team dugout — as seen in photos. They radically abbreviated songs, condensing "Down Home Rag" to :45 seconds or a Fats Waller tune to :30 seconds. In a remarkable trick of musical compression, King Oliver's "Dippermouth Blues" was reduced to 20 seconds.
Mielke may well have garnered tips for truncating songs from Bob Helm. A veteran professional musician, Helm's career dated back to the touring dance bands of the 1930s. According to Helm, in the "taxi dance halls" of the 1940s they used to grind out thirty, forty, up to sixty tunes per hour at what the musicians called "dime jigs."
Yet the band took every opportunity to present full-length songs for the folks entering or leaving the stadium. For instance, "Wolverine Blues" was performed complete and they serenaded departing crowds with full renditions of "Shout 'Em Aunt Tillie" and "Bugle Boy March."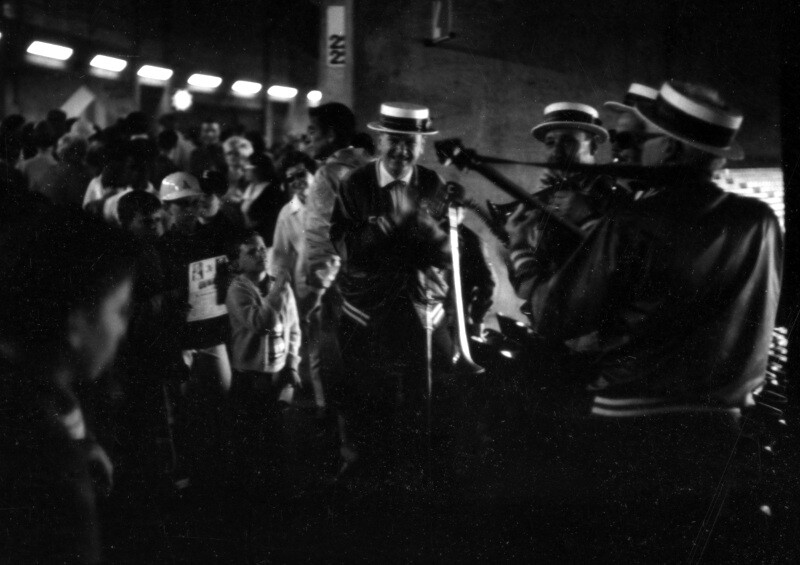 Listen: BALLPARK SET THREE: Oakland Coliseum, July 1970 Setlist: I'm Gonna Sit Right Down and Write Myself a Letter, Pennsylvania Polka, Beer Barrel Polka, Sweet Sue, Dippermouth Blues, Take Me Out to The Ball Game, My Honey's Lovin' Arms, Shout 'Em Aunt Tillie (Hallway) – 8:35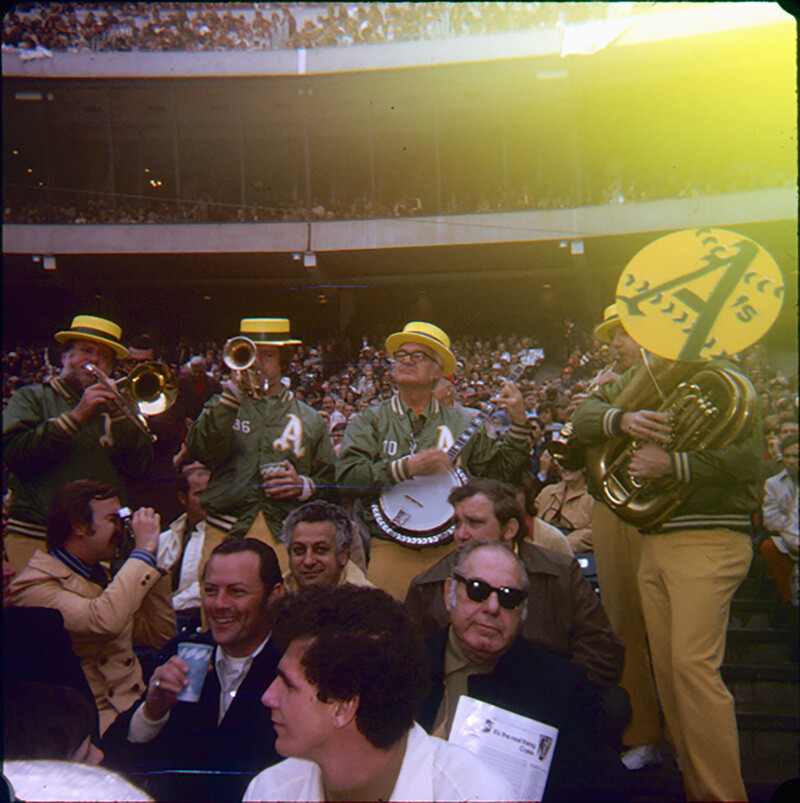 Origins of the Oakland A's Band
The quintet began as the All Stars in 1968 playing for the San Francisco Seals hockey team that was briefly owned by Charley O. Finley, who then hired them to play all the Oakland A's home games. They were known by various names in the early days — McNamara's Band or The Muleskinners Strolling Dixieland Band. Club management eventually imposed the designation Oakland A's Swingers around 1972, heedless of the musical incongruity.
Dating back to the 1860s, the Athletics name was meant to suggest a gentlemen's amateur sports club and was long used interchangeably with the nickname "A's." Finley switched it officially to "Oakland A's" (1972-1980), but informally the Swingin' A's.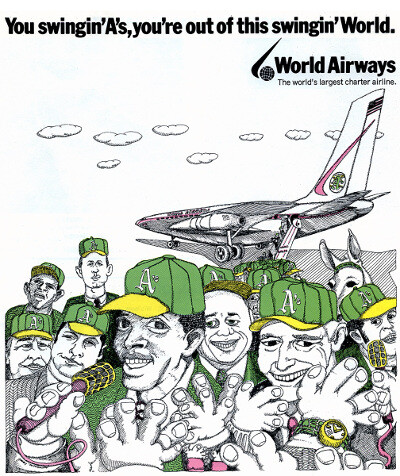 The former Kansas City Athletics (1955-68) had been a struggling second division American League team until Charles O. Finley (1918-1996), a successful Midwestern businessman and promoter, took control during the 1960s. Acting as manager, the flamboyant and notoriously quarrelsome owner known as "Charley-O" was a Major League Baseball innovator.
Moving the team to Oakland and the newly constructed Coliseum stadium, Finley hired fresh talent. For years he packed his roster with colorful personalities, power-hitters and notable pitchers like Vida Blue, Rollie Fingers, Catfish Hunter and slugger Reggie Jackson, a future inductee to the Baseball Hall of Fame who played 15 seasons for the Athletics. Emerging as a juggernaut, the Oakland A's won 10 Division West titles and 6 pennant races during the band's tenure.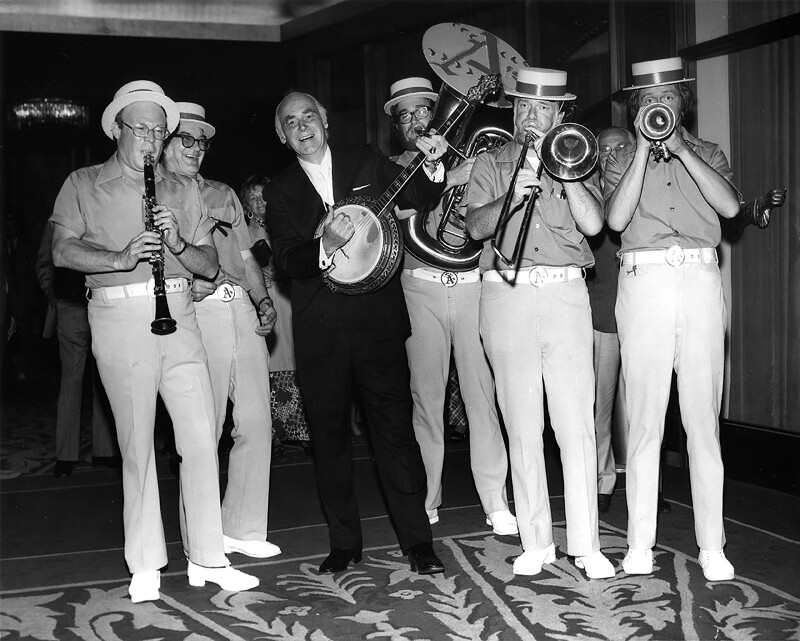 The Oakland A's were World Series victors in a three-year streak from 1972 to 1974. Mielke and associates rode the club's breakout to champions, flying on a chartered jet with the manager and team to World Series and playoff games in Detroit (the Tigers 1972), Cincinnati (vs. the Reds 1972) and New York City (1973 vs. the Mets). Less memorable was a train ride to the 1974 Series victory in Los Angeles.
The gig hinged on Mielke's talent for schmoozing Finley, who genuinely loved the music. In Dick Oxtot's memoir he recalled the gregarious Irishman: "Life on the road with Finley was a full-time party.  Each evening he would reserve a table in the hotel dining room and insist the band members sit down with him and 'have a drink.'"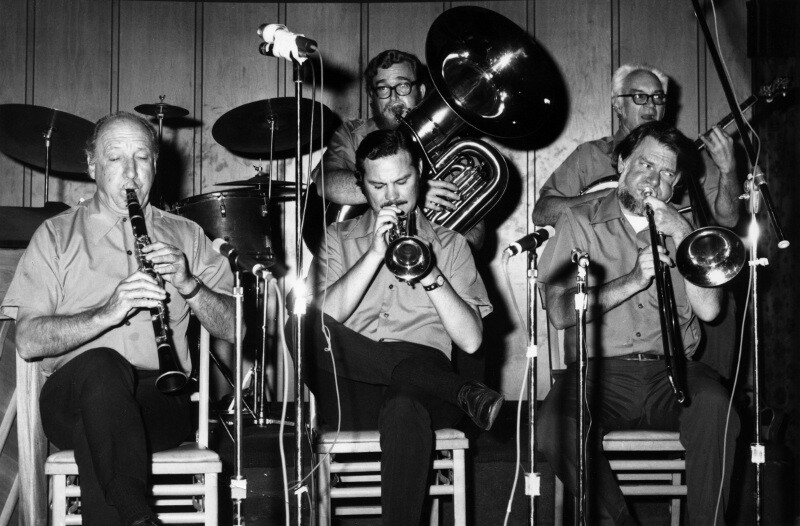 Booking the Quintet
The Oakland A's baseball band proved a winner with Jazz fans too. Mielke began booking them at Traditional Jazz events and it was his calling card on the Jazz society and festival circuit for two decades. He also proudly presented the group at a wide variety of sports and public venues.
The quintet was a solid musical outfit, tuneful and adaptable, shaped by Mielke's love for New Orleans-ensemble parts, an imaginative repertoire and good soloists. This little band had a big sound thanks to clever voicing of the horns, loose head arrangements and Bob's faith in "standing on the chord."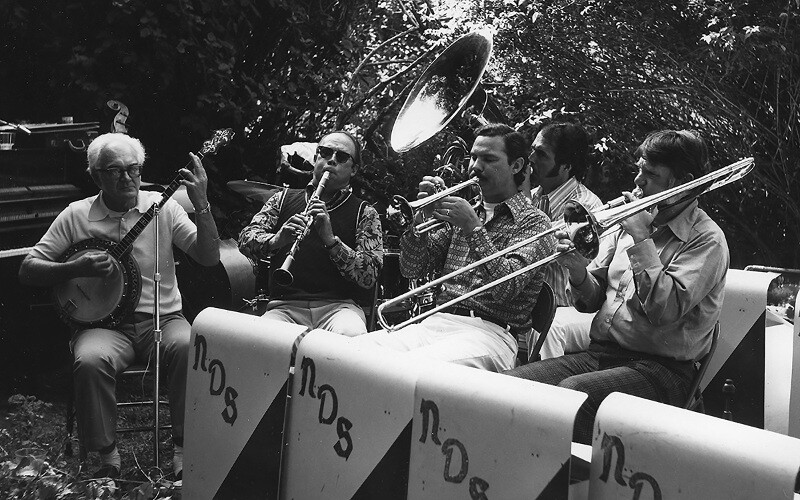 There are several excellent surviving tapes of the quintet performing at Trad Jazz events, festivals and parties. One of their earliest extant festival tapes demonstrates the rapturously euphoric reception offered by a jazz-oriented audience at an unknown 1973 event — and the band responding.
SET FOUR: Swingers Live, 3/11/73
Bill Napier (clarinet), Dick Oxtot (vocals)
Give Me Your Telephone Number.mp3 
It Don't Mean a Thing (If it Ain't Got That Swing).mp3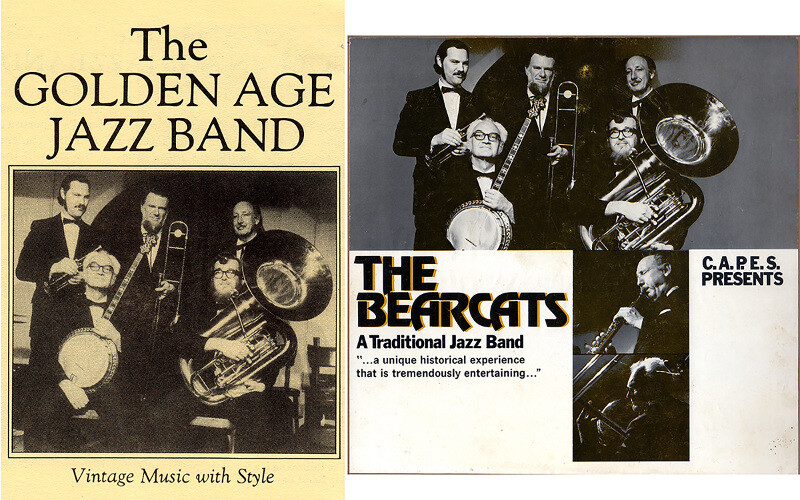 Demo Tracks from Bay Records Studio, 1982
Mielke developed hopes for a record album and was in correspondence with Bob Erdos of Stomp Off Records. In 1982 he made a demonstration tape 'on spec,' booking a session at Mike Cogan's Bay Records studio.
Typically, Bob was disappointed with the music they produced in a hermetic studio environment, lacking the vitality and unison of their live performances. In the end no album resulted, though a handful of decent takes have been salvaged.
The proposed track list mixed early classic jazz tunes like "Copenhagen" with ethnic and popular music, such as "The Kerry Dance" and "La Cucaracha" — one of their most popular offerings in later years. "Stealing Home Blues" seems to have been a Mielke original.
SET FIVE Bay Records Studio, Alameda, California 1982
Mielke, Napier, Neighbor, Oxtot, Moore
SET FIVE Oakland As Swingers – Bay Records 1983 complete.mp3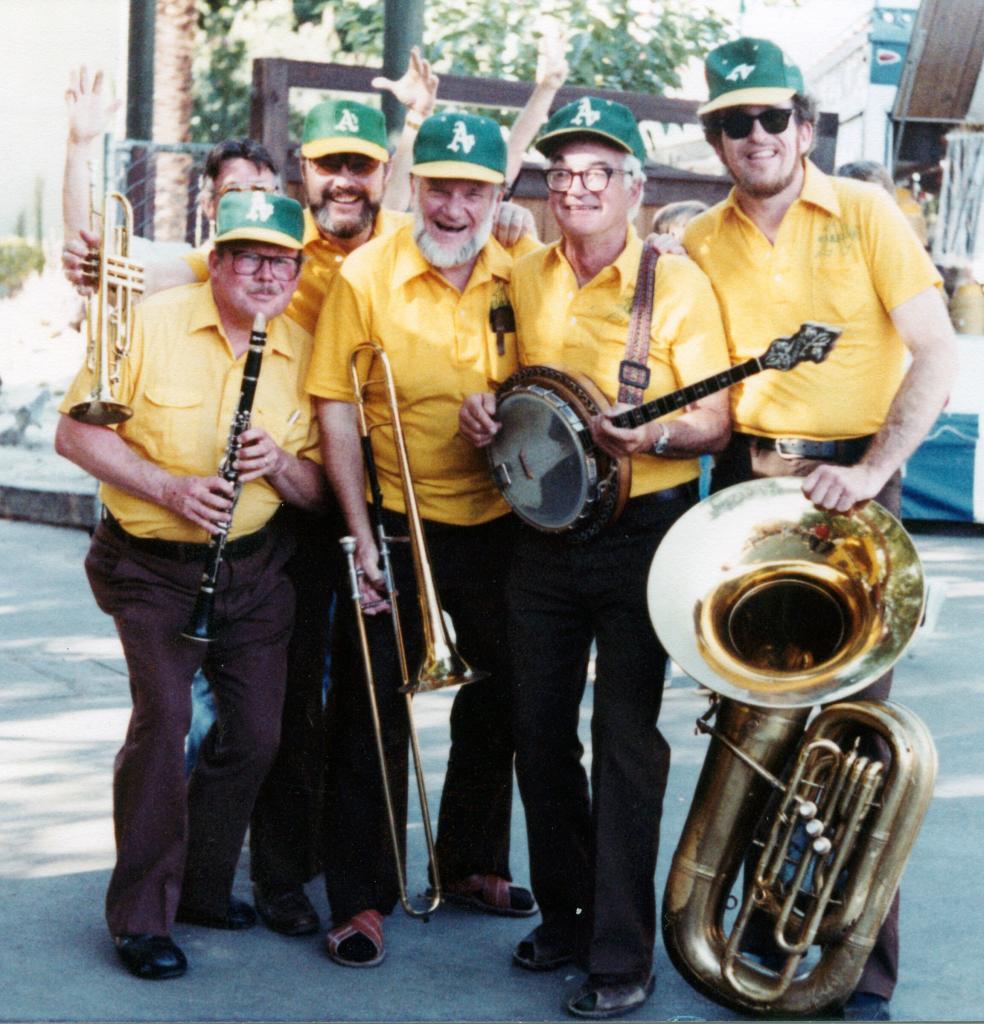 Autumn and the Horns of Summer
Baseball is seasonal of course, so Mielke sought complementary employment for the band. He found them steady work with the San Francisco Warriors basketball team (1973), the Bay Harbor Ferry Fleet (1982), jazz festivals, little league and civic events, casual gigs and a funeral or two.
The Oakland A's Swingers were certainly not the only ensemble presenting this type of ballpark entertainment. Mielke's former associate, cornet player Ted Butterman performed more than 35 years for the Chicago Cubs baseball band. Ted reports, "We started out in front for an hour, then played between innings during the game. Yes, we played 'tons' of club dates, parties, casuals, etc. We even played five funerals."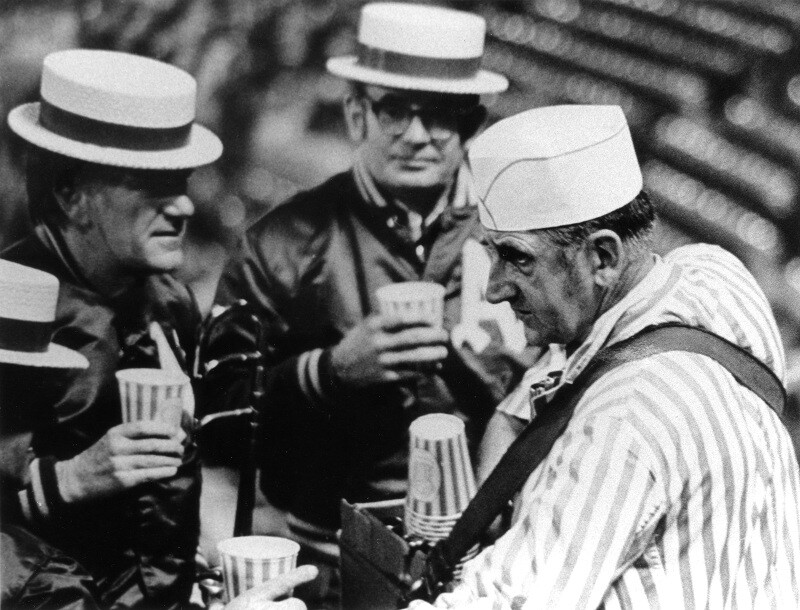 In the early 1980s, new team owners eased Finley out of management, confining live music to the tailgate lots and concession areas. The musicians were discharged entirely prior to the 1993 season, replaced by recorded Rock music. Bob attempted a public lobbying campaign via sympathetic newspaper columnists, but Oakland Athletics professional baseball moved on.
When new opportunities arose, Bob shifted gears — forming Bob Mielke's New Bearcats in a variation on the Oakland Swingers' style and resumed gigging with some of the same musicians who had played in the strolling group. Today Mielke and his surviving bandmates receive musicians' union pensions thanks to their years of service at the baseball park.
Here's a bright and upbeat set from a 1982 jazz festival at Stockton in California's Central Valley. "Lindbergh, Eagle of the USA" was Oxtot's specialty dating back to the mid-1950s with The Bearcats. Mielke always played a skillful "Savoy Blues" and "Three Little Words" features Napier's original blend of Chicago, New York and Swing clarinet styles. The flag-waving "Down in Honky Tonk Town" was a staple of Oxtot's Golden Age Jazz Band in these years which often included Mielke or Napier.
SET SIX: Stockton, California Jazz Festival, Hilton Ballroom, 10/3/82
Napier (clarinet), Dick Oxtot (vocal), Walter Yost (tuba)
SET SIX complete – Stockton Jazz Festival, 10/82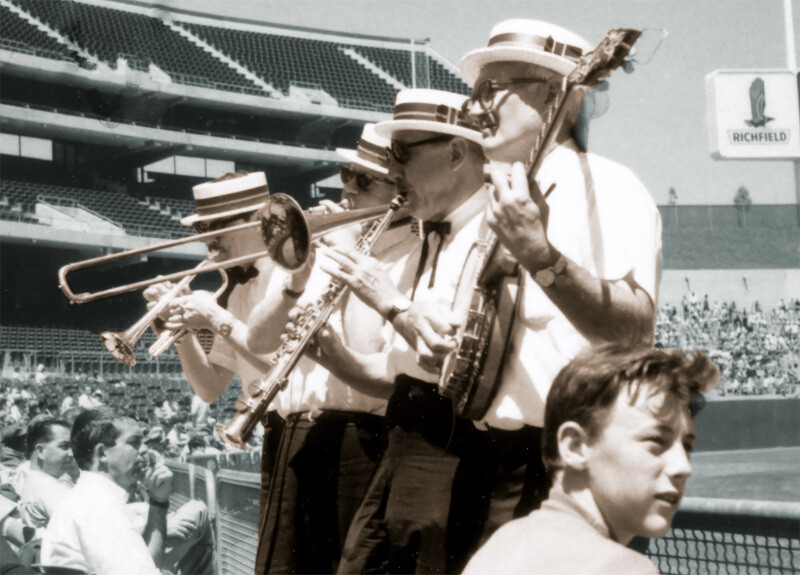 Memories of Mielke's Strolling Baseball Band
At the Oakland Coliseum much of the band's repertoire was not Jazz but Popular tunes. Yet it was always performed in the three-horn New Orleans/Dixieland format — trumpet, trombone and clarinet (or soprano sax) backed by tuba and banjo — delivered up-close and personal to even the most remote $3.00-dollar seats.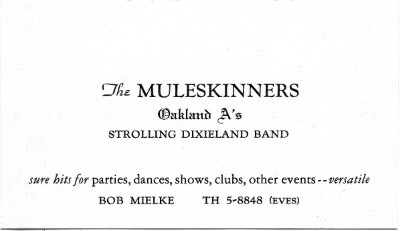 Bob Mielke's jolly quintet brought vintage American music and jazz directly to stadium listeners, festival audiences and local events. Team owner Charley O. Finley deserves credit for his seasonal patronage of Mielke, Oxtot and associates. During 23 years of home games and jazz festivals, Oakland A's Swingers Strolling Dixieland Band must have performed directly to several million listeners. That's a proud legacy for any group of musicians.
Extra Inning: Garden Party at the Ingmire Residence, 1984
The Swingers were relaxed and cohesive at this informal setting, with Napier the focus of attention. Mielke sang "When I Take my Sugar to Tea" as he did throughout his career. The strong banjo pickup in this session emphasizes Oxtot's steady, swinging beat and key role in the ensemble.
One of Napier's deepest inspirations, clarinetist Jimmie Noone, composed and recorded "Apex Blues" in 1928; it's among the finest realizations of the Blues in the classic jazz canon. Napier owns "Just a Closer Walk with Thee" from start to finish, climaxing in a breathtaking glissando sweeping across several octaves before his eloquent closing cadenza. "Canal Street Blues" is the tune found most often among the extant Oakland A's tapes.
SET SEVEN: Ingmire Residence Garden Party, Alamo, California 8/11/84,
Napier (clarinet), Walter Yost (tuba)
SET SEVEN complete Ingmire Residence 11.84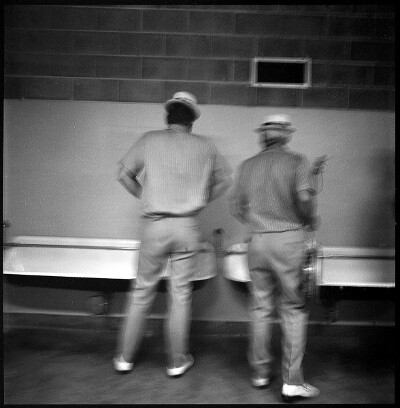 NOTES:
Great thanks to Bob Mielke for his tapes, photos, notes, memories and vetting this text. Based on interviews, discussions or correspondence with Bob Mielke, Ted Butterman, Bob Helm, Richard Hadlock, and Darylene Oxtot. Thanks to Hal Smith for expert music consultation and assistance.
Images and audio are from the personal collections of Mielke and Oxtot. Their vast personal libraries are destined for the Stanford University Libraries music archive as part of the Dave Radlauer Jazz collection. You'll find more at the Oakland Swingin' A's – Jazz Rhythm page.
See also:
Bob Mielke: A Life in Jazz, Jim Goggin (Trafford/Goggin, 2008)
Jazz Scrapbook Dick Oxtot and Jim Goggin (Creative Arts Books, 1999)
Jazz West 2, K.O. Ecklund (Donna Ewald, 1995)
LINKS:
Oakland A's Swingers – http://www.jazzhotbigstep.com/745034.html
Oakland A's Swingers – https://www.dagogo.com/bob-mielkes-oakland-strolling-dixieland-band-1969-92/
Bob Mielke Stanford – https://exhibits.stanford.edu/sftjf/feature/bob-mielke
Bob Helm – https://exhibits.stanford.edu/sftjf/feature/bob-helm
Bob Mielke – http://www.jazzhotbigstep.com/247312.html
Bill Napier – http://www.jazzhotbigstep.com/400312.html
Dick Oxtot – http://www.jazzhotbigstep.com/486423.html