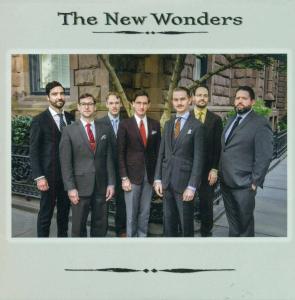 MIKE DAVIS AND THE NEW WONDERS
Mike Davis is one of the bright new voices in classic jazz. The 25-year old New York-based cornetist has forged his own musical path by sticking steadfastly to 1920s and early '30s jazz rather than feeling compelled to follow his former classmates into more modern jazz styles. He said in a note to me that he hopes to sound like Red Nichols, Chelsea Quealey, Bill Moore, and, most of all, Bix Beiderbecke. He does at times hint at all of them on his recent CD The New Wonders (named after his septet). Fortunately, Davis also sounds like himself much of the time, as if he were part of the 1920s scene next to his musical heroes. Based on this recording, he would have held his own with Nichols and Leo McConville if not Bix.
The New Wonders also includes Ricky Alexander on clarinet and alto, trombonist Joe McDonough, pianist Dalton Ridenhour, banjoist Jared Engel, bass saxophonist Jay Rattman and drummer Jay Lepley. Remember those names because each of them has the potential to be important forces in classic jazz of the next couple of decades. They have the 1920s styles down pat, display high musicianship, and show plenty of enthusiasm and creativity within the idiom. Four of the musicians (including Davis) also sing very much in the period style and sometimes as part of a Rhythm Boys-type vocal group.
Other than "She's Funny That Way," none of the songs on this CD would be considered standards. But anyone interested in 1920s jazz will enjoy hearing these versions of such obscurities as "Flamin' Mamie," "I'm More Than Satisfied," "I'd Rather Cry Over You," "Persian Rug," and "Clorinda." The concise solos are hot, the arrangements by the leader (some adapted from recordings, others not) are definitive for each song, and the New Wonders has a classic sound of its own.
All in all, this is a very impressive effort by Mike Davis and his musicians, one that is highly recommended.
The New Wonders (Self-Released, 15 selections, TT = 47:42) store.cdbaby.com/cd/thenewwonders
Subscription Options
---
Or get the Print Edition with Online Access. To get the print edition of The Syncopated Times use this Paypal link. After you pay you will be issued a coupon for free online access.