Dewy Jackson's Peacock Orchestra is one of the few bands on record which actually played on the riverboats which carried Jazz up the Mississippi from its breeding ground in New Orleans. These riverboats, which originally served purely as transport vehicles, gradually became showboats which provided a band for pleasure seekers who went on board for a good time, on the way dancing and drinking, eventually providing a more sophisticated type of Jazz for the White patrons.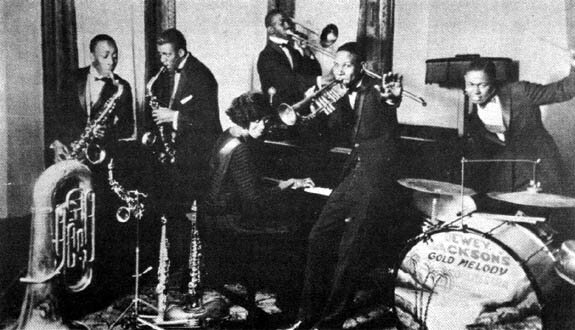 Dewy Jackson's Orchestra was engaged by S.S. Capitol during the 1925-6 season, and the title "Capitol Blues" is a good illustration of the type of Jazz which was played then, mainly by St. Louis musicians – with the exception of Pops Foster.
Taken from the book Recorded Jazz: A Critical Guide by Rex Harris and Brian Rust.


| | |
| --- | --- |
| Artist | Instrument |
| William Thorton Blue | Clarinet, Alto Saxophone |
| Floyd Campbell | Drums, Vocals |
| Cliff Cochran | Clarinet, Soprano Saxophone |
| Pops Foster | Bass |
| Willie Humphrey | Clarinet, Tenor Saxophone |
| Dewy Jackson | Cornet, Director |
| Burroughs Lovingood | Piano |
| William Luper | Trombone |
| Pete Robinson | Banjo |
| Albert Snaer | Trumpet |