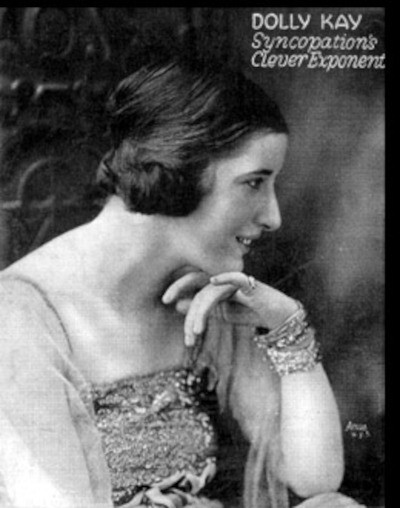 Dolly Kay (12 June 1900? – 26 August 1982) was a vaudeville and cabaret singer who started performing sometime around 1920 on the Orpheum curcuit accompanied by pianist Phil Phillips. According to an article that appeared in the September 28th, 1923 issue of the Los Angeles Times Dolly Kay was a stenographer who was living in New York City with her parents.
After seeing her first vaudeville performance she was so affected and inspired that she introduced herself to a vaudeville agent who gave her a tryout and he immediately hired her as a vaudeville singer. This story may or may not be true, but Dolly Kay continued to be a popular vaudeville and cabaret singer throughout the 1920s and early 1930s. Dolly Kay's solo recording career spanned the years 1921 to 1928. She also appeared as a vocalist on records made by the University Six (Harmony 581-H) and the Georgians (Columbia 117-D, 70-D). Lincoln 2096 was released under the pseudonym of Margaret White, Harmony 107-H was released under the pseudonym of Sally Freeman.
The last mention I've been able to find of Dolly Kay performing was at the Knights of Columbus Music Hall in Los Angeles on April 18th, 1965. The French Canadian Club presented "Fifi D'Orsay's Ruby Jubilee," a variety show honoring the stage and screen star's 40th year in show business, at the Knights of Columbus music hall.
 Thanks to Bob Palmer for his help with this page.

Title

Recording Date

Recording Location

Company

Add A Little Wiggle


(Roy Turk / J. Russell Robinson)

1-30-1923
New York, New York
Columbia
A2828
A Good Man Is Hard To Find
With Milt Shaw


(Eddie Green)

3-5-1928
New York, New York
Vocalion
15664-B
Aggravatin' Papa


(Roy Turk / J. Russel Robinson)

1-29-1923
New York, New York
Columbia
A3828
Any Way The Wind Blows


(James F. Hanley / Henry Creamer)

11-11-1924
New York, New York
Columbia
246-D
Blue


(Lou Handman)

1-27-1922
New York, New York
Columbia
A3758
Buzz Mirandy


(Dave Franklin)

6-7-1922
New York, New York
Columbia
A3644
Cry Baby Blues


(George Meyer)

10-20-1921
New York, New York
Columbia
A3502
Don't Think You'll Be Missed


(Harrison / Lyons / Rose)

3-9-1923
New York, New York
Columbia
A3882
Fifty Million Frenchmen Can't Be Wrong
Phil Phillips at the Piano


(Rose / Raskin / Fisher)

10-27-1926
New York, New York
Harmony
411-H
Got To Have My Daddy Blues


(Erdman / Cohn / Jones)

12-22-1921
New York, New York
Columbia
A3534
Hard Hearted Hannah


(Yellen / Bigelow / Bates)

5-28-1924
New York, New York
Columbia
151-D
Hot Lips
(Henry Busse / Jack Lange / Lou Davis)
10-27-1922
New York, New York
Columbia
A3758
How Could Red Riding Hood?
Phil Phillips at the Piano


(Randolph)

10-5-1926
New York, New York
Harmony
268-H
Velvet Tone
1268-V
I Ain't Got Nobody
With Milt Shaw


(Abel Baer / Samuel Lewis / Joseph Young)

3-5-1928
New York, New York
Vocalion
15664-A
I Ain't That Kind Of Baby
Phil Phillips at the Piano


(Fain / Kahal / Britt)

7-1-1927
New York, New York
Harmony
449-H
Diva
2449-G
I Can't Get The One I Want


(Lou Handman)

5-28-1924
New York, New York
Columbia
151-D
If I Can't Have You I Don't Want Nobody


(Brown / Morgan)

6-29-1922
New York, New York
Columbia
A3664
I Haven't Told Her – She Hasn't Told Me
(But We Know It Just The Same)
Phil Phillips at the Piano
10-27-1926
New York, New York
Harmony
411-H
I Love My Baby


(Warren / Green)

1-27-1926
New York, New York
Harmony
107-H
I Loved You Once


(West / Porray)

1-9-1923
New York, New York
Columbia
A3808
I'm Nobody's Gal
From Strut Miss Lizzie


(Henry Creamer / J. Turner Layton)

8-15-1922
New York, New York
Columbia
A3692
It Takes A Good Woman
(To Keep A Good Man At Home)
Phil Phillips at the Piano


(Jack Yellen / Milton Ager)

10-5-1926
New York, New York
Harmony
268-H
Velvet Tone
1268-V
It's The Last Time You'll Ever Do Me Wrong


(Williams)

6-7-1922
New York, New York
Columbia
A3644
I Want To See My Tennessee


(Milton Ager / Jack Yellen)

11-11-1924
New York, New York
Columbia
246-D
Lonesome Longin' Blues


(Roberts)

6-29-1922
New York, New York
Columbia
A3664
Magnolia
Phil Phillips at the Piano


(Buddy De Sylva / Lew Brown / Ray Henderson)

7-1-1927
New York, New York
Harmony
449-H
Diva
2449-G
My Sweetie Went Away
Phil Phillips at the Piano


(Roy Turk / Lou Handman)

7-16-1923
New York, New York
Columbia
A3955
No One's Fool


(Rose)

7-16-1923
New York, New York
Columbia
A3502
Not Here – Not There
(It's Fifty Miles From Nowhere)


(Dixon / Breuer)

9-1923
New York, New York
Lincoln
2096
Oh! Sister Ain't That Hot!
Phil Phillips at the Piano


(Harry White / Will Donaldson)

7-16-1923
New York, New York
Columbia
A3955
Poor Papa


(Rose / Woods)

1-27-1926
New York, New York
Harmony
107-H
Pretty Little Thing
Phil Phillips at the Piano


(Tobias / Rose / Dubin)

10-27-1926
New York, New York
Harmony
294-H
Rags
Phil Phillips at the Piano


(Kahal / Fain / Silver / Richman)

10-27-1926
New York, New York
Harmony
294-H
Seven Or Eleven
(My Pair Of Dixie Dice)


(Walter Donaldson)

1-30-1923
New York, New York
Columbia
A3828
Sweet Henry
(Pride Of Tennessee)


(Harry Akst)

8-11-1923
New York, New York
Columbia
A3980
Sweet Man O' Mine


(Roy Turk / J. Russell Robinson)

8-15-1922
New York, New York
Columbia
A3692
The Gold Digger


(James Hanley)

8-11-1923
New York, New York
Columbia
A3980
Wabash Blues


(Fred Meinken)

12-22-1921
New York, New York
Columbia
A3534
Wet Yo' Thumb


(Lew Cooper / Harry Akst)

3-9-1923
New York, New York
Columbia
A3882
You've Got To See Mama Ev'ry Night


(Billy Rose / Con Conrad)

1-9-1923
New York, New York
Columbia
A3808

| | |
| --- | --- |
| Artist | Instrument |
| Phil Phillips | Piano (Columbia A3980, Harmony 449-H, 268-H) |
| Frank Westphal | Orchestra (Columbia A3808) |
| unknown | Studio Orchestras |