The Georgians
The Georgians were a subset of the Phil Specht Orchestra. Specht had a gig at the Hotel Alamac in New York City in 1920. The orchestra played music for dancing in the ballroom and afterwards a smaller version of the group that went by the name of the Georgians played in the cocktail lounge.
The star and leader of the band was trumpet player Frank Guarente. Guarente was originally from Italy but his family moved to Allentown, Pennsylvania in 1910 and then to New Orleans in 1914. In New Orleans, he began to play professionally while absorbing the styles of the city and taking trumpet lessons from King Oliver.
In 1916 he left New Orleans and played in a number of different bands that travelled throughout the country. Guarente was in the Army in World War I. After the war was over he started to make his living as a musician and in 1921 he joined Phil Specht's Orchestra and played in both the larger dance band and in the smaller Jazz combo, the Georgians.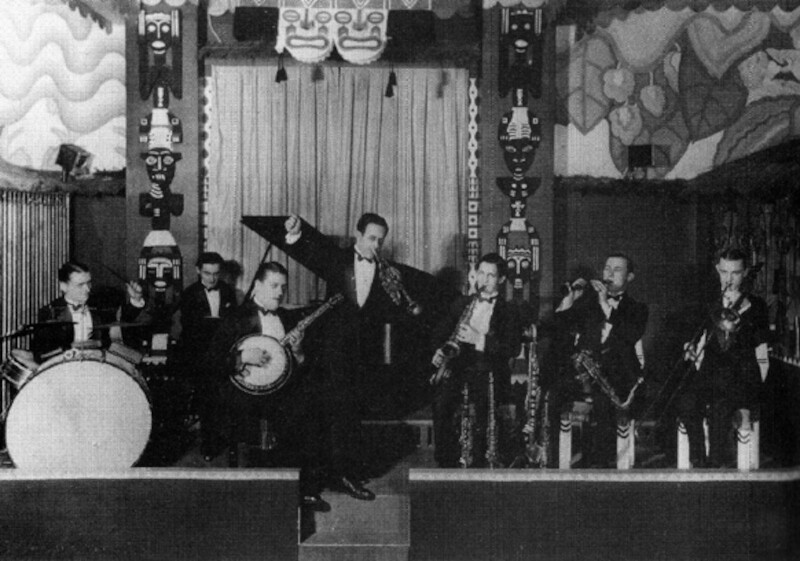 In 1922 the Georgians went to Europe and stayed until 1924 and then rejoined Specht's Orchestra. The Georgians' stay in Europe was quite influential and gave many Europeans their first taste of a real American jazz band. Guarente formed his own band called the New Georgians which recorded in Switzerland under the name of Frank Guarente's World Known Georgians.
Guarente played in Europe until 1927, when he joined the Savoy Orpheans in London. He returned to America in 1928 and rejoined Specht's Orchestra for two years. In the 1930s he did studio work and played in a variety of bands including the Dorsey Brother's Orchestra.
Thanks to Bob Palmer, Scott and Mark of Vintage Music Company and James Gallup for their help with this page.

Title

Recording Date

Recording Location

Company

A New Kind Of Man With A New Kind Of Love For Me
Vocal Refrain by Blossom Seeley


(Clare / Flatow)

5-10-1924
New York, New York
Columbia
136-D
Aggravatin' Papa


(Roy Turk / J. Russel Robinson)

1-29-1923
New York, New York
Columbia
A3825
Are They Pickin' On Your Baby?


(James / Reynolds)

6-20-1925
New York, New York
Columbia
407-D
A Year From Today
(from "New York Nights")


(Jolson / Macdonald / Dreyer)

9-6-1929
New York, New York
Harmony 1010-H
Diva 3010-G
Barney Google


(Billy Rose / Con Conrad)

4-27-1923
New York, New York
Columbia
A3902
Big Boy!
Vocal Refrain by Dolly Kay


(Milton Ager)

3-27-1924
New York, New York
Columbia
117-D
Bringin' Home The Bacon
Vocal Refrain by Blossom Seeley
5-10-1924
New York, New York
Columbia
136-D
Can't We Be Friends?
11-22-1929
New York, New York
Harmony 1062-H
Charleston Baby O' Mine


(Dougherty / Grossman)

6-20-1925
New York, New York
Columbia
407-D
Chicago (That Toddlin' Town)


(Fred Fisher)

12-1-1922
New York, New York
Columbia
A3775
Clap Hands! Here Comes Charlie!
with incidental singing by Johnny Morris


(Billy Rose / Ballard McDonald / Joseph Meyer)

12-2-1925
New York, New York
Columbia
523 -D
Cock-a-Doodle I'm Off My Noodle, My Baby's Back


(Johnson / Sherman / Tobias)

1-14-1927
New York, New York
Columbia
923-D
Dancin' Dan


(Jack Stanley)

12-29-1923
New York, New York
Columbia
62-D
Don't Mind The Rain
Vocal Refrain by Blossom Seeley
3-27-1924
New York, New York
Columbia
114-D
Doodle Doo Doo


(Art Kassel / Mel Stitzel)

5-16-1924
New York, New York
Columbia
142-D
Evangeline
(from "Evangeline")


(Jolson / Rose)

5-20-1929
New York, New York
Harmony 939-H
Everybody Loves My Baby


(Jack Palmer / Spencer Williams)

11-24-1924
New York, New York
Columbia
252-D
Farewell Blues
(Paul Mares / Leon Roppolo / Elmer Schoebel)
3-7-1923
New York, New York
Columbia
A3864
Frisco Bay


(Rose / Fisher)

1-14-1927
New York, New York
Columbia
923-D
Georgia Pines
10-4-1929
New York, New York
Harmony 1023-H
Glorianna


(Pollack / Clare)

11-1-1928
New York, New York
Harmony 776-H
Henpecked Blues


(Jules Buffano)

5-16-1923
New York, New York
Columbia
A3907
Home Town Blues


(J. Fred Coots / Dave Ringle)

11-8-1923
New York, New York
Columbia
23-D
Horses
4-13-1926
New York, New York
Columbia
634-D
Hula Lou
Vocal Refrain by Dolly Kay


(Yellen / King)

1-9-1924
New York, New York
Columbia
70-D
If I Had A Talking Picture Of You
(From "Sunny Side Up")
Vocal refrain by Jim Andrews


(Buddy De Sylva / Lew Brown / Ray Henderson)

10-4-1929
New York, New York
Harmony 1034-H
Velvet Tone
2034-V
If You Do – What You Do


(Turk / Handman / Cantor)

1-4-1924
New York, New York
Columbia
56-D
If You'll Come Back


(Sam Erlich / J. Turner Layton)

3-7-1924
New York, New York
Columbia
102-D
I'm Sitting Pretty In A Pretty Little City


(Davis / Abel Bear / Santly)

10-9-1923
New York, New York
Columbia
11-D
I've Got A Cross-Eyed Papa
(But He Looks Straight To Me)
11-30-1923
New York, New York
Columbia
40-D
I Wish I Could Shimmy Like My Sister Kate
(A. J. Piron)
12-1-1922
New York, New York
Columbia
A3775
I Won't Believe Its Raining
10-4-1929
New York, New York
Harmony 1023-H
Land Of Cotton Blues


(Bennett / Jerome / Fred Ahlert)

9-6-1923
New York, New York
Columbia
A3987
Lazy
Vocal Refrain by Blossom Seeley
3-27-1924
New York, New York
Columbia
114-D
Learn To Do The Strut
From "Music Box Revue 1923-24."


(Irving Berlin)

10-9-1923
New York, New York
Columbia
11-D
Lets Do It (Let's Fall In Love)
(from "Paris")


(Cole Porter)

11-1-1928
New York, New York
Harmony 776-H
Long Lost Mama


(Harry Woods)

5-16-1923
New York, New York
Columbia
A3907
Loose Feet


(Williams)

1-27-1923
New York, New York
Columbia
A3825
Lovey Come Back


(Lou Handman)

12-29-1923
New York, New York
Columbia
62-D
Mama Goes Where Papa Goes


(Milton Ager)

9-14-1923
New York, New York
Columbia
A3996
Mama Loves Papa (Papa Loves Mama)


(Cliff Friend / Abel Baer)

9-6-1923
New York, New York
Columbia
A3987
Maybe She'll Write Me
1-11-1924
New York, New York
Columbia
70-D
Me Queres


(Cobian / Vallee)

5-20-1929
New York, New York
Harmony 929-H
Velvet Tone
1929-V
Mindin' My Bus'ness


(Walter Donaldson)

3-7-1924
New York, New York
Columbia
102-D
My Best Girl


(Walter Donaldson)

11-18-1924
New York, New York
Columbia
252-D
Nothin' But


(Henry Busse / Ward / Ferd Grofe)

12-22-1922
New York, New York
Columbia
A3804
O Gee, Georgie!
Vocal Refrain by Eddie Cantor
1-4-1924
New York, New York
Columbia
56-D
Old Fashioned Love
(from Runnin' Wild")
(J.P. Johnson / Cecil Mack)
11-17-1923
New York, New York
Columbia
30-D
Old King Tut


(Harry von Tilzer)

4-27-1923
New York, New York
Columbia
A3902
Savannah


(Fred Fisher)

5-16-1924
New York, New York
Columbia
142-D
Shake Your Feet
(Introducing Swanee River Blues)
(from Ziegfeld Follies of 1923″)


(Dave Stamper)

11-17-1923
New York, New York
Columbia
30-D
Singing In The Bathtub
(From "Show Of Shows")
Vocal chorus by Johnny Morris and Trio


(Madidson / Washington / Cleary)

11-22-1929
New York, New York
Diva
3063-G
Harmony
1063-H
Snakes Hips


(Spencer Williams)

3-15-1923
New York, New York
Columbia
A3864
Somebody's Wrong


(Henry Marshall / Raymond Egan / Richard Whiting)

9-16-1923
New York, New York
Columbia
A3996
Someday, Sweetheart
Vocal Refrain by Dolly Kay


(Benjamin Spikes / John C. Spikes)

3-27-1924
New York, New York
Columbia
117-D
Spanish Shawl


(Elmer Schoebel)

12-2-1925
New York, New York
Columbia
523-D
Spring Is Here


(Bennett / Carlton)

4-13-1926
New York, New York
Columbia
634-D
S'posin'
Vocal chorus by Irving Kaufman


(Paul Denniker / Andy Razaf)

5-20-1929
New York, New York
Harmony 929-H
Velvet Tone
1929-V
There's Something About A Rose
Vocal Chorus by Scrappy Lambert


(Kahal / Wheeler / Fain)

4-13-1926
New York, New York
Perfect
15014
Way Down Yonder In New Orleans
from "Strut Miss Lizzie"


(Henry Creamer / J. Turner Layton)

12-22-1922
New York, New York
Columbia
A3804
When Your Counting Stars Alone
Vocal chorus by Jim Andrews


(Rusell / Rose / Murray)

9-6-1929
New York, New York
Harmony 1008-H
You May Be Fast, But Mama's Gonna Slow You Down


(Gilbert Welle / Bud Cooper)

11-8-1923
New York, New York
Columbia
23-D
You Tell Her – I Stutter


(Cliff Friend)

2-13-1923
New York, New York
Columbia
A3857
You'd Better Keep Babying Me
Incedental chorus by Billy Jones
11-30-1923
New York, New York
Columbia
40-D
You Want Lovin'
(But I Want Love)
9-6-1929
New York, New York
Harmony 1005-H
You've Got To See Mama Ev'ry Night


(Billy Rose / Con Conrad)

2-26-1923
New York, New York
Columbia
A3857

| | |
| --- | --- |
| Artist | Instrument |
| Sylvester Ahola | Trumpet |
| Charlie Butterfield | Trombone |
| Lou Calabrese | Banjo |
| Eddie Cantor | Vocal |
| Russell Deppe | Banjo |
| Gilbert Dutton | Clarinet, Tenor Saxophone |
| Phil Gleason | Clarinet |
| Frank Guarente | Trumpet, Director |
| Dick Johnson | Clarinet, Alto Saxophone, Tenor Saxophone |
| Archie Jones | Trombone |
| Billy Jones | Vocal |
| Dolly Kay | Vocals |
| Frank Kilduff | Alto Saxophone, Baritone Saxophone |
| Leo McConville | Trumpet |
| Chauncey Morehouse | Drums |
| Foster Morehouse | Clarinet |
| Russ Morgan | Trombone |
| Johnny Morris | Drums, Vocal |
| Red Nichols | Trumpet |
| Ted Noyes | Drums |
| Johnny O'Donnell | Clarinet, Bass Clarinet, Alto Saxophone |
| Walker O'Neill | Piano, Director |
| Al Philburn | Trombone |
| Harold Saliers | Clarinet, Alto Saxophone, Tenor Saxophone |
| Arthur Schutt | Piano |
| Blossom Seeley | Vocal |
| Roy Smeck | Banjo, Guitar |
| Frank Smith | Clarinet, Soprano Saxophone |
| Charlie Spivak | Trumpet |
| Ray Stilwell | Trombone |
| Joe Tarto | Tuba or Sousaphone |
| Henry Wade | Clarinet, Soprano Saxophone, Tenor Saxophone |
| Phil Wall | Piano |
| Ernie Warren | Clarinet, Alto Saxophone, Baritone Saxophone |