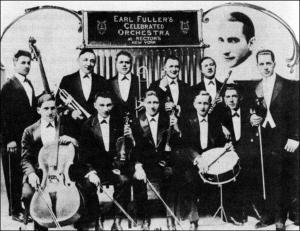 By 1917 Earl Fuller led a society dance band at the popular Rector's Restaurant in New York City called Earl Fuller's Rector Novelty Orchestra. Their records released on Victor, Columbia, Emerson and Edison sold well from 1918 to 1920. Fuller ensembles helped popularize dance band trends of that period.
For several of his earliest sessions Fuller led a small jazz ensemble dubbed on record labels Earl Fuller's Famous Jazz Band, which was probably formed at the suggestion of Victor executives eager to duplicate the success of the first disc of the Original Dixieland Jass Band, made in late February of 1917.
Fuller's orchestra, called Earl Fuller's Rector Novelty Orchestra, recorded for Columbia over two dozen dance numbers from mid-1917 to early 1919. Each number features a xylophone played by Teddy Brown. The songs recorded for the last Columbia sessions incorporated musical themes suggesting exotic lands.
Titles of such fox trots include "Sweet Siamese" (A2712), "Egyptland" (A2722), "Mummy Mine" (A2722), "Singapore" (A2686), "Out Of The East" (A2686), and "Spaniola" (A2697). Notable jazz numbers are "Graveyard Blues" and "Sweet Emalina, My Gal," issued on Columbia A2523. Other titles include the one- step "Howdy" (written by "Ted and Josh," which may be Ted Lewis and another band member) and "Russian Rag" (A2649).
An advertisement on page 67 of the February 1920 issue of Jacobs' Orchestra Monthly identifies Fuller as president of the American Musicians Syndicate, Inc., with an office at 1604 Broadway in New York City. Fuller managed various dance ensembles. Labels for Pathé records made in 1919 by Joseph Samuels' Orchestra identify Earl Fuller of the Cafe de Paris as manager of the band.
By 1921, his ensemble was called Earl Fuller's New York Orchestra on Edison Diamond Discs and Blue Amberols. The same name was used on two Olympic discs issued around the same time though the misleading pseudonym Haynes' Harlem Syncopators was used when "Melody in F," originally on Olympic 15118, was issued on Black Swan 2058.
Fuller's wife was prominent as a booker of musicians. Page 62 of the May 1924 issue of Metronome identifies Mrs. Earl Fuller as "booker of clubs and social functions for the Consolidated Orchestras Booking Exchange of 1587 Broadway."
By Tim Gracyk from the book Popular American Recording Pioneers 1895 -1925.

Title

Recording Date

Recording Location

Company

Castle Valse Classique


(Ford Dabney)

7-9-1917
New York, New York
Columbia
A5989
Cold Turkey


(Donaldson)

6-1-1917
New York, New York
Columbia
A2298
Gennett 8504-A
Down Home Rag


(Wilbur Sweatman)

3-19-1918
New York, New York
Columbia
A2547
Egyptland


(James W. Casey)

1-31-1919
New York, New York
Columbia
A2722
Graveyard Blues


(Clarence Woods / John S. Caldwell)

1-3-1918
New York, New York
Columbia
A2523
Here Comes America
(Introducing: (1) Send Me Away With A Smile)


(Glogau / (1) Plantadost)

5-23-1918
New York, New York
Columbia
A2595
Howdy


(Ted and Josh)

8-6-1918
New York, New York
Columbia
A1649
I Ain't Got Nobody Much


(Graham / Williams)

3-19-1918
New York, New York
Columbia
A2547
Ida! Sweet As Apple Cider


(Munson)

9-5-1917
New York, New York
Columbia
A2403
I Want Him Back Again
(Introducing: I Want A Daddy Like You / I Just Stepped In To Get Out Of The Rain)
(Lew Brown)
(Albert Von Tilzer)
(Jack Egan)
5-7-1918
New York, New York
Columbia
A2566
Mickey
(Introducing: (1) Down In Hindustan)
(Harry Williams / Neil Moret / (1) Smith)

5-3-1918
New York, New York
Columbia
A2595
More Candy
(Mel B. Kaufman)

9-5-1917
New York, New York
Columbia
A2403
Mummy Mine
(Introducing: (Dry Your Tears)
(Rose)
(Art Hickman / Frank Black)
1-31-1919
New York, New York
Columbia
A2722
One Fleeting Hour
(Introducing: "My Dreams")


(Lee)

7-9-1917
New York, New York
Columbia
A5989
Out Of The East


(Rose)

12-10-1918
New York, New York
Columbia
A2686
Oriental


(Rose)

6-3-1918
New York, New York
Columbia
A6075
Pork And Beans


(C. Luckeyth Roberts)

7-19-1917
New York, New York
Columbia
A2370
Russian Rag


(George L. Cobb)

9-3-1918
New York, New York
Columbia
A2649
Ruspana


(Mary Earl)

2-21-1919
New York, New York
Columbia
A2712
Sand Dunes
(Byron Gay)
(Arranged by Henri Klickermann)
12-19-1918
New York, New York
Columbia
A2697
Spaniola


(Joe Rosey)

12-19-1918
New York, New York
Columbia
A2697
Singapore
(Introducing: While Your Away)


(L. Wolfe Gilbert / Anatol Friedland)

12-10-1918
New York, New York
Columbia
A2686
Smiles
(Introducing: Mystery Moon)


(C. Luckeyth Roberts)

4-26-1918
New York, New York
Columbia
A2578
Sweet Siamese


(Mary Earl)

5-14-1918
New York, New York
Columbia
A2523
Texas


(David W. Guion)

6-3-1918
New York, New York
Columbia
A6075
The Missouri Waltz


(Knight / Logan / Eppel)

5-14-1918
New York, New York
Columbia
A2578
12th St. Rag


(Euday L. Bowman)

6-1-1917
New York, New York
Columbia
A2298
Sweet Emalina, My Gal


(Henry Creamer / J. Turner Layton)

3-1-1918
New York, New York
Columbia
A2523
We'll Do Our Share
(Introducing: I Can't Let 'Em Suffer)
(Egar)
(Henry Creamer / J. Turner Layton)
5-7-1918
New York, New York
Columbia
A2566
While Incense Is Burning


(Walter Smith)

11-19-1917
New York, New York
Victor
18450-B
| | |
| --- | --- |
| Artist | Instrument |
| Teddy Brown | Drums, Xylophone |
| Earl Fuller | Director, Trumpet, Trombone |
| Bill Scotti | Clarinet, Alto Saxophone, Flute |
| unknown | Violin, Piano, Bass, Drums |