Sterling Nelson, founder of what one national columnist hailed as "the best jazz festival anywhere!", died February 22, just two days short of his ninety-first birthday. It was Sterling's seventieth birthday that gave rise to the Evergreen Jazz Festival. He gathered a group of top Rocky Mountain musicians to perform at the party, and with swingin' sounds filling the room, one of the attendees enthused, "We ought to do this every year!"
Sterling thought that was an excellent idea, and with a small committee of volunteers, he led the production of the first Evergreen Jazz Festival in 2001. That festival demonstrated his knowledge of the music and commitment to quality, with a lineup that included Hal Smith's Roadrunners with Rebecca Kilgore, James Dapogny's Chicago Jazz Band, the Golden Gate Rhythm Machine, Andy Stein and several others. Sterling served as the festival music director for ten years before retiring to the front row in the audience.
His love affair with jazz began in March of 1958 when he first heard the Queen City Jazz Band perform at Mon-Vue Village, a smoky roadhouse in Lakewood, just outside of Denver. The band had only recently formed, and Sterling quickly became a regular at their gigs and good friends with the musicians. In fact, the Evergreen mountaintop house he built with wife Shirley was designed by QCJB leader/trombonist Alan Frederickson.
In the early sixties, Sterling married Shirley, took a new position with United Bank, and became president of the Denver Jazz Club. After settling into his marriage and job, he was able to give more attention to the jazz scene in Denver and determined that not enough people were being properly exposed to this music. In 1965 he helped engineer a concert series that played an important role in correcting that situation, and in the mid-seventies he put together what he called a "mini-festival" featuring the great Ralph Sutton's trio and Gene Mayl's Dixieland Rhythm Kings. He was also actively involved with the Central City Jazz Festival.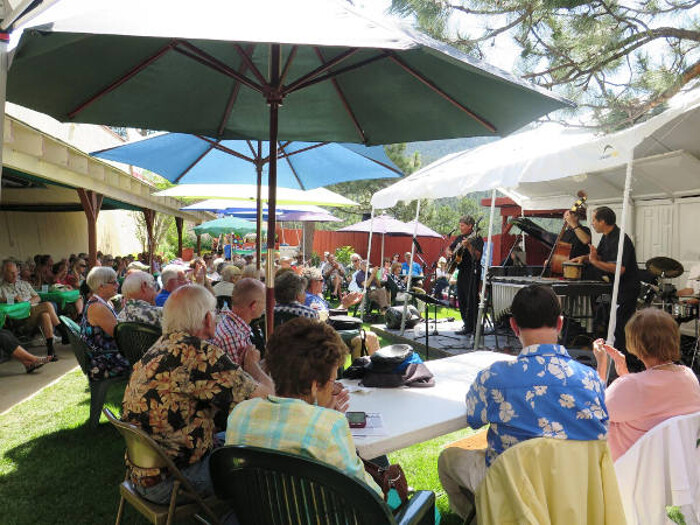 After the birth of the Evergreen Festival, Sterling would think nothing of driving his high-mileage Honda to Chicago, Kansas City, San Antonio or anywhere else to check out bands for a possible invitation to the festival. His travels paid off with such audience-pleasers as John Royen, the Rain Dogs and Whit Smith's Hot Jazz Caravan.
A memorial celebration will take place Saturday, April 4th at 1:00 pm in the Evergreen Elks Lodge ballroom, one of the festival venues. Per Sterling's wishes – and no surprise – the gathering will feature the Queen City Jazz Band and is intended to be a totally fun, swingin' event. Everyone is invited.
Memorial donations can be mailed to the Evergreen Jazz Festival, PO Box 3775, Evergreen CO 80437.