Related: Watch a video documentary on the Queen City Jazz Band filmed to mark their 10 year anniversary in 1968
---
This is a special year for Denver's Queen City Jazz Band. It's their diamond anniversary, which means they have been entertaining jazz fans for the past 60 years. What's the secret of their longevity? According to retired educator Bill Clark, who's been the tubist for 43 years and leader for 32, "In the past 10 years, we have added only two new players, but our band has evolved musically in two important ways. First, we are playing to young adults who pack the dance floors jitterbugging and swing dancing to the music of Louis Jordan, Nellie Lutcher, and other pop stars of the '40s and '50s.
"Second, the QCJB has embraced old and new second-line styles from the streets of New Orleans. The music of New Orleans artists like Trombone Shorty and Dr. John and bands like the Rebirth Brass Band and the Treme Brass Band have inspired us to discover new rhythms and melodies that are thrilling our concert and party audiences. The old Dixieland styles of Louis Armstrong and Bessie Smith will never be out of date, and we are well known for playing early jazz with energy and respect. We also know that our future and the future of our music depends on attracting new audiences and younger audiences."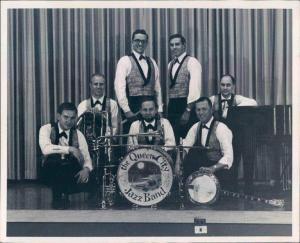 The band's genesis harks back to the mid-1950s and the popular Jazz Classics radio show that was hosted by a Coors chemist and volunteer disc jockey named Harney Peterson. He would frequently lament the fact that Denver needed a jazz band and finally decided to invite musicians to an informal jazz party at the Coors hospitality lounge. That party led to a few more jam sessions, and in 1958, Peterson's wife negotiated a gig at a small nightclub in Lakewood called the Mon-Vue Village. Admission was 50 cents. The Mon-Vue could normally hold about 100 people, and that first night, 200 fans showed up. The rest is history because the QCJB performed there every Friday and Saturday night for the next 14 years.
Over the years, 82 players have been in the band, of whom 30 were considered regulars. Originally called the Rocky Mountain Rhythm Kings, Queen City has appeared at 25 different festivals, many of which have resulted in repeat invitations for a total of some 100 appearances. The band has made 40 recordings, collaborated with 20 different concert bands, orchestras and concert choirs, been the opening act for a Bob Newhart show, and performed with a range of guest stars that included Cab Calloway, Herb Hall, Alvin Alcorn, Dick Hyman, Henry Cuesta, Bob Havens, and George Segal.
Alan Frederickson, an architect who tromboned his way through the University of Chicago before landing in Denver, was the band's first leader, a position he held for 22 years. That first band also established a precedent that may partially explain its longevity. The musicians agreed to work for whatever admissions they could engender. In other words, they would not be working for a tavern owner. As a result, they could not be fired and would be playing by their own rules.
Those rules were essentially established by Frederickson who set his leadership fee at 10 percent off the top. What best characterized that band was his talent as a free spirit and raconteur of high humor along with his glib tongue, outrageous banter, and downright funny remarks for each tune he introduced.
"The band does not take requests," he would solemnly declare. "We have a hard enough time playing the numbers we pretend to know."
"The key to enjoyment is that if you do not expect too much from us, you will not be disappointed."
"The next number is 'See See Rider.' If we do it right, it will remind you of Ma Rainey. If we do it wrong, it will remind you of the Norman Luboff Choir."
Another regular feature in those early days had Frederickson presenting—or perhaps better stated, performing—his "Reading from the Work." Delivered in the style of Mark Twain and Bob Newhart, he would simply read from a book that was so esoteric that it became humorous to the audience. Examples of his reading matter were such literary classics as The Massey Ferguson Tractor Repair Manual and The Artificial Insemination of Farms Animals.
One night a fire broke out in the Mon-Vue kitchen, and smoke was pouring from the ceiling above the bandstand. Frederickson told the audience that the band should exit first, and that there would be no return of the door charge. He went on to say that notwithstanding the abbreviated session due to the fire, the band's next appearance at Mon-Vue would require the usual door charge
When Alan Frederickson decided to become a world traveler in 1980, trumpeter Tom Hyatt assumed the band leadership. While Hyatt had his own brand of humor, the band's focus tended to be more on musical quality and new arrangements than on quick-witted repartee. Two years later, Maurie Walker, a master of multiple instruments, succeeded Hyatt as leader when the latter moved to San Antonio.
Colorado native Bill Clark took up the tuba in the fifth grade and played in a high school group called the Futile Five. Being underage, he was not part of the original Queen City band, but his tuba was, having loaned it to co-founder Herb Ordelheide to play. Weekends would find Bill and his teenage buddies sitting in darkened cars outside the Mon-Vue, soaking up the melodies penetrating the thin walls of the venerable roadhouse. After college, Bill toured for 10 years with Your Father's Mustache and joined QCJB in 1975. He took over as leader in 1986.
As an assistant professor of music at the University of Colorado-Denver, Clark taught music performance and theory and was director of the Claim Jumpers, a student Dixieland group, and the CU-Denver Brass Ensemble. In 1996, he was awarded the University's Outstanding Service Award. He is also the founder, organizer and conductor of the Tuba Christmas Concert, held each December for the past 42 years in Denver's historic Larimer Square and featuring more than 300 tubas, euphoniums and low-register brass instruments.
Pianist Hank Troy came on board in 1980 and promoted the popularity of the rhythm section as the Queen City Ragtime Ensemble. Wende Harston, who has been described as "a full-throated, Bessie Smith-style, blues-and-gospel singer who can get down-and-dirty or sweet-and-pretty," has been the band's vocalist since 1988. The band has long been known for its educational programs in schools and church spiritual services.
To update a statement written in the 1983 Mile-Hi Jazz Festival program entitled 25 Years of Foot-stomping Joy: "Longevity is rare among musical groups of all kinds. Temperament and varying demands for perfection among musicians tend to send them off in different directions, like electrons from a nucleus. In the case of the Queen City Jazz Band, even when there has been an occasional atomic eruption, there was always a sticky nucleus that has kept the particles in close orbit for the past six decades."
Bill Clark added: "We remain true to tradition, and the people who created this band should never be forgotten. The music is important, and quality will survive."
---
Watch a video Documentary on the Queen City Jazz Band filmed to mark their 10 year anniversary in 1968
---
This is what our print edition feels like. If you want good news to read with your morning coffee, order a subscription ($30 for 12 monthly issues). You'll get full online access to our archives, web extras, and our next issue will arrive at your door. Online only access is available for only $20 a year! Support Hot Jazz Journalism- Subscribe
Subscription Options
---
Or get the Print Edition with Online Access. To get the print edition of The Syncopated Times use this Paypal link. After you pay you will be issued a coupon for free online access.