Since 2009 the Denver Jazz Club and a series of local businesses, currently Denver Percussion, have sponsored a group of young jazz musicians gathered from area middle and high schools. They call themselves The Denver Jazz Club Youth All-Stars. Some of the most talented young people in the area go through a vigorous audition and interview process for a chance to join the group which has traveled to Italy and Switzerland and played festivals all over the country. They also play regularly around Colorado and have made multi-date tours of New Orleans and New York City. This July they are returning to New York for a number of performances at exciting venues including a night with Vince Giordano.
07/08/18 – 07/12/18
New York, NY
New York City – Various Venues
United States

Sun, July 8 (5-7:30pm) Swing 46 Jazz Club (349 W. 46th St, NY); Mon, July 9 (10-11am) Central Park (Near 59th St. and Ave. of the Americas), (7-9pm) Barbes Club (376 9th St, Brooklyn) w/Brain Cloud; Tues, July 10 (7-11pm) Iguana NYC (240 W. 54th St, NY) w/Vince Giordano and the Nighthawks; Wed, July 11 (2:30-4pm) The Intrepid Sea, Air and Space Museum (12th Ave and W. 46th St, NY); and Thurs, July 12 (2-3pm) Louis Armstrong Home Museum (34-56 107th St, Queens), and (5-7:30pm) Swing 46 Jazz Club (349 W. 46th St, NY)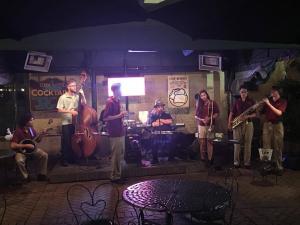 Many young people have passed through the group in the last nine years, each having had the opportunity to play with excellent traditional jazz musicians. The band plays the breaks during the appearance of professional acts at monthly club meetings. Between those sessions and their tours they have played or been featured with Bob Draga, Eddie Erickson, Duke Heitger, Dan Levinson, Kris Tokarski, Randy Sandke, Jim Fryer, Bria Skonberg, Eddie Metz, Jr., Dr. Bach and the Jazz Practitioners, the 101st Colorado Army Dixieland Band, the Summit Hot Seven, the Big Mama Sue Quartet, the Preservation Hall Jazz Band, Your Fathers Mustache Band, the Treme Brass Band, the Crescent Katz, Bob Schulz and the Frisco Jazz Band, the Au Brothers Jazz Band, the Blue Street Jazz Band, the Queen City Jazz Band, Kristy Reed's Valley Finest, Bill Dendle, Cell Block 7, Clint Baker's Hot Five, and Vince Giordano and the Nighthawks. These are the formative experiences that convince young people to stick with the music for a lifetime.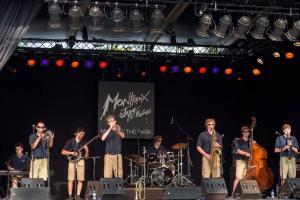 The Denver Jazz Club Youth All-Stars are directed by retired public school music educator Dr. Ed Cannava, who previously led Arapahoe High School's award-winning Dry Creek Dixie Dawgs. His dedication to promoting the band has led to sponsorships from jazz organizations all over Colorado. Traditional Jazz bands across the state rightly recognize these young artists as their future. Their website is simple but impressively maintained with regular updates on the band and their activities. They've also produced a number of CD's they sell as fundraisers.
We asked Dr. Cannava to offer advice to other jazz societies hoping to recreate the success they've had in Colorado. His reply was concise, if perhaps a tall order:
The support of our local Denver Jazz Club, professional bands (both locally and nationally), and professional jazz musicians willing to provide clinics and private lessons, is invaluable to the success of our youth band. My advice to other jazz societies is to find an experienced, successful school jazz band director, willing to devote a significant amount of time to running a youth band, and support it by providing financial resources and opportunities for performances at their monthly jazz club sessions.
Members of the DJC Youth All-Stars largely pay there own way for travel and other expenses. To the extent these costs can be offset the barriers for families wishing to involve their children in music on a serious level will be lowered. (Donate Here) Finding qualified and dedicated volunteers is always a challenge, but where the time and resources can be channeled into real experience for the next generation the dividends can be huge. Many of the top traditional jazz musicians under 50 had an association with a local club as they were coming of age. These networked players act as a resource for other musicians. If only a handful of young people sponsored by clubs become professionals, or even lifetime hobbyists, then the torch has been successfully past.
Meet The Band
Charles Gamble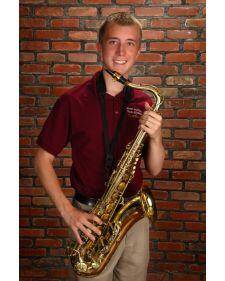 Charles, a junior at East High School, joined the DJC Youth All-Stars in May 2017. He has been playing the saxophone for 5 years, and has studied privately the entire time. Charles performs in the East HS Bands and recently was selected to perform in CCJA's Jazz in the Sangres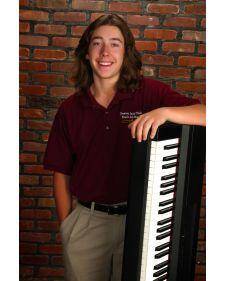 Antonio Giovanetti
Antonio, a sophomore, joined the DJC Youth All-Stars in May, 2017. He started playing violin at 5, switched to drums in 5th grade, and just recently added the keyboard to his musical repertoire. Antonio studies piano with Hank Troy, and plays percussion in the BCHS Jazz Band, Concert Band, Marching Band and Wind Ensemble. He has received the "Outstanding Musicianship" award at the Mile High Jazz Festival on drum set. Antonio plans to pursue Jazz Studies when he graduates from high school.
Ben is a junior at Chatfield High School. He started playing piano in kindergarten and switched to upright bass in 4th grade. He's taken private lessons in bass for nearly the whole time. He plays bass in Chatfield's concert and jazz bands, and the baritone in marching band.  He is frequently performing in various small ensembles throughout our community, from bluegrass to Handel. Ben currently studies with Ron Bland.
Clarinet / Vocals
Denver Public Schools Online HS
Ellington, a senior, joined the All-Stars in May, 2015. He started playing clarinet in the 4th grade, in a Douglas County school band, led by Joe Anderies. That same year Ellington enrolled in the Colorado Conservatory for the Jazz Arts, which he continues to participate in to the present day. In middle school, Ellington was accepted into the Denver School of the Arts as a band major. He has played the clarinet for nine years, and the tenor saxophone for four years. Ellington studies with Chuck Schneider.
Steve, a sophomore at Bear Creek High School, joined the All-Stars in April 2017. He has recently picked up the plectrum banjo, after playing and studying privately on drum set (6 years), and guitar (3 years). Steve is a percussion section leader in the Bear Creek HS Marching Band, and also plays in the school's concert and jazz bands. He has played in other outside groups, and has been studying plectrum banjo with Rory Thomas.
Benji,, a senior at Centaurus High School, joined the band in April 2017. A drummer for 7 years, he has been active in Colorado Conservatory for the Jazz Arts groups, including Jazz in the Sangres, through which he has performed at the Vail Jazz festival twice. He also has participated in his high school jazz band, marching band, and winter percussion group, as well as the pit orchestra for the school musicals. Benji studies with Chris Beers and BK Khan, and plans on going to college for jazz performance.
Trumpet/Vocals
Thornton HS
Kiyah, a junior at Thornton High School, participates in Thornton High School's marching band, jazz band and wind ensemble. During the summer, she attends the Louis "Satchmo" Armstrong Jazz camp held at Loyola University in New Orleans, Louisiana. In addition, Kiyah is a Youth Trumpet and Taps Corps (TYYC) volunteer. For the past three years, she has been selected to participate in the Adams 12 Five Star Honor Band. Kiyah aspires to become a music educator in the K12 public school system.
Subscription Options
---
Or get the Print Edition with Online Access. To get the print edition of The Syncopated Times use this Paypal link. After you pay you will be issued a coupon for free online access.