Let's face it, the jazz scene, as most of us knew it, was never the same after the advent of television.
In Boston where I lived, was the Hi Hat, where Bilie Holiday, Charlie Parker, Lester Young, and Roy Eldridge frequently appeared and Symphony Sid did nightly broadcasts over WCOP. Nearby was The Savoy which featured more traditional jazz as did Storyville in the basement of the Buckminster Hotel in Kenmore Square. The clubs provided work for many future stars such as George Benson at Estelle's on Tremont St. I can remember going to Paul's Mall on Boylston Street and seeing Bette Midler with a young accompanist named Barry Manilow. One of the last great jazz clubs in the area was Lennie's on the Turnpike in Peabody. Somehow, Lennie Sogoloff and his top assistant, Joe Batista, found enough room in the small club to present the big bands of Stan Kenton, Buddy Rich, Count Basie, and Woody Herman and many famous solo artists.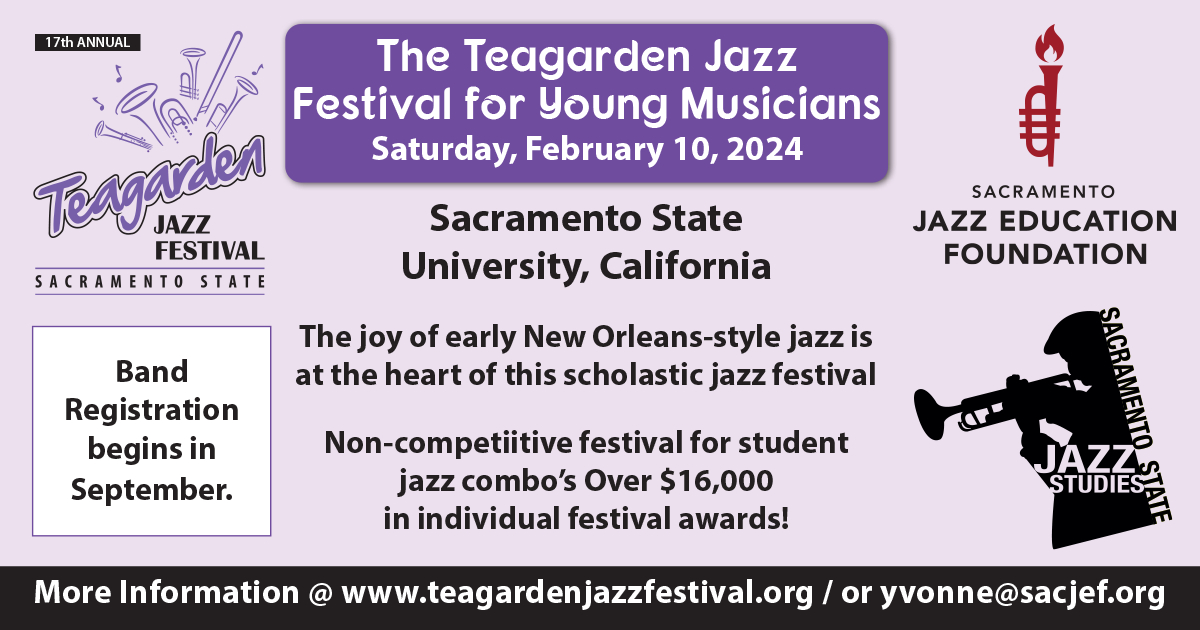 When Buddy Rich's 15-member band once played Lennie's, it was a night I never forgot. In his late 60s, and having survived quadruple-bypass heart surgery, Rich could boot the band the same as ever. He used Ludwig drums and William F. Ludwig II was in the audience. Rich asked Ludwig to stand up and take a bow. Famous for his verbally-abusive behavior and twisted sense of humor Rich saluted Ludwig with "Heil Hitler."
Clubs in New York City were equally affected by TV. "When I came to New York in 1945, it was filled with night life," club entertainer Bobby Short once reminisced in The Boston Globe. "There were all kinds of clubs. Some were tiny rooms where one person like Mabel Mercer could sing to 60 people. All that's gone now."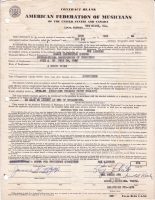 My involvement with jazz musicians was more than that of a fan. Since college, I was a personal manager/booker for a number of jazz artists who appeared in some of the best clubs and on radio and television. One of my prized possessions is a contract I co-signed with Jimmy Hoffa for a New Orleans jazz band I managed led by the dynamic trumpeter, Roy Liberto, to play at the Teamsters Convention in the Miami Convention Center in July 1966. Hoffa loved jazz musicians had them play at many of the Teamsters-controlled venues, especially Las Vegas.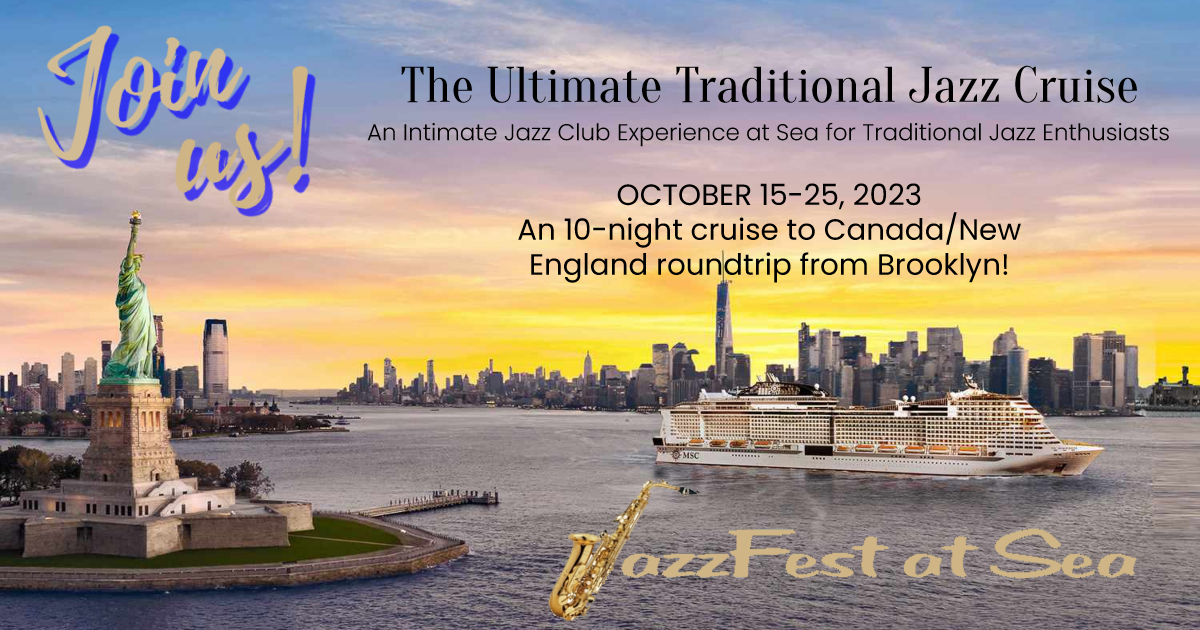 I found that the arrival of rock and roll further hastened the demise of the jazz scene. I first "got the message" in the 1960s when I booked a traditional jazz band into a club in Chester, PA, and was told by the manager that they would alternate with a rock and roll band. After they had finished their earsplitting electronic barrage, it was sadly apparent that they had captured the young audience. Sound and fury had won. The beat prevailed by the music had ended.
Seldom fully recognized in the rise of rock music was the impact of the "Payola Scandal" of the '50s. For the sake of drugs and cash, disc jockeys started playing records by second-rate performers and songwriters who did not belong to the American Society of Composers, Authors, and Publishers (ASCAP). As Bobby Short commented, "I remember disc jockeys used to say with great pride, 'Now we're going to play a new Cole Porter song.' You heard the words 'Cole Porter' and your ears perked up."
One of the groups I booked into Lennie's was the Saints & Sinners, co-led by Red Richards, piano, and Vic Dickenson, trombone. Herman Autry was on trumpet and Rudi Powell, clarinet/alto sax. Both had played and recorded with Fats Waller. They told me Fats would record in a loft in Brooklyn and have RCA send over a case of gin. (Hope they took some home!)
My saddest experience as a jazz and big band enthusiast was in July 1986. My wife and I had bought tickets for the Benny Goodman Orchestra appearance at the Hyannis Music Tent on Cape Cod. Goodman had reformed his band and had been rehearsing the young musicians for weeks. Unfortunately, he died days before the event. Bill Carmen, the Music Tent owner, told me that Goodman had specified in his will that there would be no "ghost band" after his death. Carmen had pleaded with the estate lawyers to let the band play one more time and they agreed. The band was outstanding, but your eyes could not miss Goodman's clarinet that rested on a stool in front of the bandstand. How the young musicians got through his standard closing theme, "Goodbye," I'll never know.
Alcoholism was an occupational risk for many jazz musicians. (Today, it's drugs and loss of hearing.) An agent friend of mine was once waiting at LaGuardia Airport for legendary trumpeter "Hot Lips" Page to arrive from Chicago for a concert at a large venue in lower Manhattan called Central Plaza. The concerts were run by Jack Crystal (father of Billy Crystal—who also managed the Commodore Record Store next to Grand Central Station). The plane arrived without "Hot Lips." What did arrive was a telegram saying, "Sorry, am drunk—will try next plane … Lips."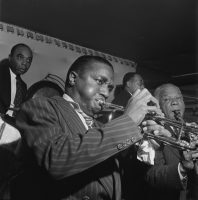 Lips did arrive on the next plane—dead drunk. My friend was horrified when he noticed that Hot Lips wasn't carrying his trumpet. When Hot Lips also realized it, he explained, "My God, man, I left my trumpet in the hotel room in Chicago." A frantic search was made of New York music stores until a trumpet was finally obtained. Hot Lips and his horn were then rushed to Central Plaza and the bandstand. Just before mounting the bandstand, Hot Lips turned around horrified and declared, "My God, man, I left my false teeth in the hotel room drawer in Chicago!"
The audience had reached the end of their patience. Hot Lips was told to stand on the stage, pretend to play and the second trumpet would back him up. Lips held up his trumpet and pretend to be playing, but the alert customers caught the deception and began to laugh and boo. Lips waved for the music to stop, staggered to the microphone and said, "All you nice people out there will have to excuse the music—the acoustics here's awfully bad."
It was the environment of the clubs that led to alcohol abuse. "What else is there to do when you're not playing?" jazz legend Wild Bill Davison once asked. Phil Harris, bandleader for the Jack Benny Program, once told Benny how the management of a club agreed to pay Harris' musicians scale but the drinks would be on the house. After just one week, the management witness the toll and changed the deal. Each musician got $1,000 a week but they had to buy their own drinks! (Looking back, I'm also shocked at how many jazz musicians died of lung cancer and emphysema … especially the horn players. The low-ceiling, smoke-filled clubs, plus their own smoking habits, took their toll).
As far as today's music… Artie Shaw, then 90, told The Boston Globe, "People send me tapes and records to listen to, and frankly, I'm appalled by what I hear. As far as rap music—please! That has nothing to do with music." The legendary jazz guitarist, Marty Grosz, said it best, "Before forests of microphones had become requisite of every nightclub or concert hall, a sensible restraint governed jazz musicians… the idea that individual exuberance be governed for the good of the group. Today, owing to the miracle of amplification, instead of blending harmoniously, it's every-man-for-himself ego tripping. Young musicians, thanks to rock and roll, equate loudness with masculinity. Noise swings."
If I ever had any doubts about the sad state of the jazz scene, it was made clear to me when I tried to get work for a wonderful 10-piece orchestra, which played exact reproductions of the hot jazz bands that sparked the Roaring Twenties. Entirely acoustic, after many subsequent mailings and phone calls, I was finally able to book the Happy Feet Jazz Orchestra into a club with a nice dance floor. After one week they were let go because the management received too many complaints from the Keno players at the bar!
Reginald Kell, one of the world's most accomplished classical clarinetists, once described his approach to playing, which applies to any musician: "I do not play the clarinet. I play music on it. I use it to express my personal feelings. An instrument is just a heap of dimensions with no life or intelligence. How different this can become in the hands of someone who has mastered the technical difficulties and uses it as a means to transfer both the composer's and his own thought into sound. It is not longer lifeless and dull. It lives and reflects the message of the music no matter how sad or cheerful it may be. If you are going to play, then play with character."
Those of us who were able to hear those giants of jazz before they passed away know what Kell meant. We were truly blessed to have been in their presence.