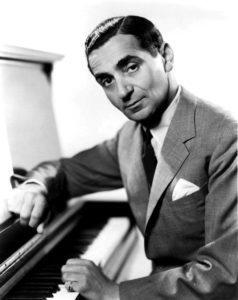 For what, and by whom, you may ask, is Irving Berlin owed an apology? Glad you asked. In the immortal but likely apocryphal words of lightning-struck St. Paul, after he ceased being Saul of Tarsus on the Damascus Road, "Something happened to me yesterday." I cite the writer of Corinthians because what happened to me yesterday carried equal revelatory force.
Please hear me out. I was listening to records by my current favorite jazz singer, Annette Hanshaw, and came upon her 1927 recording of Irving Berlin's "The Song Is Ended." At first, I thought I was playing the wrong song because it began: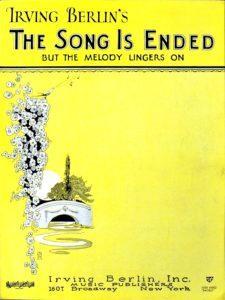 My thoughts go back to a heavenly dance
A moment of bliss we spent
Our hearts were filled with a song of romance
As into the night we went
And sang to our hearts' content
Of course, it didn't take me long to realize that what I was hearing—for the first time!—was the song's verse. Or maybe it should be called a bridge because it is as splendid as San Francisco's Golden Gate. One thing for sure: Berlin was taking careful pains—or maybe painful care—to contextualize the song. His verse is meant to prepare the performer and audience alike for one of the greatest lost-love lyrics of all time. And it also explains the song's raison d'etre:
The song is ended
But the melody lingers on
You and the song are gone
But the melody lingers on
The night was splendid
And the melody seemed to say
"Summer will pass away
Take your happiness while you may"
There 'neath the light of the moon
We sang a love song that ended too soon
The moon descended
And I found with the break of dawn
You and the song had gone
But the melody lingers on
Stunned, I sought contemporaneous versions by Ruth Etting, Seger Ellis, and Nick Lucas, all of whom sang the verse. Since I had no memory of ever hearing the verse before, I went to celebrated post-war versions by Ella Fitzgerald and Nat King Cole. Neither sang the opening words. Worse, both treated the song as up-tempo, and an excuse to prove how effortlessly they could swing. Like we needed proof!
I was mortified. Berlin's song was not meant for the purposes to which these singers put it. You want to prove your ability to make Berlin swing, sing "Heat Wave." But don't fight the cold wave at the heart of "The Song is Ended." This song is meant to make you freeze in your tracks with sadness. It is a lament, a cry of an occasion whose heart is heart-break.
I'm still angry with Ella and Nat. And I repeat to their ghosts what Lester Young said about playing ballads: "Remember the words."
All of them.
Hell, Ira Gershwin refused to cooperate with Ella when she made her legendary George and Ira Gershwin Songbook album in 1959 if she didn't promise to remain faithful to all the songs with verses—by singing them. Doesn't Irving deserve the same?
Every day, I discover another golden treasure from the Great American Songbook with a neglected verse—so many of them I have begun to feel most standards have become amputees. Thanks to Annette, Nick, Ruth, Seger, and so many other important singers of the 1920s, I am discovering that modern jazz singing has become a song-graveyard with hundreds of monuments to unknown verses and bridges. I won't say that there weren't some de-versifiers back in the day—or that old masters haven't given into modern customs.
Shamefully, Nick Lucas omits the verse on his later recording. And even though later lights of the popular song such as Frank Sinatra treat it as a ballad, they don't let Irving have first or last say when singing his song. How can you plumb that song's true meaning without the verse. Anyone can memorize, but few cam memorialize.
So this is why I feel Irving Berlin is owed an apology. Verse-forgetfulness and indifference must cease immediately. If a song has a verse, sing it—and sing it in a way that contextualizes the entire lyric. Start this vast reclamation project by listening to the record that awoke me to blasphemously widespread neglect: Pathe Actuelle 32314, recorded 11/23/27, then feel how bereft the song is without that verse. American music has suffered enough injury without its own defenders adding the insult of singing songs incomplete.