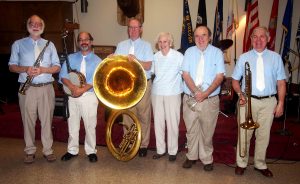 The Uptown Lowdown Jazz Band is one of only about a half-dozen bands that can say they have been playing traditional jazz festivals for more than 40 years. That streak came to an abrupt end in February at the Seaside, Oregon, festival with the announcement that the band's days on the festival trail are over. Leader Bert Barr has been dealing with health issues of late which make travel difficult. However, he and wife Rose Marie will continue to perform as a duo in and around the Seattle area.
The band had its start back in late 1971 up in the Pacific Northwest and consistently remained true to the West Coast revival style of the Lu Watters and Turk Murphy bands. Bert played in school bands, got his first paying job in a group called "the Jazz Beaus," playing three nights a week for $20 a man. Bert attended Vallejo Junior College for two years and then transferred to the University of Oregon where he majored in music.
In 1969, the Army required his services, and he was assigned to Fort Lewis, Washington and then on to Vietnam where he led a Dixie band known as the Hot Rats that played around the base in Saigon. "It got us out of filling sandbags," Bert recalled with a smile.
1971 Beginning
Discharged in 1971, he moved to Seattle. Finding no available teaching jobs, he spent the next nine years working in a music store selling pianos and organs. But 1971 was the year in which the Uptown Lowdown Jazz Band took on a life and the Turk Murphy sound, which became known as "Barr Modified West Coast Revival." The band's name was derived from a tune written in 1933, "Doin' the Uptown Lowdown."
Bert knew what he wanted and set high standards for the band. Over the years he recruited musicians who could read and improvise, hear harmonies, were disciplined and would be team players. Each member was expected to carry his own weight, the sum total resulting in rich harmony, rhythm, and counterpoint and making for a cohesive unit. "Stay true to the music" was Bert's philosophy. "Turk always played harmony, always the right note at the right time."
In 1977, the band was in need of a piano player, and the name Rose Marie Sparks was on a list of a half-dozen pianists that Bert called. Rose grew up in an Italian family where classic Neapolitan tunes like "O Sole Mio" were often heard around the house. She learned to play the accordion and piano, but never intended to be a musician, saying, "I just love to play."
She became a state-accredited piano teacher and played in an amateur band for 10 years, but didn't know Bert Barr or all that much about jazz. The audition obviously went well, which she said was "because I could read and play chords," and the band had a new pianist. Two years later, Bert acquired a new lifetime partner when the two married.
Vast Tune Library
Uptown Lowdown had over 500 tunes in its book, and Bert has a 2,800-tune library at home of music from early ragtime up to about 1960. The band recorded 34 albums and during the peak festival years of the early 1990s, annually performed at as many as 28 festivals.
Over the years, the band has performed in just about every imaginable venue. They played in an elevator on the way up to surprise a birthday guest as well as 605 feet above the city on the observation deck of Seattle's Space Needle; for the opening of the Kingdome, on an airplane and in an underground garage; at salmon bakes and a bicycle derby, and in freezing weather wearing gloves with the fingers cut out to facilitate playing. Uptown Lowdown will be missed.
♫ ♫ ♫ ♫ ♫
Honored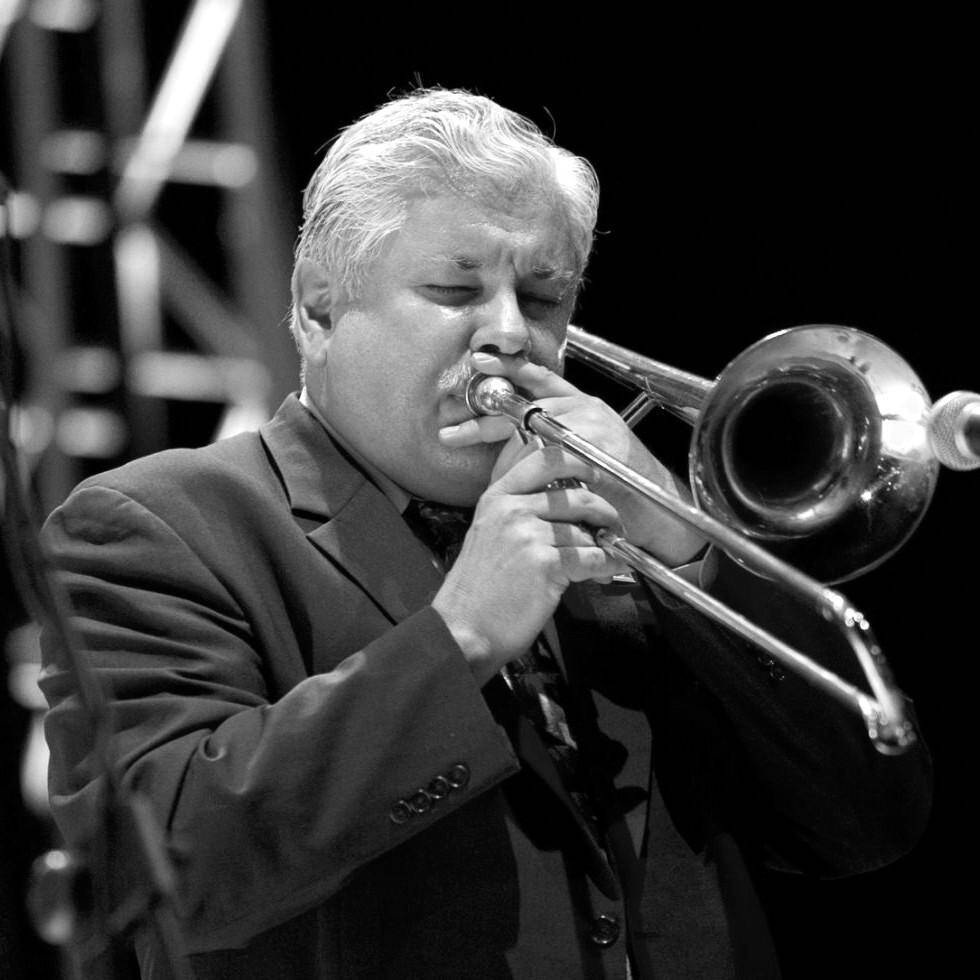 The erudite Dan Barrett took center stage on the final afternoon of the 30th San Diego Jazz Party at Del Mar, California when he was honored as the group's 2018 Jazz Legend. A native Californian, Dan began playing the trombone at the age of 11, and the cornet shortly thereafter. While still in his teens, he had the opportunity to play with some of the great New Orleans musicians who had settled in Southern California: Barney Bigard, Nappy Lamare, Joe Darensbourg, Alton Purnell, and Ed "Montudie" Garland.
At age 17, he played "Ory's Creole Trombone" at the conclusion of Ory's funeral at Forest Lawn, along with Teddy Buckner, Andy Blakeney, and Alton Redd, all past members of Ory's band. In 1977 at the age of 22, he made the first of many trips to Europe to appear at the Breda Festival in Holland.
Move to the Big Apple
Dan moved to New York City in 1983 where he toured with and wrote for the Widespread Depression Orchestra and was a frequent guest at Eddie Condon's, then managed by Ed Polcer. Dan played the valve trombone on the soundtrack of the 1984 movie, The Cotton Club, which led to more soundtrack credits and his first on-screen cameo in Bullets Over Broadway, a 1994 crime-comedy written and directed by Woody Allen, in which, to no surprise, Dan's role was as a trombonist.
He was a member of Benny Goodman's last orchestra (1985-86). He made a three-week tour of Europe with Woody Allen's New Orleans JB in 1996, which later evolved into an award-winning documentary. His four appearances at Carnegie Hall included two Louis Armstrong tribute concerts with the New York Pops Orchestra.
The Barrett family returned to California in 1996 after living in New York City for 14 years and currently reside in Costa Mesa where son Andrew has a budding career as a freelance pianist. John S. Wilson, the late-great New York Times jazz writer, called Dan "a melodist, a colorist who knows how to use a plunger mute with taste…a player Duke Ellington would have loved." Recognized in 1999 polls as the Trombonist of the Year and Favorite Living Trombonist, Dan has been listed in Biographical Encyclopedia of Jazz and Guinness Who's Who of Jazz.
SDJP director Dan Reid reported that attendance almost identically match the turnout for 2017. Two of the 21 all-stars—Ed Polcer and Butch Miles—can lay claim to the fact that they performed at the very first San Diego jazz party in 1988. A number of the musicians held master classes for high school students on Friday and played a concert at Mission Bay High School on the following Monday.
♫ ♫ ♫ ♫ ♫
The Jazz in July Festival at the 92nd Street Y on Lexington Avenue is called "one of New York City's great summer traditions." The six concert series kicks off on July 17 with a return to the days of crazy rhythm and Prohibition. Dick Hyman will be aided and abetted by a trio of elegant pianists—Rossano Sportiello, Aaron Diehl, and Bill Charlap—in paying tribute to Teddy Wilson, Tommy Flanagan, and Hank Jones on July 18.
Salutes to Richard Rodgers (7/19), Dizzy Gillespie (7/24) and Leonard Bernstein (7/25) follow, with a Blues in the Night concert wrapping up the series on July 26.
♫ ♫ ♫ ♫ ♫
Earl McKee is back on the bandstand with the High Sierra Jazz Band following knee surgery and rehabilitation…It's also great to see Katie Cavera returning to Disneyland after her cancer ordeal. This month she will be performing at the Redwood Coast Music Festival as a guest artist and with Jeff Barnhart's Earthquakers.
♫ ♫ ♫ ♫ ♫
A Celebration of the Life of multi-instrumentalist Gary Church will be held on May 20 in Chandler, Arizona. A New Orleans jazz service at the cemetery will be followed by a gathering at the Crowne Plaza San Marcos Resort at which Cheryl Thurston's Mardi Gras Dixieland Band, some members of Merle Haggart's band with whom Gary recorded, and invited musicians will be among those performing. Gary Church succumbed to injuries suffered in an automobile accident on February 19.