The 31st Annual San Diego Jazz Party was held at The Hilton San Diego/Del Mar from February 22nd through the 24th. And what a party it was! Beginning Friday afternoon with a cocktail hour (and a half), old friends greeted their table mates and other guests. Everyone was smiling as the musicians warmed up the room. A short break followed that first session and the evening then continued with 25 minute sets by the various artists with a designated leader.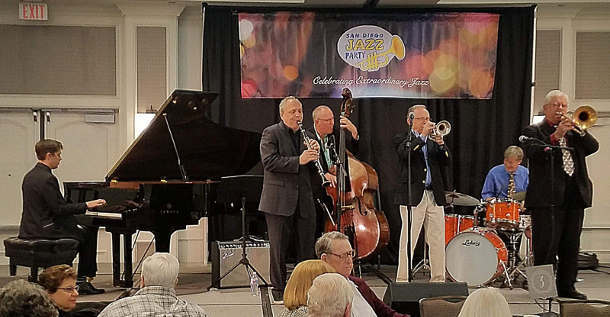 18 extremely talented musicians weaved in and out of various groupings with Dan Barrett changing arrangements to accommodate the absence of three absent—and deeply missed—musicians. Unfortunately, Eddie Erickson, Rebecca Kilgore, and Houston Person, Jr., were not able to attend as planned. Rebecca was involved in a very serious auto accident several weeks ago and although on the mend, is still recovering from her injuries. I was very familiar with most of the artists present having seen them in New Orleans or at various festivals throughout the years.
Saturday morning began with a hearty brunch and the afternoon sessions started up again at 1 pm. After a dinner break at 5 pm, everyone returned by 7 to enjoy the remaining sets until 11. The hotel had a sumptuous and reasonable buffet both evenings that provided quick and easy access dining for the participants.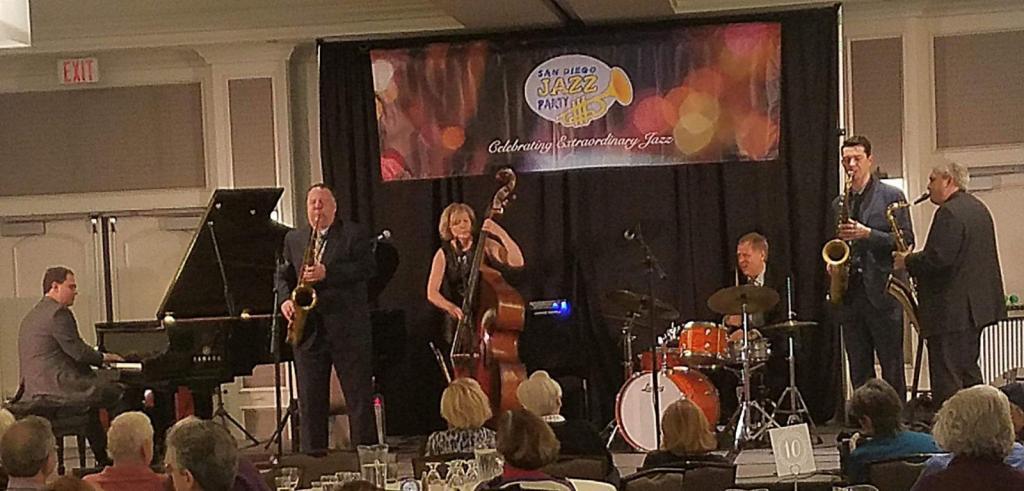 The Sunday session was a marathon from 9 am to 4:30 pm with patrons grabbing a bite here and there throughout the day. The 10 tables supplied ample space for everyone to enjoy their food and drinks during the performances.
Eddie Metz, Jr., was the recipient of this year's Legend award and his emotional acceptance was heartwarming. The grand finale had all 18 of the musicians on stage. Ed Polcer selected the tune, "Royal Garden Blues," for the final performance, which had both Eddie and Chuck Redd on the vibes and drums; they were racing around the instruments with mallets and sticks in hand. John Allred held the slide while Dan Barrett moved back and forth holding the trombone itself. Ken Peplowski went behind Harry Allen's back and stuck his arms around him to finger the sax while Harry just blew into the mouthpiece. Richard Simon held the bass and his left hand remained on the top of the fingerboard while Nicki Parrott slapped and bowed at the belly. Rossano Sportiellostarted out on the piano and then Jason Wanner, Paolo Alderighi, and Stephanie Trick joined in for an eight hand extravaganza. They were taking turns at the seat with sometimes three of them nudging the other one out!
Some highlights for me included Dan Barrett's tribute to Tommy Dorsey, "I'm Getting Sentimental Over You," with an introductory story about meeting Dorsey's son Tom Jr. Ed Polcer performed his Louis Armstrong tribute; Ed is now working with youngsters and tourists at the Louis Armstrong House Museum in New York. Chuck Redd (who has scheduled a few gigs in New Orleans March 19th and 20th at Snug Harbor and The Cove) gave us a few Mel Torme classics on the vibes. Evan Arntzen filled in as vocalist on "Samantha" and Sidney Bechet's "Georgia Cabin." Howard Alden and Nicki Parrott charmed us with a lovely duet as did Jason and Evan on several numbers.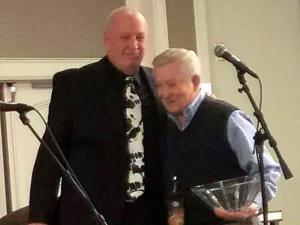 Of course, both Stephanie and Paolo delighted us with several sets showcasing their talents and expertise at four-hand piano. Danny and Eddie shared the drum spotlights on many sets.
Richard Simon tells the corniest (but cleverest) jokes and plays a mean bass. Rossano soloed on a set with some classical piano tunes that somehow morphed into the jazz classics. I was happy to see Jon-Erik again and it was my first time seeing Ken Peplowski on my favorite instrument. John Allred's musical roots were shining and Harry's sax sang in many different ways. David shared the bass sections with both Nicki and Richard on many sets and he was fun to watch.
After a delicious dinner a few blocks from the hotel on the final Sunday, we entered the lobby of the Hilton to find a dozen musicians jamming around the piano—all of them taking turns including several patrons and sponsors who brought their own ax to the after party. Pieter Meijers (leader of the beloved and soon to be disbanded High Sierra) was a sponsor (via Jazzdagen tours) and a guest musician at this beautiful event. I always cherish seeing and hearing him perform.
All in all, the Jazz Party format is a casual opportunity to enjoy many musicians in unstructured line-ups while they are playing for themselves and the audience. It also gives the patrons and sponsors a chance to appreciate the host city with various breaks during, before, or after the weekend itself. It was nice to see that many of the musicians had their spouses and/or families with them to share in the fun of a jazz party weekend.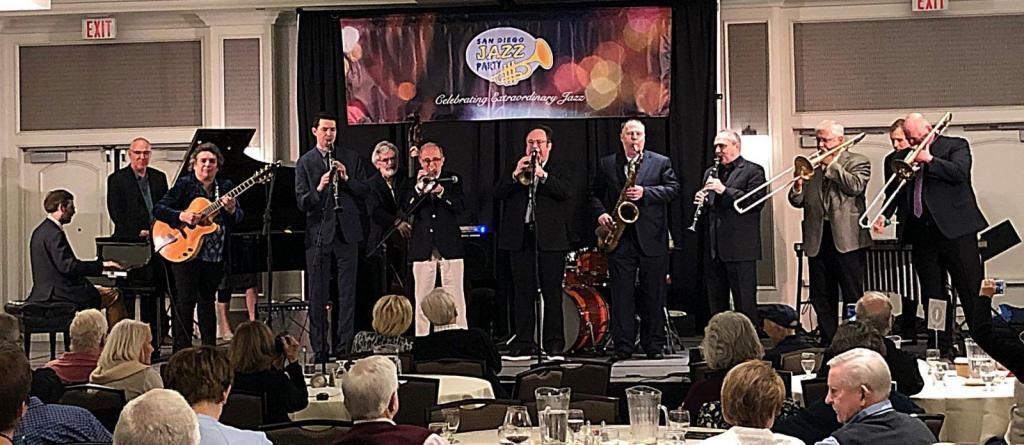 Dan Reid and his crew produce a worthwhile event and pay tribute to the founding parents of jazz parties—Dick and Maddie Gibson—who originated the first jazz party concept in 1963 when living in Colorado.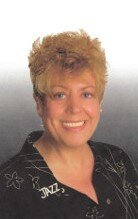 After 48-1/2 years, Shelly Gallichio is a retired Real Estate Associate Broker in Tucson, Arizona and despite growing up in Chicago, fell in love with the clarinet and the New Orleans sound at the age of three—she intends to spend the next 48-1/2 years seeking that sound! Reach her at [email protected]