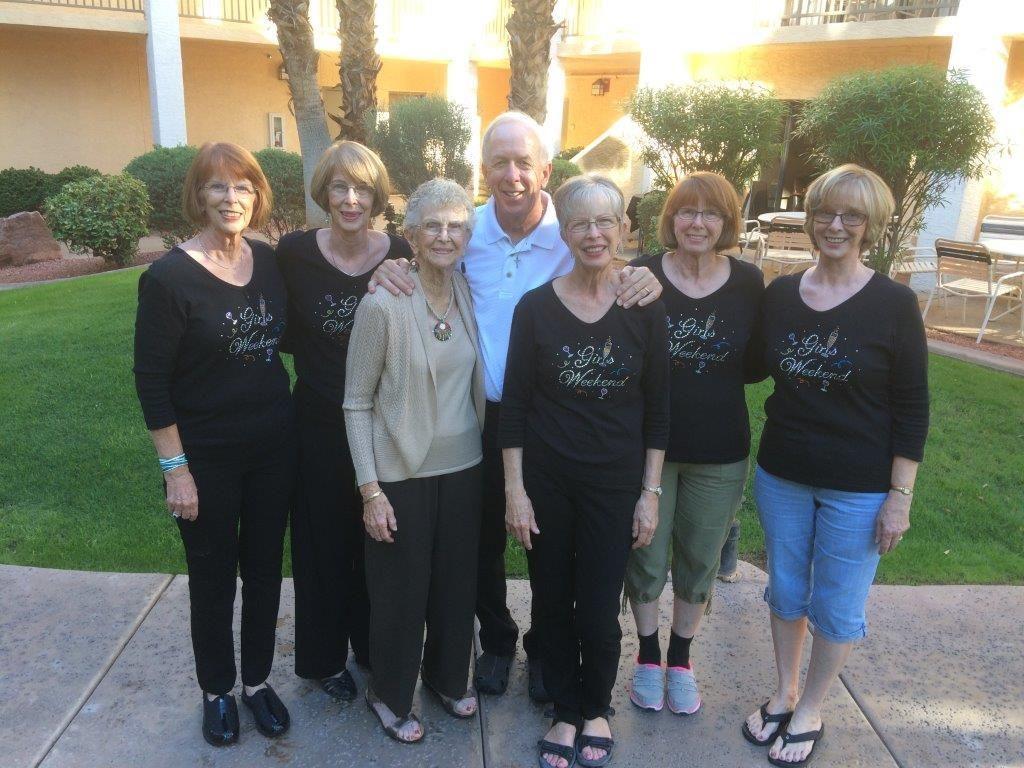 Jazz Jottings December 2016
The title of a Thomas Wolfe novel published in 1940 told us that "You can't go home again" but for 25 of the past 27 years, I've found myself at the Arizona Classic Jazz Festival, initially as a co-founder and functionary, and in recent years as a journalist reporting on two and a half days of music, dancing and good times over an early November weekend.
Festival director Helen Daley once again put together a diverse and entertaining lineup of old favorites, local bands and new faces. Fans gave the Festival high grades in emails and post-event comment sheets. Musicians love to work this Festival because of the cordial and efficient way in which they are treated with a fully-stocked hospitality room that provided meals brought in from nearby restaurants or by festival volunteers.
One of Helen's secrets is that she puts her entire family to work – four sisters and a brother, while husband Bill serves as an overall troubleshooter. The matriarch of the family, 90-year-young Bea Hadsell was on hand to lend moral support.
B.A.D. Rhythm was missing the "A" – Andy Reiss who was on the road with Vince Gill, but had a worthy replacement in Pat Borgeson on guitar, who spent seven years touring with Chet Atkins. The other members of this alphabetic trio are pianist Brian Holland and peripatetic drummer Danny Coots. The name is hardly indicative of the quality music produced by these three gentlemen and is more the product of the Coots off-beat sense of humor.
Wildcat Jazz was excited having multi-instrumentalist Mike Moynihan subbing for their regular clarinet player. A Tucson native in his late 20s, Moynihan has a growing reputation as "a superlative player and one of the brightest lights on the jazz horizon."
Joining Wally's Warehouse Waifs from Florida was Paul Scavarda (guitar/banjo) and his vocalist wife Theresa. The couple are better known as "Bakey & Betty." A native of Indianapolis, Theresa made her stage debut at the age of 2 in the arms of Yul Brynner in the touring company of The King and I.
While using a walker to get around, Wende Harston is always in colorful attire and great voice with the Queen City JB and happily settled in her mobile home in the Denver area with her pet parrot, Sami. Her new residence was made possible through the generosity of friends and jazz fans.
The Festival was dedicated to the memory of the late Jack Miller who recorded the Festival for many years and was a huge fan of both the music and the musicians.
And no festival would be complete without the presence of the ubiquitous Dewey Williams who has made a career out of volunteering at jazz festivals throughout the West.
-Looking Forward to 2017 –
The 2017 ACJF lineup offers some tasty choices with the likes of B.A.D. Rhythm, High Sierra, Cornet Chop Suey, Queen City, Dave Bennett Quartet, Stephanie Trick & Paolo Alderighi. Howard Alden, St. Louis Rivermen, Hot Jazz Pie, Wildcat, 52nd Street, Dan Reed's Dixieland Hotshots and the Sun City Stomperz scheduled to appear at the Crowne Plaza San Marcos Nov. 2-5, 2017. Negotiations are still underway with a couple additional groups.
♫ ♫ ♫ ♫
The San Marcos Golf Resort, site of the 27th annual festival, is located in Chandler, one of the fast-growing cities in metropolitan Phoenix. It has a colorful history going back 103 years to 1913 when the property was built by Dr. A. J. Chandler, the city's founder and territorial veterinarian. The hotel was the first resort in Arizona that wasn't a sanitarium or based on hot springs. When the hotel opened with its luxurious amenities such as a phone and private bathroom in each room, verandas and a rooftop teahouse, it become the destination for celebrities and the well-healed who could play golf, polo and take horsebacks rides throughout what was then billed as "the Pasadena of the Salt River Valley."
Dr. Chandler kept a herd of ostriches adjacent to the hotel as a business investment, believing the feathers would rebound as a trendy fashion statement. The flightless birds, however, only succeeded in entertaining the guests. The hotel basement that once stored the feathers is now a Prohibition-themed lounge, The Ostrich, and Chandler's 1913 Dodge coupe is on display in the hotel lobby.
♫ ♫ ♫ ♫
Cheryl Thurston reports that "Gary Church got three stints in his major artery on the right side of his heart on November 10. Everything went well! He is resting comfortably and healing. Thank you all for your thoughts and prayers!" Gary was able the play with Joe Hopkins' 52nd Street JB at the Arizona Classic Jazz Festival the week before his latest operation. As you read this, he is back playing his horn.
♫ ♫ ♫ ♫
The Sacramento Traditional Jazz Society has once again had to move its offices and warehouse to a new location due to the sale of its previous quarters. The new address is 2521 Port Street, West Sacramento CA 95691. The phone number remains the same: (916) 444-2004.
[Read several stories about the STJC here]
♫ ♫ ♫ ♫
Born Anthony Dominick Benedetto, Tony Bennett was using the stage name "Joe Bari" when he met Bob Hope who wanted him to join his USO roadshow in 1949. Hope didn't like the name and suggested "Tony Bennett." Such was the start of a legendary career that has spanned 67 years.
Now 90 and still performing 100 shows a year, Bennett recalls a disagreement with his record company back in the late 1960s. He wanted to stick with the slower tunes in the style of Frank Sinatra and Nat King Cole, while the label wanted him to do more upbeat contemporary songs. "I didn't want to do songs that would be popular for half a minute and then forgotten," he recalled. "My goal was to record lasting music that could be heard 10 or 20 years later and not sound old-fashioned. It's paid off in the long run."
Quoting from a recent interview, he tells young musicians that it takes seven years to learn to perform properly. "You learn from your mistakes. You learn what to leave out, and you make sure you don't stay on stage too long. Always leave the audience wanting more."
Good advice for those musicians – young and old – who feel compelled to play too many notes.
♫ ♫ ♫ ♫
Reviewing the recent Voodoo Fest in New Orleans, OffBeat Magazine made note of the fact that "Sadly, Baton Rouge rapper Kevin Gates was forced to cancel his Voodoo set due to an 'unforeseen incarceration.'"
♫ ♫ ♫ ♫
The veteran bass player Bill Crow tells about a musician who booked a gig a month in advance and then completely forgot about it. Luckily, the client e-mailed him some questions on the day before it was to happen, and he was reminded in time. The client was the Alzheimer's Association.
♫ ♫ ♫ ♫
"Music is like the wind. You don't know where it came from, and you don't know where it went. You can't control it. All you can do is get inside the sphere of it and be swept away."
– Eric Dolphy, (1928-64), Downbeat Hall of Fame musician
---
Online Only
For Online Only Access without delivery of the print paper sign up below.
Subscription Options
---
Print Edition
 If you'd like the PRINT EDITION, (12 monthly issues) use the following PayPal link. After your payment is complete you will be allowed to create an online account. You will receive the next mailed copy, usually shipping around the 22nd of the month. See a PDF Sample Here.