The 30th Annual Arizona Classic Jazz Festival was held the first weekend in November at the always welcoming Crowne Plaza San Marcos Golf Resort in Chandler, Arizona. This is a perfect setting with four venues for music performances including the outside patio used during the day. I always enjoy sending photos to friends and relatives in the colder climates while emphasizing the lack of coats and scarves on both the musicians and the avid listeners!
Helen Daley is the Board President of the Arizona Classic Jazz Society and is truly a hands-on Director. If she isn't arranging transportation for a musician from the Phoenix airport, she might be coordinating the logistics for a missing performer, or dancing with her ever present husband Bill or even polishing the piano after its move from one venue to another. She does not sit still for the entire weekend and she makes it look easy.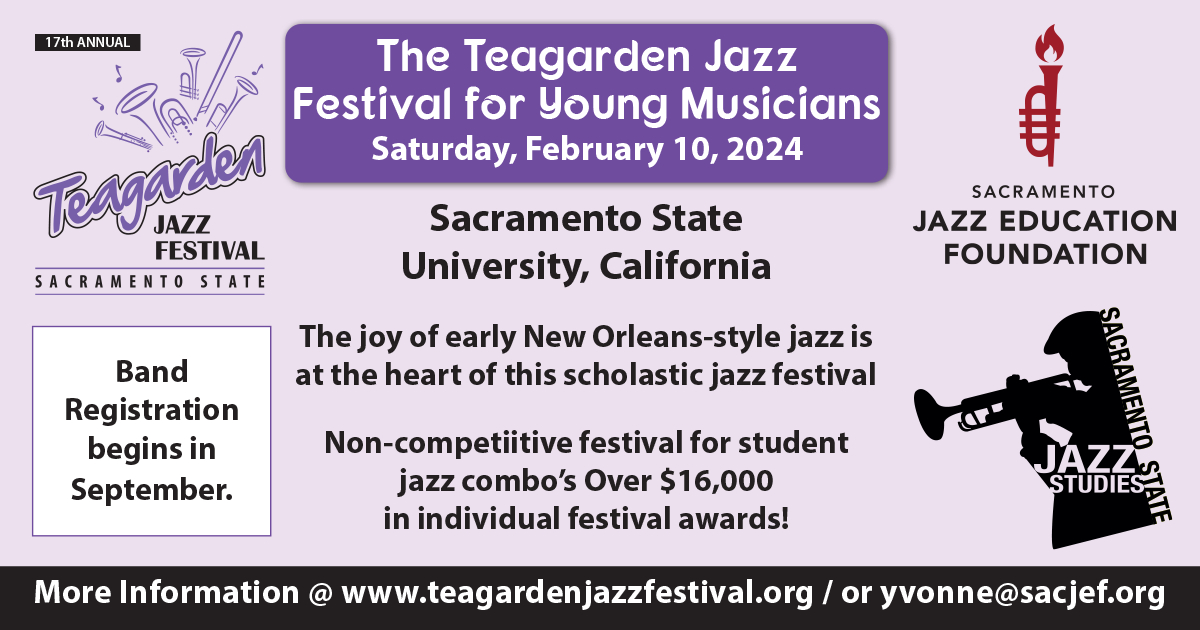 The lineup this year was full of talented individuals and groups. Howard Alden on guitar and banjo sat in with several different bands and is the ever consummate professional. "Big" B.A.D. Rhythm with Brian Holland (p), Andy Reiss (gtr), Danny Coots (dr), Pat Bergeson (gtr, harmonica) and Sam Rocha (bs) incorporates both mainstream and traditional jazz while including the audience in their conversations. It is like being in your living room with family and friends who just happen to be on a stage creating wonderful music.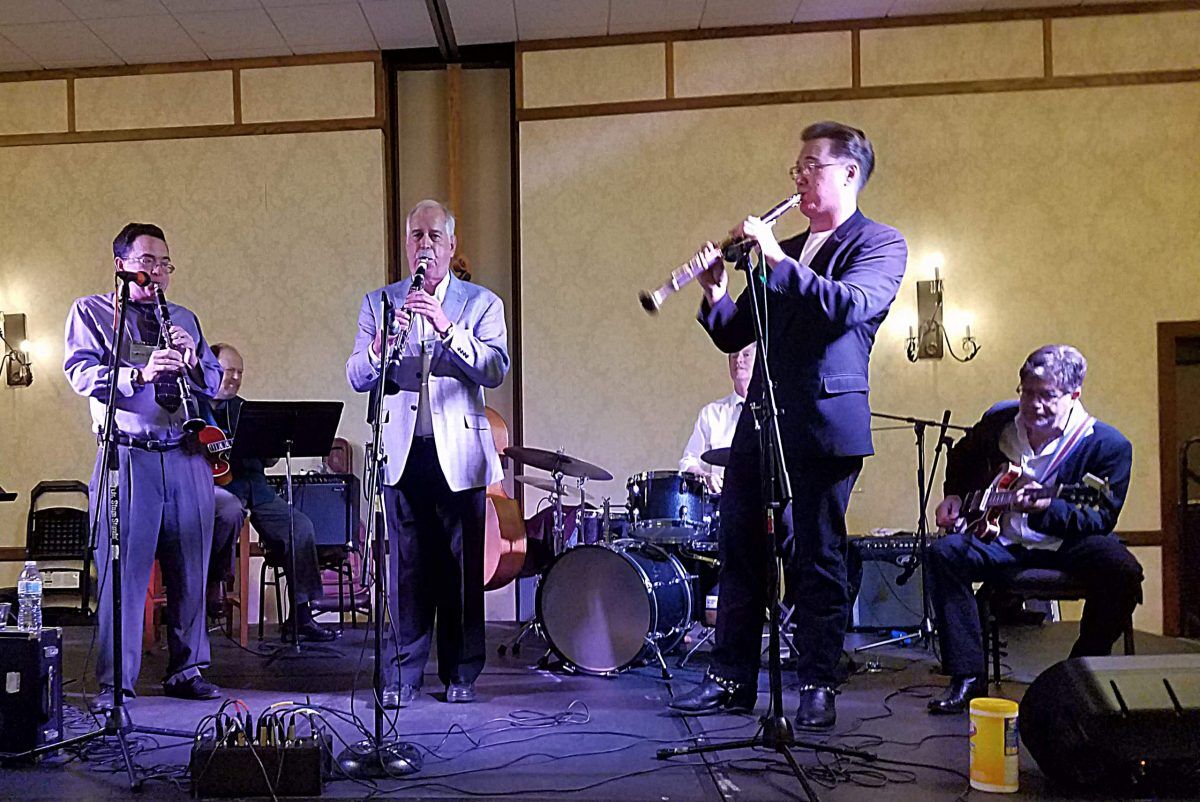 Black Market Trust was new to this festival but has been garnering a lot of interest on the circuit. Leader Jeff Radaich (gtr) with Nick Coventry (v), Brandon Laws (dr), Chris Irwin (cl) and Brian Netzley (bs). Their Django Reinhardt inspired style of gypsy jazz together with three and four part vocal harmonies has audiences enthralled and engaged in their performance.
Cheryl's Vintage Swing included Cheryl Thurston (p, v), Marc Caparone (cnt), Danny Coots (dr), Evan Dain (bs), Howard Miyata (tb), Pieter Meijers (reeds), Paul Scavarda (gtr, bj) and Theresa Scavarda (v). I was very happy to hear Pieter, Howard, and Marc with this group since High Sierra no longer exists, although Pieter has formed the Sierra Seven since then.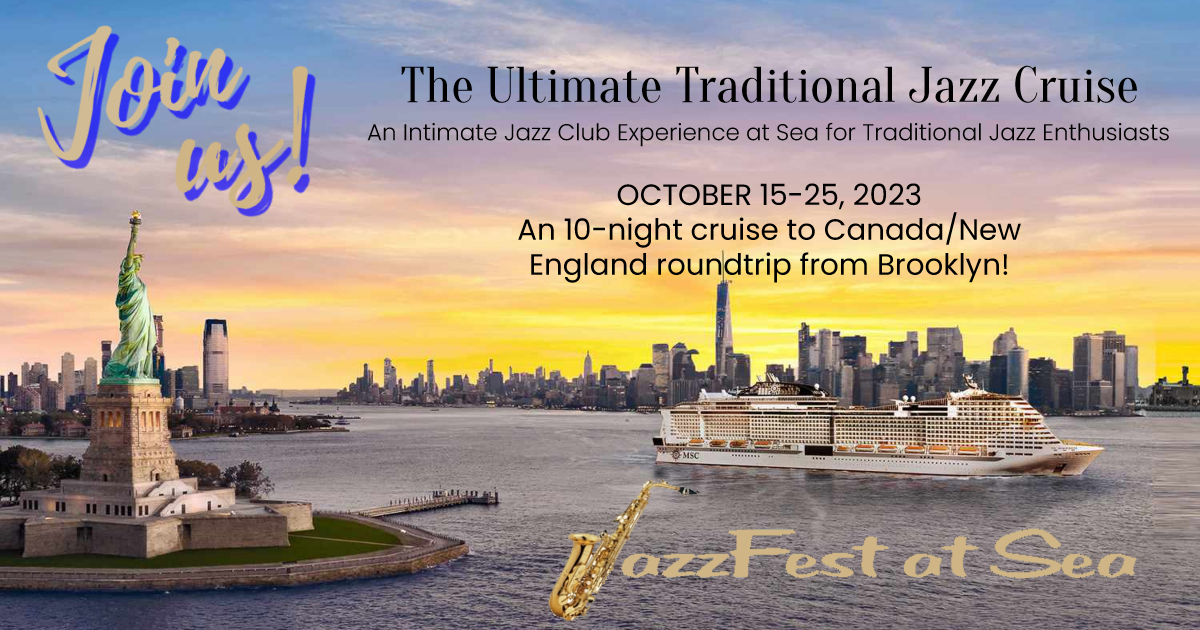 Their set of Le Hot Jazz focused on Sidney Bechet, Django Reinhardt and other French inspired numbers. This was a newly formed band with experienced members so it was fun to watch them enjoy themselves as they came (and ended!) together on classic numbers. There is nothing more entertaining than the looks on their faces as they play the music they love with their friends and their smiles as they perform for each other.
Dan Reed's Dixieland Hotshots exudes fun—with Dan (cnt) as the leader there is no way you are going to sit still. Mike Fowler (tb), Tom Haberman (dr), Matt Mooney (bj), Chuck Stewart (tuba), Elliot Ventimiglia (reeds), and Jim Whitaker (p, v) complete the line-up and their rendition of "Tiger Rag" was superb.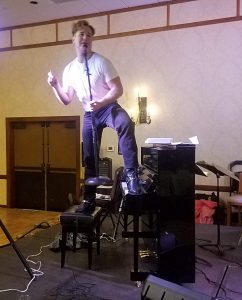 The Dave Bennett Quartet is always sure to please. With a combination of swing, blues, pop, country, rock 'n roll and original compositions, Dave Bennett (cl) is very well received. Doug Cobb (dr), Ed Fedewa (bs), and new to the group Arlene McDaniel (p) created the foursome. Arlene was remarkable in keeping up with Dave's frenetic pace and was an enjoyable addition to the arrangements. His Rock 'n' Roll set channeling Jerry Lee Lewis is a highlight and one not to miss.
The Clarinet Trio consisted of Pieter Meijers, Dave Bennett, and John Clark with the "Big" B.A.D. Rhythm on backup. This is always one of my favorite special sets and is consistently outstanding. Of course, I could wish for a Clarinet Quartet or Quintet sometime too!
The Queen City Jazz Band has been playing for over 60 years. Leader Bill Clark (tuba), Kevin Bolinger (tp), John Bredenberg (reeds), Wende Harston (v), Tony Pantelis (dr), Eric Staffeldt (tb), Rory Thomas (bj) and Hank Troy (p) concentrate on the sounds of the 1920s-1940s and their Gospel set on Sunday morning was inspiring. Wende will usually have one set devoted to the many female singers of the era and has a dynamic voice and presence, even while battling pneumonia! Her rendition of Billie Holiday's first recorded song "My Mother's Son-In-Law" was outstanding. A real trooper, we hope that she is now feeling a lot better although she did not let the audience down one bit!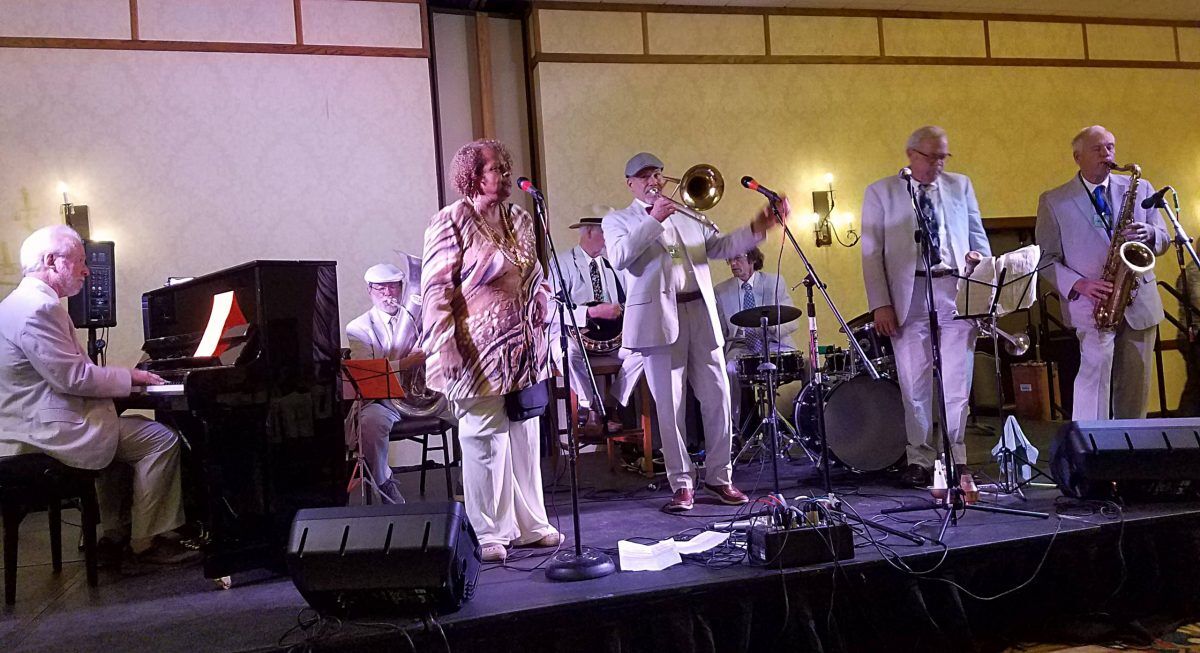 The St. Louis Rivermen was missing Noel Kaletsky on reeds but Wolverine John Clark was terrific in his place. Leader Red Lehr (sousa), Steve Lilley (cnt, tp), Jim Maihack (tb), another Wolverine Dave Didriksen (dr), Dave Majchrzak (p), Paul Scavarda (gtr, bj) and Theresa Scavarda (v) completed the band. Their tribute to all jazz Vintage To Modern encompassed many styles. Be sure to read Jim Maihack's comments on his association with the Capone's Chicago Tea Room in Sacramento, CA, as featured in the December issue of The Syncopated Times.

Slide and Strings featured Wildcat member Rob Boone (tb) and his wife Christine Vivona (harp) playing a variety of genres. With her hands strumming the strings and her feet tapping and controlling the pedals, Christine makes it look effortless. But the harp is often cited as the most difficult instrument to master and she is an accomplished musician. Rob also plays piano and their musical family includes their two sons. Besides turkey and all the trimmings, Thanksgiving at their home must be full of sounds and joyous chords!
Stephanie Trick and Paolo Alderighi are very well known on the festival circuits. Their four-hands-on piano arrangements are amazing to witness in person. The finale on Sunday night featured both of them together with Nicole Pesce (from We 3+1) and two grand pianos! So seeing 30 fingers on 176 keys was truly an experience. The songs were divided in sections and the titles introduced by one of the musicians.
This unique format (i.e., Nicole was alone and Paolo with Stephanie or if Stephanie was alone and Paolo with Nicole, etc.) created an audio delight as the songs morphed from one title to the next. At the very end of the set, all three were playing on one instrument—you had to be there!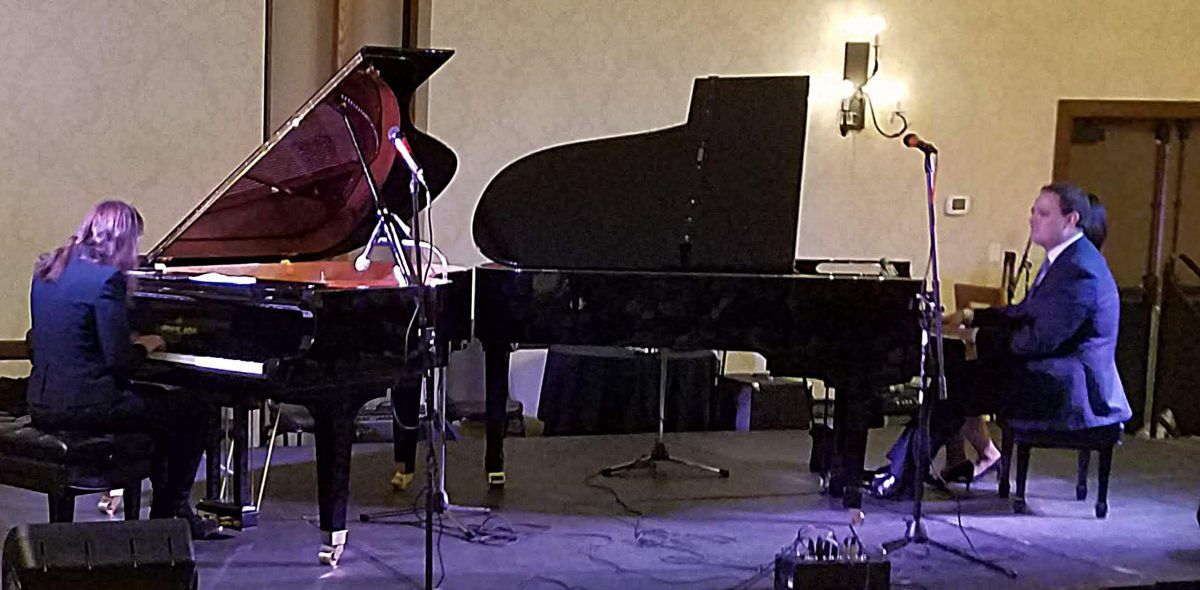 The Wildcat Jazz Band is Tucson's own and leader Rob Wright (gtr, bj), always has fun while performing. Rob Boone (tb, p), Evan Dain (bs), Rick Perone (tp), Duane Reilley (reeds), and Ray Templin (dr, p) round out the group. Rob also leads the set for the Banjo Blast which gathers all the banjo players at the festival for a rousing good time. This performance casts aside some of the jokes that banjo players have to endure in the pursuit of their craft. Pity any banjo player that is also a lawyer!

The Wolverine Jazz Band is another one of my favorites with John Clark (reeds) as leader. Bob Barta (bj) filled in for Jimmy Mazzy (refer to the front page article about Jimmy in the December issue of The Syncopated Times) and considers Jimmy his friend and mentor. With Tom Boates (tb), Dave Didriksen (dr), Jeff Hughes (cnt), Robert Langslet (p), and Rick MacWilliams (tuba), this band always outperforms. The variety of tunes together with a strong front line provides an excellent portrait of a traditional jazz ensemble. Their tribute set to the Original Dixieland Jazz Band was terrific.
Several other sets included festival regulars Sentimental Breeze, Sun City Stompers, Tom Rigney & Flambeau and We 3+1 which we were not able to attend in the busy schedule.
The Lindy Hop Dance Party on Friday and Saturday brings dozens of dancers to the festival. There are contests and lessons during the breaks in the main ballroom and small groups will visit the other two venues that have dance floors. The dancers embrace all age groups (although most are under 50) and many are of professional status. Dabney and Karen Hopkins lead the group and together with their toddlers Alice and Joe, prove that a dancing family is a happy family!
A Second Line Parade on Friday (with Cheryl's Vintage Swing and the St. Louis Rivermen) weaves in and out of the venues and down the main streets of Chandler with 50+ revelers following the band, waving handkerchiefs or pumping umbrellas. Cheryl leads the way with a pocket trumpet as other brass band instruments follow her path.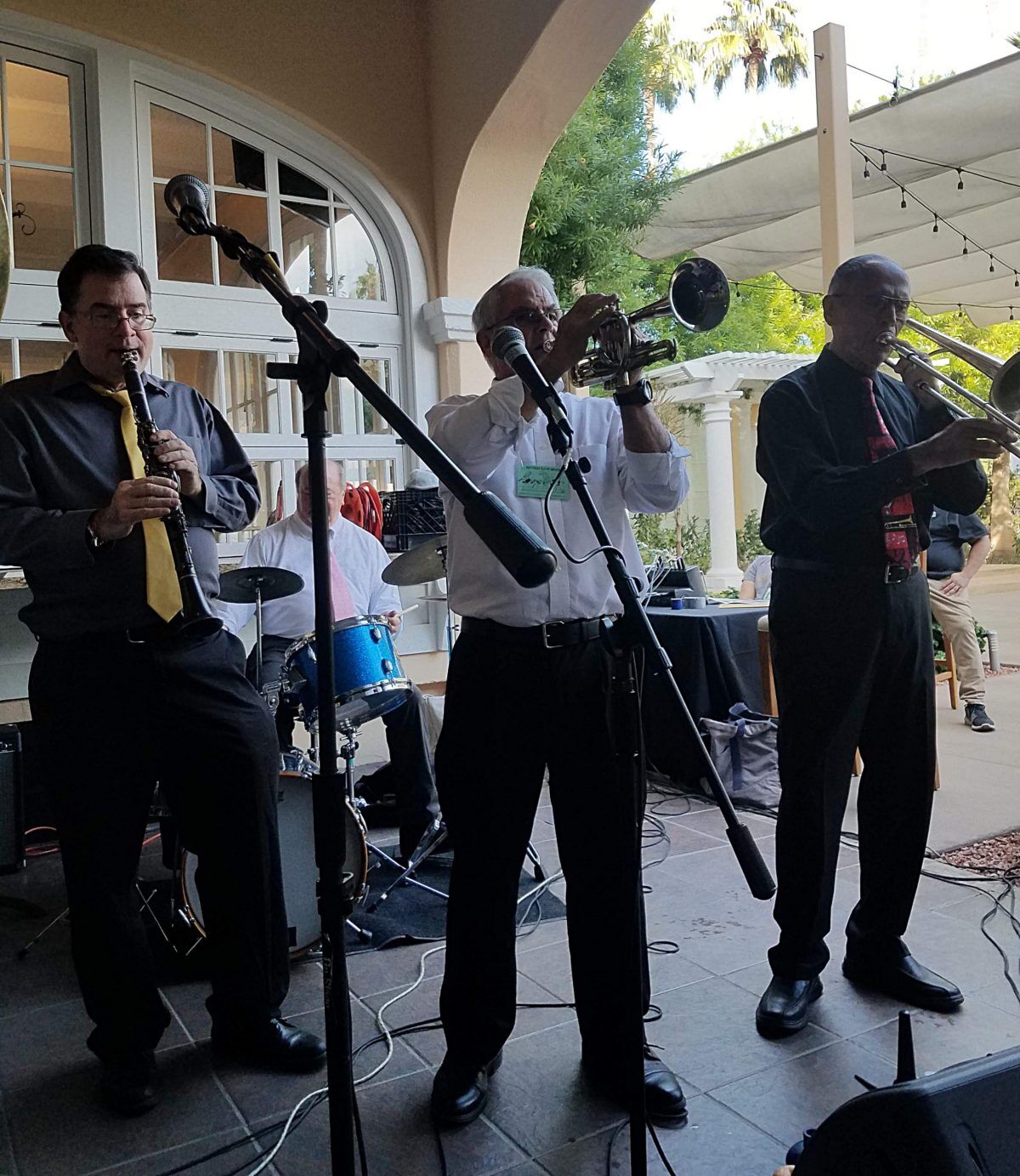 The festival officially ends late Sunday afternoon after the finale but there is an intimate "afterglow" with dinner and more music (Cheryl's Vintage Swing and guests) starting at 6:00 p.m. The seating is limited to 90 diners and musicians with lots of "jamming" in a relaxed, cordial atmosphere. With an appropriate second line and your-last-chance-to-dance tribute to New Orleans, "When The Saints Go Marching In" was the last number. It was a fitting end to a glorious weekend.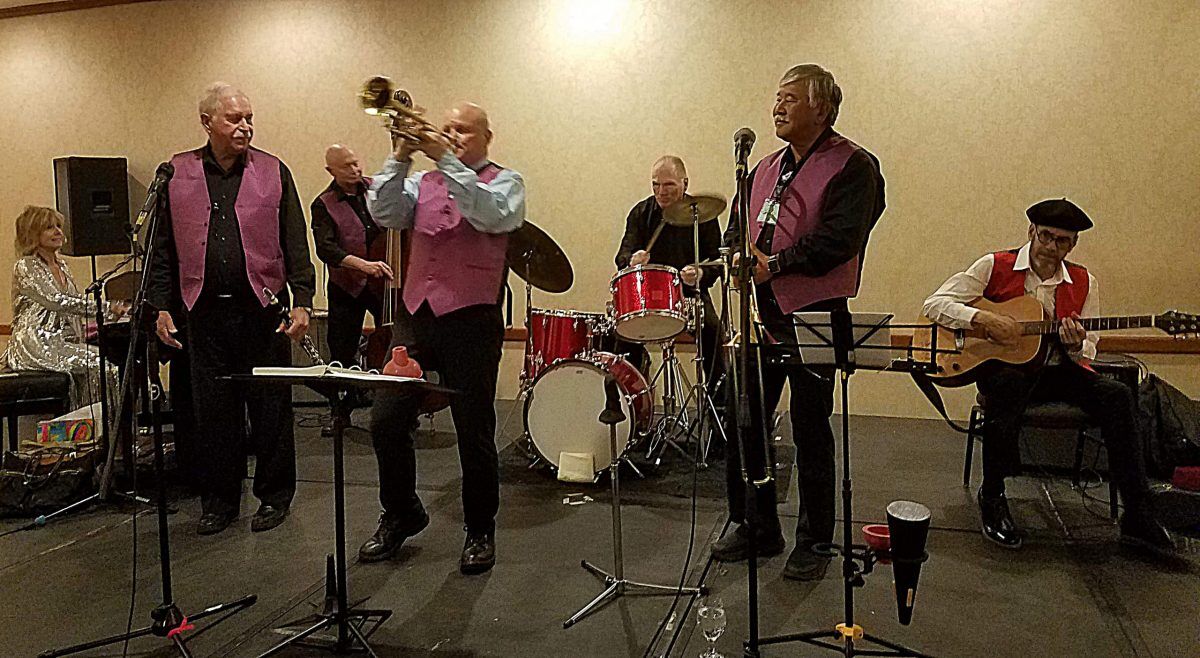 The downtown center of Chandler is charming and full of restaurants and retail shops. This is a wonderful festival to introduce to your friends who may not be familiar with this type of music venue as it offers a variety of places to visit. Often our group (this year was 18) had a few golfers who would take advantage of the nearby course, although lately the golfers don't want to miss any of the music! But a newcomer can get a chance to listen to some sets and take a lunch break in the surrounding area or do some shopping or play golf. I find it hard to believe that anyone would want to miss a note in the 40+ hours of music during the weekend, but that's just me…