In a One Day University lecture, University of Maryland professor of music Anna Celenza identified three musical masterpieces that changed America. Stating that "music does not simply reflect culture. . . it changes it," she named "The Star Spangled Banner," which defined American patriotism; "Strange Fruit," which was dubbed "a declaration of war. . . the beginning of the Civil Rights Movement;" and Graceland, a 1980s pop album that changed American domestic and foreign policy.
– Star Spangled Banner –
The story of Francis Scott Key viewing the shelling of Fort McHenry by British forces in Baltimore harbor during the War of 1812 is well known. Originally titled "The Defence of Fort McHenry," Key intended that the four verses of his poem be accompanied by a popular melody of the day, which turned out to be a waltz based on an English drinking song, "To Anacreon in Heaven," written by John Stafford Smith. An interesting aspect is that Key was said to be tone deaf and likely had a hard time carrying a tune.
Renamed "The Star Spangled Banner" and changed to a march, it soon became a popular patriotic song. The United States Navy began playing it at official events in 1889. President Woodrow Wilson further promoted its performance in unifying the country during World War I, and after 40 attempts over the years, Congress finally designated The Stars Spangled Banner as our official national anthem in 1931.
– Strange Fruit –
Originally published as "Bitter Fruit," this poem was written by Abel Meeropol (a white Jewish schoolteacher who also wrote under the pseudonym of Lewis Allen) in 1937—and later set it to music to protest racism, particularly the lynching of African-Americans. The lyrics are an extended metaphor linking a tree's fruit with lynching victims.
Billie Holiday introduced the song in 1939 at Café Society, New York City's first integrated nightclub. Professor Celanza stated, "Music has always been part of movements. Billie Holiday crafted a relationship with the song that would make them inseparable." In 1999, TIME Magazine named "Strange Fruit" as "Best Song of the Century."
– Graceland –
Singer-songwriter Paul Simon (of Simon & Garfunkel fame) became fascinated by a bootleg cassette of South African township music which was a mixture of musical styles, including pop, a cappella, zydeco, isicathamiya, rock and mbaqanga. He visited Johannesburg in 1985 and spent two weeks recording with South African musicians in spite of the cultural boycott imposed against South Africa by the United Nations because of its policy of apartheid, a system of racial segregation.
At first, Simon used the title Graceland as a placeholder title because it reminded him of Elvis Presley's mansion in Memphis, Tennessee, and his Sun Records sound. But the name stuck, and the album sold 16 million copies worldwide and won a 1987 Grammy Award for Album of the Year. Simon was criticized for violating sanctions that were intended to effect change in the country, no matter his artistic intentions. Ultimately, Graceland helped raise awareness to the apartheid struggle and exposed many South African musicians (like Miriam Makeba) to a global audience. In 2007, the National Recording Registry designated the album as "culturally, historically, or aesthetically important."
– Hamilton –
In the question-and-answer period, Professor Celenza made reference to Hamilton, the hip-hop, rap musical, that she said fuses American history with current politics, especially the nation's treatment of immigrants. Referring to the show's interracial cast, she said, "It's about the message, not how the characters look."
Professor Celenza is the author of Jazz Italian Style—From its Origins in New Orleans to Fascist Italy and Sinatra, in which she explores an era in music history when politics and popular culture collided with national identity and technology.
♫ ♫ ♫ ♫
Ricky Riccardi, director of research collections at the Louis Armstrong House Museum in Queens, New York, is currently working on his second Armstrong book, which will be titled Heart Full of Rhythm and will cover Satchmo's life and career from 1929 to 1947. What A Wonderful World: The Magic of Louis Armstrong's Later Years was Ricky's first book, published in 2011.
♫ ♫ ♫ ♫
Even at the age of 83, Herb Alpert still puts on a great show in which he combines the audio of his music and the visual of his bold, abstract, expressionistic paintings, which were displayed on multiple screens above the bandstand at a recent sold-out concert attended by 1,500 in Scottsdale, Arizona. A painter and sculptor for over four decades, Alpert has always acknowledged a connection between music and visual art in the creative process.
The concert opened with a video of Alpert advocating how we need to make a better world, with the sound of Louis Armstrong softly singing "It's a Wonderful World" in the background. This opening set the tone for the evening. Then Alpert, wife-vocalist Lani Hall, and a three-man rhythm section came on stage and proceeded to hold the audience's rapt attention for the next 105 minutes.
Part reverie, part musical experiment, the show offered up a potpourri of jazz, bossa nova, Latin, George Harrison's "Something," some casual conversation with the audience, Burt Bachrach's "This Guy's in Love with You" (with the audience singing along), and yes, a sampling of Tijuana Brass tunes. It's a must-see show!
– Winner of 9 Grammys –
Over the years, Alpert has sold 72 million records worldwide and won nine Grammy Awards. His Herb Alpert Reimagines The Tijuana Brass has been on the Billboard charts for 12 weeks, peaking at #6.
He is the consummate musician, focusing with exquisite detail on the melody and telling a story with sound. He is quoted as saying, "The beauty part of music is that there's only 12 notes in the Western lexicon. Mozart had those notes as did Beethoven. Thelonious Monk had those notes. So did Charlie Parker. There's so many different ways to interpret those 12 notes, not to mention the amount of rhythms and nuances that you can do with those 12 notes. It's fascinating."
As one reviewer wrote, "To say that Herb Alpert is iconic is to understate the impact he has had on music, both as a musician and a producer. In all of his work, his art, his sound, his philanthropy, he has remained unabashedly idealistic. In these difficult times, his spirit is exactly the tonic we all need."
♫ ♫ ♫ ♫
The latest collection of jazz memorabilia to be digitized is housed at the Stanford University Library and preserves material related to the West Coast Jazz Revival as accumulated by the San Francisco Traditional Jazz Society. The SFTJS Foundation is dedicated to the preservation of materials related to San Francisco's Great Jazz Revival. The archive contains thousands of materials (i.e., music, scores, photos, letters, etc.) that tell the story of the movement, much of which has not been previously accessible to the public.
The website is hosted at exhibits.stanford.edu/sftjf. The on-line exhibit has been named the Charles N. Huggins Project, honoring the late president of See's Candies who was a SFTJS founding member. His widow, Donna Ewald Huggins is a current director along with Jim Cullum and William Carter. Clint Baker, John Gill, and Hal Smith are listed as curators of the Collection
♫ ♫ ♫ ♫
Banjo Hall of Famer Cynthia Sayer continues to add to her collection of awards. This past December she became a triple Silver Medal winner of the Global Music Awards. Coming up on March 11, she will be the recipient of a 2019 Bistro Award in the singer-instrumentalist-bandleader category. At the same event, singer-songwriter Judy Collins will received the organization's Lifetime Achievement Award. The New York-based Bistro Awards have been recognizing and nurturing cabaret, jazz and comedy artists for the past 34 years. Last November, Cynthia took her Joyride Band for its second tour of China, with its American Music Revue bringing the authentic flavours of American music to thousands of Chinese in a mix of concerts and community outreach in six cities.
♫ ♫ ♫ ♫
Phil Crumley reminds us that the Natural Gas Jazz Band is celebrating 49 consecutive years of playing its style of traditional jazz, making it the oldest continuously-performing jazz band in the San Francisco area. Two of the original members (Crumley and Bob Murphy) are still active in the band. If the youngish pianist Rich Owens is excluded, the remaining five current members average 84.2 years in age. The band is based in Marin County and performs monthly in Novato, CA. A 50th anniversary celebration is planned for 2020.
♫ ♫ ♫ ♫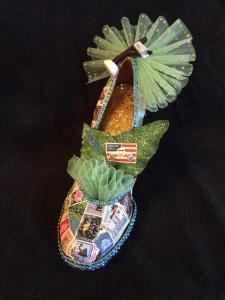 Banu Gibson, the chanteuse of the Bayou, writes: "When Jack Weaver, a fan of mine, would correspond, he would always use vintage stamps on the envelope. I would tear off the stamp corner and keep them in a folder. Later as I started to collect commemorative stamps that were music or entertainment-related, I displayed them in a photo album. And there they sat, hidden from view.
But no more! I'm using my accumulated treasures on my Muses shoes this year. There's Greta Garbo and Shirley Temple, Caruso, and W. C. Fields; stamps from Norway, England, Australia, and other faraway places that can now be seen and enjoyed."
Check out last year's shoe: Krewe of Muses Shoe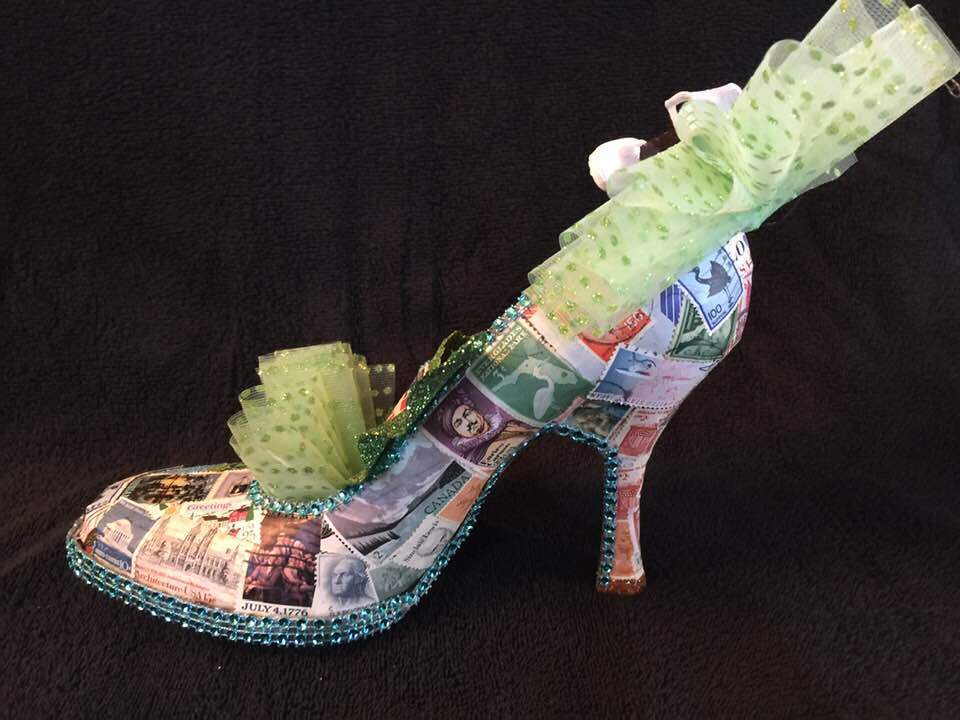 ♫ ♫ ♫ ♫
The Pikes Peak Jazz & Swing Society has named Ed Hureau as the recipient of its annual Alice Award. Trained by his father on the clarinet and sax, Ed formed his first band and joined the Chicago Heights Musicians Union at the age of 15. He soon got in trouble with the Union for playing at the wrong club with the wrong musicians. For five years he was a member of the 505th USAF Band at Chanute AFB, and then 20 years with the USAFA Band Falconaires jazz ensemble, eventually becoming its Musical Director and Group Leader. After retiring from the Air Force, he did bookings for the Air Force Museum in Dayton, Ohio, and for resort hotels, including the Broadmor and Cheyenne Mountain Resorts.
♫ ♫ ♫ ♫
"You can read all the textbooks and listen to all the records, but you have to play with musicians that are better than you." – Stan Getz
---
Where we can link directly to an artist, publisher, or record label when mentioning an item we do so. For items where this is not possible, we link to Amazon. "As an Amazon Associate I earn from qualifying purchases."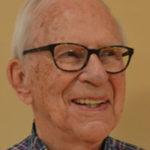 Lew Shaw started writing about music as the publicist for the famous Berkshire Music Barn in the 1960s. He joined the West Coast Rag almost thirty years ago and has been a guiding light to this paper through the two name changes since then as we became The Syncopated Times.  47 of his profiles are collected in Jazz Beat: Notes on Classic Jazz. Volume two, containing profiles from 2013-2016 will be available on Amazon soon. He taps his extensive network of connections and friends throughout the traditional jazz world to bring us his Jazz Jottings column every month.