Earl McKee, beloved tubist and vocalist for the High Sierra Jazz Band, has published his second book. (photo by Amy Heintz)
For the past 40 years, jazz fans have known Earl McKee as the tall rancher in the black cowboy hat from Three Rivers, California who plays a mellow sousaphone and sings classic vocals for the popular High Sierra Jazz Band. What they may not know is that Earl (along with his wife Gaynor) is also an author.
Echoes of Blossom Peak: Cowboys, Horsemen and History of Three Rivers is the title of his first literary effort, published in 2013. Now we have Echoes of Three Rivers: Landmarks and Lore, a 364-page paperback on which Gaynor and Earl collaborated, with editorial assistance by Carol Nadine McGrew.
A review in The Kaweah Commonwealth weekly tells us: "There is only one reason that someone should endure the painstaking process of writing a great book—they have something important to say. This recently-published book is the most comprehensive work ever produced documenting the people, place and events of Three Rivers and Kaweah Country."
The book is available through Amazon, which provides the following synopsis:
"Earl A. McKee, Jr. is a great story teller and having lived his 85 years in Three Rivers, California, he has a lot of stories to tell. Reading his first book, Echoes of Blossom Peak, is like sitting around a campfire and listening to Earl talk about the mountains and people he loves."
"In Echoes of Three Rivers, Earl spins his tales around landmarks that paint a living picture of the old days. Into his memories of raising horses and cattle and packing mules into the High Sierra, he weaves vivid portraits of pioneers, their visions and wild ventures that drew them here."
"Gaynor, Earl's wife, joins in telling her own story of dancing through life on a cattle ranch. Gaynor and Earl were toddlers when they first met, and they've celebrated over 65 adventurous years of marriage. With creative flair and clever wit, Gaynor cooked for cowhands, raised a family, trained dancers, and taught school. Their humor is contagious, their musical talents exceptional. Springtime jazz festivals that echo in the canyons of the Kaweah had its start on their old ranch. Three Rivers is a small community with a big history. Earl has packed a lot of interesting experiences and amazing adventures into Echoes to make it a fascinating and enjoyable read."
♫ ♫ ♫ ♫ ♫
One of the traditions that is part of the North Carolina Jazz Festival has the all-star musicians putting on master class workshops and demonstration concerts at three local schools as part of the group's educational outreach efforts. According to NCJF president Sandy Evans, "When the visiting musicians explain the role of each instrument and the dynamics of the genre, it opens up a whole new world for the students. They begin to understand that jazz is a conversation between musical instruments, and the kids really love it. We may be talking to future musicians as well as young people who hopefully will become part of future jazz audiences." High school students who participate in the master classes (which cover seven instruments plus vocals) get free tickets to the Friday night concert. Last year 55 of the 94 class participants took advantage of the offer. The 38th annual Festival will take place at the Wilmington Hilton Riverside Hotel February 1-3, 2018.
♫ ♫ ♫ ♫ ♫
A note from Wesla Whitfield following the announcement of her retiring from active performing: "So many people have emailed and written and phoned in response to the announcement of my illness and retirement, and I thank each and every one of you for this outpouring of support and caring. It is a big decision, but I feel sure it's the right one as my whole breathing/singing balance deteriorates. My best efforts to prepare just didn't seem to make it anymore, and I never knew what sound was coming next—scary!"
"This is a big transition to make, and yet I feel confident that it will be resolved. Thank you all for your encouraging thoughts and words. I treasure each one." – Love Wesla.
♫ ♫ ♫ ♫ ♫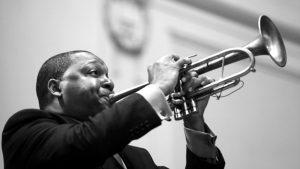 While acknowledging the many artistic changes impacting the jazz world today, Wynton Marsalis, founding artistic director for Jazz at Lincoln Center in New York City, maintains that jazz is a classical music with a fixed roster of heroes and a nonnegotiable rhythmic foundation. He commented, "There's always going to be new things that people do, but these forms still have jazz as their roots."
JLC debuted its 30th season in September with a concert featuring compositions by Jelly Roll Morton. Its stated mission is performance, education and advocacy—creating a global community. JLC educational programs reach thousands of schools nationwide, and most of its concerts are live-streamed online. The Essentially Ellington program provides jazz curriculums to just under 5,000 high schools, more than double the total of a few years ago.
♫ ♫ ♫ ♫ ♫
Michael Steinman, known as a thoughtful observer of the passing jazz scene, had an appropriate Facebook posting entitled "BUT IS IT JAZZ?" "DOES IT MATTER?" or "THE JUDGE PASSES SENTENCE," which warrants sharing with our readers:
"I had an email conversation with a musician—expert on his instrument and with a deep immersion in a wide range of music—about a performance I had recorded of his . . . a powerful exposition of a piece of late Sixties 'popular music,' which he played splendidly. He wrote me with some concern, wondering if his performance was, in fact 'jazz.'
"I wrote back to assure him that it was both beautiful and memorable, and that was what mattered. Definitions and categories can be useful: If you have a celiac disorder, it is necessary to learn the ingredients on the package so you know no wheat is hiding to attack your body . . . but in art?
"I know many listeners who set up boundaries. This 'style' is 'too modern,' so they avoid it; this is 'old-fashioned,' so some will close a door on it. Others see the racial profile of the musicians or the audience and make up their minds that way. Too many old folks in the crowd? Can't do that. And so on. Not enough players of the approved color? Oh, no!
"Perhaps the questions should be, 'Does this musical performance make me feel glad to be alive? Does it stir something in me? Does it have its own logic and beauty? Am I happier as a result of it? Will I remember it in 10 minutes?"
"He ended by citing two examples of 'beautiful music,' concluding 'According to some classifiers and dividers, one is jazz, the other isn't. Do such rules really matter?'"
Well said, Michael! His thoughts are typical of the response I get from so many of the musicians I have interviewed over the years and who refuse to categorize the style they are playing. For them, it's simply music.
♫ ♫ ♫ ♫ ♫
Best advice: "Be yourself. Every one else is taken."
---
This is what our print edition feels like. If you want good news to read with your morning coffee, order a print subscription. You'll get full online access to our archives, web extras, and our next issue will arrive at your door. Online only access to all of our original material is also available! Support Hot Jazz Journalism- Subscribe
Subscription Options
---
Or get the Print Edition with Online Access. To get the print edition of The Syncopated Times use this Paypal link. After you pay you will be issued a coupon for free online access.