Some folks are content to run things from behind the scenes, Justin Ring was one of these. Just as with Eddie King, Ring's name appears in record ledgers thousands of times, and not just for a single company. Ring, though mostly associated with Zon-O-Phone, worked for the following companies: Columbia, Lambert, Victor, Edison, Phono-cut, Rex, Okeh, and Decca. This is likely only a share of companies that Ring devoted himself to during fifty years in the music business. Ring's name crosses the border between collectors of early disc records and collectors of classic ragtime sheet music. He was a fascinating character, who always seemed to be in the shadow of the larger personalities at the early recording studios.
Despite the seemingly endless output of Ring, he still remains a mysterious figure, likely due to his own personality. He was born Justus Ringleben, Jr., on June 28th, 1876 to an old musician of the same name and a much younger woman named Rosa. His father was just about aged 50 when his first child Justus, Jr., was born, and he was the oldest of three. It is not known what Justin's father played, but in a short bio on Justus, Jr., from The Focus, dated 1903, his father was said to have been a prominent arranger and writer for publishers like Oliver Ditson and Carl Fischer.
Justus and his two siblings grew up on the lower east side, just a block away from the heart of the Bowery. One can only imagine the horrors he saw and hot music he heard growing up there. Likely by the obliging of his aging father, Justus, Jr., was helpless but to join the music business, to carry on his father's name. It is not known when he started playing music, but according to the article in The Focus, he was writing arrangements as early as age 14 (c.1890).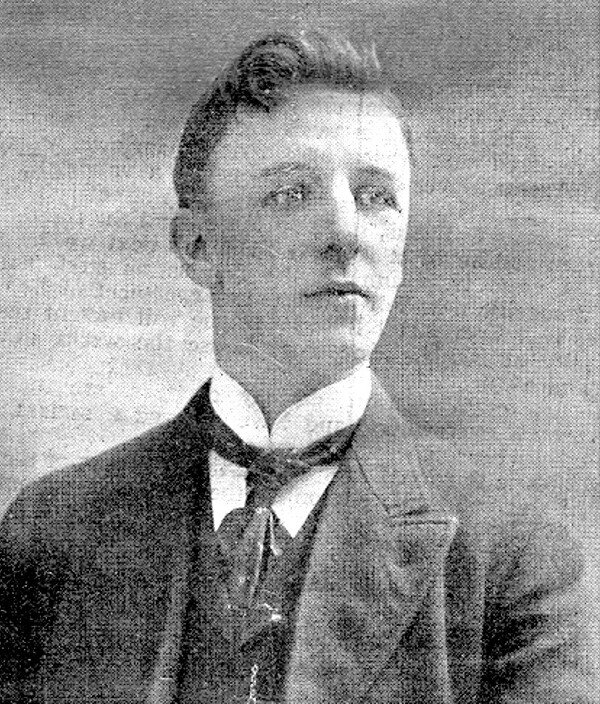 He received piano and violin lessons from prominent men in the business and quickly earned high regard from the older musicians in the city. With the rough and low atmosphere of the Bowery around him, he developed a unique style that some would argue was ahead of its time. He just happened to be the perfect age to pick up the ragtime bug right as it was starting to make its way through metropolitan areas between 1893 and 1896; this would later prove valuable in the recording labs.
Around 1898, twenty two year old Justus made his way into the budding community of recording stars. In the previous year, the major record companies went scrounging around New York and surrounding areas for hot young "rag" pianists to work for them. They managed to pick up Fred Hylands fresh out of Chicago, and it seems that Hylands' odd but addictive style made an impression on many future studio stars, young Justus was likely one of these.
In 1899, the new Universal Talking machine company (the formal name for Zon-O-Phone) sprouted up like a weed in the exclusive garden of the recording business. According to Jim Walsh and Fred W. Hager's own writing, Ring became a staff member of the new Zon-O-Phone company right at the start. This would be the beginning of a half century of friendship both in business and personal terms.
In 1900, the young Zon-O-Phone company was booming, recording dozens of experimental records every month by heretofore unknown artists, "one hit wonders" as we would call them now. And the accompanist behind most of these oddball performers was Justus Ringleben, still an unknown amateur composer at the time. Ringleben was soon taken under the wing of Fred W. Hager, who by then had already been an established bandmaster in the competitive field of the military band. Thinking back to Ringleben's upbringing, it is possible that he was a troubled young man, with little support from his father who was fading fast, he had to fend for himself amongst the gangs and goons of the old Bowery. Keeping this in mind, Hager would have assumed taking him in and keeping him amply employed for Zon-O-Phone was wise. Ringleben was to follow Hager's every move.
When Hager took his orchestra and repertoire to the Columbia Phonograph Company (which at this time was using the alias Climax on disc records) in 1901, Ringleben came along. He starts to show up in group photos taken from 1901 to 1906, his name labeled modestly. It took until 1902 for his first few pieces to be published, albeit by his and Hager's own publishing firm, but it was a start. Ringleben's pieces and arrangements began to spread to each recording company, as this is what he was chiefly employed to do under Hager's reign, write and copy arrangements. In 1903, he finally composed his first rag, an interesting folk-styled slow drag titled "Jovial Joe." This piece was recorded by every company in 1903 and 1904, and gained him his first major success other than being the arranger for Hager's 1903 mega hit "Laughing Water."
He continued to write hundreds of arrangements for each record company he worked for, while coexisting in the Columbia studio with Fred Hylands in 1902 to 1905 or so. In 1906, his most well known rag was published, "Sweet Potatoes." Some ragtimers and collectors of today know this rag for its eccentric composition and folk rag progressions, as well as the slow drag descriptor, it was with the publication of this piece that he finally had established his new nom de plume Justin Ringleben. This aggressive and rough style can be heard on hundreds of Zon-O-Phone records during the final years of the piano accompaniment era (1902-1906). When Hager "left" Zon-O-Phone in mid-1906, Justin stuck around a little while longer, to continue writing arrangements for the new orchestra director Eddie King.
It is unclear what Ringleben was up to in terms of employment between 1906 and 1912, though he was getting pieces published here and there, one being the popular "Virginia Two-Step." Outside of music, it took until 1909 for him to marry a woman named Isabelle and start a family, by then he was in his mid-30s, quite late for the era. This commitment is most likely why he drops off from press coverage before the beginning of the 1910s. He started to make appearances in recording press again around 1915, as he resumed writing pieces with Hager and writing arrangements for him.
Around 1916 Ring and Hager decided on a very clever pseudonym for their pieces together, Milo Regá. This name became an important one on records in the 1920s, and it began with pieces like Ring and Hager's 1917 oddity "The Mule Blues." In 1918, Hager moved from the Rex-McKinley record company over to the newly formed Okeh company. Hager became the sole lab director for this company, and Ring became the studio A and R man.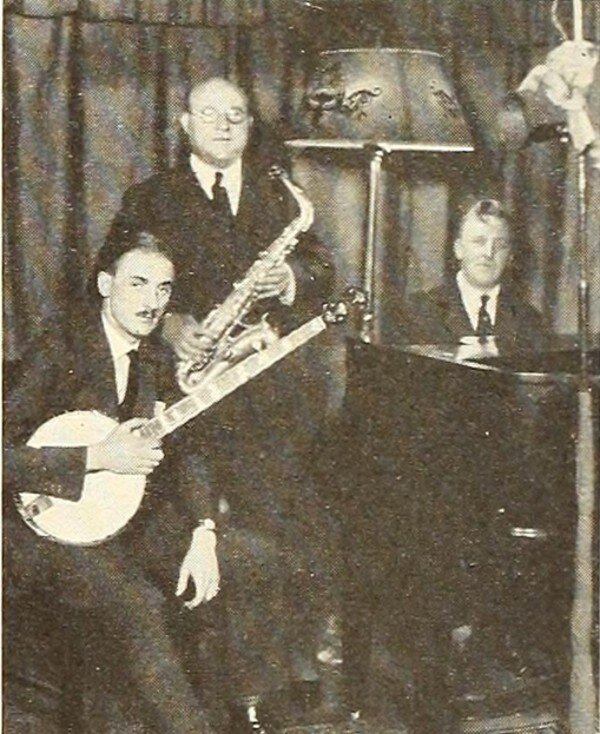 Ring was featured uncredited in a few studio photographs around 1920 to 1922; one of these photos includes a young Harry Reser with a five-string banjo. Ring hung around the Okeh studio until the very end, being part of a lot of significant recordings in their studio (but not the famous field recordings, later in life Hager claimed responsibility for those). His name shows up on dozens of Okeh labels as a pianist and percussionist, he even found a way to whack around a woodblock on a few of Clarence Williams and Fats Waller's first recordings.
When Okeh fell at the beginning of the 1930s, he went along to Decca to make a handful of records with his own orchestra, recording mostly old songs of his youth, and an occasional hot number of the time. It is unclear what exactly Ring did while at Decca, but a master of a Fletcher Henderson take from 1934 survives with Ring's own writing on the original cardboard slip, the writing claims that he mixed that particular recording. While he was working for Decca, he was featured in various weekly radio programs running sound effects and writing melodramas.
Even in the 1930s and into the mid-1940s, Ring was writing music with his old buddy Hager. Music from as late as 1945 still carries both their names together. A booklet from Hager's personal papers survives with dozens of pages filled with song lyrics, all the words were typed up by Hager, but on almost every page, Ring's name is still present, and this artifact dates from c.1935-1945.
They seemed inseparable, it is rare to find photographs of them not together. One can only guess what it was that kept them together for so long. Inside and out of the studios, they were friends to the very end. Hager moved to Florida in 1957, and Justin followed suit, moving to the same region in the state. Hager died the next year, though Ring stuck around for a few more years. He died in 1963, at the remarkable age of 87, outliving his fellow studio pianists by several decades. It is interesting to note that Ring's youngest daughter Marion died in 2010, having lived just as long as her father.