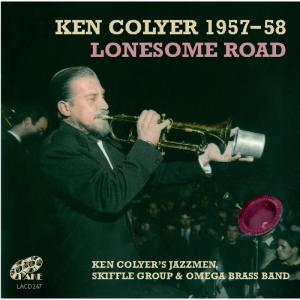 Ken Colyer was an important force in British jazz for decades. Inspired by George Lewis and Bunk Johnson, his trumpet playing and his band were a bit more primitive than most British bands of the time but full of honest feeling and pretty adventurous within the genre's boundaries. Lonesome Road 1957-58 is a double CD that features Colyer in three very different settings.
The first four numbers have his septet with clarinetist Ian Wheeler, trombonist Mac Duncan, and pianist Ray Fowley reviving four rarely-performed rags (including "Fig Leaf Rag" and "Kinklets") in credible if not flawless performances. However the band gets to cut loose on two jazz sessions, giving plenty of spirit to such numbers as "Gatemouth," 'Bill Bailey" (which includes the verse), "Swanee River," "Oh You Beautiful Doll," "Dinah," and unusual versions of "All Of Me" and "Over The Rainbow" (the latter taken uptempo). The ensembles are joyous and the solos display plenty of personality.
Colyer was one of the founders of the skiffle movement, occasionally singing blues, folk songs, and country blues while playing guitar with his rhythm section. He is featured in that format on seven songs including "Nobody Knows The Trouble I've Seen," "Midnight Hour Blues," and "This Train."
In addition, the twofer concludes with an influential session by Ken Colyer's Omega Brass Band which is considered the first New Orleans style brass band recordings by a British group. The 11-piece band plays very much in the tradition on such numbers as "Panama," "Tiger Rag," "Over In Gloryland," and "Bugle Boy March" and the results are consistently exciting, wrapping up an excellent all-round overview of Ken Colyer during one of his peak periods.
1957-58 Lonesome Road (Lake LACD 297, 33 selections, TT = 2:33:21) www.fellside.com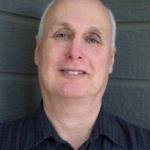 Since 1975 Scott Yanow has been a regular reviewer of albums in many jazz styles. He has written for many jazz and arts magazines, including JazzTimes, Jazziz, Down Beat, Cadence, CODA, and the Los Angeles Jazz Scene, and was the jazz editor for Record Review. He has written an in-depth biography on Dizzy Gillespie for AllMusic.com. He has authored 11 books on jazz, over 900 liner notes for CDs and over 20,000 reviews of jazz recordings.
Yanow was a contributor to and co-editor of the third edition of the All Music Guide to Jazz. He continues to write for Downbeat, Jazziz, the Los Angeles Jazz Scene, the Jazz Rag, the New York City Jazz Record and other publications.