Chris Tyle's Recordings Available
To the Editor:
I read Hal Smith's excellent interview with Chris Tyle, and the fascinating history of his life in jazz, in the July issue of The Syncopated Times. Your readers may be interested to learn that most of the CDs that Chris recorded for Stomp Off Records are not out-of-print but are still available. Chris is featured with the Silverleaf Jazz Band, Down Home Jazz Band, Smith-Tyle Frisco Syncopators, and John Gill's Dixieland Serenaders (vols.1 and 2). Best wishes for a happy and safe 2021!
Erda Erdos
Stomp Off Records
York, PA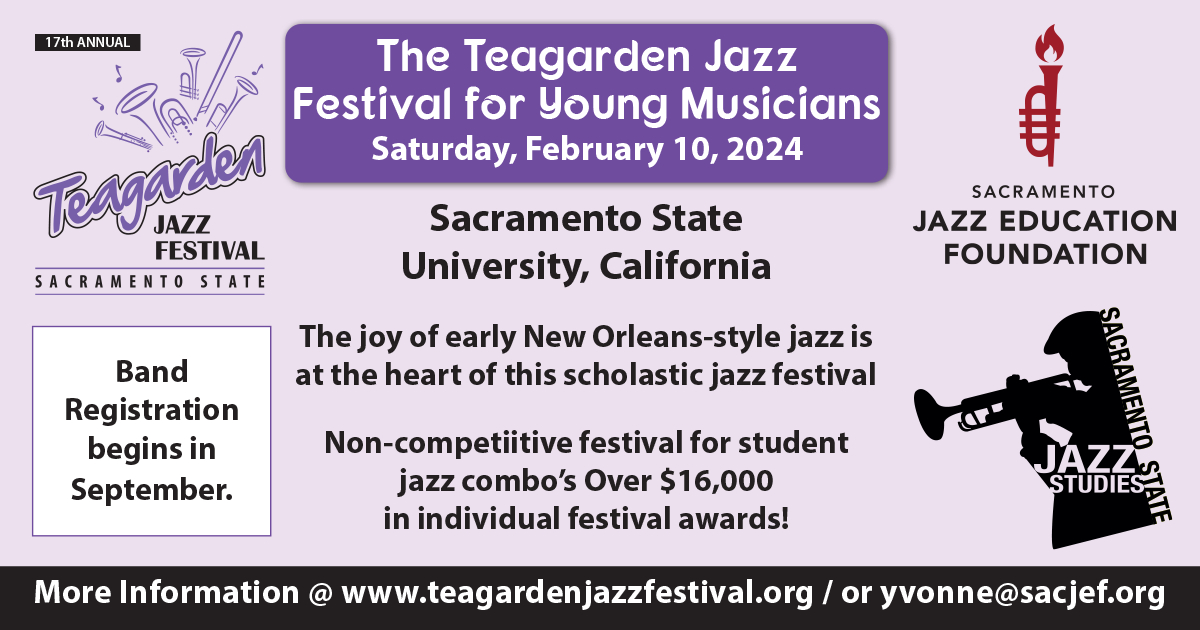 Benny Carter, Clarinetist
To the Editor:
I've been enjoying The Syncopated Times to which I was introduced by my good friend Michael Steinman. I consider it a worthy successor to the late lamented Mississippi Rag. You have no Letters to the Editor, which I, as a very old member of the tribe, consider a mistake—it's a very good way to encourage your readers to express their opinion and it can lead to interesting connections and corrections. And it can cause lively exchanges.
Be that as it may, what I'm about to send would be intended as such if ST had this feature. It is something I want to get off my chest. Of course you can do with it as you wish: dump it in the cyberspace equivalent of the wastebasket or print it, with a response from the "accused."
[Ed. Note: We do publish letters to the editor, albeit rarely. The publisher explains why in his column this month.]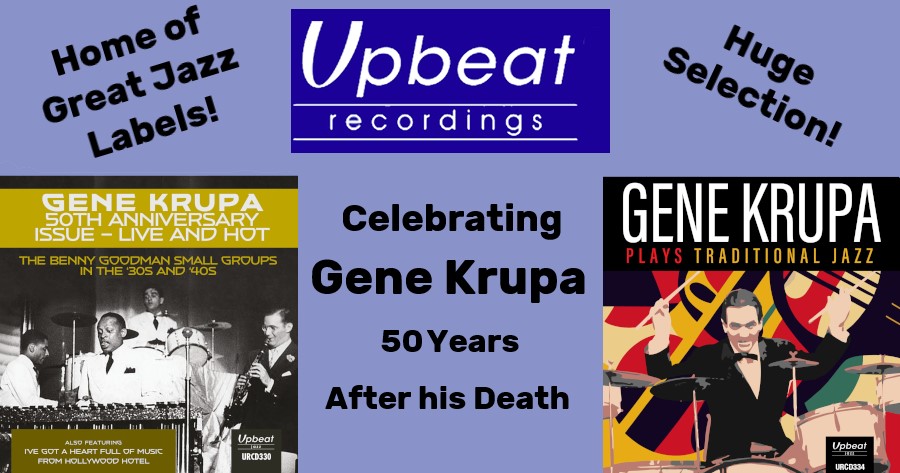 It was good to see Benny Carter celebrated in the December Profiles in Jazz, and I have no intention to nitpick Scott Yanow's Profile of one of the greatest figures in the history of jazz, though I dare to offer a few corrections and dissents.
Early on, Yanow claims that "the Benny Carter story will never be made into a movie." Actually, his life would make a very good one, but the point is that this long life and rich legacy was the theme of surely one of the greatest works of biography, discography and documentation in the literature of jazz, Benny Carter: A Life in American Music, by Morroe Berger, Edward Berger, and James Patrick, Volume 40 in the series "Studies in Jazz," a collaboration between the Institute of Jazz at Rutgers University and Scarecrow Press, first edition published in 1982, second 20 years later, with Edward the sole survivor.
I must pause here for a personal aside: Ed was my associate at the helm of the Institute for four decades and my dearest friend; we lost him in 2017. But our friendship does not influence my judgment of this work, a unique aspect of which is the collaboration between father and son.
Ed's father Morroe was a distinguished professor of sociology and director of the Program in Near Eastern Studies at Princeton. The author of many books on varied subjects, and of the first article on jazz in an academic journal, he met Benny Carter at an event where Benny spoke and was so impressed with him as a person and a musician that he proposed a biography. This had been suggested before but declined; in this case, Benny accepted. (Forgive the first name usage, but through Ed and Morroe I became friends with the great man, and that he was.)
The collaboration between father and son came about when it was decided that a companion volume documenting Benny's recordings, arrangements, compositions, filmography, chronology, awards—everything you can imagine (the discography is a model, including all Carter solos (instrument, bar length, a.o.). It was a collaborative effort with the subject, another unique aspect.
Patrick, a Princeton musicologist who loved jazz (he is the inventor of the term "Contrafact" for a composition based on the changes of another) and who died much too young, contributed a splendid analysis of Carter's work in all its facets. You will see by now why I cannot comprehend Yanow's omission of this masterwork, which I would guess was a source for his piece, from any mention.
Now for a few nitpicks. He says that Benny was "a decent clarinetist," which to me is an indecent comment. Never mind the fine l920s solos, such as "Dee Blues" by the Chocolate Dandies, and on the immortal "Never Swat a Fly" (one of my favorite lyrics) [with Mckinny's Cotton Pickers], but what about the marvelous work on "Shoe Shiners Drag," which he also arranged, for the memorable Lionel Hampton session also including a Carter masterpiece, "I'm in the Mood for Swing." And later still, on "All of Me," with his 1940 big band, just 14 bars of sheer beauty.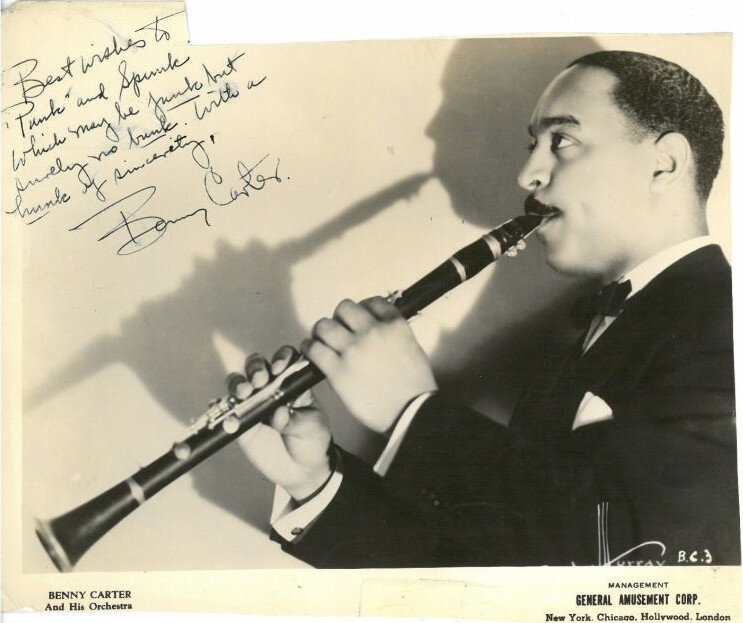 "Decent?" In fact, Benny is one of my favorite clarinetists. As a trumpeter, Yanow grants him an "excellent," but I've had the pleasure of stunning trumpeter friends with his "More Than You Know" (own big band, with a forgettable though not awful vocal). Readers will know, I hope, his lovely muted opening solo on "Out of Nowhere" from that memorable Paris session with Hawk and Django.
Yanow is a bit inconsistent when he calls Carter "one of the top alto saxophonist of all time" and then follows up with the claim that he was "overshadowed by saxophonists as Johnny Hodges, Charlie Parker, and John Coltrane, to name three innovators", a peculiar bit of reasoning, but it did bring to mind that Coltrane was a Hodges small group sideman (there's a great live "In a Mellotone" on which he sounds just like Dexter Gordon). I love Hodges, but was he an innovator? Really? I would say he was an original. (Charlie Parker dubbed him Lily Pons for beauty.) I'll leave it to your readers to decide if Benny Carter was overshadowed by Coltrane.
P.S.: Ed Berger became Benny's road manager (debut was Japanese tour), record producer (the label Evening Star was a collaborative venture) and true friend. To observe that relationship develop remains one of the great pleasures of my long life with jazz.
Dan Morgenstern
New York, NY
A Reply
Dear Editor:
First let me say that it's great that Dan Morgenstern reads The Syncopated Times. His contributions to jazz are immeasurable and he is the last significant jazz journalist from his generation to still be with us. I always thought that he wrote the best liner notes for reissues.
In his letter to the editor which is in the February issue, he mentions a few things in my recent Benny Carter article that he disagrees with. Fortunately they are all opinions rather than historic facts. I'll answer them here.
Yes, I think The Benny Carter Story would be a rather dull movie. Carter was successful for 70 years, never had an off period or a comeback, and there is nothing controversial about his consistent excellence. Movies aren't made about professionals who show up on time, do everything perfectly and have a stable private life.
In the article, I state that Carter was a decent clarinetist. There were so many major clarinetists active in the 1930s that I don't think one would think of Carter as being among the all-time greats on that instrument. Of course Carter was skilled at just about everything in music and, considering that the clarinet was his third best instrument, his clarinet playing was remarkable in its own way. He recorded some great solos before giving up the clarinet altogether.
Yes, the very impressive book Benny Carter: A Life In American Music is filled with loads of valuable information about Carter and is an admirable work that I've owned for 20 years but, no, I did not use it as a source for the article. It wasn't needed. Perhaps it should have been mentioned in the piece.
And yes, Benny Carter was overshadowed in his career at various times by Johnny Hodges (whose sliding between notes and beautiful tone were pretty innovative), Charlie Parker, and John Coltrane. They consistently received a lot more publicity and won more polls than Carter. Benny Carter's high-quality work for 70 years was taken for granted by many.
Best,
Scott Yanow
A Note of Correction
To the Editor:
My January TST came this week and I spent well over an hour reading it today. great article on Vince G and other cool articles, too. I did catch a major typo though and see that it's still there in the online version. Hoping you can correct.
In Joe Bebco's article on Grammy Nominations (which are now moved to March—but you wouldn't have known that at press time) is this passage: "Archeophone also received two nominations in the Album Notes category. The first are by Tim Scott, author of Lost Sounds: Blacks and the Birth of the Recording Industry, 1890-1919. His notes accompany the remarkable release At the Minstrel Show: Minstrel Routines from the Studio, 1894-1926."
The author of both Lost Sounds and the liner notes is Tim Brooks (not "Scott") Maybe you can make corrections on line and in the February issue of TST to give Tim Brooks proper credit.
Keep up the great work!
Steve Ramm
Philadelphia, PA