The Luis Russell Orchestra started in Chicago and then moved to New York. They were one of the most innovative bands of their day, but never had the commercial success that they deserved. They are generally considered to be one of the first Swing bands. The outfit featured some of the best hot musicians from New Orleans, such as Barney Bigard, Omer Simeon and Pops Foster.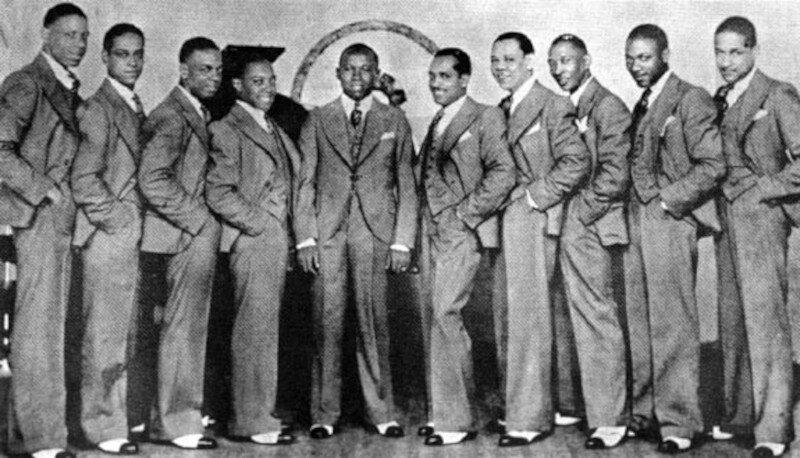 The band first backed up Louis Armstrong in 1929 on the record "Mahogany Hall Stomp". By 1935 Louis Armstrong had taken over the orchestra altogether and for the next eight years they functioned solely as back-up band for Armstrong, with Luis Russell acting as the musical director.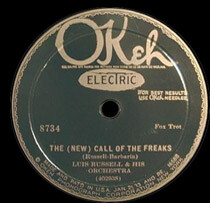 Many Jazz historians bemoan the fact that Russell "sold out" and chose to support Armstrong rather than developing his own distinct style, but we should remember that all of this happened during the height of the Depression, when so many great African-American musicians were forced to leave the music business altogether. Not to mention that they were playing with one of the world's greatest artists, Louis Armstrong.

Title

Recording Date

Recording Location

Company

After Hour Creep
1943
New York, New York
Manor
1002-A
All The Things You Are
Vocal refrain by Lee Richardson
5-29-1946
New York, New York
Apollo
1035
At The Darktown Strutters Ball
Vocal Chorus by Sonny Woods


(Shelton Brooks)

8-8-1934
New York, New York
Banner
33179
Melotone
13146-A
Boogie In The Basement
(Luis Russell)
1945
New York, New York
Manor
1006 A
Case On Dawn
(Luis Russell / Spencer Williams)
12-17-1930
New York, New York
Vocalion
1579
Deep Six Blues
10-19-1946
New York, New York
Apollo
1072
Doctor Blues
(Luis Russell / Paul Barbarin)
12-17-1929
New York, New York
Okeh
8766
Dont Take Your Love From Me


(Henry Nemo)

5-29-1946
New York, New York
Apollo
1020
Feelin' The Spirit
(Luis Russell)
9-6-1929
New York, New York
Okeh
8766
Freakish Blues
(Luis Russell / Paul Barbarin)
8-28-1931
New York, New York
Victor
22815
HMV
B.4897
Ghost Of Freaks
(Luis Russell / Paul Barbarin)
8-8-1934
New York, New York
Banner
33367
Melotone
M 13334-B
Garbage Man Blues
(Luis Russell / Klages
10-4-1945
New York, New York
Manor
1002-B
Goin' To Town


(Hughie Prince / Harold Mooney)

8-28-1931
New York, New York
Victor
22789-A
Bluebird
B-7367-B
Gloomy Sunday
Vocal refrain by Lee Richardson


(Seress / Javor / Lewis)

1946
New York, New York
Apollo
1071
Gone
Vocal refrain by Lee Richardson
10-19-1946
New York, New York
Apollo
1086
High Tension


(Bee)

9-5-1930
New York, New York
Okeh
8849
Hokus Pocus
(Luis Russell)
8-8-1934
New York, New York
Banner
33367
Melotone
M 13334-A
Honey, That Reminds Me


(Nesbit)

12-17-1930
New York, New York
Brunswick
6046
I'm In A Low Down Mood
Vocal by Lee Richardson


(Charles Stewart)

10-19-1946
New York, New York
Apollo
1046
I'm Yours

10-1946
New York, New York
Apollo
1046
I've Been A Fool Again
Vocal refrain by Lee Richardson
(Kizer / Luis Russell)
10-1946
New York, New York
Apollo
1071
I've Got A Gal
(Whose Love Comes C.O.D.)
(Kizer / Luis Russell / Armstrong)
9-13-1946
New York, New York
Apollo
1022
I Got Rhythm


(George Gershwin / Ira Gershwin)

10-24-1930
New York, New York
Melotone
M-12000
Jersey Lightning
(Luis Russell)
9-6-1929
New York, New York
Okeh
8734
Parlophone
R 740
Louisiana Swing
(Luis Russell)
5-29-1930
New York, New York
Okeh
8811


404047-A

Louisiana Swing
(Luis Russell)
5-29-1930
New York, New York
Okeh
8811


404047-C

Luke The Spook
(Biggs / Luis Russell)
10-19-1946
New York, New York
Apollo
1086
Muggin' Lightly
(Luis Russell / Levy)
9-5-1930
New York, New York
Okeh
8830
Moods


(Rube Bloom)

8-8-1934
New York, New York
Vocalion
My Blue Heaven


(Walter Donaldson / Richard Whiting)

8-8-1934
New York, New York
Banner
33399
Melotone
M 13366-B
My Silent Love
Vocal refrain by Lee Richardson
5-29-1946
New York, New York
Apollo
1035
Ol' Man River
Vocal Chorus by Sonny Woods


(Jerome Kern / Roger Hammerstein)

8-8-1934
New York, New York
Banner
33179
Melotone
13146-B
On Revival Day


(Andy Razaf)

5-29-1930
New York, New York
Okeh
8811


404049-A

On Revival Day


(Andy Razaf)

5-29-1930
New York, New York
Okeh
8811
Parlophone
2186


404049-B

Panama


(Lambert / Dolin)

9-5-1930
New York, New York
Okeh
8849
Poor Li'L Me
5-29-1930
New York, New York
Okeh
8830
Primitive


(Rube Bloom)

8-8-1934
New York, New York
Banner
33399
Melotone
M 13366-A
Sad Lover Blues
(Luis Russell / Richardson)
1945
New York, New York
Apollo
1012
Saratoga Drag
(Luis Russell / Greely Walton)
12-17-1930
New York, New York
Okeh
1579
Saratoga Shout
(Luis Russell / Charlie Holmes)
12-17-1929
New York, New York
Vocalion
8780
Savoy Shout
(Luis Russell / Louis Metcalf / E. Victor)
1-15-1929
New York, New York
Okeh
8760
Say The Word
(From the revue "The Third Little Show")


(Harold Adamson / Burton Lane)

8-28-1931
New York, New York
Victor
22789-A
Song Of The Swanee
(Luis Russell / Dux / Walter)
12-17-1929
New York, New York
Okeh
8780
Sweet Memory
(Luis Russell / Holmes / Kizer)
5-29-1946
New York, New York
Apollo
1020
The (New) Call Of The Freaks
(Paul Barbarin)
9-6-1929
New York, New York
Okeh
8734
The Very Thought Of You


(Ray Nobel)

1945
New York, New York
Apollo
1012
1280 Jive
(Luis Russell / Williams)
1945
New York, New York
Apollo
1022
Walkin' Slow
(Luis Russell / Williams)
10-19-1946
New York, New York
Apollo
1079
You Gave Me Everything But Love


(Sam Thread)

10-19-1946
New York, New York
Apollo
1072
You Rascal, You
Vocal by Henry Allen


(Sam Thread)

8-28-1931
New York, New York
Victor
22793-A
You Taught Me How To Smile Again
1945
New York, New York
Manor
1006 B

| | |
| --- | --- |
| Artist | Instrument |
| Gus Aiken | Trumpet |
| Red Allen | Trumpet, Vocals |
| James Archey | Trombone |
| David Bee | Alto Saxophone |
| Lee Blair | Guitar |
| Paul Barbarin | Drums, Vibraphone, Vocals |
| Chick Bullock | Vocals |
| Robert Cheek | Trumpet |
| Bill Coleman | Trumpet |
| Leonard Davis | Trumpet |
| Vic Dickerson | Vocals |
| Pops Foster | Bass |
| J.C. Higginbotham | Trombone, Vocals |
| Teddy Hill | Tenor Saxophone |
| Charlie Holmes | Clarinet, Alto Saxophone |
| Will Johnson | Banjo, Guitar |
| Henry Jones | Alto Saxophone |
| Bingie Madison | Clarinet, Tenor Saxophone |
| Albert Nicholas | Clarinet |
| The Palmer Brothers | Vocals |
| Lee Richardson | Vocals |
| Dick Robertson | Vocals |
| Luis Russell | Piano |
| Rex Stewart | Cornet |
| Nathaniel Story | Trombone |
| Greely Walton | Clarinet, Tenor Saxophone |
| Dicky Wells | Trombone |
| Sonny Woods | Vocals |