This film has received a lot of kudos and I can understand why: it's an excellent piece of filmmaking. There are no energy let-downs throughout the film, the dialogue is believable, the cinematography excellent and the ensemble acting superb. There have been reviews of the film, but I believe that what I have to say about the musical, technical and historical elements of the movie will particularly resonate with the knowledgeable readers of Syncopated Times.
The soundtrack is composed of recreations of music from the 1920's and music written by Branford Marsalis (I give a complete rundown of the soundtrack at the end of the review). Marsalis shows a deft touch in his original scoring. His music is not "period," per se. It contains elements of what one might have heard in early jazz, but modernizes it slightly to fit the emotional needs of the action on screen. It supports that action without being intrusive.
Of course, the music of the period is at the center of the film. As Syncopated Times readers will know, Ma Rainey was one of the first female vocalists to make a reputation as a blues artist. She began performing around the turn of the 20th century in tent and medicine shows and black minstrelsy. Her recording career began in 1923 and the action in the film is set in 1927. It would have to be about this time, as the recording is being done electrically-through microphones-and not acoustically, and that was only possible after 1925-26. They use two microphones, which is questionable, as it's doubtful that a cut-rate operation like Paramount Records would have implemented an audio mixer at that point.
As Ma Rainey, Viola Davis does a wonderful job in the acting and vocal aspects of the part. I was glad to see that her makeup was conceived not to make her look beautiful, but to look like Ma Rainey and the padding for her body was not flattering, but is correct for the dimensions of Rainey. She catches the inflections and bluesy growl of Rainey and inhabits the role.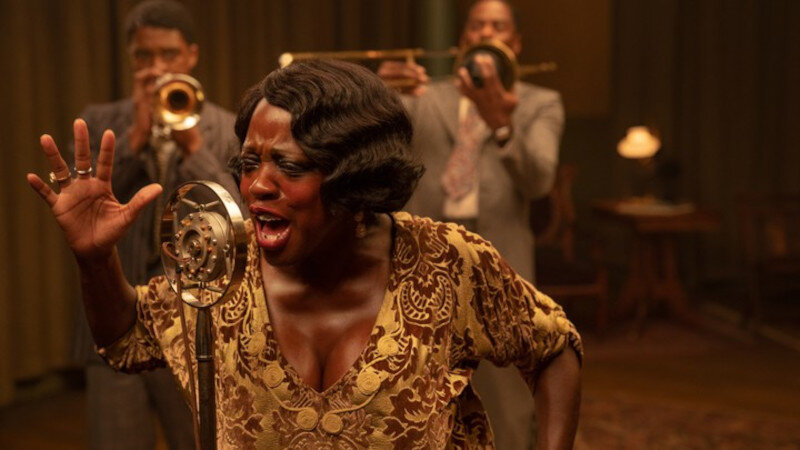 As far as the instrumentalists go, the presence of a string bass in the band is historically off the mark, as it would have been a tuba. The actors did a decent job of "sidelining" or miming, as they played their instruments, but the process is aided by clever camera work and editing, which gives you a sense of realism without allowing you too close a look. The best sidelining work was done by Chadwick Boseman, as cornet player Levee Green (Shirley Clay was the actual "ghost" player). I was glad to see that he held a cornet and not a trumpet. Boseman died last August-a great loss-but his final performance on film shows him in the best possible light.
One of the most important sub-plots is the triangle between Ma Rainey, Levee and Dussie Mae, played by Taylour Paige. Ma and Gussie play a seductive scene together and then it's Gussie and Levee who get it together on the sly. But from a musical-historic perspective, there's another layer at work in the relationship between Levee and Ma, which plays out in the decision about which version of "Ma Rainey's Black Bottom" they will record. Ma wants it done the old way, the way they've always done it, but Levee wants to do it in a newer, flashier way. Ma accuses Levee of playing too many notes and getting in her way, but Levee seems to have heard Louis Armstrong and is more interested in going in his direction than in playing more simply; say in the style of Johnny Dunn or Elmer Chambers. The soundtrack captures this well, as Levee's playing earlier in the film is more flamboyant and subsides into a more demur approach later on.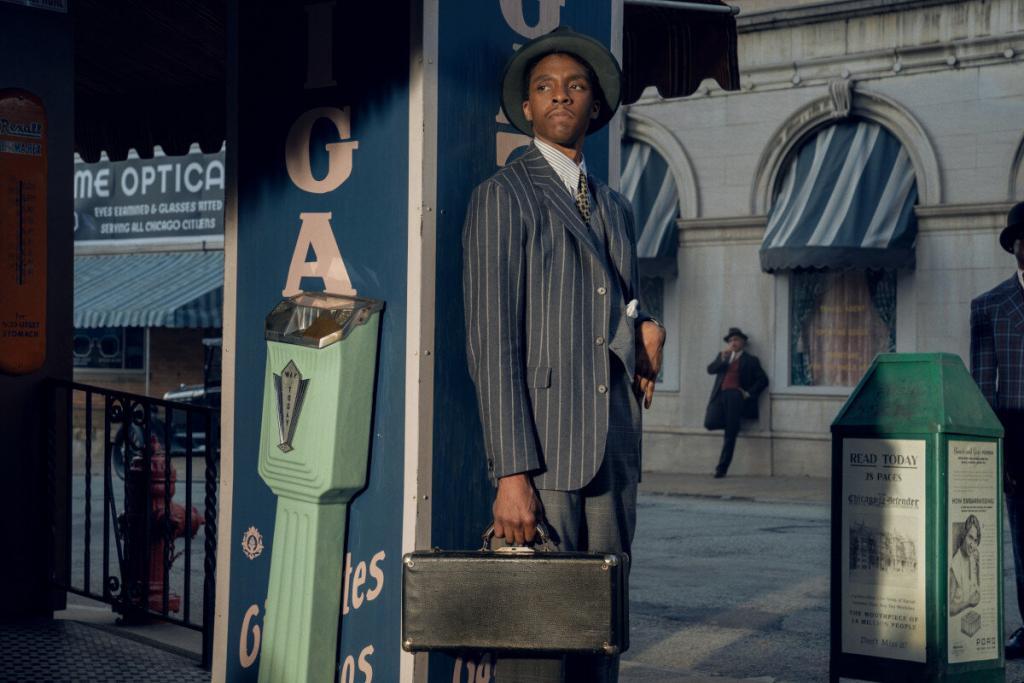 Levee loses this battle with Ma Rainey, and a second one as well. He believes that Mr. Sturdevant, played by Jonathan Coyne, who is running the operation at the studio, is going to let him record his original material with his own band. Instead, Sturdevant offers him $5 for each of his songs–one of the episodes that pushes Levee over the edge. As a final ironic blow, at the end of the film we see the song being recorded by a white band.
In terms of the studio set up, there are some verisimilitude issues. They have Mr. Sturdevant running the tech and also being in some sense the guy in charge, who pays people. Meanwhile Mr. Irvin, played by Jeremy Shamos, is called Ma's "manager." I think there would actually have been a Producer, or A&R person, who interacted directly with the musicians, while a technician would be a hired hand and run the equipment, not have real power, and dispense money.
As a matter of fact, the producer that Ma Rainey would most likely have worked with was a black man, Mayo "Ink" Williams. Williams ran most of the Paramount recording sessions, was in charge of copyrights and owned many shares in the company. He had the reputation of ripping off black artists, of trying to make them sound more "dicty" (commercial) and of buying ownership rights to songs for $5.00.
The film means to deliver a message about the role of racism in America and the empowerment and, to some degree triumph, of black people over that racism. It is well and dramatically delivered, and a story worth telling. It's also worth knowing that the dictates of the medium and the goals of the filmmakers sometimes don't line up with the historical facts. The small discrepancies I mentioned can be pretty easily glossed over- others less so. By many accounts, Ma Rainey was a shrewd businesswoman, but also a pleasant, non-confrontational person, unlikely to try and hold a record company to account. And, the chances are that if Levee Green had been paid $5 for the rights to his songs, it would have been by a black record producer. Rectifying the difference between a well-made, engrossing film and fact that it substantially changes history has not, is not and will never be easy. I leave it to S.T. readers to respond as they will.
---
Learn more about Ma Rainey's real story and listen to everything she ever recorded on her Red Hot Jazz Archive entry: Ma Rainey (1886-1939) . Explore her  bands and recordings at the links below. 
===============================================================
Here are the music cues. As you watch the film, you can see if you catch them.
"Deep Moaning Blues" in tent show
"El Train" plays briefly as band members carry their bass violin and trumpet through the crowded streets on their way to the recording studio.
"Lazy Mama" is Levee showing off.
"Chicago Sun" plays as the cars blare outside, and the sun bounces off the glass
"Those Dogs of Mine"-Ma is growling and barking, seducing her girlfriend.
"Hear Me Talking to You."
"The Story of Memphis Green," an instrumental, as Levee tells his tragic story.
"Jump Song" by Marsalis, keeps up energy between scenes.
"Leftovers" -a mournful piano song, while Toledo narrates his story about food.
"She Shopping" (or is it shoe shopping?)
"Deep Henderson" during traffic and philosophizing.
"Reverend Gates" is a piano piece, during Cutler's story.
"Ma Rainey's Black Bottom."
"Levee's Song," a trumpet number.
"Sweet Lil' Baby of Mine"-noise of the city.
"In the Shadow of Joe Oliver"-Marsalis
"Hear Me Talking to You,"-hear again, after the recording session.
"Levee and Dussie."-while Levee tries to sweet talk Dussie
"Levee Confronts God." while he rails against god.
"Sandman"-while Ma insists her nephew do the intro.
"Baby, Let Me Have It All."-Levee's song, appropriated by the white band.
"Toledo's Song"-while Toledo tells of his wife leaving him.
"Chicago at Sunset."
"Skip, Skat, Doodle-do," chaotic voices as the people clash in the recording studio.