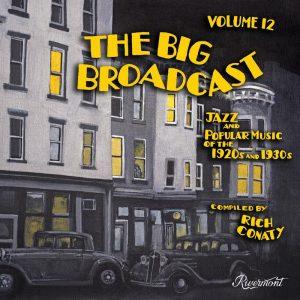 THE LAST OF THE BIG BROADCASTS
For 42 years Rich Conaty, who passed away near the end of 2016, delighted in playing rare recordings from the 1920s and '30s on his radio show, The Big Broadcast. In addition to his expertise, his enthusiasm won over a countless number of listeners. On an annual basis during the past dozen years, he also compiled a CD of gems for the Rivermont label that was released in his The Big Broadcast series. Conaty had planned Volume 12 before his passing seemed to put an end to the series. Fortunately Rivermont and many of his colleagues and friends pitched in to supply the recordings and write the typically extensive liner notes, including the Syncopated Times' own Andy Senior who wrote about Jimmy Joy's "I Got Worry."
As was the practice in this series, The Big Broadcast Vol. 12 has 25 recordings (from 1923-36) programmed in chronological order plus a previously unissued closing broadcast performance which in this case is George Olsen's band in 1932 performing "You're Telling Me." Overall, the music includes jazz and pop singers, hot jazz combos, big bands, some sweet music, rarities, and a few slightly more common but underrated performances. Featured are Anna Chandler (for an excellent version of "My Sweetie Went Away"), Cliff Edwards (one of the first recordings of "Lady Be Good"), the forgotten but rewarding Mike Markel Orchestra, Lee Morse, Willard Robison (in two different settings), Hal Kemp (when he had a jazz band in 1928), Duke Yellman, Jimmy Joy, Frank Sylvano, the Ipana Troubadours, Bob Haring, Harry Roy, Manolo Castro's Havana Yacht Club Orchestra, The Blue Jays, Paul Whiteman ("Tango Americano" from 1931), the Casa Loma Orchestra, Claude Hopkins, Ramona, Billy Cotton, Perry Bechtel, Francis Maddux's Play Boys, Joe Sanders, Roy Fox, Gene Austin (a 1936 version of "I Cried For You"), and the George Olsen broadcast.
It is doubtful that even the most devoted record collector has more than a handful of these performances, and they certainly would not have owned the informative and colorful liner notes included in the 40-page booklet. Although it is sad that this very valuable series has come to its conclusion, it is great that Rich Conaty's friends were able to put out Vol. 12. He would have loved this set.
The Big Broadcast, Vol. 12 (Rivermont BSW-1167, 26 selections, TT = 79:44) www.rivermontrecords.com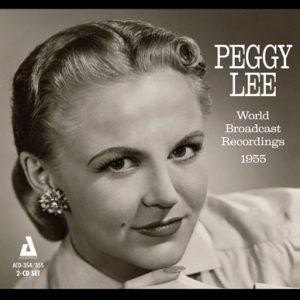 PEGGY LEE IN MID-CAREER
Peggy Lee (1920-2002) was at one of her highpoints of her career in 1955. Her prime singing years were during 1942-68 and in 1955 (the exact mid-point) both Pete Kelly's Blues (which had her best acting role) and Lady And The Tramp (for which she co-wrote six songs and provided the voices for four characters) were set to be released. Less known was the fact that in February and August, she recorded 49 selections as radio transcriptions for the World Program Service. Not released to the general public, these recordings were used by radio stations that had unexpected time to fill and needed music.
Lee's performances are brief, with all but six songs running under three minutes and ten not even being two minutes in length. Lee is joined by her regular group of the time with pianist Gene DiNovi, guitarist Bill Pitman, Bob Whitlock or Don Prell on bass, drummer Larry Bunker, Ramon "Ray" Rivera on congas, harpist Stella Castellucci, and probably trumpeter Pete Candoli. Due to the brevity of the renditions, the solos are quite brief although the harp and trumpet make consistently strong impressions.
The formerly rare performances on World Broadcast Recordings were only available in piecemeal fashion previously but are now included in full on this two-CD set. The music is more jazz-oriented than many of Lee's Decca recordings of the time due to the small combo and the fact that some of the songs are from Pete Kelly's Blues. Lee's cool but inwardly heated voice is heard throughout in top form with the many highlights including "Between The Devil And The Deep Blue Sea," "'Deed I Do," "Just One Of Those Things," "I May Be Wrong," "It's A Good Day," "Them There Eyes," "What Can I Say After I Say I'm Sorry," "Mean To Me," and "Somebody Loves Me."
If you love Peggy Lee, then this twofer is a must.
World Broadcast Recordings 1955 (Audiophile 354/355, 49 selections, TT = 1:55:38) www.jazzology.com
JEFF BARNHART & SPATS LANGHAM
Pianist Jeff Barnhart and guitarist Spats Langham, both of whom sing in their own charming way, love playing together. They enjoy coming up with obscure vintage tunes and engaging in spontaneous interplay. Barnhart and Langham had recorded as a duo once before for the Lake label and Thanks For The Melody, which was recorded in a single eight-hour session, is their encore.
The 20 songs include such rare numbers as the title cut (recorded by the Temperance Seven in the early 1960s although not released at the time), "Mississippi Sandman," "Dapper Dan" and "Halfway To Heaven." While the other numbers are slightly better known, they sound fresh in this setting with the highlights including "Poor Papa," "Singing In The Rain" (inspired by Ukulele Ike), "How Could I Be Blue," a "Lulu" medley, and three instrumentals ("Temptation Rag," "Bouncin' Around," and "Stompin' Em Down"). While I wish that the solos were a bit longer and that there were more instrumentals, this set is full of creativity, new discoveries and pure joy. It leads one to ask, is there a Jeff Barnhart album that is not filled with fun music?
Thanks For The Melody (Lake LACD 355, 20 selections, TT = 76:54) www.fellside.com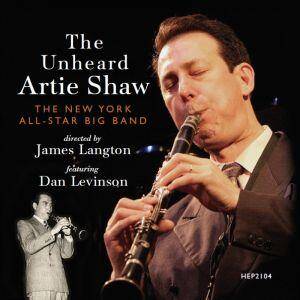 "NEW" ARTIE SHAW
No, the music on The Unheard Artie Shaw does not contain new recordings by the great clarinetist. Instead, the set released by the Hep label is mostly comprised of newly recorded versions of arrangements that Shaw never got around to recording in the studio. In a few cases his band was captured on radio broadcasts playing these charts, but, other than a brief version of his theme "Nightmare" and a remake of his biggest hit "Begin The Beguine," the music has gone largely unheard for nearly 80 years.
The arrangements were all originally written during 1937-39 when Shaw was leading his most popular orchestra. Jerry Gray and Eddie Durham are the main writers although Al Avola, Joe Garland, and Harry Rogers are also represented. The music is performed by a 14-piece group of New York all-stars with Dan Levinson in Shaw's place and most of the other solos taken by trumpeter Jon-Erik Kellso, tenor-saxophonist Mark Lopeman, trombonist Harvey Tibbs, and pianist Mark Shane. Molly Ryan has two pleasing vocals and there are four in the Billie Holiday style by a singer who for some reason is only identified as Moanin' Mary; she comes close to sounding like Lady Day.
On Dan Levinson's many previous recordings on clarinet, he never really hinted at the playing of Artie Shaw, instead ranging from Larry Shields to Benny Goodman and sometimes making me recall Jimmy Lytell. It is to his great credit that there are times on this project when he really does sound like Shaw, not so much in the tone (although some notes are extremely close) but in the choice of notes during his solos. He really captured the style. The other musicians are obviously very familiar with the era and the result is that they do sound very much like a top-notch swing band from 1938.
Among the selections that are most memorable are "Everthing's Jumpin,'" "Them There Eyes," "Leapin' At The Lincoln," "Royal Garden Blues," "Stardust" (completely different than Shaw's 1940 version), and "In The Mood" which bears little resemblance to Glenn Miller's recording.
Suffice it to say that this is a very successful project that swing fans will savor.
The Unheard Artie Shaw (Hep 2104, 18 selections, TT = 58:21) CD Direct from Artist at Bandcamp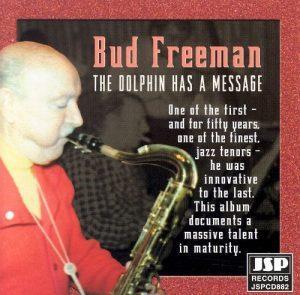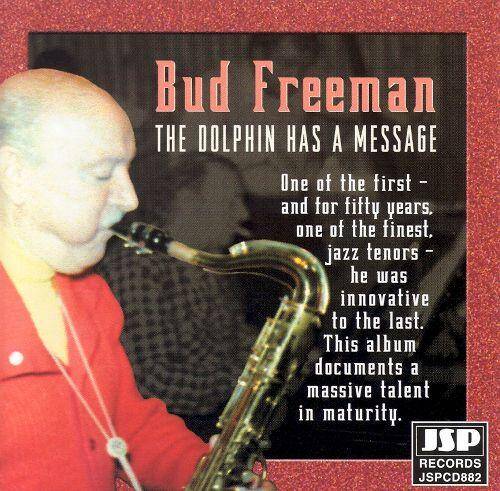 JAZZ CLASSIC OF THE MONTH
Bud Freeman (1906-91) was one of the greatest tenor-saxophonists of all time. When he emerged in the late 1920s, his only competition on tenor was Coleman Hawkins. Freeman, who was an early inspiration for both Lester Young and Eddie Miller, played freewheeling jazz and swing standards in his own sound and swinging style throughout his long career.
In 1980 when he recorded The Dolphin Has A Message, Freeman was 74 and near the end of his career which was largely over after 1983. However, as is obvious throughout this often overlooked set, Freeman was in inspired form for the project. Joined by pianist Brian Lemon, bassist Len Skeat, and drummer John Richardson, Freeman plays nine standards and three originals with enthusiasm, a strong drive, and lots of fresh ideas.
In 1945 Freeman had recorded the first tenor-sax/drums duet in jazz history, performing "The Atomic Era" with Ray McKinley. On the 1980 album, the catchy title cut was the second and final time that he was heard in that setting. Freeman also performs a duet apiece with bassist Skeat (a classic "Don't Blame Me" during which he adds an appealing riff to the melody that fits perfectly) and pianist Lemon, uplifts such unpromising material as "On A Clear Day" and "Satin Doll," digs into a few vintage ballads, and tears through "Somebody Stole My Gal."
Even collectors who have a couple dozen Bud Freeman albums will want to discover this late-period gem.
The Dolphin Has A Message (JSP 882, 12 selections, TT = 43:43) www.mvdb2b.com
---
In every issue of the Syncopated Times, this monthly column features reviews of CDs by classic jazz, 1920s and '30s, New Orleans Jazz, Swing and Dixieland artists, covering both vintage greats and some of today's top musicians. Be sure to send a copy of your CDs to Scott Yanow, P.O. Box 1220, Lake Hughes, CA 93532 if you wish to have your recordings reviewed. If you are a musician and need liner notes, bios or press releases, feel free to drop me a line at scottyanowjazz@yahoo.com.
---
This is what our print edition feels like. If you want good news to read with your morning coffee, order a print subscription. You'll get full online access to our archives, web extras, and our next issue will arrive at your door. Online only access to all of our original material is also available! Support Hot Jazz Journalism- Subscribe
Subscription Options
---
Or get the Print Edition with Online Access. To get the print edition of The Syncopated Times use this Paypal link. After you pay you will be issued a coupon for free online access.