Norman Vickers is known as a harmonica-playing physician who was a pioneer in his field in his adopted city, and who for the past 40 years, has been the jazz ambassador and moving spirit behind Jazz Pensacola, one of the country's more active jazz societies.
An endowment fund was established in 2013 to enhance the Society's educational activities and was named in honor of Dr. Vickers. The stated purpose of the F. Norman Vickers Artist in Residence Fund is to bring jazz musicians and educators to Pensacola to provide school and college workshops, instruction, performances and related assistance to the community not already provided by the Society's existing activities.
A stipulation of the Vickers Fund is that a minimum of $20,000 must be achieved before 10% of any excess may be withdrawn annually to initiate and underwrite the Artist in Residence program. The Fund to date has raised $17,349. A group of friends, recognizing that Dr. Vickers is now in his 90th year, have organized a campaign to raise the Fund balance to a minimum of $25,000.
Growing Up in Mississippi
Norman Vickers' parents were in the wholesale vegetable plant business in Hattiesburg, selling cabbage and tomato plants to seed-and-feed stores and canning companies such as H.J. Heinz, Campbell Soups, and Libby. His mother was a classical pianist, so it was natural that her son should take piano lessons.
When he was ten, someone gave him an all-plastic chromatic harmonica, and in the sixth grade, he was introduced to the tonette, a small flute-like instrument that had a range of a little over an octave and was popular in elementary music education back then. That, in turn, led to his being selected to learn the piccolo by the school bandleader. He added the guitar to his musical repertoire while attending college at Southern Methodist University in Dallas as a pre-med student.
Medical school at Emory University took him to Atlanta, followed by an internship in internal medicine at New England Medical Center Hospital in Boston, where he met his future wife Betty. The next two years were spent in the Navy, mostly at the Great Lakes Naval Training Center in Chicago. Then it was off for a residency at the Charity Hospital in New Orleans, where Betty and Norm enjoyed the city's culture, customs, cuisine and music.
The Move to Pensacola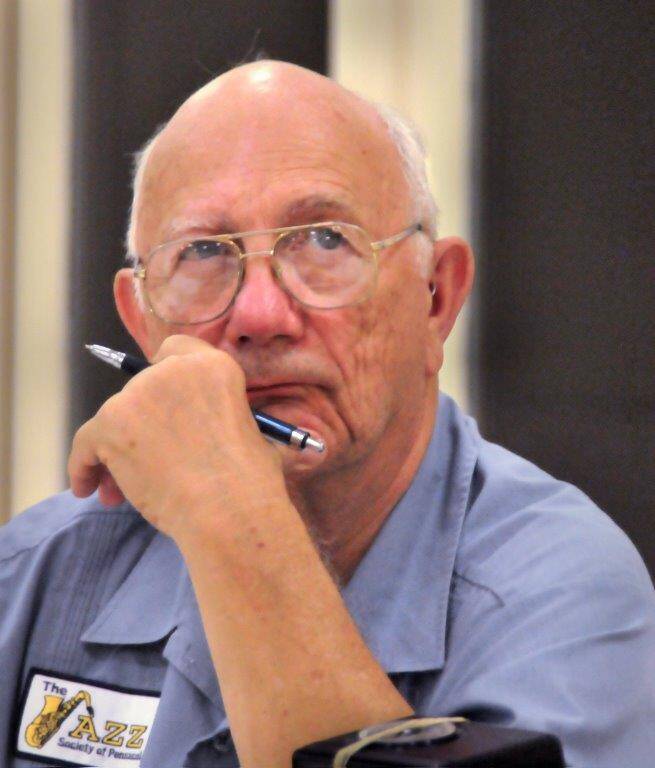 Norman completed the final year of his medical training specializing in gastroenterology at the University of Louisville, after which he was invited to become a member of the UofL School of Medicine faculty. June 1965 marked a new era for the Vickers family with the move to Pensacola, Florida where Norman established his solo practice in gastroenterology as one of the first full-time GI doctors in the city.
For the next 36 years, the medical practice kept Norman busy: GI endoscopy—gastroscopy and subsequently colonoscopy with new flexible endoscopes. Initially, GI doctors would use intravenous light sedation for the procedure. Norman had a different approach. He would take out his chromatic harmonica and ask the patient if he/she had a request, saying, "If I can hum the tune, I can play it." Then he would inject a small amount of sedative intravenously, play a chorus, assess how the patient was responding, and repeat until the desired degree of drowsiness was evident. Sometimes the patient would sing along. When the words got a bit slurred, that indicated it was time to begin the procedure.
Throughout his practice, he was active in several Florida medical societies, serving as a Board member and newsletter editor.
Early Introduction to Jazz
While still living at home in Mississippi, listening on clear-channel radio to the Leon Kelner Orchestra from the Blue Room of the Hotel Roosevelt in New Orleans was Norman Vickers' early exposure to jazz.
While attending medical school in Atlanta, he frequently got to listen to Blind Willie McTell, a Piedmont blues and ragtime singer, play his 12-string guitar at the Blue Lantern Drive-in. So it wasn't long after moving to a new city that Norman became acquainted with several Pensacola musicians. There was even discussion about organizing a jazz society, but the group decided it "would be too much work," and the idea was put on hold.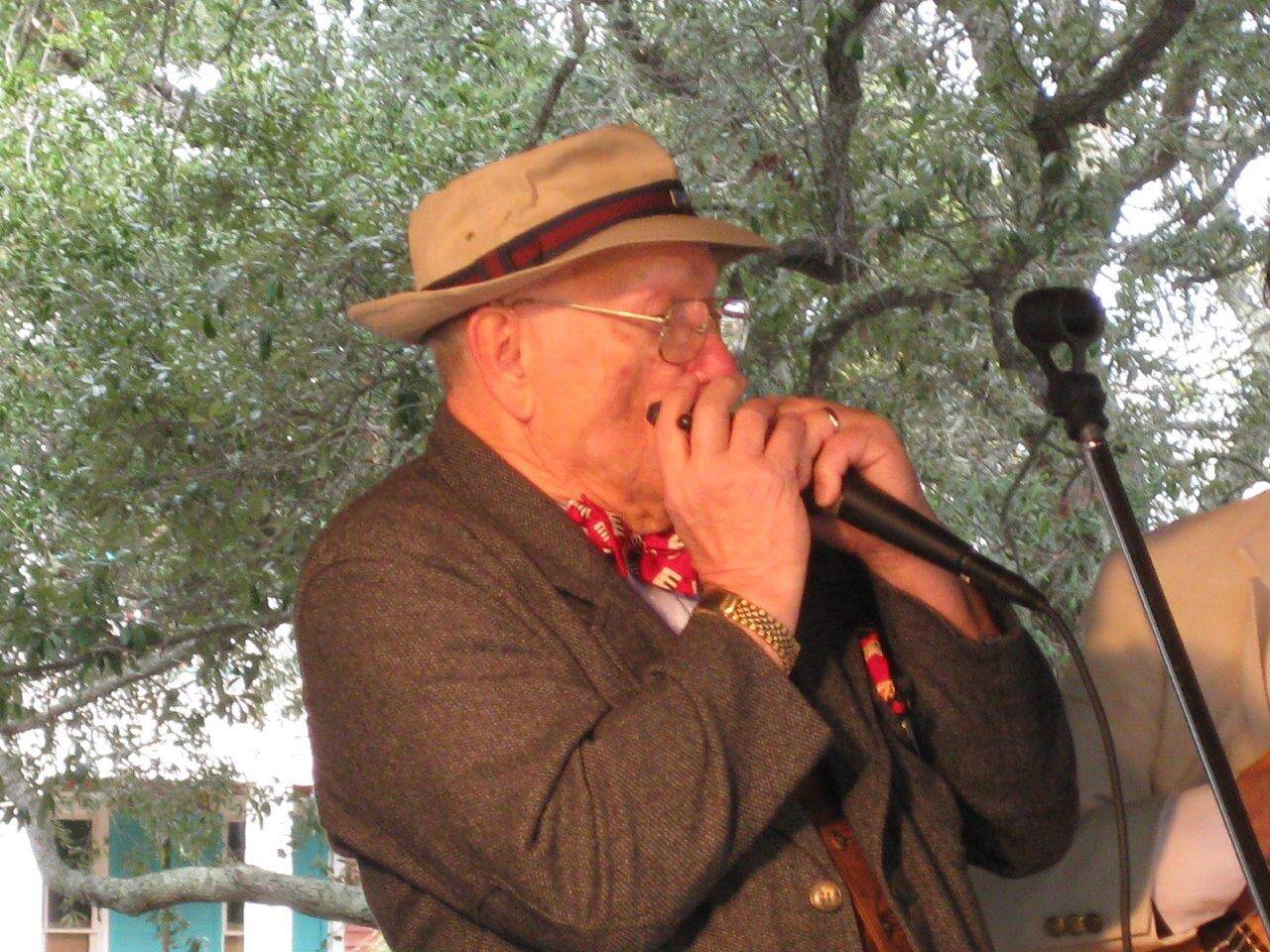 The 1970s brought an invitation for Norman to join the MOPs—Musicians of the Past, a group of World War II veterans who would meet monthly in a local music store and play pre-1950s tunes. Since there were a number of experienced piano and guitar players in the group, Norman would bring his chromatic harmonica and join in, using a microphone and amplifier.
Beginning in the early 1980s, a surge of jazz societies and festival came into being throughout the nation. Jazz Times magazine held a convention in New York City at which representatives of a number of societies (including Norman) met to discuss formation of a national jazz networking organization. The initial meeting of the American Federation of Jazz Societies was held in Savannah, Georgia in 1984.
Norman was elected to the founding Board and later served as newsletter editor, Vice President, and in 1991, President.
"Is this call medical or musical?"
During this same time, the Arts Council of Northwest Florida, radio station WUWF and the newly-formed non-profit Jazz Society of Pensacola (with Norman as a director) made the decision to start the Pensacola JazzFest. The neophyte jazz society was run out of Norman medical's office for a number of years where the receptionist would on occasion ask: "Is this call medical or musical?" From 1984 to 2004, he served as Jazz Pensacola's volunteer executive director and has since attained "emeritus" status.
One source of pride in which the doctor has been involved since its beginning is the Jazz Room at the West Florida Public Library in downtown Pensacola. It started in the early 1980s as a casual collection of recordings and books, which now has its own designated room housing an inventory valued at over $20,000. Most of the collection is available for check-out by Library patrons.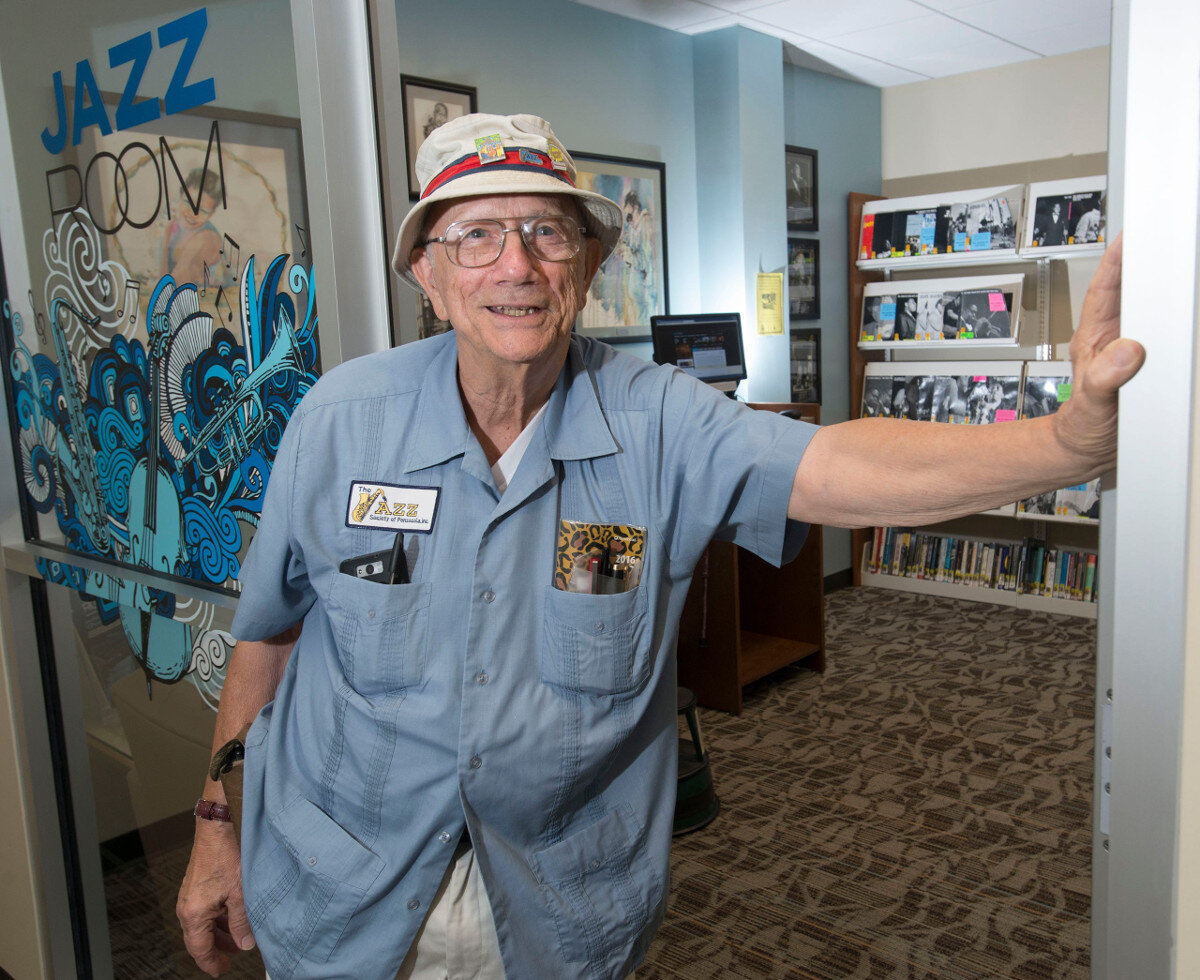 While supposedly retired, Dr. Vickers continues to blog, write articles for the Jazz Pensacola newsletter, contribute to the Dixieland Jazz Mailing List, and do reviews of books and CDs for The Syncopated Times. He still raises award-winning camellias, having previously served as secretary of the local Camellia Club. At age 89, looking back over his long career, he observes, "Jazz continues to play a major role in my life. Music was a complete diversion as a mind-expanding release from a demanding medical practice. It opened up a whole new vista for me and provided an opportunity to make many new friends all over the world. It has helped keep me sane when the nightly TV news might do otherwise."
---
A Personal Sidebar
When I was invited to join the American Federation of Jazz Societies board of directors back in the early 1990s, I was privileged to join a group of jazz heavyweights. Norm Vickers wielded the gavel, and sitting around the table were Washington lobbyist Harold Gray, famed jazz photographer Bill Gottleib, businessman-bandleader Ed Metz Sr., Arbors Records founder Mat Domber, lawyer-bandleader Dick Ames, noted Bixophile Rich Johnson, educator Dave Robinson, businessman-jazz journalist Floyd Levin, and Elderhostel instructor Mike Foley, among those I can recall.
The AFJS Board would usually meet in the home city of a Board member. Following our meeting in Davenport, Iowa, Rich Johnson insisted we visit the grave of Bix Beiderbecke in the Oakdale Cemetery. As we stood in reverence, Doc Vickers broke the silence with a rendition of "Singin' the Blues" on his harmonica. We had a repeat of that performance in Savannah, Georgia at Johnny Mercer's gravesite in the Bonaventure Cemetery to the melody of "Moon River." Unforgettable memories! – L.S.