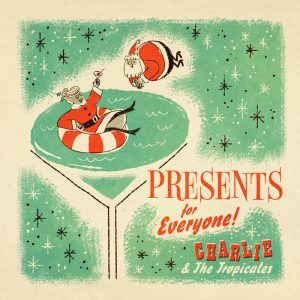 Charlie Halloran is one of the most in demand and reliable trombone players in the tight knit network of young trad jazz players in New Orleans. He's a member of the Shotgun Jazz Band and has appeared on so many albums as a sideman he inspired our Discography Project.
As a leader he released a trad album with his Quality Six in 2015, but then his career took an interesting turn. In 2017 he released a vintage calypso inspired album called Ce Beguine!, recorded to 78 rpm by Twerk Thomson. He still plays with traditional jazz bands, including the Shotguns, Doro Wat, and the eclectic Panorama Brass Band, but if you want to catch him leading a band your best bet is to mosey on down to Latitude 29, order up a daiquiri and enjoy the Caribbean rhythms of Charlie and the Tropicales.
In the spirit of tinseled palm trees the group has released a seven track Christmas EP featuring classic calypsos, a traditional Cuban Christmas Eve song, and one original. Your purchase of the CD can also include sets of 5×7 Christmas postcards based on the cover illustration by Alison B Coté. The cards have a download code to share the album with far flung friends.
For those who like a brassy good time sound calypso is a natural party break from trad. This is a fun album if not a classic in the making. Tomas Majcherski is on sax, and Charlie's trombone gets a good workout. Warm islands have long been a source of Christmas inspiration.
Alex McMurray provides most of the vocals. Yulene Velazquez gives the Spanish vocal on the Cuban song, "A Comer Lechón", the most successful track on the album. Charlie joins his wife Mia Goldsmith Halloran on the vocals for his original, Sippin' Santa (Latitude 29), which also serves as a tribute to their home bar.
Aside from a jazzy instrumental reworking of "O' Christmas Tree" you probably won't recognize most of the numbers, but you are in for a treat. "Drink a Rum" has a classic Christmas and family message with the newsreel delivery I most enjoy from Calypso. "Wake Up Christmas Morning " and "Postcard To Sparrow" will also bring good cheer.
Because it is a Gulf port, the history of New Orleans, and Jazz itself, is intertwined with the culture and spirit of the Caribbean Islands. I also remember from my time in New Orleans the special relationship the bar owners and traveling bar staff have with destinations like Key West, the Bahamas, and the Virgin Islands. It's no surprise that there is now a place to escape to the islands without leaving the French Quarter, and there's no one better to lead the party than Charlie and the Tropicales.