WWII Jazz boom, The Fillmore, Oakland Blues, North Beach & Forbidden City Nightclubs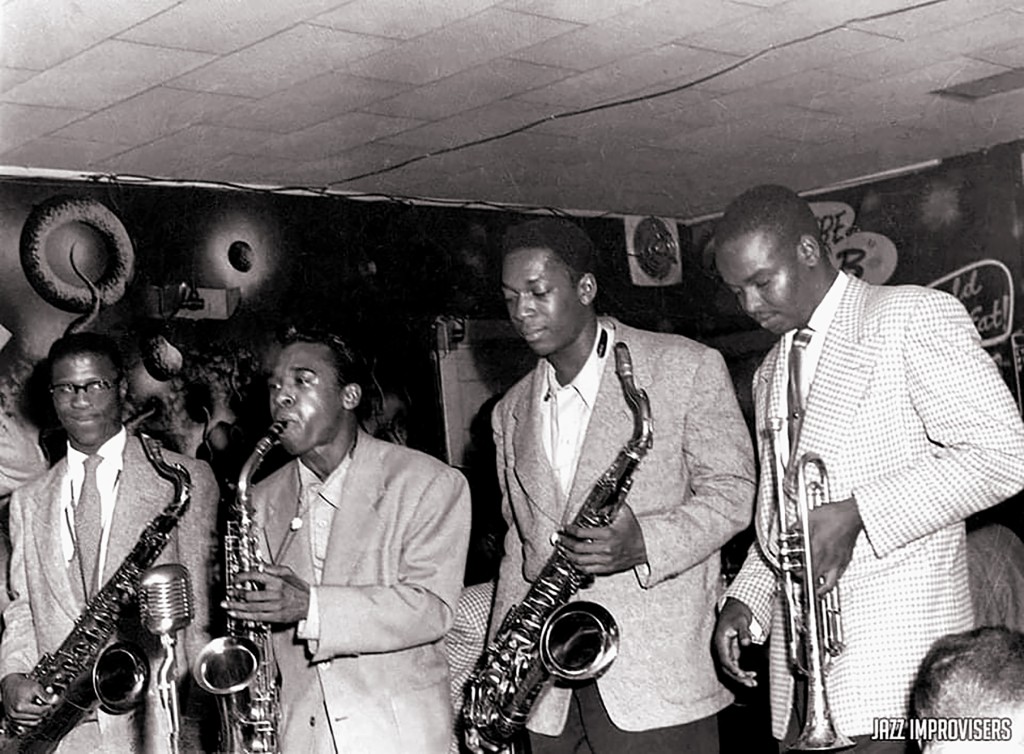 San Francisco was the location for dynamic developments in popular entertainment: Traditional, Modern and Bop Jazz and the unique Asian nightclubs of Frisco. Tourism and the 1939 Golden Gate Treasure Island World's Fair primed the pump for a re-emergence of hot music in Baghdad-by-the-Bay.
When Swing Wasn't Fun Anymore
By 1939, touring dance bands had become routine businesses and many Swing musicians were bored with playing stock arrangements. While the famous instrumentalists in the top orchestras had license to improvise creatively, musicians staffing the average dance band did not. Many began feeling like cogs in a jukebox and wanted to do more than just read notes and collect a salary. Traditional Jazz was a direct reaction.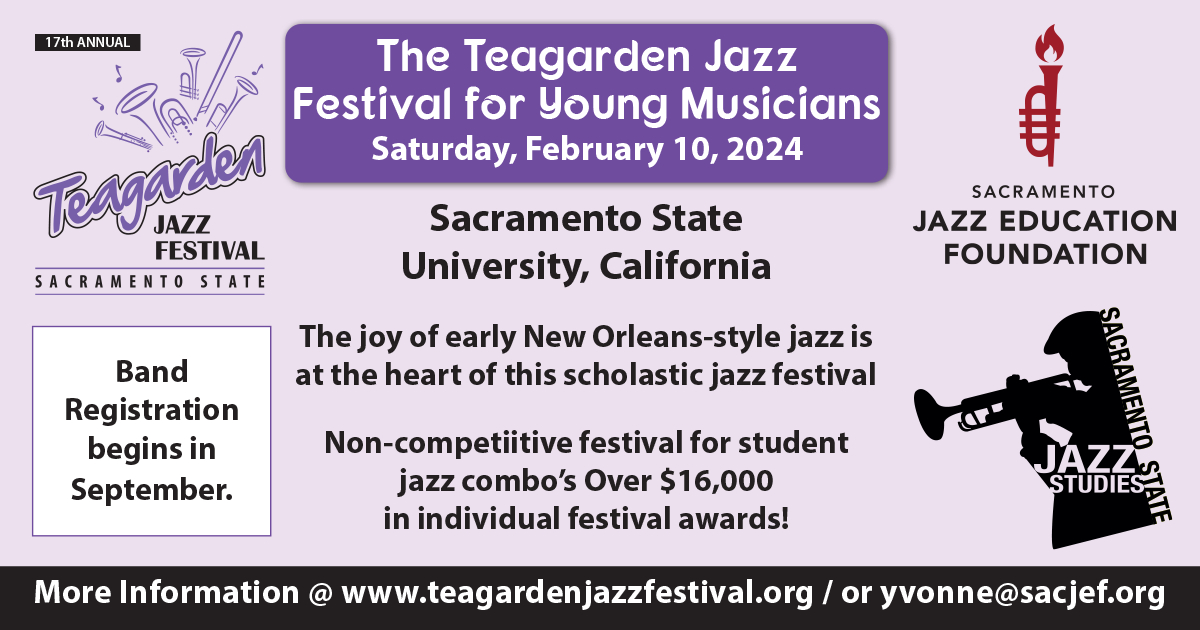 Trombone player Melvin Edward Alton "Turk" Murphy (1916-1987) became a leader of the revivalists. He complained:
I had played in 'name bands' of all sorts for a long time with the usual amount of drudgery. You settle down and play a set bunch of notes in the same inflection, the same phrasing, night after night after night — you play the same music. You get so you can play it upside down with your eyes shut. At that time, I'd been taken a little bit with early jazz, and I knew a little bit of the freedom it could offer as far as expression goes.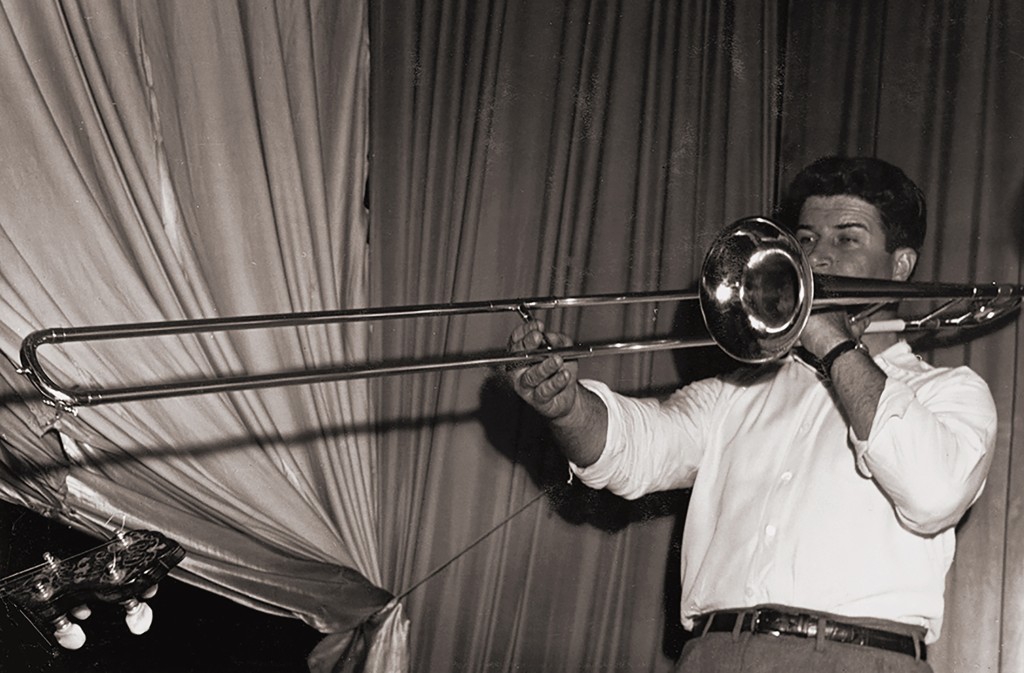 The Traditionalists played music from before 1930 that had been recorded by Louis Armstrong, Jelly Roll Morton and King Oliver which was rich in New Orleans polyphonic ensemble parts improvised in real time. Musician Clint Baker, a curator and archivist for the San Francisco Traditional Jazz Foundation describes their motivations: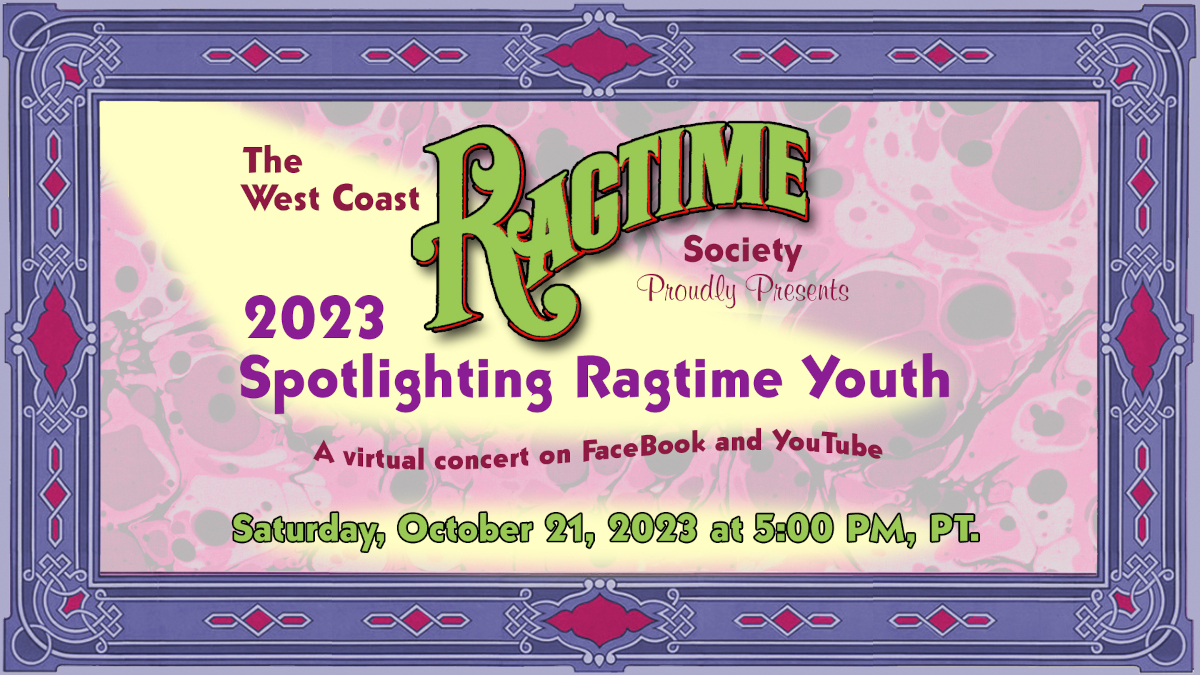 The Great Jazz Revival was a cultural phenomenon as well as a musical phenomenon. This came from the idea that there was African American culture. This was a fairly new idea in those days.
The style of music was put together out of a 'recorded' understanding of New Orleans Jazz in an era when recordings were hard to get. 78 rpms were the only way to do it. What they pulled from those records was something that they hadn't really heard in the music they'd been playing, which was the IMPROVISED PARTS.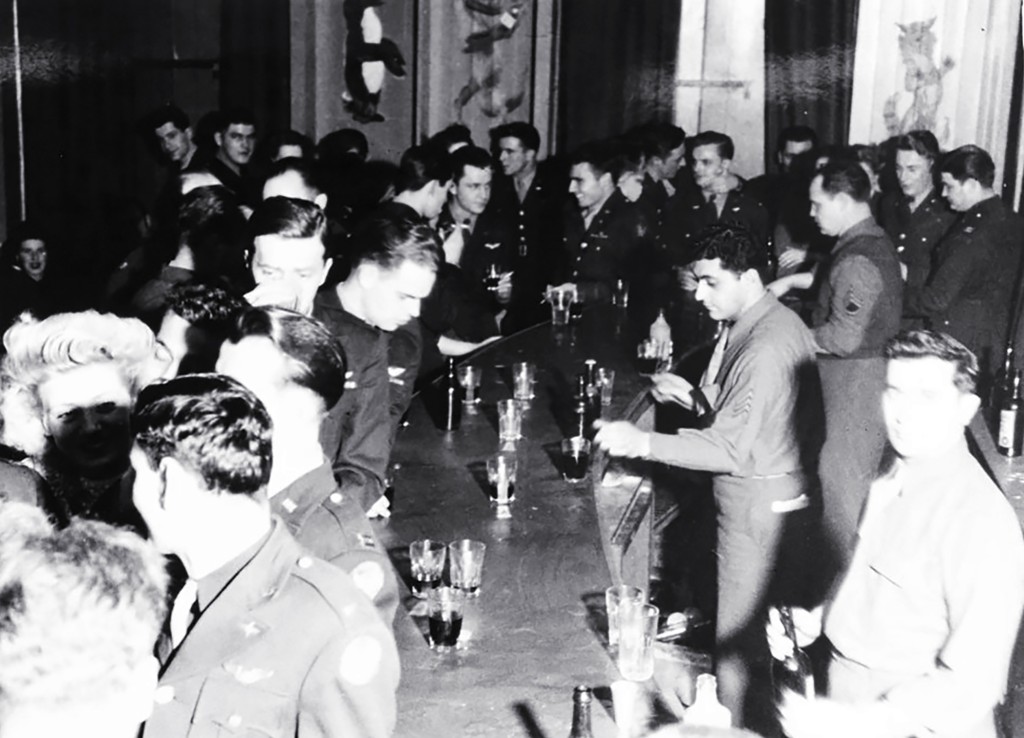 Wartime Boomtown
Even before Pearl Harbor an increasing military buildup around the Pacific Rim brought surges of soldiers and sailors through the Golden Gate while Lu Watters Yerba Buena Jazz Band (1940-50) continued playing through the war. When the USA entered WWII, the flood of troops embarking for the South Pacific war from the Port of San Francisco was a bonanza for the newly emerging music. Tens of thousands of transient servicemen were introduced to the rumbustious sounds of Traditional Jazz.
Burgeoning nightlife was accelerated by a vast expansion of shipbuilding. For a short time, the region led the world in ship construction. Half a million men and women were employed in massive shipyards ringing San Francisco Bay, fueling a wartime boom in entertainment after dark.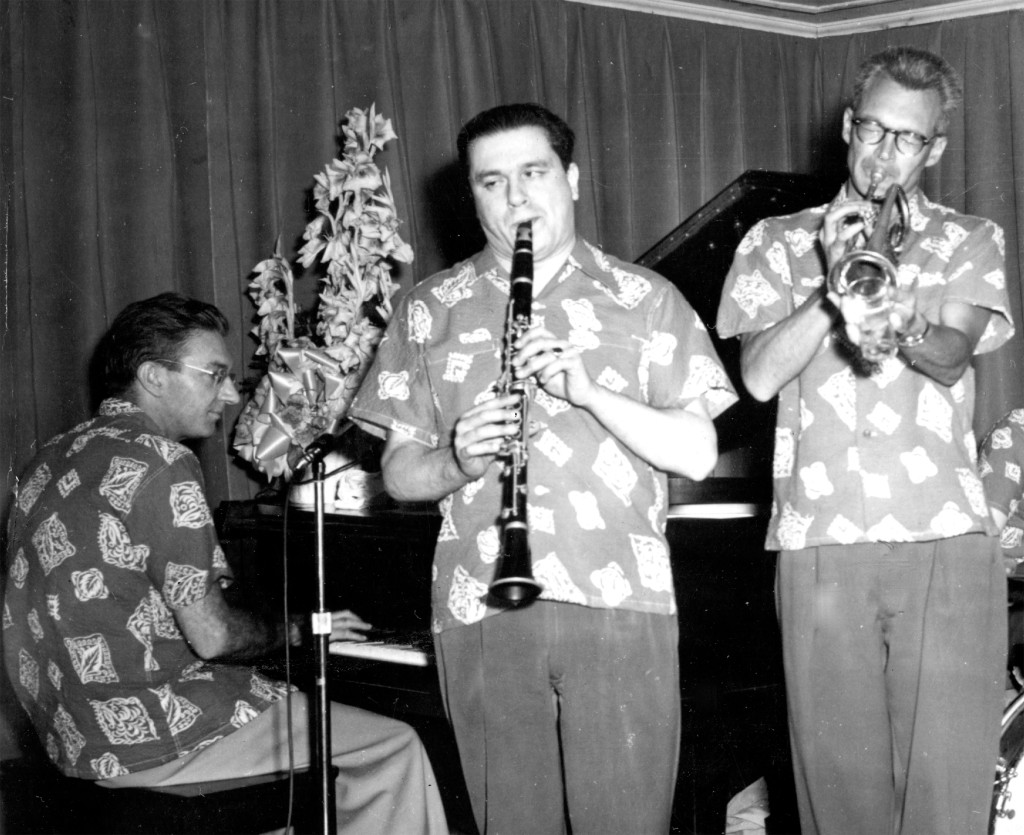 During the war, clarinetist and North Beach-native, Vince Cattolica (1923-2004) was a newly minted union musician working at the "Tin Pan Alley" club. He said, "the 4-F's" (military-exempt males) were flush with cash, "working the shipyards and taking their pay and throwing it over the bar." Servicemen on leave fueled the feverish party atmosphere, packing the bars and clubs nightly, drinking and fighting: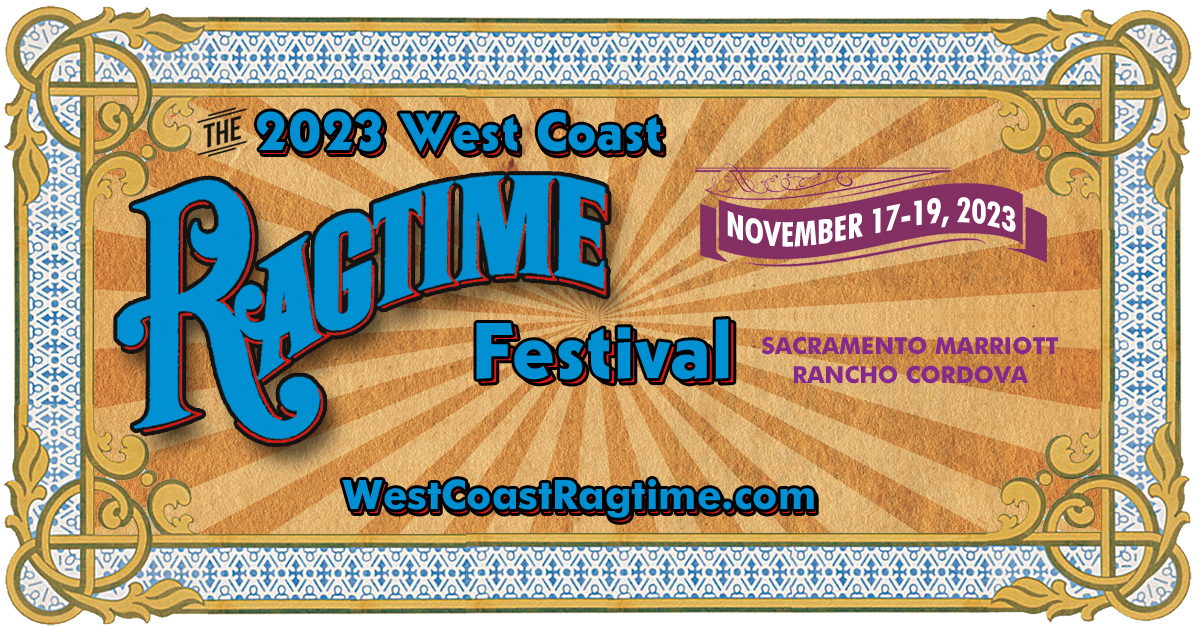 In those days they had what they called the Shore Patrol and the MPs [military police]. They kept the 4Fs away from the soldiers, sailors and marines. And boy, they'd knock over tables, chairs, screams.
Bunk Johnson Emerges, 1943-44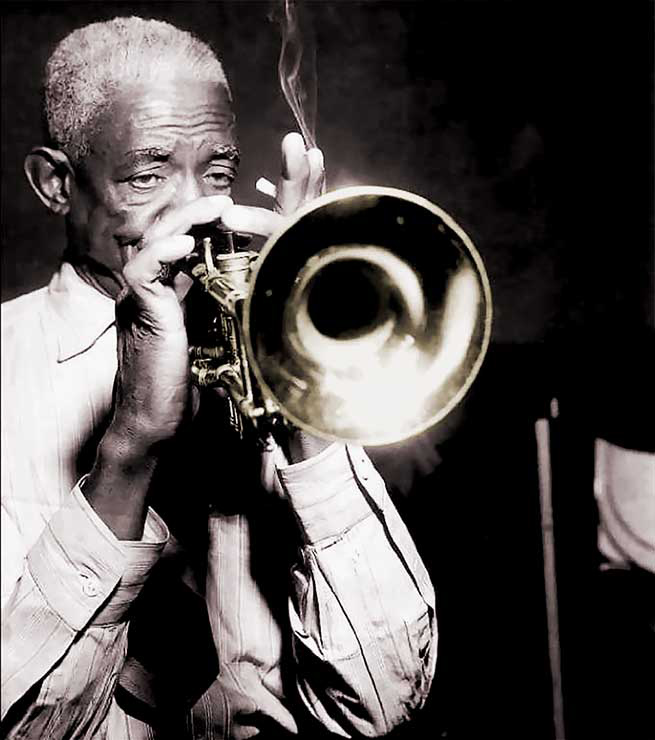 Trumpeter William Geary "Bunk" Johnson was born in New Orleans — probably in 1889. He performed during the Golden Age of New Orleans music (c. 1910-17) but fell into obscurity. Bunk was rediscovered laboring in a Louisiana rice plantation in the 1930s. His high-profile re-emergence in San Francisco occurred during six-months of Sunday afternoon concerts backed by personnel from Yerba Buena.
Playing in several of his concerts was 18-year-old trombonist Bill Bardin (1924-2011), substituting for Turk Murphy, then in the US Navy. Bill noted that prominent musicians visiting San Francisco dropped by — Count Basie, Jack Teagarden and Duke Ellington — "just to hear what Bunk sounded like." In a 1994 interview Bill said:
When I have read about Bunk and his behavior in books . . . he sounds like a different person entirely than the man that was out here in 1943. He seemed eminently reasonable, easy to deal with, easy to get along with. Collected.
When there would be an important occasion like an around-the-world broadcast by the BBC, well, Bunk didn't show up for this. He finally did stumble into the studio really drunk, in no condition to play and far too late to do any playing even if he were in condition to do so. There was another time, an important occasion when he didn't show up until too late and he was too drunk to function.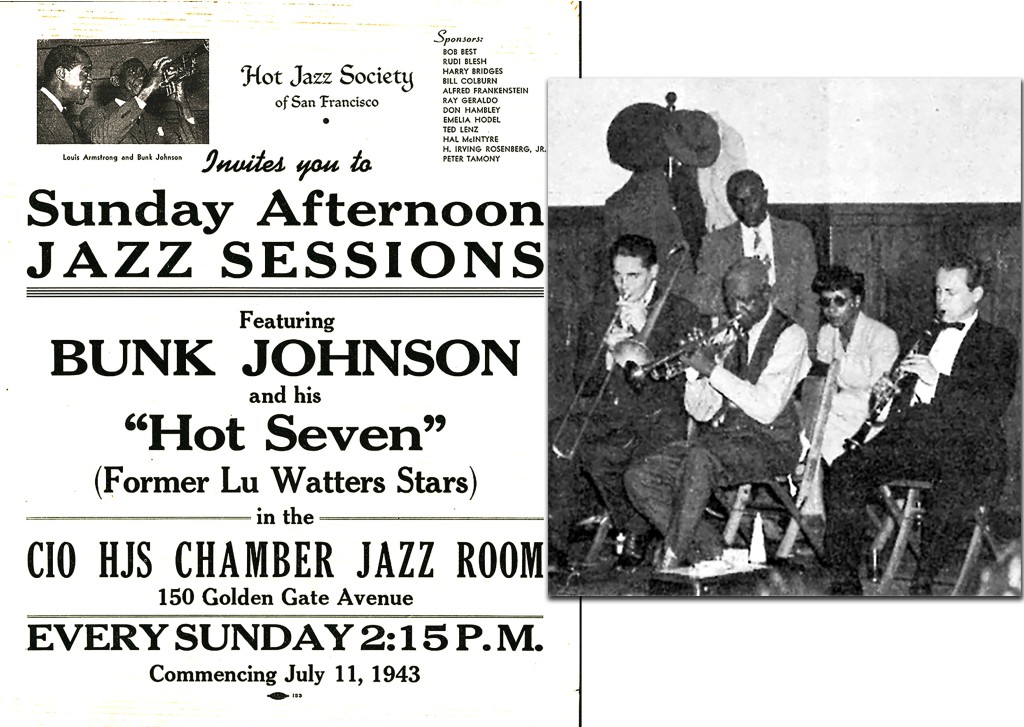 Bunk Johnson was a living Jazz artifact and eager to prove it. Unfortunately, many of the particulars he related have been challenged, though subsequent research does place him at the nexus of early jazz in New Orleans, particularly the Frankie Dusen band as depicted in the recent film "Bolden." His rediscovery altered the course of music, launching an enduring cottage industry of scholarship, recording, collecting, criticism, research and legend-building.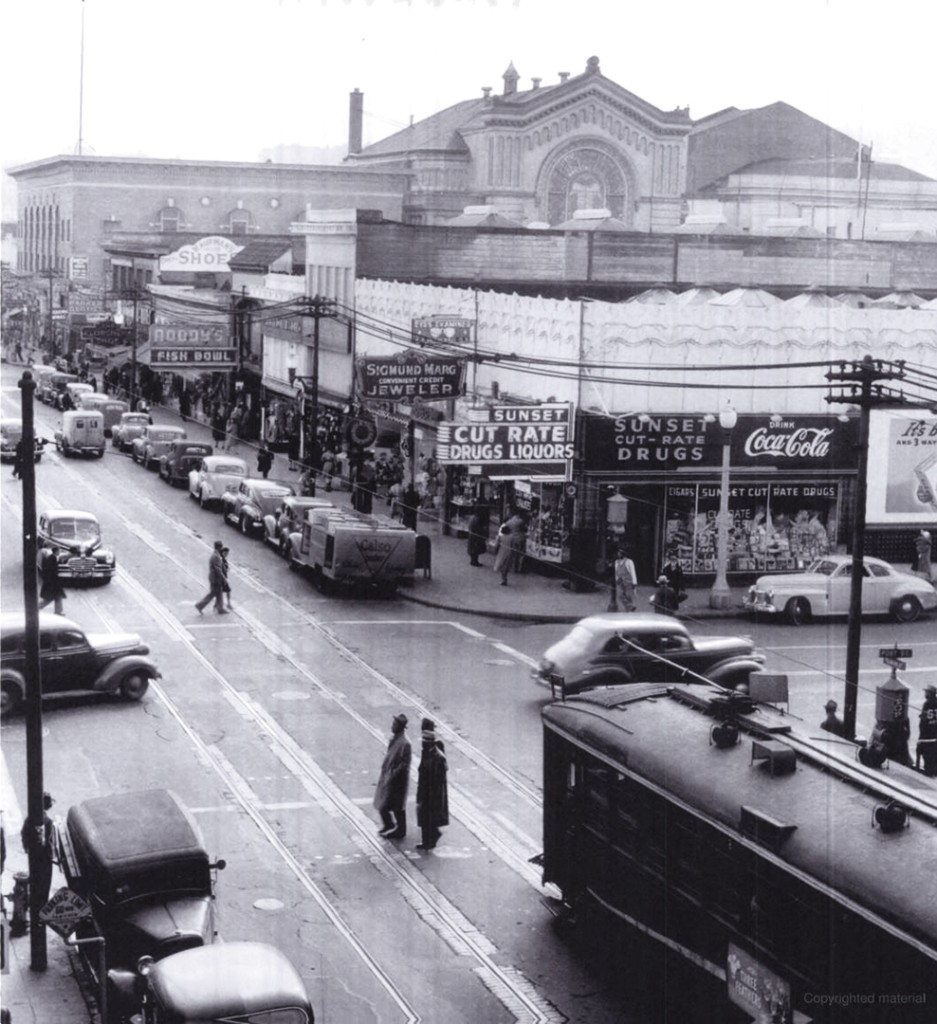 The Fillmore: Harlem of the West
Known as "Harlem of the West," the San Francisco district called The Fillmore (aka Western Addition) was a thriving African American community. During the 1950s and '60s the 24-hour rhythms of its nightclubs, restaurants, hotels, markets, specialty stores, theaters, pool halls and music shops drew commerce from across the region. The thriving multi-ethnic section was also a vibrant Jewish neighborhood best known for its delicatessens and prodigal son, violin virtuoso Yehudi Menuhin.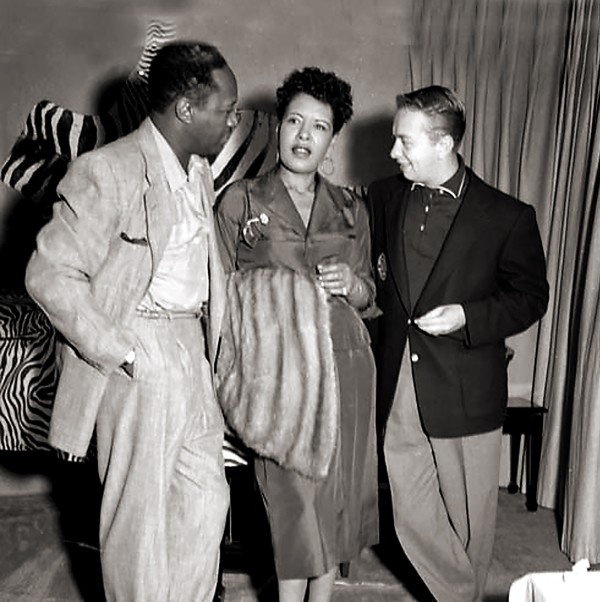 Every major name in Black entertainment performed in The Fillmore during the 1950s and '60s, from Dizzy Gillespie and Charlie Parker to Louis Armstrong and Fletcher Henderson. Premier nightclubs of the district were "Jacks Tavern," "Champagne Supper Club," "The Kennel Club," "Blue Light Café" and "Cherryland." "The Half Note Club" was a Bop Jazz haven. Billie Holiday and alto saxophone revolutionary Charlie Parker played at the racially integrated "Say When" club.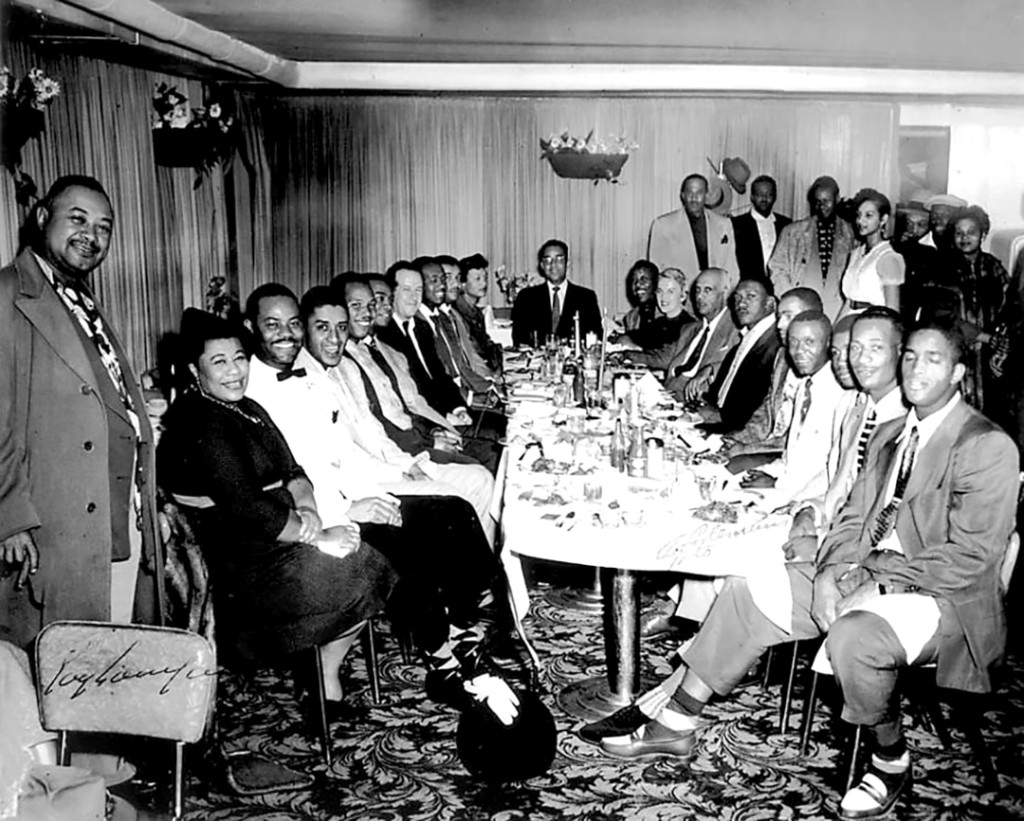 Continuing racial segregation in San Francisco was a major factor driving the 24/7 commercial life of the quarter. Well-known African American entertainers performed at marquee North Beach nightclubs, Downtown or the Nob Hill Hotels. But they were not permitted lodging in those areas and could not rent a room downtown. So, after shows they were welcome and comfortable with friends jamming until dawn in The Fillmore.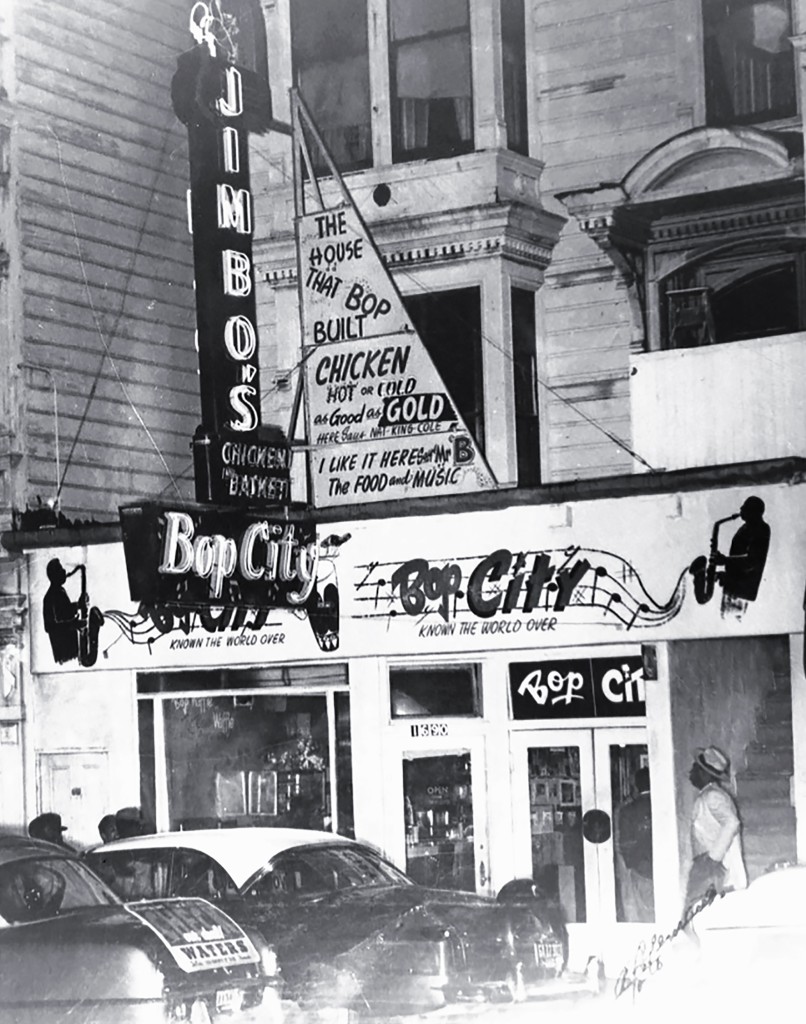 Jimbo's Bop City  (1948-65) was a true after-hours club, open from 2:00 am to 6:00 am. Originally called "Vout City," it was launched by Slim Gaillard in 1948. No less than Grove Dictionary of Jazz informs us:
It abruptly became Jimbo's Bop City when Gaillard (who had been selling alcohol without a license) forgot to pay his police bribe and, to avoid imprisonment, handed the keys to [John] Jimbo Edwards and left for Los Angeles.
"Jimbo's Bop City" was located in the backroom of a converted Victorian behind Jimbo's Waffleshop with financial backing from used car dealer "Trader Ed" Shapiro and served no alcohol. It was a key focal point in the development of Bebop Jazz in the West drawing young Turks like Dexter Gordon, Hampton Hawes, John Handy and Pony Poindexter, c. 1949-53.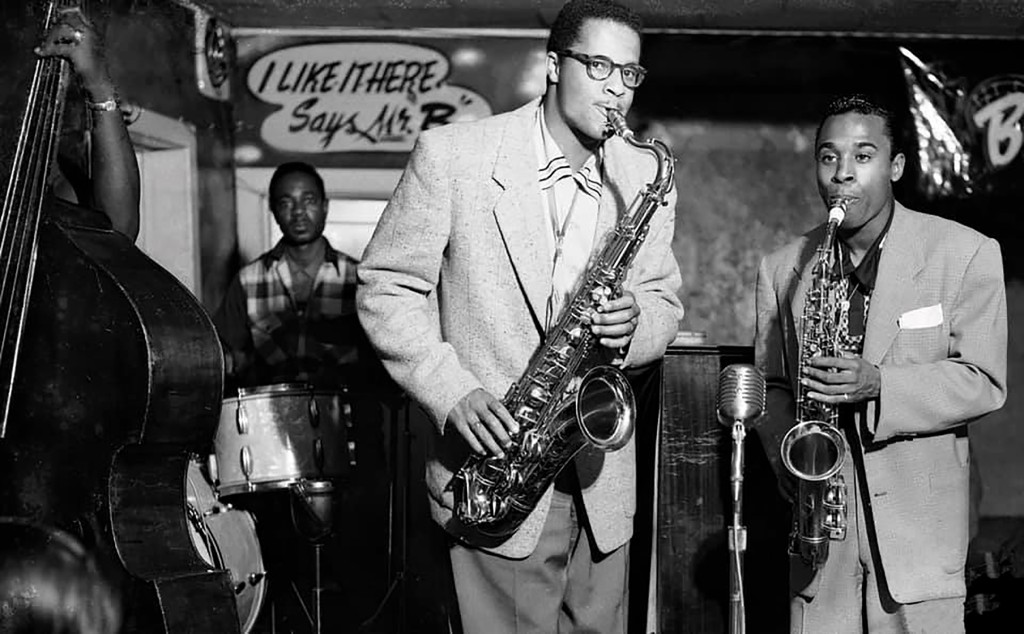 Originally from New Orleans, Pony Poindexter (1926-1988) played alto and soprano saxophones and a key role in The Fillmore. An influential adherent of Charlie Parker, he gigged at "Jack's Tavern," aka 'Jacks of Sutter' (founded 1933). Poindexter collaborated with remarkable talents: Billie Holiday, Nat King Cole, T-Bone Walker, Big Joe Turner and the bop vocal trio Lambert, Hendricks and Ross (later, Yolanda Bavan).
Noteworthy artists emerging from the Fillmore include singer Etta James, bluesman Johnny Otis, saxophonist John Handy, bandleader/bassist Vernon Alley, drummer Earl Watkins and Filipina singer "Sugar Pie" DeSanto. Johnnie Ingram his Bass & Rhythm Czars backed Dexter Gordon and "Big Joe" Turner, headlining at "Jack's Tavern," the "California Theater Club" and in 1944 the "Subway Nightclub" in North Beach.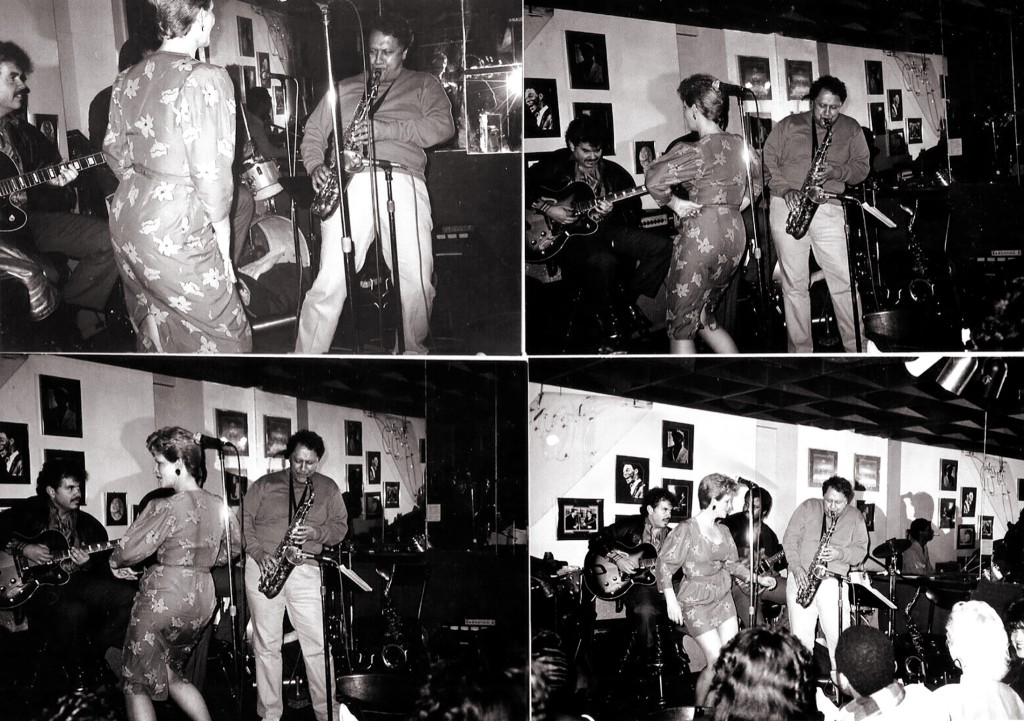 Rhythm & Blues singer, guitarist and songwriter Lowell Fulson (1921-1999) worked several Fillmore gigs. Like many African Americans, the Oklahoma native had been stationed in Oakland during WWII and stayed. Finding success on the national Black-entertainment "chitlin circuit," one of his early touring bands included a young Ray Charles and saxophonist Stanley Turrentine. In 1960 Elvis Presley took his song "Reconsider Baby" to the top charts.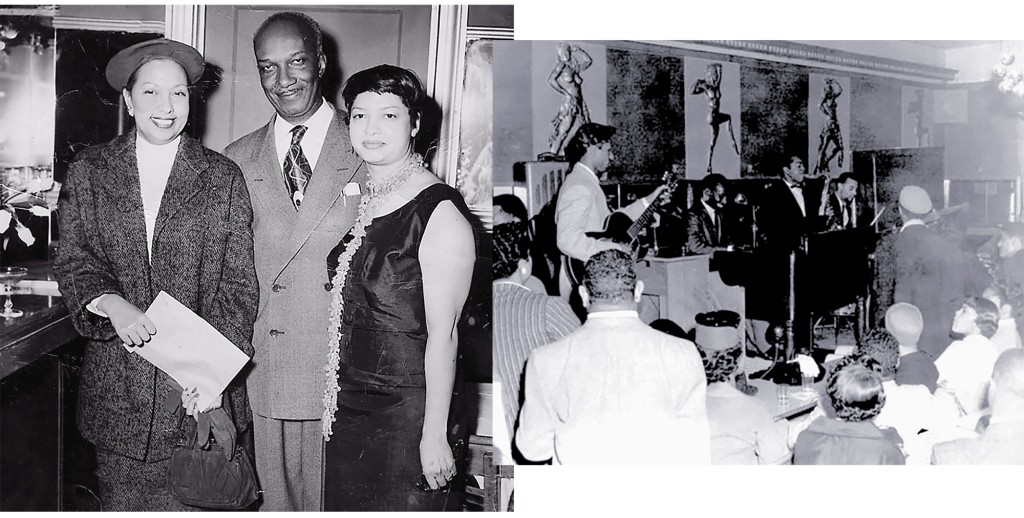 The "Blue Mirror" was an intimate nightclub hosted by Leola 'Goldie' King (1919-2015). Called "Queen of the Fillmore," she provided a sparkling showcase for Louis Armstrong, Lena Horne, Count Basie, Cab Calloway, Nat King Cole, Dinah Washington and Saunders King, an emerging local Jump Blues musician.
Through the years, Goldie King owned several legendary establishments, "Oklahoma King BBQ," "The Bird Cage Tavern" and "Goldie's Supper Club." Yet like other residents and business owners of The Fillmore/Western Addition she was repeatedly displaced by redevelopment projects. The City government disregarded her decades of work invested, offering she and her peers neither compensation nor a future stake in the community.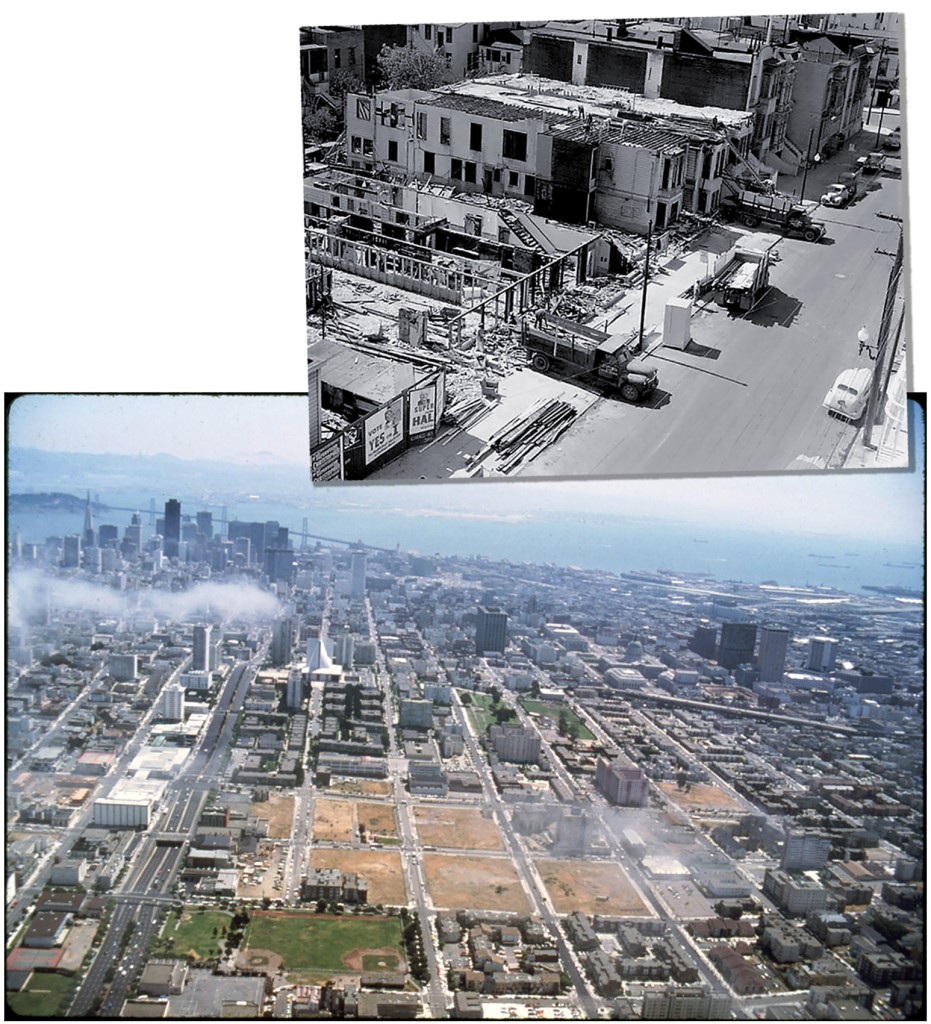 The Fillmore was not just a location but a place in time bracketed by two demographic catastrophes. In 1942 the unconstitutional internment of Japanese citizens made way for the new community. But social decay and destructive modes of urban redevelopment in the late 1960s killed it and similar inner-city communities across the USA. Some Japanese Americans returned to the area, but the loss of generational wealth had been disastrous.

Blues in Oakland
The greater Oakland area was a Blues nexus with proliferating performance venues, recording and production studios, especially in the unincorporated area known as Russell City. Lowell Fulson signed to Swing Time Records, one of numerous labels run by producer and songwriter Bob Geddins (1913-1991), a prime mover of the local blues scene.
Piano player, singer and songwriter Jimmy McCracklin (1921-2012) was among the biggest names in Bay Area music running his Art-Tone Records label, Blues Blasters band and "Continental Club" in San Francisco. Historian Lee Hildebrand calls him, "probably the most important name to come out of the Bay Area in the post-WWII years" and a keen competitor of Geddins. Among thirty gold records, his biggest hit was "The Walk" making the top-ten in 1958.
McCracklin's songs were waxed by dozens of stellar bands and singers: Otis Redding, James Cotton, Buddy Guy, Johnny Winter, Lowell Fulson, Elvin Bishop and Janis Joplin. Though he was passed over by the Blues revivalists, McCracklin is widely regarded today as the undisputed heavyweight champion of Oakland Blues.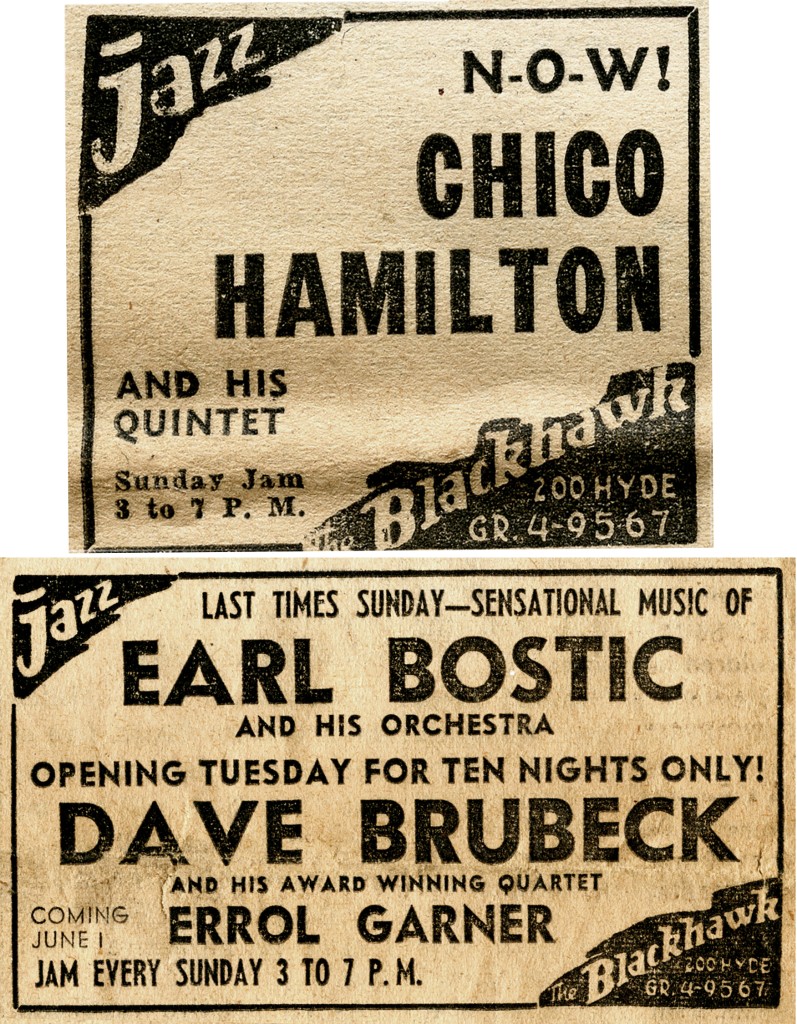 The Blackhawk
The Blackhawk (1949-63) was a world-renown jazz venue located in the downscale Tenderloin district. Dizzy Gillespie, Dave Brubeck, Art Blakey, Stan Getz, Lester Young, Gerry Mulligan and Cal Tjader all played the club. It was well-liked for its acoustics; Miles Davis recorded albums there and the Modern Jazz Quartet dispensed with amplification.
But. "The Blackhawk" was a nasty unheated, drafty dive described as dingy, shabby, repulsive and decrepit. Still, the indifferent club management did two things right: didn't interfere with the music and set aside a "teenaged section" behind chicken wire for underaged jazz fans. That resulted in more than one confrontation with Mayor George Christopher in which the club prevailed. Wrote journalist Ralph J. Gleason, "A most incredible cross section of American society has been inside this dimly lit, oblong corner-saloon-with-music."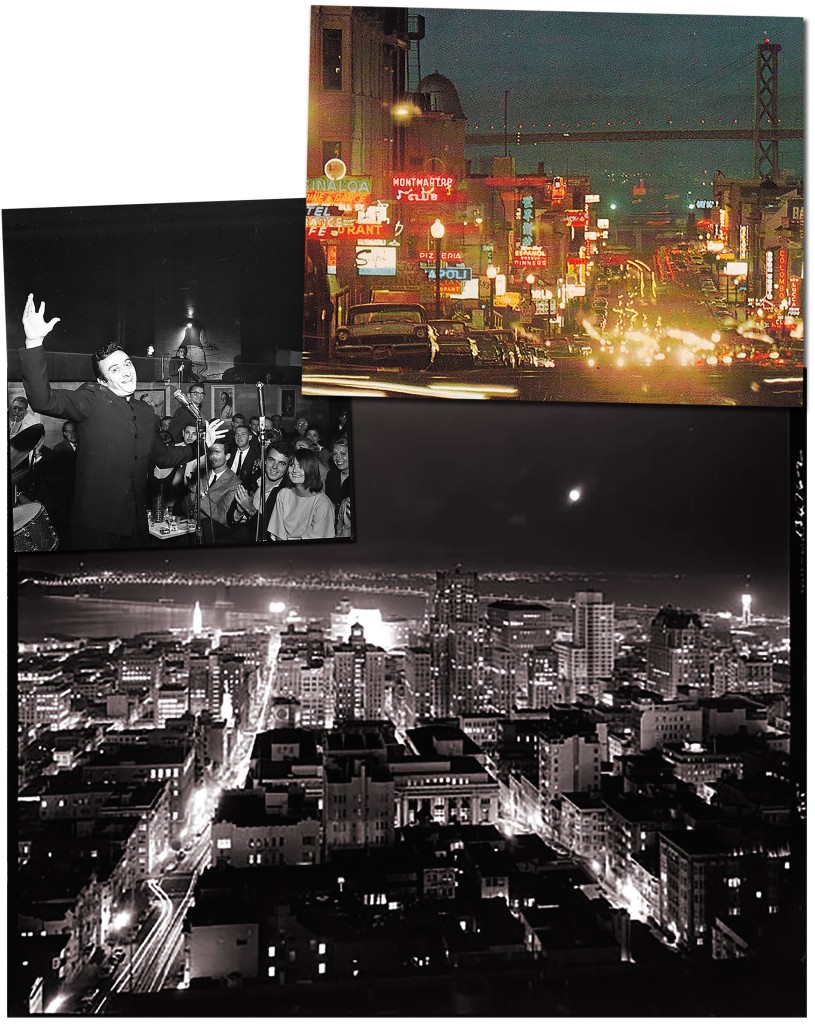 Nightlife in North Beach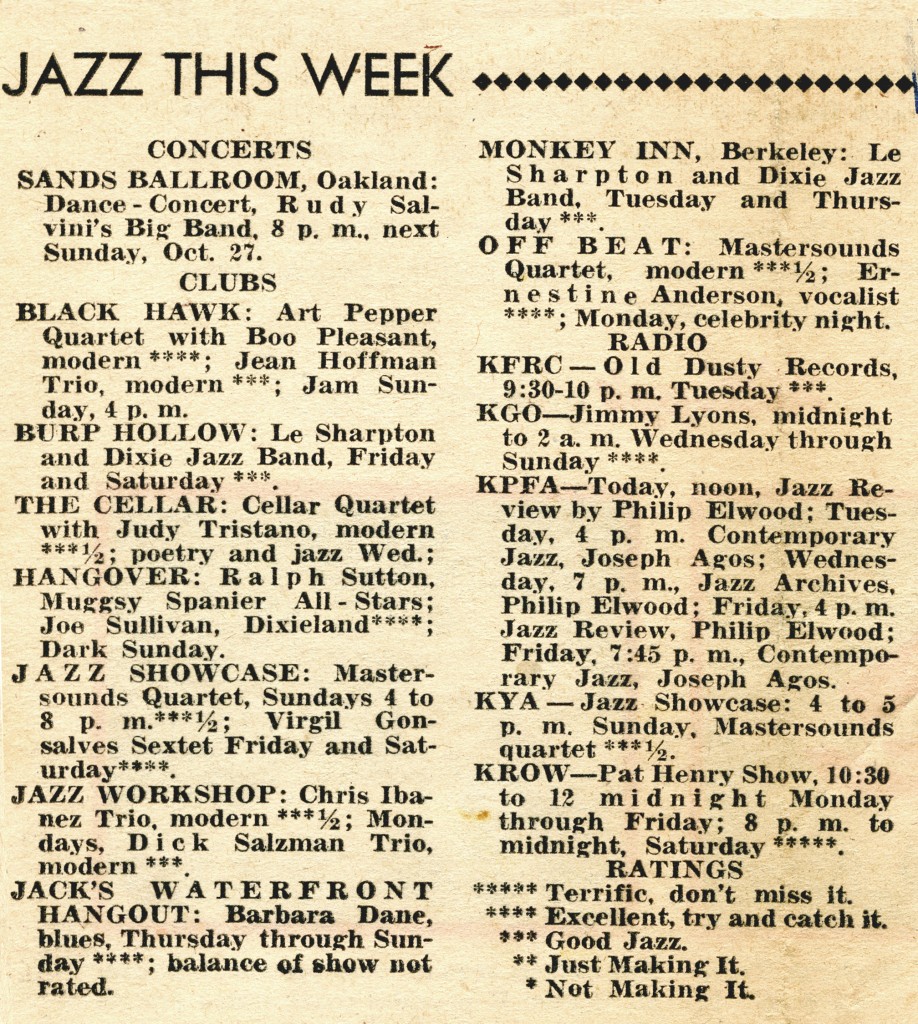 North Beach was a flourishing entertainment district chock-a-bloc with nightclubs and bars radiating out from Broadway. Jazz Workshop (1959-67) typified the intense development of Modern Jazz in the proliferating clubs and was "one of the principal jazz venues on the West Coast" according to Grove Dictionary. Cutting-edge jazz artists heard at "Jazz Workshop" included John Coltrane, Ornette Coleman, Roland Kirk and Cannonball Adderley, who was very popular in town and recorded albums in the club. A lengthy list of name-brand jazz musicians who recorded albums in North Beach or San Francisco jazz clubs includes Charles Mingus, Max Roach, Thelonious Monk, Miles Davis and local native Dave Brubeck.
El Matador (1958-77) was the swank North Beach nightclub of Barnaby Conrad, Jr. He was an artist, writer, diplomat, boxer, bon vivant and former American bullfighter. His bestselling novel and roman a clef, Matador, made him a global celebrity. Playboy Magazine called it "the town's favorite nightcap spot" at a time when, wrote the San Francisco Chronicle, "drinking and nightcaps were serious business and North Beach was in its prime."
Festooned with bullfighting photos and memorabilia, the posh "El Matador" offered forward-leaning jazz stylings by Modern Jazz Quartet, vibraphonist Cal Tjader, pianists Errol Garner, George Shearing and Oscar Peterson, guitar players Charlie Byrd and Wes Montgomery. Local piano phenomenon Vince Guaraldi recorded a samba album with Brazilian guitarist Bola Sete.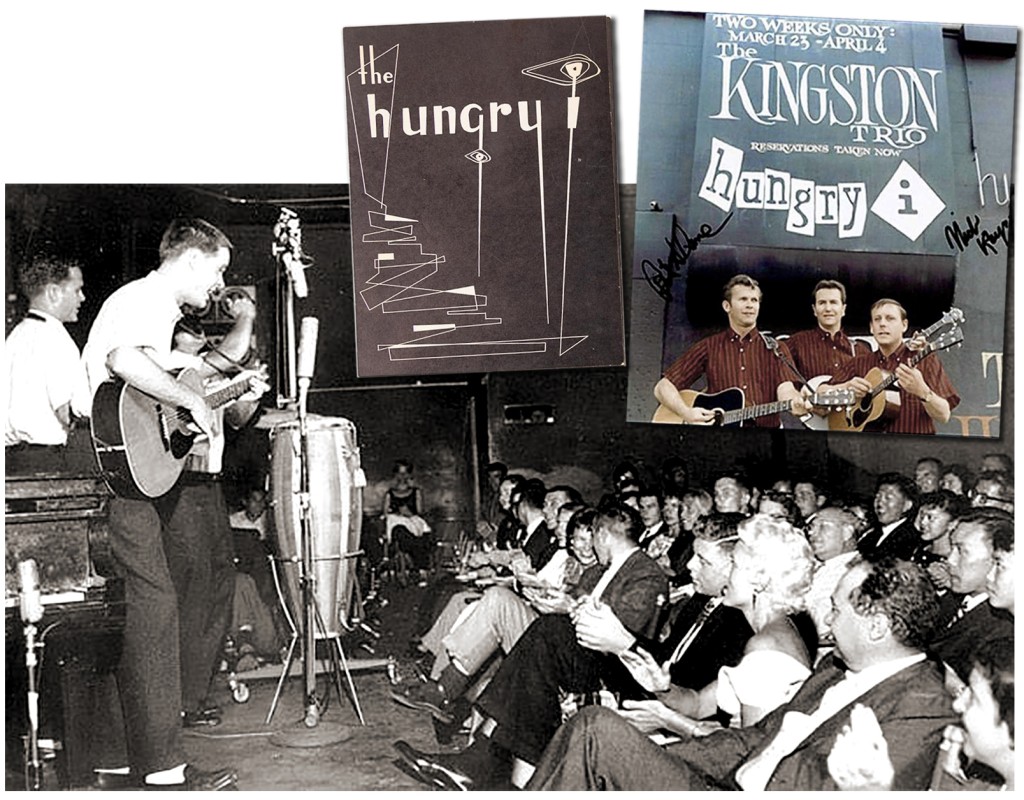 Hungry i (1951-67) was the legendary North Beach showcase of Enrico Banducci who had a keen nose for talent. It was significant in the early careers of Vince Guaraldi, singers Barbara Streisand and Laura Nyro. Folk trios recorded live albums: Peter, Paul and Mary, The Limelighters and locally-based Kingston Trio.
The nightclub also launched the stand-up comedy successes of Jonathan Winters, Bill Cosby and Woody Allen, while Lenny Bruce and Mort Sahl offered sharp social satire. Setting a new paradigm for popular entertainment, Banducci crafted an intimate performance space seating fewer than 90 persons where bohemia met elegance, declaring "I wanted to have a club that was fair to the artist — like a theater — to develop and nurture talent."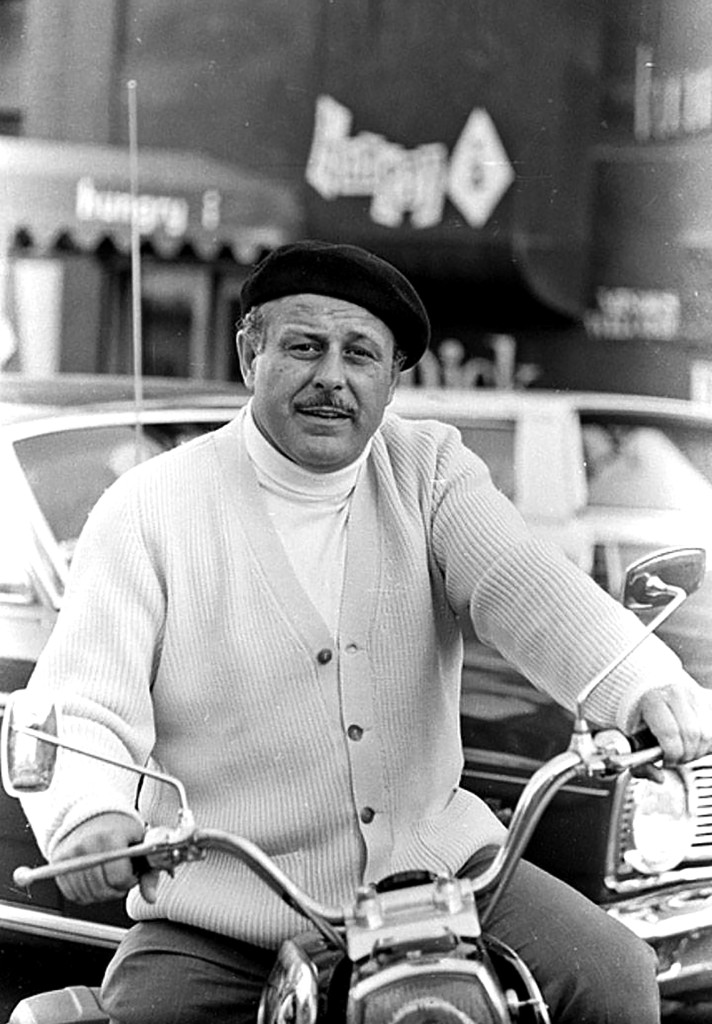 Harry "Enrico" Banducci (1922-2007) was born in Bakersfield, California to an Italian American family. He moved to Frisco at age thirteen to study violin with the concertmaster of the San Francisco Symphony, supporting himself professionally as a violinist.
Dabbling in singing opera he emulated his idol Enrico Caruso, changng his name and opening "Enrico's Café" in 1958. Upstairs was the world-famous Drag bar "Finocchios" (1938-1999). He gradually amassed a minor North Beach empire encompassing partial ownership of "The Purple Onion," spending his millions on a yacht and incessant travel.
Cosmopolitan North Beach, boisterous Broadway and environs proffered the cream of Popular music, Modern Jazz and Dixieland, resounding with Folk, Blues and Comedy, singers and combos, plus a smattering of strip joints and coffee houses with poetry readings. Nonetheless the quirky quarter was also famed for its family-style restaurants and traditional bakeries, retaining the patina of a mid-century Catholic Italian-American neighborhood.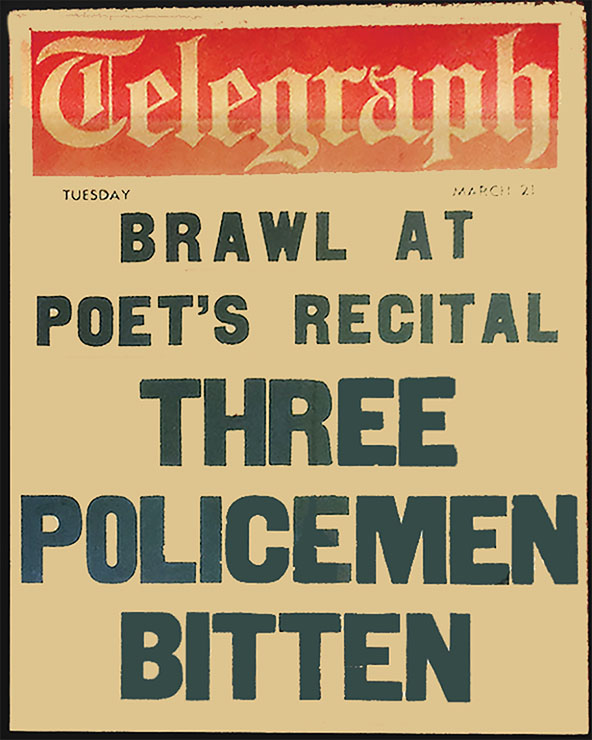 Forbidden City and Asian Nightclubs
The legendary "Forbidden City" (1938-70) began as exotic/erotic entertainment, a Caucasian male-gaze fantasy of Orientalism. This type of ethnic nightclub originated in San Francisco: "The Chinese Sky Room," "Club Shanghai," "Dragon's Lair," "Kublai Khan" and most famous of all, "Forbidden City."
Known as the 'Asian Cotton Club,' it was patronized by Hollywood celebrities, out-of-towners and tourists. Entertaining 2,200 visitors six nights of the week, the shows entailed supper and a 45:00-minute floorshow of music and song, drag and 'sissy' males, comedy and slapstick, vaudeville and stripping.
In practice, these nightclubs generated original ethnic variants of Swing and popular song, theatrical dance and yes, Burlesque. This genre of entertainment was long unique to San Francisco providing new pathways for Asian American performers. Until 1946, when "China Doll" was the first Asian nightclub to open in New York City — although with a more overtly exploitive racial aesthetic.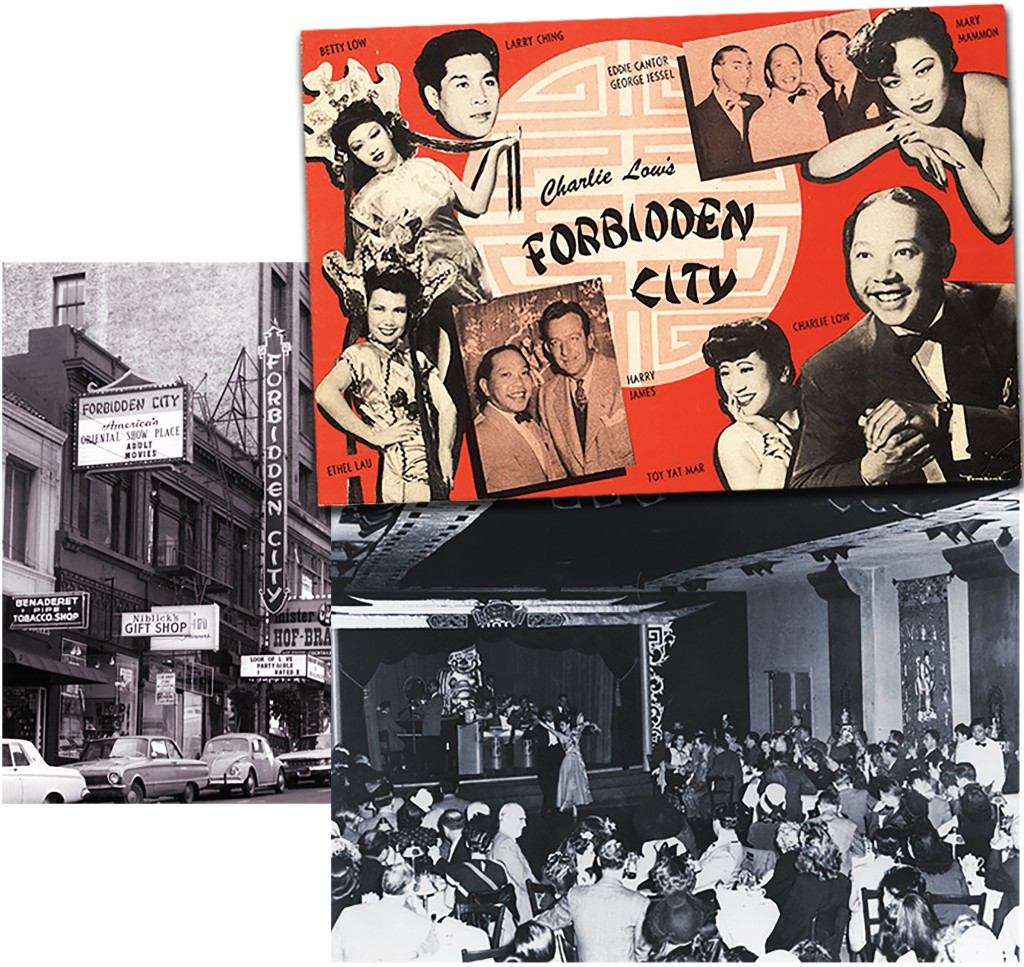 Flower Drum Song (1957-61) was a very successful novel, musical and movie loosely inspired by "Forbidden City." Written by Chinese-born San Francisco journalist, Chin Yang Lee (1915-2018), the Oscar-nominated film initiated long acting careers for noteworthy first-generation Asian-American actors. Director Gene Kelly spotted star Jack Soo (1917-1979) working at "Forbidden City," launching a durable acting career culminating in the 1970s television hits M*A*S*H and Barney Miller. Although Rogers and Hammerstein wrote the music, a couple of the scenes inoffensively evoke this genre of singing, comedy and semi-nude dancing.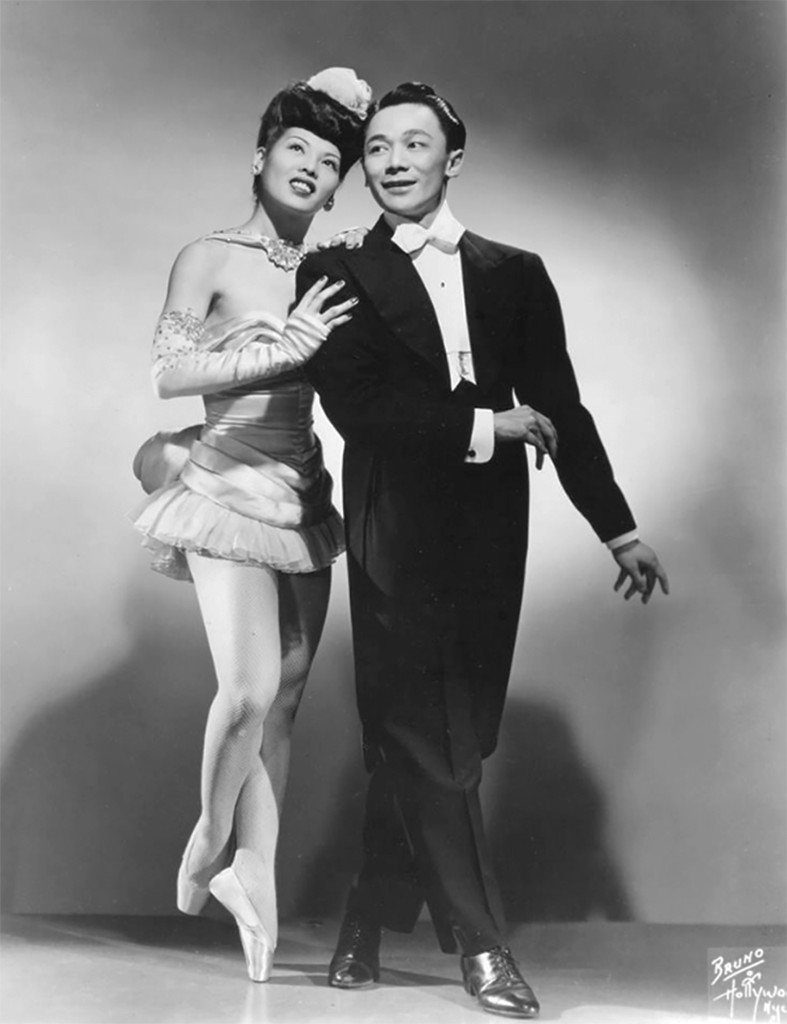 One of the best-known Asian acts touring nationally was Toy & Wing. The ballroom dance duo of Paul Wing and Dorothy Fong were often called "the Chinese Ginger Rogers and Fred Astaire." As a child she studied classical ballet technique dancing on her toes, en pointe, devising a unique personal style mixing elements of ballet, Russian Cossack, acrobatic and Lindy Hop.
In documentary interviews, Japanese American Dorothy Toy Fong (Toy Shigeko Takahashi, 1917-2019) describes navigating complex racial cross-currents all her life, emphasizing that the blossoming of popular culture in the ethnic nightclubs of San Francisco was a culminating achievement for her generation. These performers felt that they had at last gained artistic independence and expressive autonomy.
On Frisco stages, the bawdy, effervescent boomtown spirit of novelty and titillation drove entertainment in a city where dancers of both sexes weren't afraid to show a little skin. Between 1940 and '66, San Francisco was the scene for a rich efflorescence in Jazz and the lively popular arts.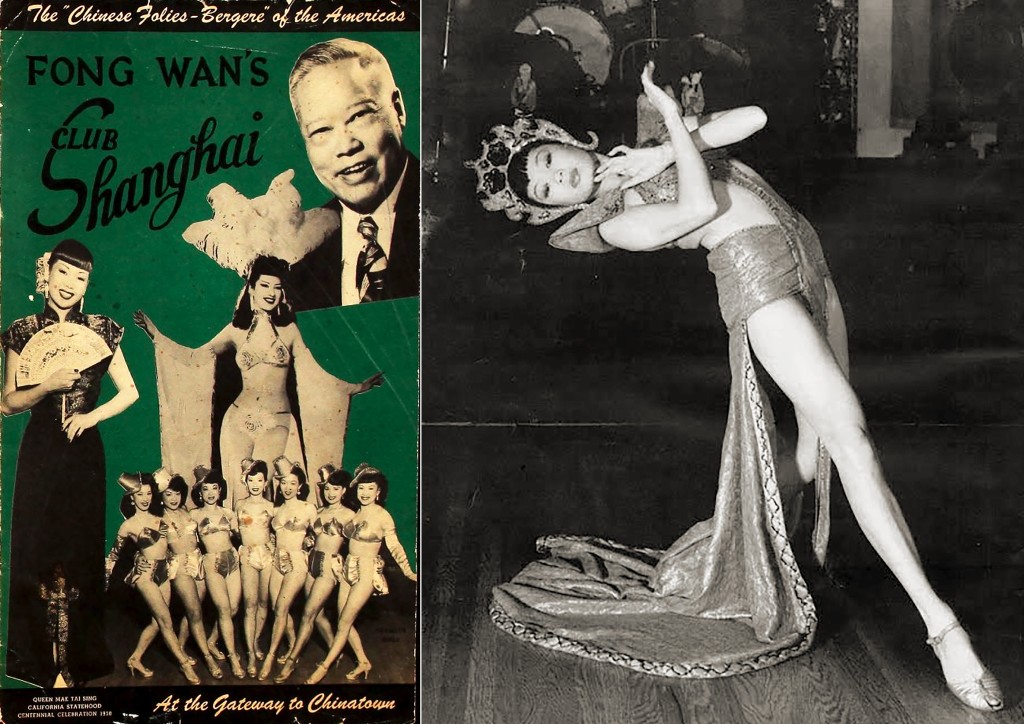 Part three considers two generations of colorful Revivalists, fabulous female singers and Club Hangover, the foremost Dixieland venue on the West Coast. Ralph J. Gleason is profiled, a dynamic journalist, impresario and producer of Jazz Casual television.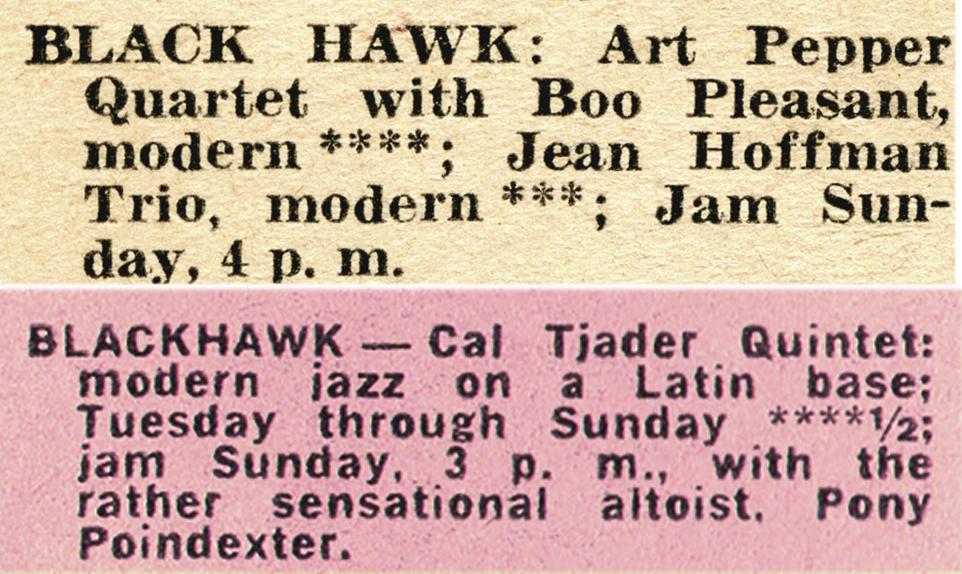 Bibliography & Sources:
Harlem of the West: The San Francisco Fillmore Jazz Era, Elizabeth Pepin Silva & Lewis Watts (Chronicle Books, 2006/Heyday, 2020)
San Francisco Jazz, Medea Isphording Bern (Arcadia Publishers, 2014)
The New Grove Dictionary of Jazz (St. Martin's Press, 1988)
Turk Murphy quoted from the video, "The Great Jazz Revival" (Stanford Libraries/SFTJF Collection, 2018)
Vince Cattolica, Radlauer interview (San Francisco 1993)
Bill Bardin, Radlauer interview (San Francisco 1994)
Video:
Bunk Johnson & YBJB – All the Girls Go Crazy
Yerba Buena Jazz Band – Darktown Strutters Ball
Requiem for San Francisco's 'Harlem of the West
Fillmore: They Can't Take that Away – BVAC
Pony Poindexter with Lambert, Hendricks & Bavan, Jazz Casual, 1963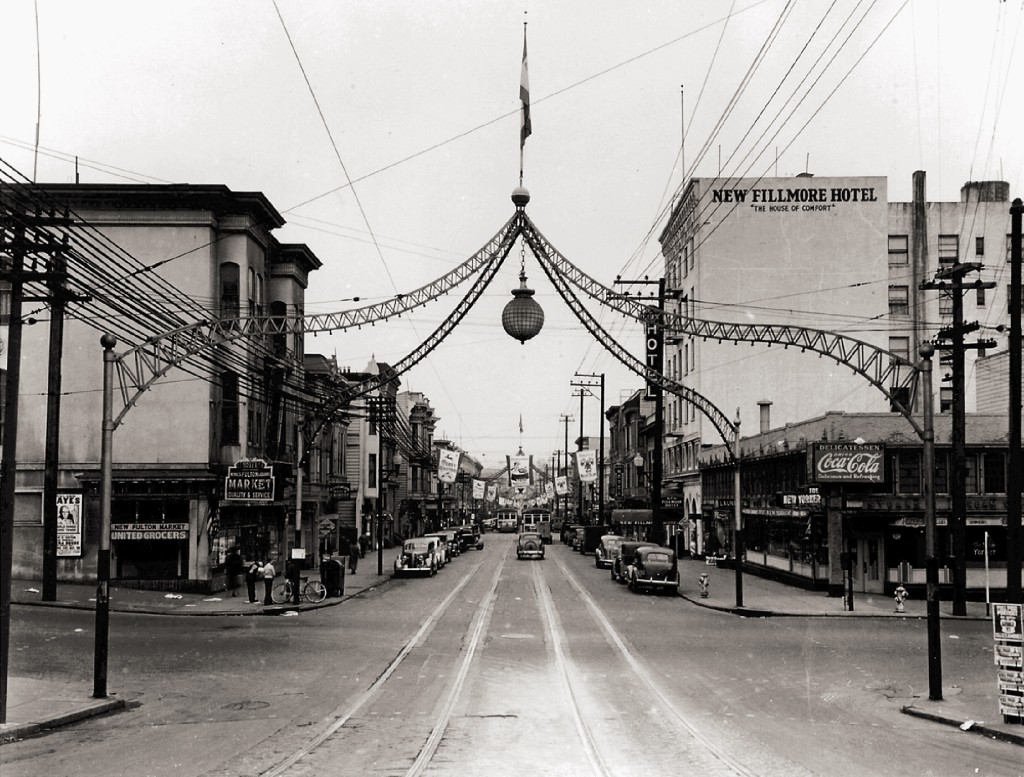 Links:
Yerba Buena Jazz Band
http://www.jazzhotbigstep.com/372012.html
http://www.jazzhotbigstep.com/372112.html
Bunk Johnson
http://www.jazzhotbigstep.com/319412.html
https://exhibits.stanford.edu/sftjf/feature/bunk-johnson
SFTJF/Stanford
https://exhibits.stanford.edu/sftjf
Dorothy Toy Fong
https://rafu.com/2019/07/dorothy-toy-fong-half-of-toy-and-wing-dance-duo-dies-at-102/
https://encyclopedia.densho.org/Dorothy%20Toy
Forbidden City
https://docstudio.org/2021/12/16/forbidden-city
https://www.messynessychic.com/2022/03/23/
The Fillmore
https://www.foundsf.org/index.php?title=The_Fillmore:_Black_SF
Jimbo's Bop City
https://www.foundsf.org/index.php?title=Jimbo%27s_Bop_City
Leola Goldie King
https://sfbayview.com/2015/02/legendary-queen-of-fillmore
San Francisco Jazz Albums:
Vince Guaraldi & Sete Bola at El Matador
Miles Davis, "Friday Night at The Blackhawk, Apr. 21, 1961"
Charles Mingus, "Right Now/Live at The Jazz Workshop," 1964 album
Thelonious Monk, "Well You Needn't," Live at The Jazz Workshop," 1964